Everything Is New At Baccarat's Le Cristal Room In Paris
Remember back in 1764, when Louis XV gave the royal nod for the creation of Baccarat? Louis had no idea that the crystal glassworks company would endure for more than 250 years — and counting. Today, Baccarat still produces its crystal art in their original factory in Lorraine, east of Paris.
While Baccarat has stores around the globe, when you're in Paris you should visit their flagship location, Cristal Room Baccarat — home to the boutique, a museum, and a recently renovated restaurant, all housed in a magnificent mansion in the 16th Arrondissement, across the river from the Eiffel Tower.

Le Cristal Room Baccarat
Nestled in a luxurious private mansion, Le Cristal Room Baccarat has seen dramatic changes recently. It's been au revoir to Philippe Starck's 2003 design as well as Chef Guy Martin's menu and bonjour to Jacques Grange's colorful new design with a new menu from the restaurant group that tends to several big name eateries around Paris, including Ralph's (of Ralph Lauren) on Boulevard Saint-Germain.
In case you've been living under a design rock (next to us), velvet is back big time and the newly renovated Le Cristal Room Baccarat has been transformed with a bevy of jewel-toned velvet chairs. Designer Grange also has added an intimate bar — perfect for private tête à têtes — and a feature wall with 576 crystal tiles and a dazzling display of Baccarat goblets. All the spectacular, signature Baccarat chandeliers and objets d'art are featured on the tables, on the high ceilings, and the mantelpieces.
The restaurant's new menu revisits French classics with dishes like roasted duck and figs, and roast chicken with chanterelles and potatoes mousseline. For dessert try a dreamy peach macaron with sorbet. Signature cocktails (now very popular in Paris) recall their royal roots — the Louis features cognac, apple, lime, ginger and mint leaf and is served in signature Baccarat glass of your choice. For your glass choose Harcourt, Mille Nuits, Vega, Mosaic, or the Crystal of Kings.
After you've downed your cocktail, stop by the Baccarat museum and see the De Noailles Smoking Room, designed in the 1920s by influential minimalist interior decorator Jean-Michel Franck, whose design motto was, "The last touch of elegance is elimination."

The Story of Baccarat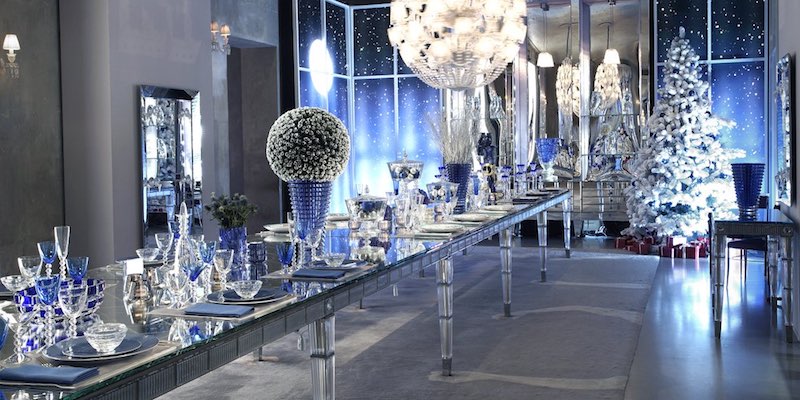 This legendary crystal workshop was founded in 1764, when Louis XV gave the royal oui for the creation of Baccarat in Lorraine, France. At first they made everyday items like window panes, mirrors, and stemware. In 1816 the first crystal oven was installed that kept 3,000 employees busy with royal commissions. (Louis XVIII was back on the throne by then, after the Revolution, Napoleon, and all that.) Baccarat won its first gold medal at the International Exhibition in Paris in 1855.
Sometime during the 1800s, Baccarat began labelling its work with a registered trademark placed on the bottom of the crystal. (After World War II a rare paperweight with a Baccarat trademark from 1853 was found in a damaged church in the town of Baccarat.) Tsar Nicholas II and Tsarina Alexandra became fans during a Paris stopover in 1896. The tsar was fascinated by an candelabra made with 3,300 pieces of crystal, which he ordered for his palace in Saint Petersburg.
In Istanbul at the Dolmabahce Palace, the world's largest chandelier and a staircase lined with crystal was made by Baccarat. From royal chandeliers to perfume, Baccarat became an iconic luxury brand of France. During the Belle Époque (1875-1910), 4,000 decorative glass bottles were made every day for a variety of perfume makers.
Madame Marie-Laure de Noailles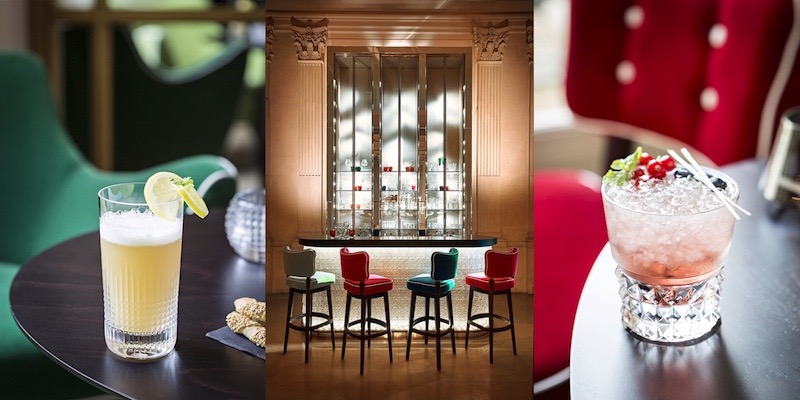 Baccarat's flagship store, museum, and restaurant is housed in a spectacular mansion in Paris. The prestigious hôtel particulier was once home to Marie-Laure de Noailles, a descendant of Marquis de Sade.
De Noilles was a eccentric writer, painter, and patron of the arts and lived at 11 Place des Etats-Unis for forty years, until her death in 1971. She was famous for hosting decadent parties attended by A-listers of the time — Jean Cocteau, Man Ray, Gertrude Stein, Georges Braque, Giacometti, Salvador Dali, and Yves Saint Laurent. Often guests would take up temporary residence in the rambling mansion.
Musée Baccarat, also located here, opened in 2003, with a then-fresh design by Philippe Starck. His plan incorporated the boutique, museum, and restaurant under one name, Cristal Room Baccarat, while maintaining the elegance of the original mansion. At the museum today you can discover treasures from 250 years of decorative arts.

Baccarat Cristal Room Resources
Cristal Room Baccarat
Boutique + Restaurant + Museum
11 Place des Etats-Unis, 16th Arrondissement
Metro – Boissière or Iéna
Website…
Baccarat Maison Boutique
Open Monday to Saturday, 10:30 AM to 7:00 PM
Baccarat Museum
Open Tuesday to Saturday, 10:00 AM to 6:00 PM
Cristal Room Restaurant
Open Tuesday to Saturday, Noon to 10:00 PM
Website…