The 20 Queens Of The Jardin du Luxembourg
As you wander through the idyllic Jardin du Luxembourg keep an eye open for the series of white marble statues of women that flank the the central gardens and the pond in front of the palais. This grouping, called the Serie des Reines et Femmes Illustres, features (as its name suggests) queens and other illustrious women from the history of France.
The twenty sculptures are monuments to the women — queens, saints, and celebrities — who through their lives and works left their mark on the country. The sculptures were commissioned by Louis-Philippe, king of France from 1830 to 1848. (The one exception is the statue of of Marguerite d'Anjou, which was not commissioned by Louis-Philippe.) The Ministry of Beaux-Arts set upon hiring the best sculptors of the time to complete the massive project between 1843 and 1846.

The 20 Queens of Jardin du Luxembourg
Four of the queens, photo by Mark Craft
Let's take a virtual walk through the Jardin du Luxembourg, pausing a moment at each of the statues, and attempting to located them all. It's fitting that we start with the Patron Saint of Paris herself, Genevieve.

1. Sainte Genevieve, Patron Saint of Paris, 423 to 512
The woman who was to become the patron saint of the French capital was born in Nanterre as a simple peasant girl before she led a prayer marathon that was said to have saved Paris from an attack by Attila the Hun. You can find a second, modern (and modernistic) statue of her on the Pont de la Tournelle, a bridge that connects Îles St-Louis to the St-Germain quartier.

2. Sainte Clotilde, Queen of France, 475 to 545
Clotilde was a princess of Burgundy, descended from a Gothic king, and was the second wife of Clovis I. Popular royals names of the time included Chlothar, Childebert, Chlodomer, Clotilde, and Ingomer. Clotilde was instrumental in converting her husband to Catholicism and is the patron of queens, widows, and brides.

3. Sainte Bathilde, Queen of France, 626 to 680
Made queen by her marriage to Clovis II, Bathilde was known for her beauty, intelligence, and modesty. Her three sons, Clotaire, Childeric, and Theuderic would all become kings.


4. Berthe Ou Bertrade, Queen of France, 710 to 783
A Frankish queen, Berthe was married to Pepin the Short and was the mother of Carloman, Gisela, and the mighty Charlemagne. Her nickname, Bertha Broadfoot, is believed to have been bestowed because she was born with a clubfoot.

5. Queen Mathilde, Duchesse de Normandie, 1031 to 1083
The Queen of England and the Duchess of Normandy because of her marriage to William the Conqueror, Mathilde of Flanders bore ten children who all survived to adulthood. Two of her sons would become kings, William II and Henry I.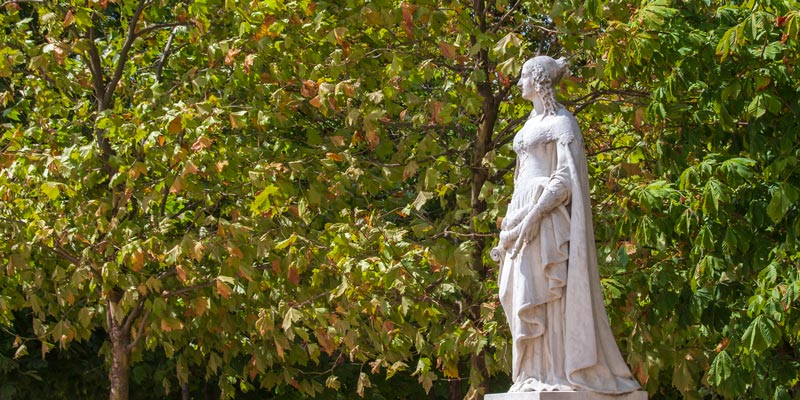 A queen in the garden, photo by Mark Craft

6. Blanche de Castille, Queen of France, 1188 to 1252
Born in Spain, Blanche was the third daughter of Eleanor of England (who was the daughter of Henry II of England and Eleanor of Aquitaine). Married to Louis VIII, Blanche was regent twice during the reign of her son, Louis IX. She was famous as a patron of the arts and taught her children both French and Latin.

7. Marguerite de Provence, Queen of France, 1219 to 1295
All of Marguerite's sisters also were queens — Queen Eleanor of England, Queen Sanchia of Germany, and Queen Beatrice of Sicily. Margaret, married to Louis IX, was known for her beauty.

8. Laure de Noves, 1307 to 1348
Wife of Count Hugues de Sade, (an ancestor of Marquis de Sade) Laure was born in Avignon, the daughter of a knight. It is speculated that she is the Laura that the poet Petrarch wrote so passionately about after catching sight of her at Easter Mass in Avignon in 1327.


9. Valentine de Milan, Duchess of Orleans, 1370 to 1408
Born in Milan, Valentine married Louis de Valois, Duke of Orléans, the younger brother of Charles VI. Together they produced eight children, most notably Charles, Duke of Orleans, father of Louis VII.

10. Margaret of Anjou, 1429 to 1482
Margaret became queen of England and France after marrying Henry VI (Henry II in France). She was born into the house of Valois-Anjou and is famous as one of the principal figures in the Wars of the Roses. As her husband struggled with insanity, Margaret ruled the kingdom in his place. She called for the Great Council of 1455 that excluded the Yorkist faction headed by Richard of York. It would ignite a conflict that would last for thirty years and would cause the deaths of thousands of men, including her only son, Edward of Westminster, Prince of Wales.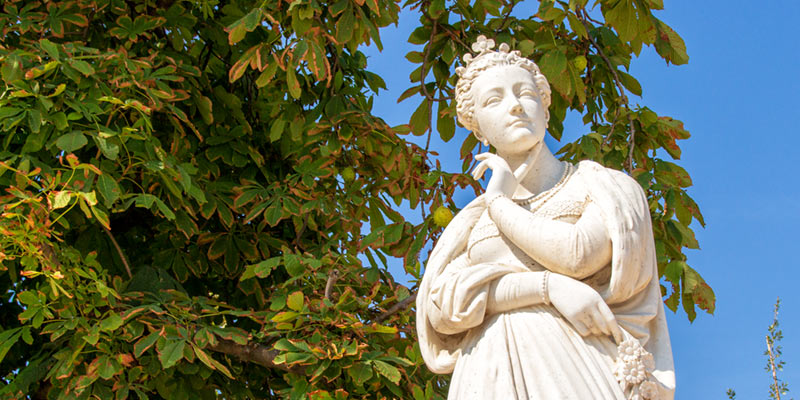 Marguerite d'Angouleme, photo by Mark Craft

11. Anne de Beaujeu (Anne of France), Regent of France, 1460 to 1522
A French princess, and the eldest daughter of Louis XI, Anne was Charles VIII's sister, for whom she acted as regent during his childhood. In fact, Anne was one of the most powerful women in Europe, and was referred to as Madame la Grande.

12. Louise de Savoie (Louise of Savoy), Regent of France, 1476 to 1531
French noblewoman and daughter of Philippe II, the Duke of Savoy, Louise was married off to Charles of Orléans when she was eleven years old. Widowed at 19, Louise secured her children's future by moving to court at the ascension of Louis XII, her husband's cousin. Upon his death, her son Francis I would become king of France.

13. Anne de Bretagne, Queen of France, 1477 to 1514
Anne packed a lot into her short 36 year life. When her father, Francis II, the Duke of Brittany died, Anne became a duchess when she was only eleven years old. The following year she married Maximilian I of Austria but due to political unrest had to renounce the marriage. She then married Charles VIII. When he died childless the throne went to his cousin, Louis XII. Following the tradition of the time, Anne married the new king. It was a loving marriage and together they had two daughters. Part of her legacy is today found in the Loire Valley — the two ambitious architectural projects, Châteaux Blois and Châteaux Amboise.


14. Marguerite d'Angoulême, Queen of Navarre, 1492 to 1549
Perhaps our favourite queenly statue, Margaret is called the Mother of the French Renaissance and is in many ways the first modern woman. She was married to Henry II of Navarre and when her brother Francis I became king of France, the two siblings set about to create a lively, intellectual, and cultural court life. She was also a prolific writer, penning many poems, plays and a collection of short stories.

15. Jeanne d'Albret (Jeanne III), Queen of Navarre, 1528 to 1572
Born in the Saint-Germain-en-Laye palace not far outside of Paris, the daughter of Henry II and Marguerite of Angoulême, Jeanne would become the spiritual leader of the French Huguenot movement after her conversion to Calvinism. When she died a rumor circulated that Jeanne had been murdered by Catherine de Medici, who allegedly had sent her a pair of poisoned, perfumed gloves. Probably not true, but a great story.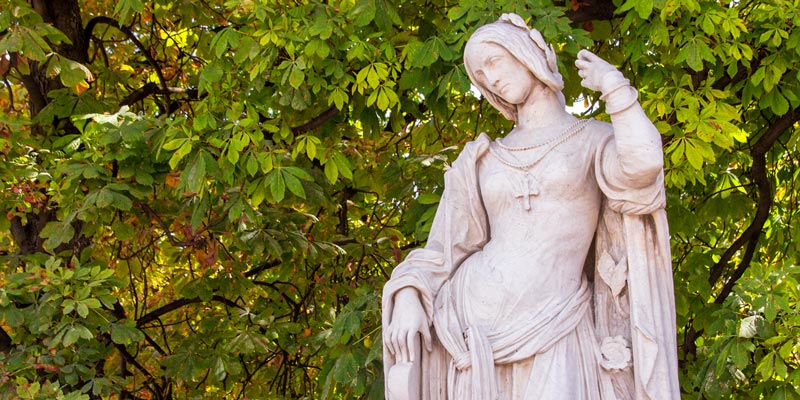 Clemence Isaure, photo by Mark Craft

16. Marie Stuart (Mary Stuart, Queen of Scots), Queen of France, 1542 to 1587
Mary, the only legitimate child of James V of Scotland, was just six days old when she inherited the Scottish crown. In 1558 Francis, the Dauphin of France, who became king Francis II, meaning that Mary briefly become Queen of France. When he died less than a year later, Mary returned to Scotland, married Lord Darnley and gave birth to James VI (who later ascended to the British crown as James I). We suppose you know the rest of the story. She was arrested on grounds of plotting to assassinate Elizabeth, spent eighteen years in confinement, and then it was off with her head.

17. Marie de Medici, Queen of France, 1573 to 1642
Queen of France as the second wife of Henry IV, Marie was born into the wealthy and powerful House of Medici. When her husband was assassinated in 1610, she acted as regent for her son, Louis XIII until he came of age. She was famous for her political intrigues, extensive artistic patronage and the creation of Jardin du Luxembourg.


18. Anne d'Austriche Queen of France, 1601 to 1666
A Spanish princess, Anne of Austria was betrothed to Louis VIII when she was eleven years old and married when they were both fourteen. It was a difficult marriage. After a series of stillbirths, she produced an heir, Louis XIV, the Sun King. She is a central character in The Three Musketeers by Alexandre Dumas.

19. Anne Marie Louise d'Orleans, Duchesse de Montpensier, 1627 to 1695
Born in the Louvre, Anne Marie's father was Gaston, Duke of Orleans, the brother of Louis XIII. Known as the Grande Mademoiselle, Anne Marie never married or had children. She was the wealthiest princess in Europe when she died in 1695 — fittingly, at the Palais du Luxembourg, which her statue now overlooks.

20. Clemence Isaure
Clemence is a semi-legendary medieval figure who is said to have founded the Academy of the Floral Games, which awarded gold and silver flowers to the best poets. In Toulouse she is remembered with a sculpture, paintings, and buildings dedicated to her memory.

A Brief History of the Jardin du Luxembourg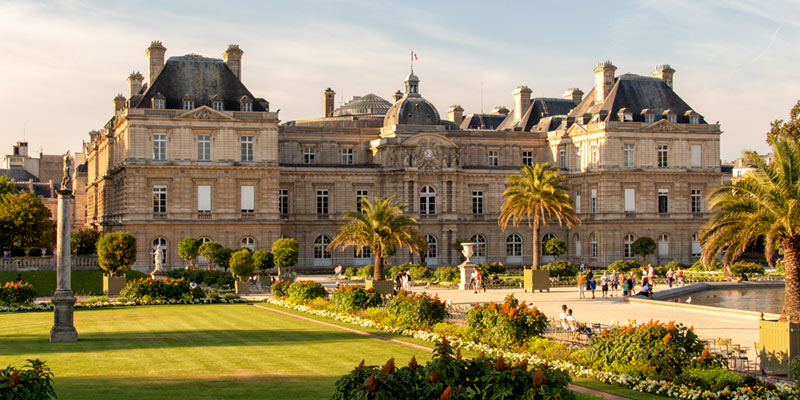 THe palais of Jardin du Luxembourg, photo by Mark Craft
The day after Henry IV was assassinated in 1610 his Queen, Marie de Medici, decided to have a new residence built in the rural district of Luxembourg, on the south side of Paris. She purchased the Hôtel de François de Luxembourg and its eight hectares of grounds as well as neighboring properties, becoming the the owner of nearly fifty acres of land.
Marie, who was born in Florence, asked architect Salomon de Brosse to build her a palace in the style of Pitti Palace of Florence that she remembered from her childhood. But for some reason, he followed the French rather than the Italian style. As for the garden, bound to the south by a Carthusian monastery, the Queen had gardener Boyceau de la Barnuderie design the flowerbeds and Thomas Francine design the terraces and fountains which were to be supplied with water by the Arcueil Aqueduct.
She didn't enjoy her new estate as long as she would have liked. After a political crisis in November 1630 involving the very powerful Cardinal Richelieu the Queen Mother Marie was sent into exile. She died in Cologne in 1642.


For two centuries the Marie's palace was the seat of a a parliamentary assembly. (It was converted into a prison during the Revolution.) Since 1879, however, Jardin du Luxembourg has been owned by the French Senate and Marie's palace has been its home.
The original gardens remained intact until the end of the 18th century when they were reduced by about ten hectares, sold off by the Comte de Provence, the future King Louis XVIII. During the period in which Baron Haussmann was engaged in his massive redevelopment of Paris the gardens were further reduced by twenty-two hectares to make room for Rue Medici and Rue Auguste Comte.
Today the Jardin du Luxembourg covers 23 hectares (55 acres) and the general layout has not been changed radically since the mid-19th century. The gardens, managed and maintained by the Senate, combine French geometric discipline, with carved terraces and a plantation of chestnut trees.