Hotel Napoleon Paris – Aristocratic Luxury With A Modern Update
The Hôtel Napoléon Paris is another piece of the city's legend. A wealthy Russian romantic, Alexandre Pavlovich Kliaguine (1884 to 1952), falls in love with a young Parisian in the 1920s, at a literary salon, no less. As a wedding gift, he gives her a hôtel (a special sort of grand French mansion) in the 8th arrondissement so she can entertain her literary friends in style. Nearly one hundred years later, the Hotel Napoleon in Paris is still owned by the same family. It was recently awarded a fifth star, for outstanding luxury.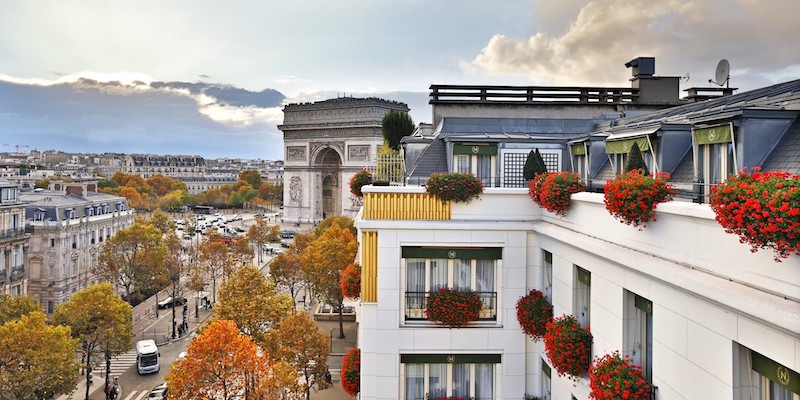 The Hotel Napoleon strikes a balance between old world opulence and modern comfort. Ask for one of the most sought-after suites, named for former guest Josephine Baker. What we also love about the hotel is the location. You're away from the hustle and bustle of Champs Elysées, yet have a clear view of the Eiffel Tower and especially the Arc de Triomphe.

What You Can Expect at Hotel Napoleon Paris
Rooms & Suites
There are exactly 51 rooms and 51 suites, each decorated in a calm, neutral palette emulating the Art Deco period of the 1920s, with velvet curtains and French fabrics, yet equipped with the latest technologies. The Empire style Classic Rooms look onto Avenue de Friedland or the garden courtyard. The slightly larger superior rooms all overlook the quiet interior courtyard. There are also fifteen Executive Rooms, each decorated with vibrant hues of tangerine, royal blue and kelly green.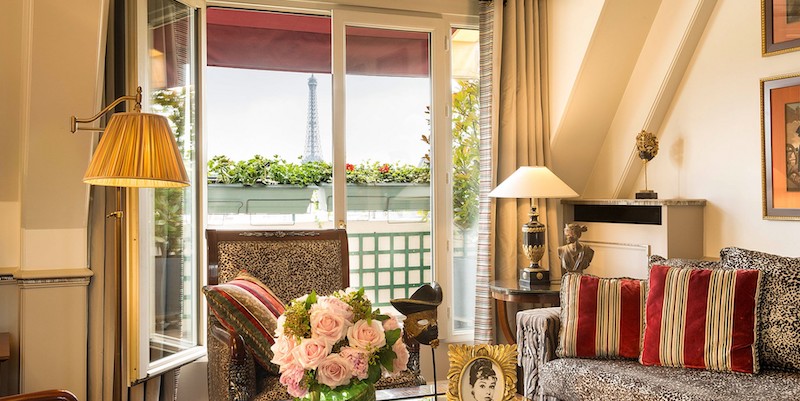 Imperial Suite
Craving the royal treatment? Located on the the 7th and top floor, the Imperial Suite is bathed in light and luxury. Measuring a spacious 1,200 square feet, the suite has two bedrooms (and two bathrooms). Step out on your own private terrace with breathtaking views of both the Arc de Triomphe and the Eiffel Tower, bien sûr.
Josephine Suite
The Josephine Suite practically has its own fan club. Named for Josephine Baker who was often a guest, the suite is decorated in toasted almond and aubergine. The 750 square-foot suite's layout is typical of a luxury Parisian apartment with a king size bed and a lavish canopy.
Youssoupov Suite
Leopard-skin carpet and red walls adorn this 850 square-foot suite featuring a living room, two bedrooms, two bathrooms, plus a view of the Eiffel Tower. Named for a palace and a prince, both from Saint Petersburg. Prince Felix Youssoupov was a regular guest at the hotel and a friend of Alexandre Kliaguine. The Youssoupov Suite has been completely refurbished with fabrics by the top French luxury brands: Pierre Frey, Nobilis, Hosborn, and Metaphore.
Junior Suites Avenue & Friedland Suite
Each 380 square foot suite is slightly different from the others, although all are decorated with French elegance in mind. Ensuite bathrooms are decked out with marble, wood, and L'Occitane toiletries. Each has a separate sleeping area and living area.
Le Bivouac Restaurant & Bar
It's not all that common for Paris hotels to have in-house restaurants. But in the case of Hotel Napoleon, restaurant, Le Bivouac, serves from morning until night starting with flaky croissants at breakfast, a light lunch of Petrossian smoked salmon and chef's salad, right up to after-dinner drinks in the evening.
Hotel Napoleon Paris
How Our Ratings Work
Superb Plus = 93%+ Travelers Rating
Superb = 88%+ Travelers Rating
Highly Rated Plus = 85%+ Travelers Rating
Highly Rated = 80%+ Travelers Rating

Paris Insiders Rating — Superb
40 Avenue de Friedland
8th Arrondissement