It's February in Paris, where celebrating the month of love and romance is always a melt-in-your-mouth experience — especially since chocolatiers are found on every Parisian rue and avenue. And let's not forget about all the champagne vendors, flower shops, and parfumiers. This year, like every February, nothing is going to stop the love-fest. And nothing is going to change our love for Paris.
Most Popular Activities
Things to Do in Paris February 2024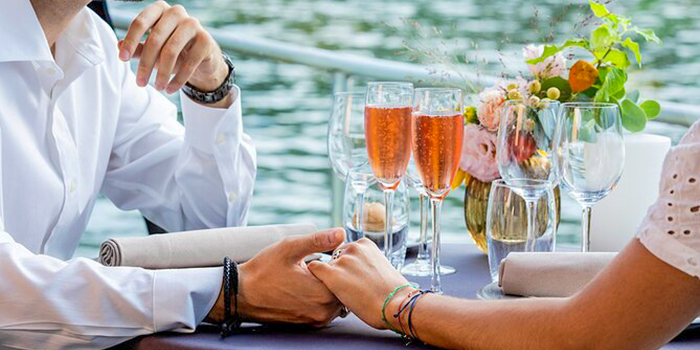 It's nighttime in Paris and you and that Special Someone are cruising down the most romantic river in the world sipping champagne, watching the lights of the City of Light, and being served a classic French 5-course dinner. There's really nothing like viewing the iconic Paris landmarks from the water aboard a luxury dinner boat. This special holiday sailing is certain to sell out, so book now.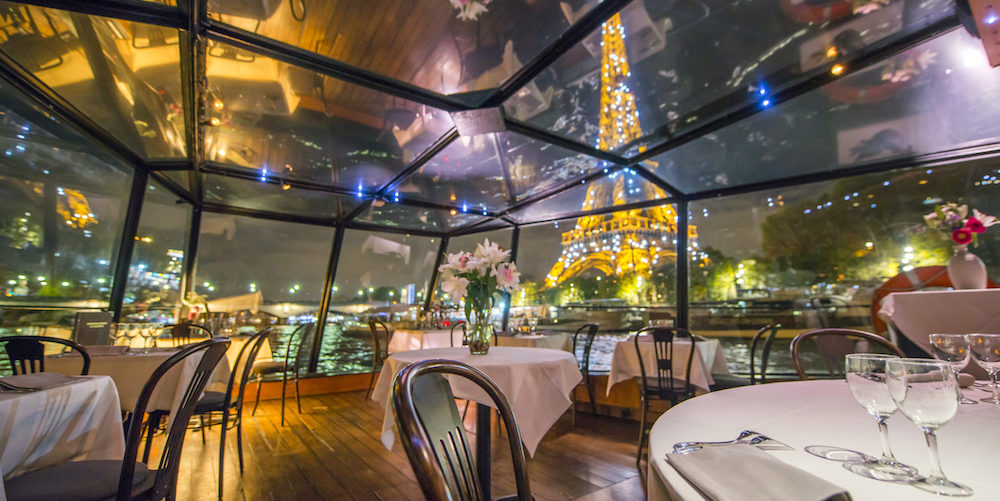 Although a Seine River dinner cruise may sound a tad touristy, we assure you it is not. In fact, this is one of our favorite activities in Paris. As you drift past the Eiffel Tower, Notre Dame, the Louvre, and Île de la Cité, a classic French 3-course meal with wine is served. Choose the Service Premier option for the best seating, the best meal, champagne to start and end — the ultimate experience.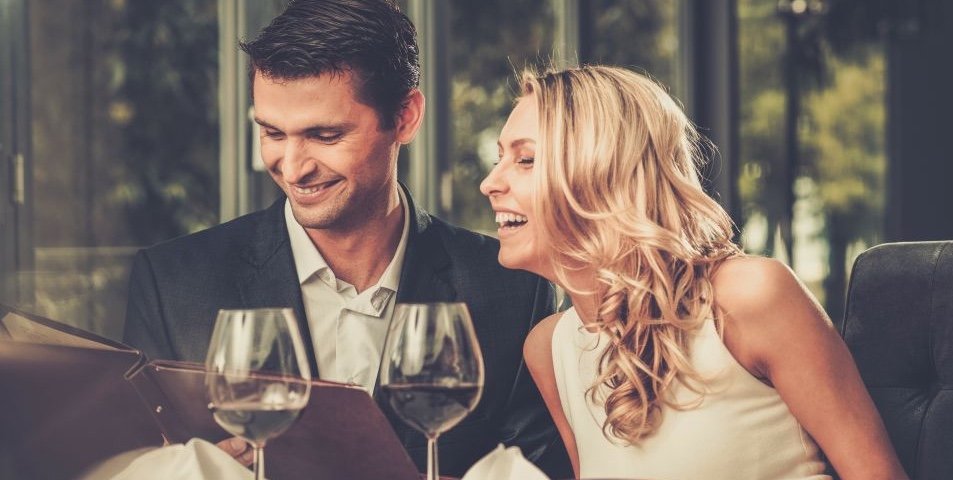 Dining on the Eiffel Tower is as amazing as it sounds. Read the rave reviews of Chef Thierry Marx's Madame Brasserie and you'll see what we mean. With Paris 200 feet beneath you, and a glass of champagne in your hand, you'll congratulate yourself on having made this reservation in advance. Choose the Grande Dame – Paris View option for the best views and the best meal.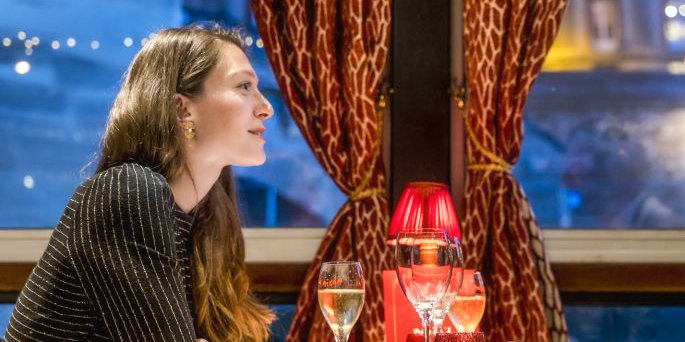 Maxim's of Paris supper club debuted in 1900 and became one of the city's most celebrated Art Nouveau restaurants. Now, you can combine a Seine river dinner cruise with all the classics made famous by the historic Paris brasserie. Dine on lobster, truffles and fresh seafood as you take in the landmarks of Paris, lit up at night.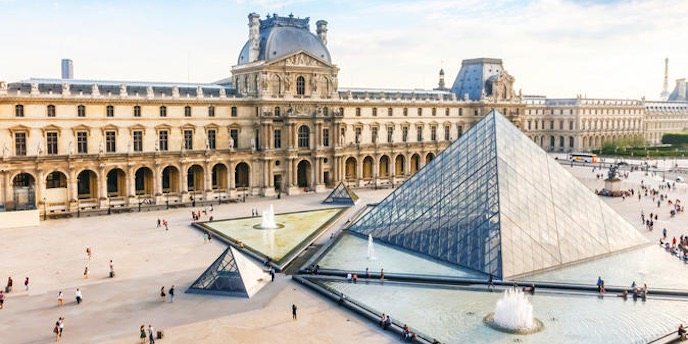 Save Time. Stay Warm. Be Happy. This tour gets you ahead of the long lines and into the world's largest & most popular museum in no time flat. With 10 million visitors each year, it's essential to find a way to skip the line. Group size is limited to 8 in the semi-private tour, but for the ultimate Louvre experience, choose the private tour option.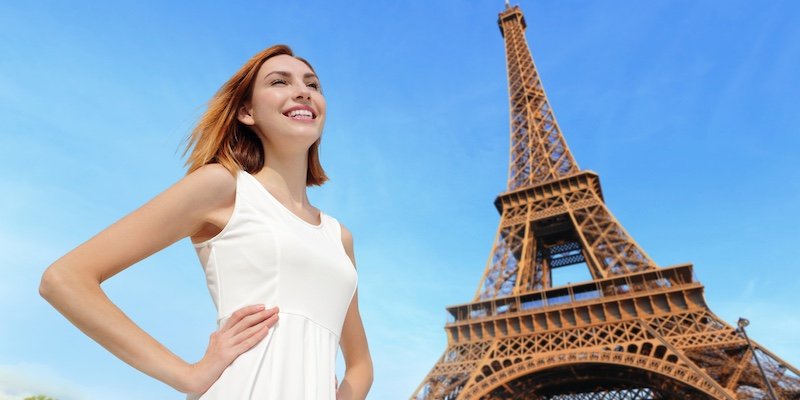 If you listen to one piece of advice from us let this be it. Please don't just show up and expect to go directly to the top. The Eiffel Tower is immensely popular and the line-ups are long and tedious. Since we hate waiting in line, we always search for an Eiffel Tower activity that lets us skip the queues and go directly up the tower. Luckily, we've found quite a few! Book now as these sell out quickly!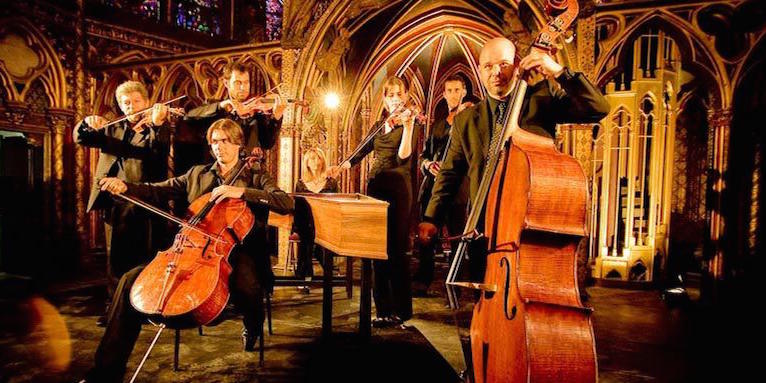 One of the best ways to create a lasting memory of Paris is to attend a classical music concert at an historic venue like La Sainte Chapelle or La Madeleine, some of the most celebrated churches in Paris. Here you will hear favorites by Mozart, Pachelbel, Vivaldi, Bach, and other master composers. See what's playing on your trip to Paris, tickets do sell quickly.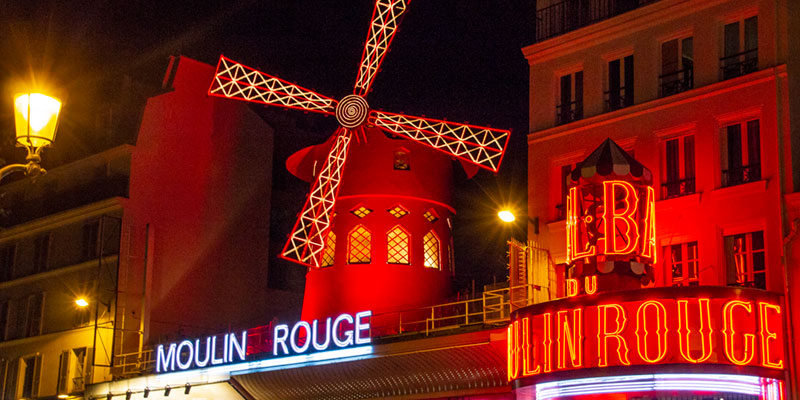 Nighttime in Paris is something special, there's a certain magic in the air. Take your seat at the world's most famous nightclub for the Belle Epoque Menu, including champagne, followed by a performance of the Moulin Rouge's cabaret show Féerie. 100 performers parade in flamboyant costumes of feathers, rhinestones, and sequins. 80 musicians and 60 choral singers accompany the show. Truly a night to remember.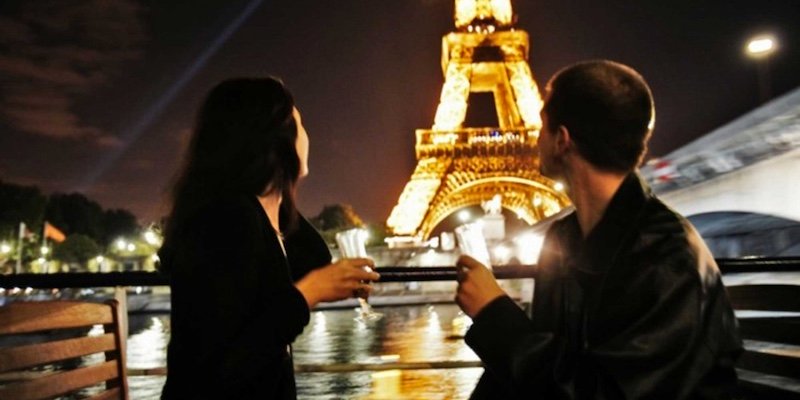 What better way to celebrate your time in Paris than a champagne-fueled cruise down the Seine — the most romantic river in the world? You'll discover this is one of the very best ways to see the sights of the city as you glide past the monuments on a bateau… while sipping bubbly!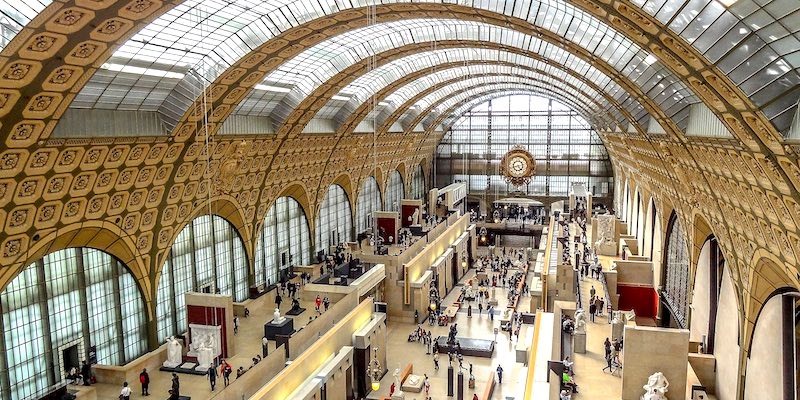 You don't want to just show up at Musée d'Orsay. Trust us. Like the Louvre, the lines are almost always long. Your best course is to sign up for a small-group guided tour to discover the gems of the most popular Impressionist museum in the world.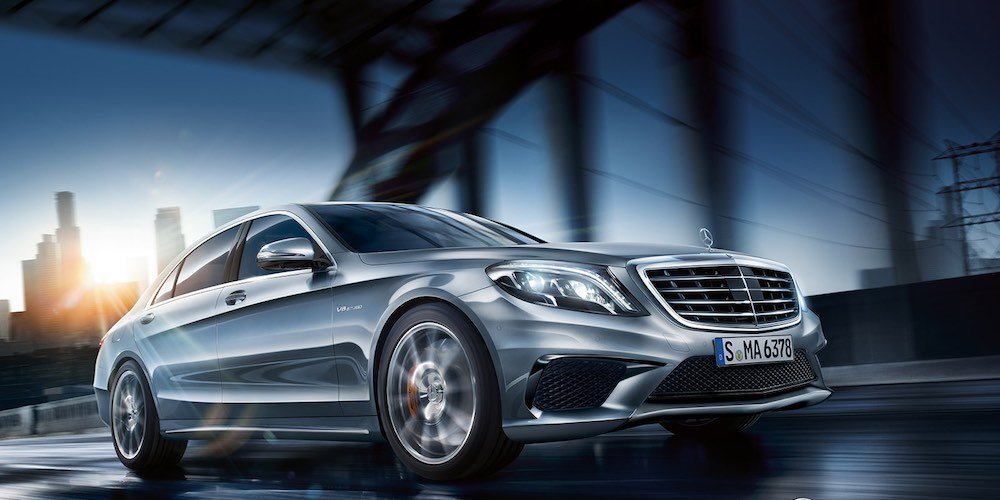 One of our most appreciated pieces of advice is to arrange transportation from the airport into central Paris in advance, so that you know what's going to happen when you arrive. We recommend booking a private transfer where your driver meets you on arrival, helps with your luggage, and takes you directly to your Paris hotel in a private, air-conditioned sedan. That's the way to start your vacation in style!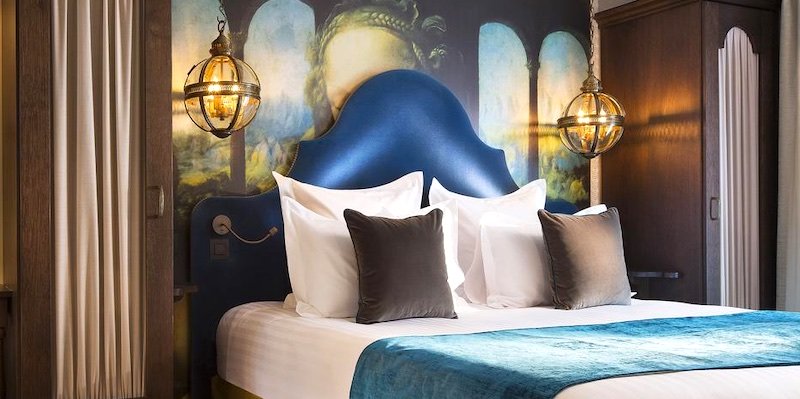 Who doesn't love staying on the Left Bank of Paris? Since Hemingway and the Jazz Age, the Left Bank has defined the essence of Paris. The Saint-Germain neighborhood is charming, and so are the best of the hotels in the quartier. In fact, here are our picks of the top 5 Left Bank hotels — with a couple of bonuses as well!
The Best Ways to Visit Versailles from Paris
Things to Do in Paris — February 2024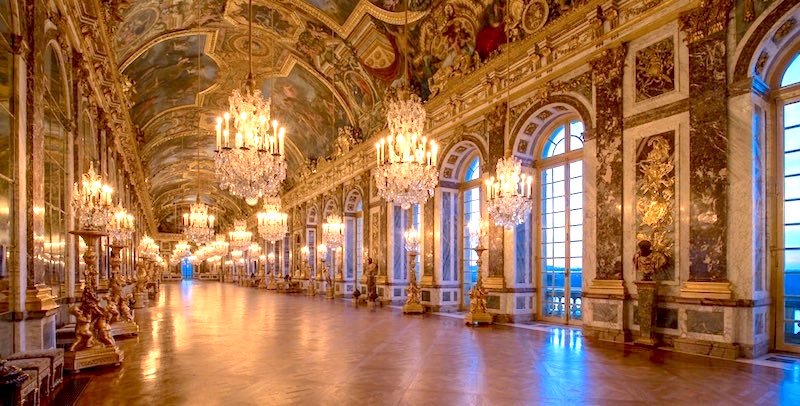 Instead of worrying about trains, brochures and guide books, we prefer to go the royal route. A guided tour adds illuminating details and makes the past come alive with stories of palace life. Includes transportation from central Paris, entrance to Versailles, time in the garden, and a guided tour of Marie Antoinette's fantasy farm. Best of all, you skip the long lines!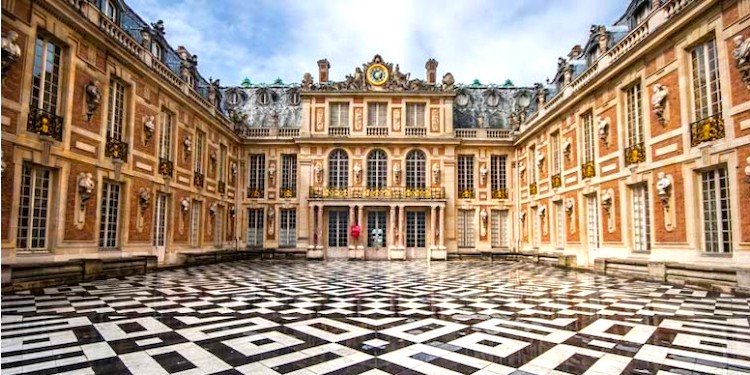 Experience the grandeur of Versailles without the hassle on this half-day tour of the royal estate. Bypass the long lineups for the chance to see areas of the chateau usually reserved for dignitaries. Also on the itinerary are the Hall of Mirrors, the king and queen's private residences, and the magnificent gardens. Includes transportation from central Paris.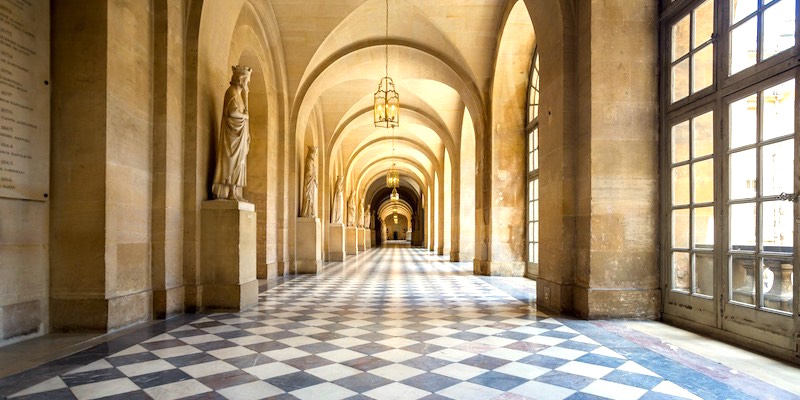 Go the royal route with this private half-day tour of Versailles that starts with pick-up from your Paris address. You also enjoy the services of a professional guide to walk you through the Versailles experience. It's a luxurious experience for just you and your party and perfect if you don't want to spend a full day at the royal estate.
Paris Food & Wine Experiences
Things to Do in Paris February 2024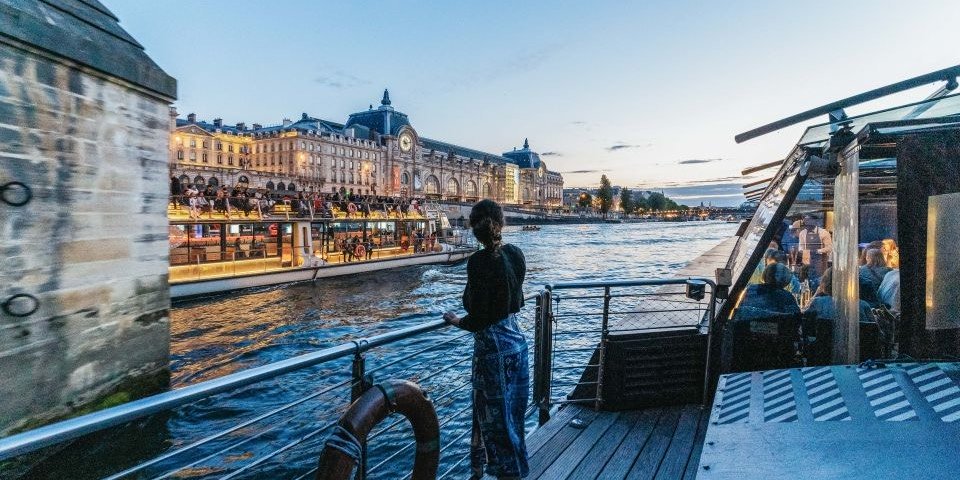 Another way to indulge your inner romantic is on this magical evening cruise along the Seine, viewing the City of Lights at its best. Here, you dine on a decadent 4-course classic French dinner, accompanied by live music on-board, as your bateau floats past illuminated landmarks. Choose the Excellence option for upgraded seating and extra culinary touches.
The weather may be chilly but you'll be warm and cozy on the Eiffel Tower enjoying a classic French lunch at Michelin-starred chef Thierry Marx's new restaurant, Madame Brasserie. With the vistas of Paris below you, and a glass of champagne in your hand, you'll experience Paris in the best best way.
This fun, casual, and affordable afternoon activity includes a multi-course meal on a bateau. A cruise along the Seine is something you must do in Paris, so why not have lunch at the same time? Gaze out the window as the landmarks of Paris pass by. Our advice is to select the Service Premier option for the best menu, the best table, plus champagne.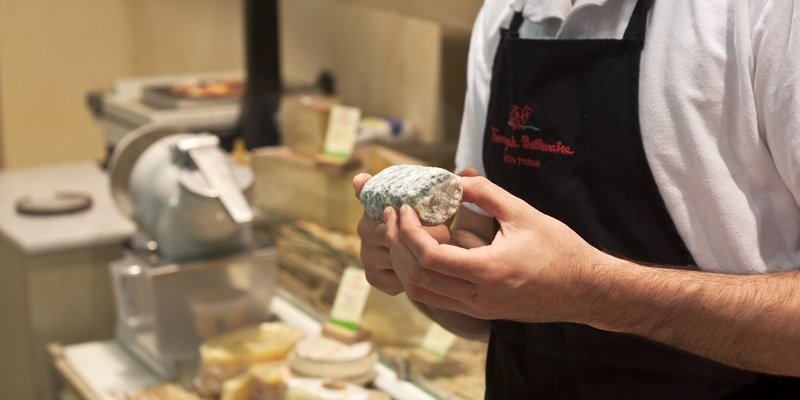 Cheese, wine, Paris? You'll be asking yourself if this is culinary heaven as you learn all about the cheeses of France. In a fromagerie in the Marais you meet an affineur (expert in aging cheeses) and descend into the private cheese cellar where you taste seven classic French cheeses, along with wines. The group size is limited to 10 to ensure there's more cheese for you!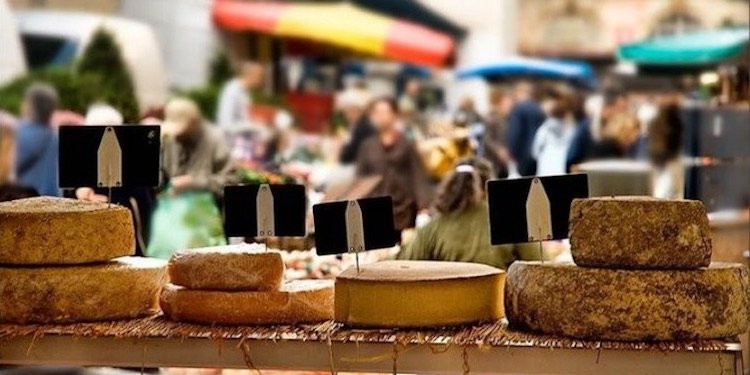 This very popular food tour takes you to the Marais to visit the top food & wine shops in that historic quartier. Discover and taste the best of French foods — think baguettes, chocolate, cheese, charcuterie, and wine. The culinary fun starts at the oldest food market in the city. It's no wonder this one is garnering high praise from hungry travelers.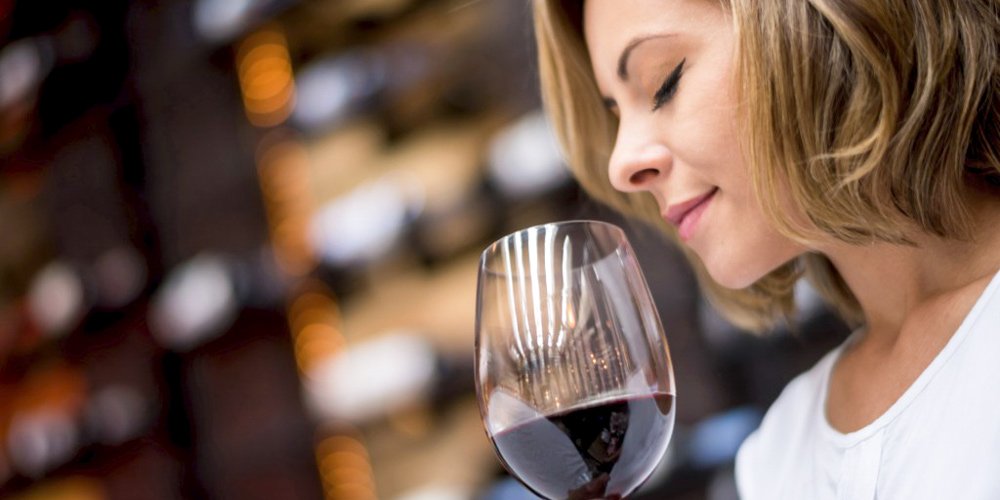 It may be February, but you'll be warm inside a charming wine cellar smack in the center of Paris. Professional sommeliers will guide you through an informal wine tasting, delivering an extensive tasting of wines. We prefer the two-hour grand cru wine tasting because it's not every day you'll get a chance to taste a flight of some of the best wines of France.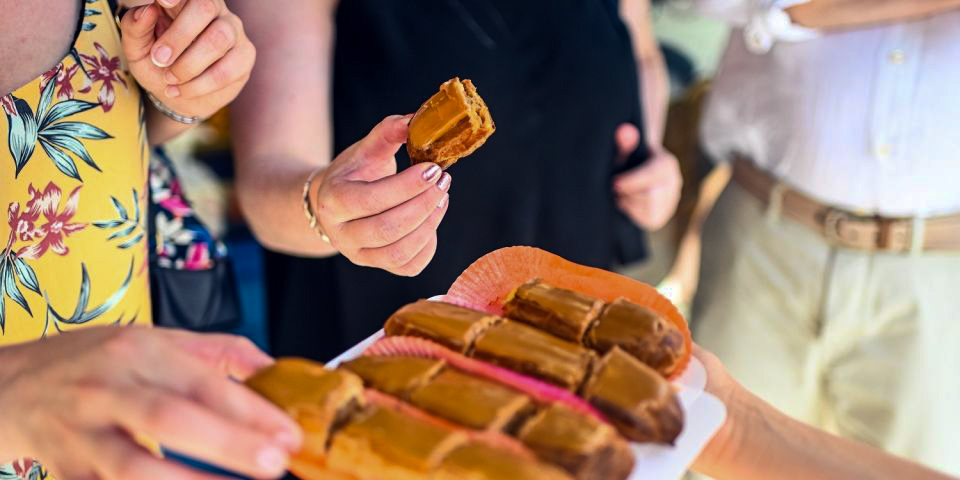 Join a food-expert guide for a walking tour of historic Montmartre to taste some of the best foods found in France — charcuterie, cheeses, wine, pastries, chocolate, bread. This quartier on the hill is famous for its cobblestone streets, café and terraces, and for the bohemian crowd who once lived here. Don't' miss the views of of the rest of the city from its highest point.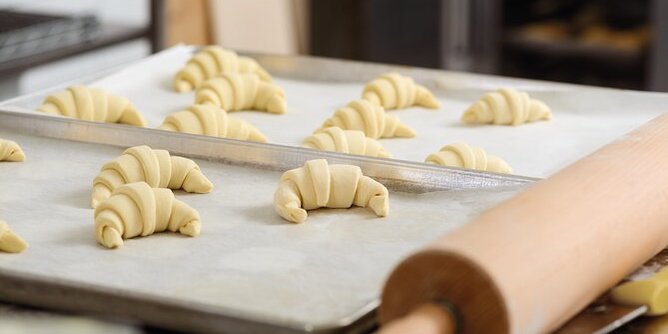 Flaky, buttery croissants are a lasting taste memory from any trip to Paris. While you're here in the City of Food, take the chance to learn how to make croissants in your own kitchen. A professional chef takes you through all the steps to master the iconic French pastry.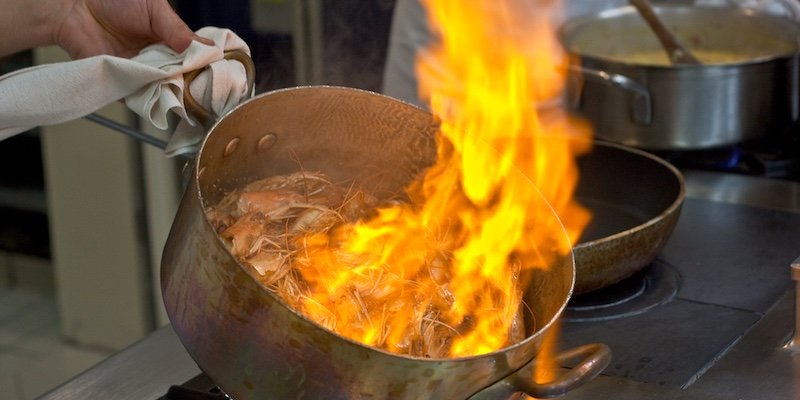 Visiting an open-air food market in Paris is a quintessential French food experience. With an expert chef at your side, meet local merchants and learn all about French specialties. Then, with loaded baskets, it's back to the cooking studio where chef will show you how to create a fabulous 3-course lunch. Then, relax and enjoy your meal. With wine, of course!
Top Day Trips From Paris
Things to Do in Paris February 2024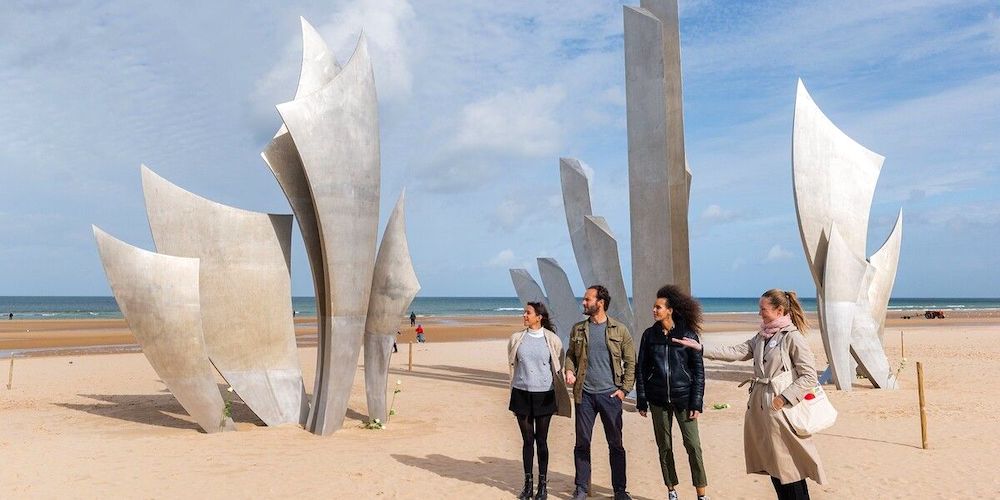 The landing beaches of Normandy are the most popular — and the most famous — battle sites of World War II, even though it's now eighty years later. The best way to get there is to sign up for this small-group tour that takes you to the the beaches, the monuments, the museums, and the dedicated cemeteries. You may find it to be a powerful emotional experience.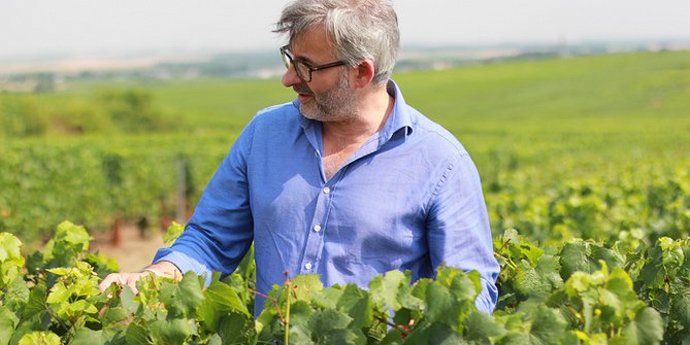 Only an hour from Paris, the Champagne region makes for a memorable day trip. Your driver meets you at your hotel and whisks you to world-class vineyards. After touring historic Reims, the region's capital, the champagne houses beckon and your sampling of bubbly begins! You'll taste the Grands Crus as well as champagne from small family producers. A classic French lunch is included.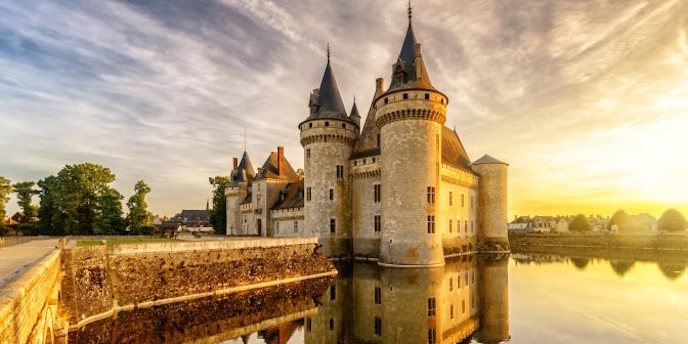 There's a lot to see in France just beyond the Paris city gates, and that includes the Loire Valley, with its magnificent castles. This very popular activity includes guided tours of the most famous castles, plus a wine tasting of the best varietals of the region. Taste wine, enjoy a French lunch, plus see dazzling chateaux. it doesn't get better than that!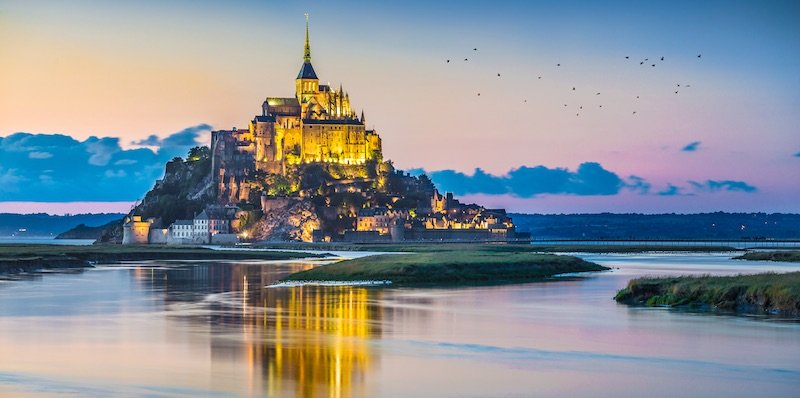 Spend a winter's day exploring the fairytale island of Mont Saint-Michel just off the Normandy coast. Visit the Benedictine abbey that becomes separated from the mainland during high tide. Wander along the narrow streets, the shops, and the abbey's ramparts. On your way you drive through the picturesque Normandy countryside. Everything is included, even pick-up at your hotel.
What's On at the Museums
Things to Do in Paris February 2024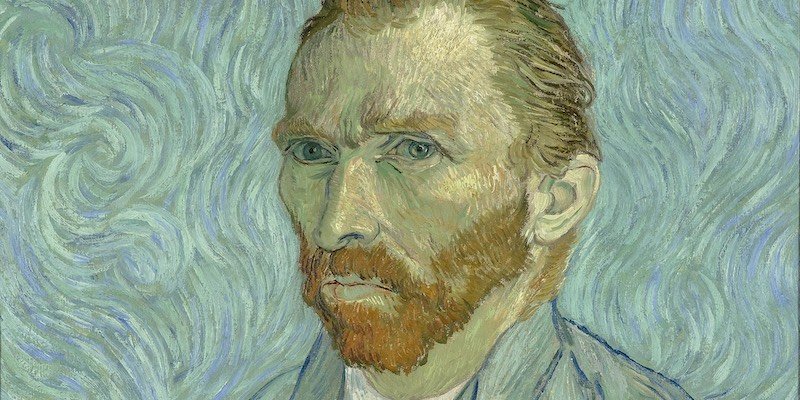 Paris Travel 101 — both the Louvre and Musée d'Orsay museums are very busy, all the time. Instead of waiting in long lines join this lively tour led by an art expert for the best in show. See Van Gogh, Manet & Monet at the Musee d'Orsay, then Mona, Nike & classical art at the Louvre.
Giuseppe Penone – Dessins
Italian sculptor Giuseppe Penone (born 1947) is known for his large scale sculptures of trees, but he has always kept a pencil and paper nearby for his drawings. This exhibition presents over 200 of his drawings donated by Penone to the Pompidou, along with six sculptures.
• Centre Pompidou
• Ends March 6, 2024
• Information…

Masterpieces from Cairo's Museum of Islamic Art
Thanks to a loan of twenty works from the Museum of Islamic Art, this exhibition will showcase the grandeur of Cairo as a leading artistic, economic and cultural city from the Middle Ages forward.
Louvre Museum
Ends May 22, 2024

Kanak Journals
It took Roger Boulay, a museum curator, more than two decades to document 3,000 sketches and watercolors of the Kanak people. In case you've forgotten your cultural geography, the Kanak are the indigenous people of New Caledonia, a southwest Pacific island territory still governed by France. The Kanak speak more than twenty distinct languages with eleven dialects including Creole, and use French as their common language. This is a must-see exhibition!
Musée du Quai Branly
Ends March 12, 2024

The Splendours Of Uzbekistan's Oases
Take a journey to the crossroads of civilization where Uzbekistan, Samarkand, and Bokhara meet. For the first time in Europe, masterworks from the region will be on display, including wall paintings from the Ambassadors' Hall in Samarkand and one of the oldest Korans from the early days of Islam.
The Louvre
Ends March 6, 2024

The 1001 Designs Of The ABCd'Orsay
This joyful ABC is a fun, modern take on alphabet picture books of yore, and shows a contemporary perspective on 19th-century classics.
Musée d'Orsay
Ends March 12, 2024

Faith Ringgold
A major figure in American feminist art, Faith Ringgold's work has covered everything from the civil rights movement to Black Lives Matter. This exhibition is the first in France to bring together a group of major works by this important Black artist.
Musée Picasso
Ends July 2, 2024

Serge Gainsbourg – Le Mot Exact
For the first time, Serge Gainsbourg's manuscripts from his home on Rue de Verneuil are on display. Master of the French language, Serge Gainsbourg (1928-1991) left behind an impressive body of more than five hundred songs, which have been covered by many recording artists.
Centre Pompidou
Ends May 8, 2024
The Best Events in Paris
Things to Do in Paris February 2024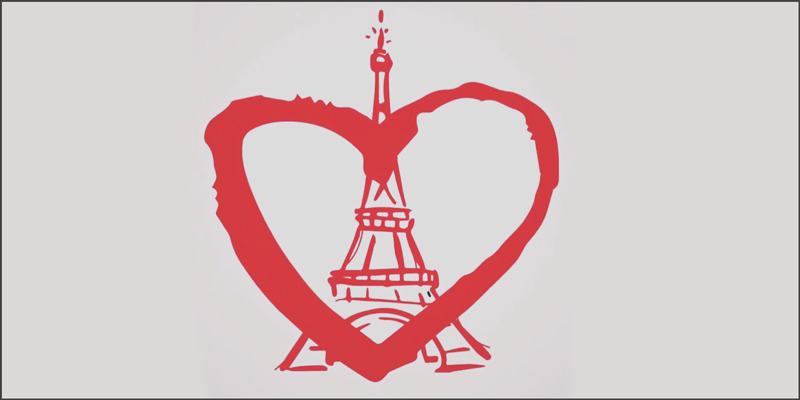 Did you know that Valentin, the saint, was French? Makes sense then that a day in his honor would become a time of love. This amorous holiday is becoming more popular in Paris. Discover nineteen fabulous things to do tin Paris on Valentine's Day. It's all in our guide.
Retromobile Vintage Car Show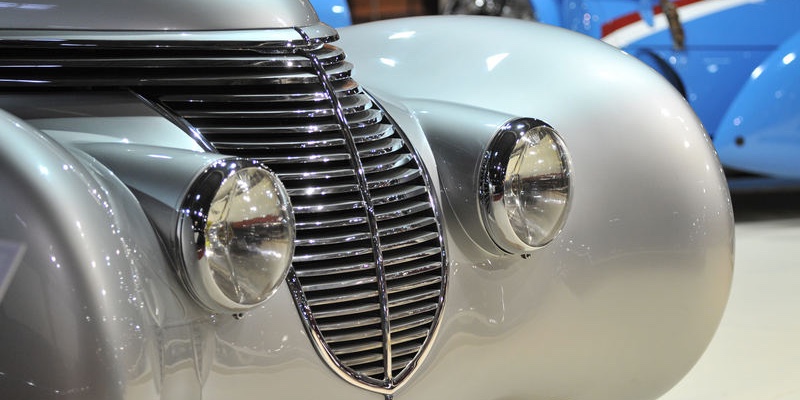 Love cars and love visiting Paris? You won't want to miss this fabulous car show. For the past 40-plus years Retromobile has showcased the auto industry, featuring hundreds of vintage cars.
• Porte de Versailles
• February 1 to 5, 2024
• Information…

Course Saint-Valentin — Valentine's Day Run
Run for love & laughter in Paris, at Parc de la Villette. For 2024 this fun run is back, in the 19th Arrondissement.

Salon Agriculture
France's largest agricultural show usually comes to Paris in February — the off season for farmers — for its annual extravaganza. No one wants to miss the Milking Parlor!
Porte de Versailles
February 25 to March 4, 2024

Paris Grand Slam Judo Championship
15,000 spectators are normally on hand in February to witness one of the important judo tournaments in the world. Find out how many show up this year by attending the tournament at Accor Hotels Arena.
Accor Hotels Arena
February 4 & 5, 2024