Musée de la Vie Romantique – The Paris Museum To The Romantic Life
Musée de la Vie Romantique (Museum of the Romantic Life) stands at the foot of Montmartre in a hôtel particulier (we'd call it a "mansion") with two studios, a greenhouse, a courtyard, and a lovely small garden. The pretty pink and green mansion was once the home of the Romantic painter Ary Scheffer (1795-1858).
For many years, Scheffer and his daughter Cornelia hosted Friday night salons which George Sand and her then-lover Frederic Chopin would frequent. Other regulars at these soirées included Delacroix and Ingres, Liszt and Charles Dickens, Ivan Turgueniev and Charles Gounod (you know, the guy who composed Ave Maria). Let's wander lonely as a cloud in this gem of a small Paris museum.

Nouvelle Athènes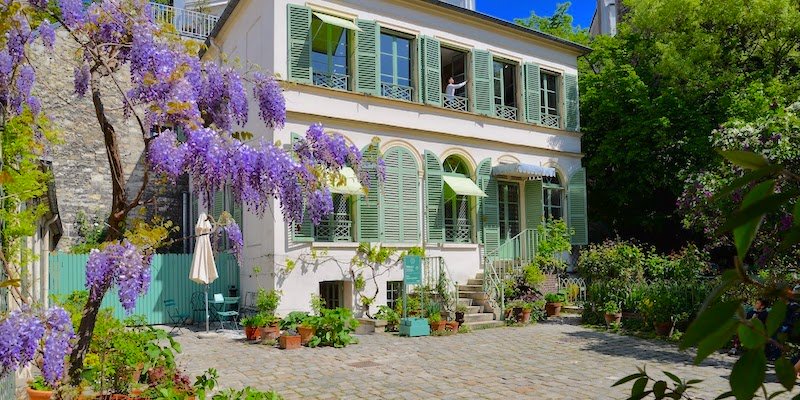 Situated in Pigalle, in a quiet residential area called La Nouvelle Athènes, the museum recreates the era of Romanticism — an artistic, literary, musical, and intellectual movement of the mid-1800s. The ground floor is devoted to all things George Sand: portraits, furniture, and personal jewelry.
The Nouvelle Athènes district was developed in the early 1800s for les bourgeois (the emerging middle class). You can see influences in the architecture from London's townhouses, with large porches and wrought-iron balconies. It attracted wealthy artists and musicians like Chopin, Sand, Cocteau, Delacroix, and Ary Scheffer.
Although Ary Scheffer lived in this hôtel particulier for thirty years, he did not actually own the mansion. It was only after his death that his daughter, Cornelia, purchased the property. She preserved the setting and, a year after his death, a retrospective of her father's work was presented. The two studios, once used as a hospital during the Paris Commune of 1870-1871 were transformed into exhibition spaces for Scheffer's works.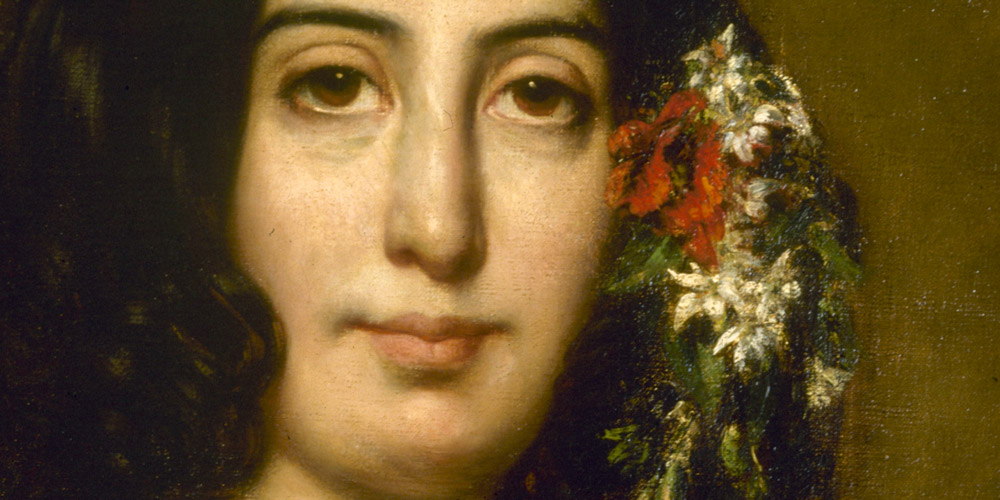 Portrait of George Sand by Auguste Charpentier, 1839

On the first floor you'll find Ary Scheffer's paintings surrounded by mementos of the romantic literary figure George Sand, jewelry and memorabilia including plaster casts of the Sand's right arm and Chopin's delicate left hand. On the second floor, you can admire Romantic canvases, sculptures and objets d'art. Dotting the museum are 19th-century sculptures and bronzes. Also on display are portraits and objets related to the famous scholar and writer Ernest Renan. He married Ary Scheffer's niece; thus the current name of the mansion — Hôtel Scheffer-Renan.
In 1987, the mansion became the Musée de la Vie Romantique. There are annual exhibitions as well as concerts, readings, and other special events. In the peaceful garden is a tearoom, open to the public in spring and summer, where you can ponder the lives of these historic literary and artistic figures while sipping tea and nibbling on a Madeleine.
Who was Ary Scheffer?
Ary Scheffer, Le Petit Atelier, 1850
Scheffer was born in the Netherlands, the son of two artists. He was taught by his parents and attended the Amsterdam drawing academy as a child. In 1808 his father was appointed as court painter to Louis Bonaparte (Napoleon's brother). Unfortunately, Ary's father died a year later, after which he and his mother moved to Paris, where he studied at the École des Beaux-Arts.
Scheffer began exhibiting at the Salon de Paris in 1812 (the annual state-sponsored exhibition of new paintings) and gained recognition when he was commissioned to paint a portrait of the Marquis de Lafayette. In 1830 Scheffer's daughter, Cornelia, was born. His wife died soon after and Ary raised her alone. Cornelia Scheffer would go on to became a sculptor and painter in her own right.
Later in his life, Ary Scheffer was appointed commander of the Legion of Honour. In that capacity, he escorted the royal family in their escape from the Tuileries during the revolutionary fervor that swept Europe in 1848. Although Scheffer did participate in the uprising in Paris, he was shocked by the cruelty and misery he witnessed and he withdrew from political activity. After Napoléon III came to power, Scheffer refused to paint any portraits of him or his family. Ary died in 1858 at his summer house; he is buried in the Montmartre cemetery. Thanks to the work of his daughter Cornelia, his legacy continues at La Musée de la Vie Romantique.

Musée de la Vie Romantique Resources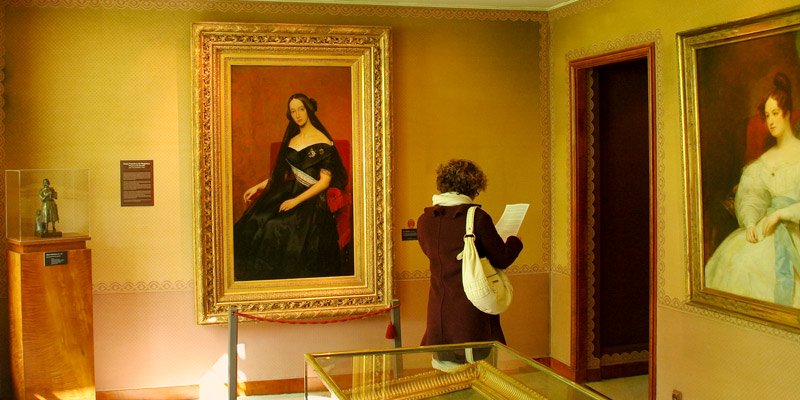 The museum is owned and managed by the City of Paris. Admission is free, except for the special exhibitions.
16 rue Chaptal
9th Arrondissement
Metro – Saint Georges, Pigalle, Blanche, and Lièg.
Open Tuesday to Sundays, 10 to 6