Dinner & Cabaret at the Moulin Rouge
Take your seats at the world's most famous cabaret – delight in the spectacular show while enjoying a traditional French multi-course dinner. Choose the Belle Epoque Menu for the best experience.
Check Availability…
5. Gabriel Davioud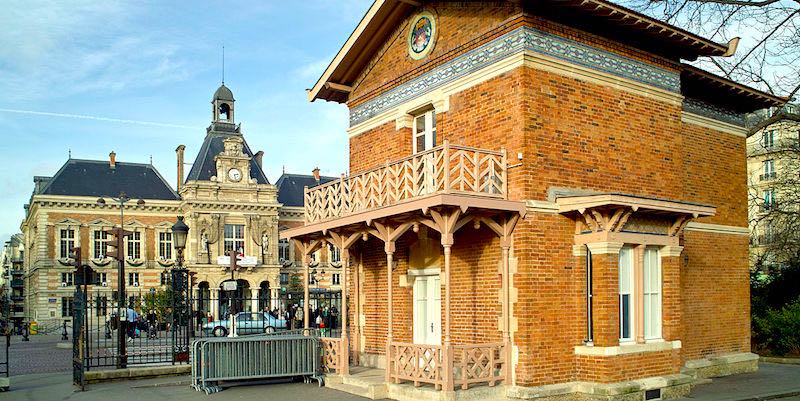 Mairie of 19th Arrondissement in the background, photo Wikimedia Commons by Traktorminze
Across from the main entrance to Parc des Buttes-Chaumont (on the north side, at Place Armand-Carrel) is the Mairie of the 19th Arrondissement, the town hall. This pleasing building was designed by Gabriel Davioud in 1876, the architect of the City of Paris, who also designed the Temple de la Sibylle, and the park entryway as well.
Davioud was responsible for a lot of what we take today to be typical Parisian design. He worked closely with Baron Haussmann during the massive renovation of Paris and , in that period, was responsible for the Saint-Michel Fountain in Place Saint-Michel and the two building flanking the Place du Châtelet. It's likely that he was a major contributor to the design guidelines that Haussmann imposed on all new buildings along the boulevards and avenues that were plowed through in this period.
More than just buildings, Davioud also created the distinctive designs of Parisian benches, lamp posts, bandstands, even fences and sign posts. So, when you stop for a rest on one of those typical Paris benches, remember to give a silent thanks to Gabriel Davioud.
6. Jean-Charles Alphand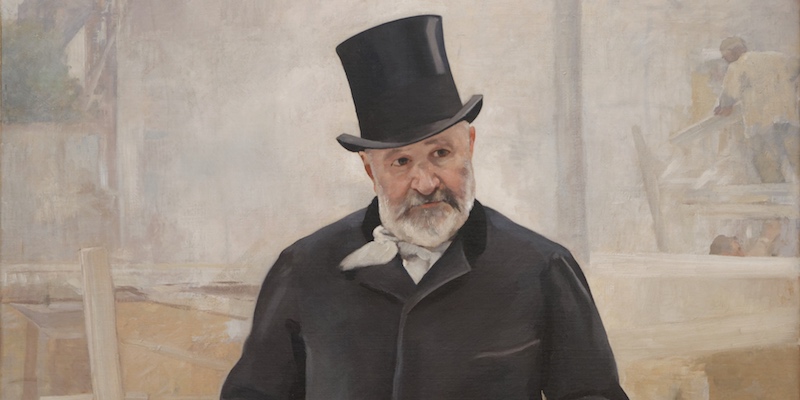 Jean-Charles Alphand
Baron Haussmann, Napoleon III's right-hand man in city planning, is too often given all the credit for the 19th-century modernization of Paris. We've been guilty of this. In fact, Haussmann was an able (and determined) administrator who was skilled in finding the right people to do the work that was needed. One of these was Jean-Charles Alphand.
Alphand was responsible for the design and construction of Parc des Buttes-Chaumont, which took place from 1864 until the park opening in 1867. He was already very experienced, having built the massive parks of Bois de Boulogne and Bois de Vincennes in 1852 and 1855. Alphand brought in the best to assist him, including horticulturist Jean-Pierre Barillet-Deschamps, the chief gardener of Paris, and, as we have seen, Gabriel Davioud.
You can find more of Alphand's work elsewhere in Paris today. There's Boulevard Richard-Lenoir, the gardens flanking the Champs-Elysées, and Parc Monceau, another one of our fave Paris parks. It's fun to drop into the Petite Palais to visit the portrait of Alphand (shown above) by Alfred Philippe Roll.

7. It's a Park for People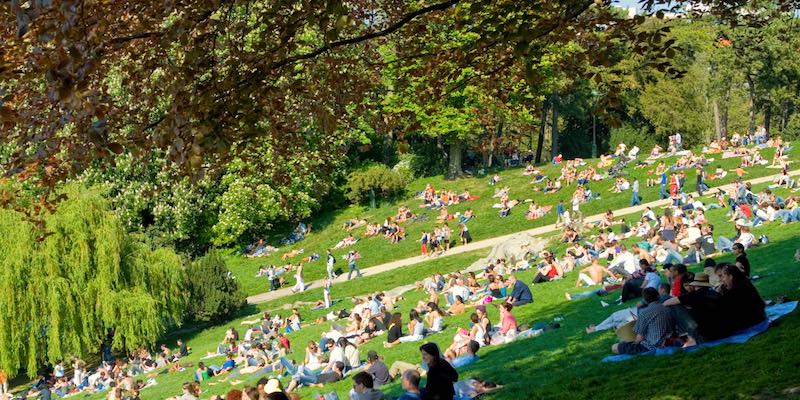 The well-used & appreciated lawn at Buttes-Chaumont, photo Wikimedia by Jean-Louis Vandevivere
If you want to find a place where the kids can run around on the grass, Parc des Buttes Chaumont is the place for you. For refreshment there are a dozen drinking fountains as well as three or four restaurants and snack bars. It's a great place for exploring, relaxing, walking, and jogging.
For kids and families there are loads of possibilities — from crossing the bridges and climbing to the belvedere to pony rides, playgrounds, puppet shows, and sandboxes. The park is a bit out of the way of the central Paris sights, but it's worth a visit.
Parc des Buttes Chaumont Resources
Main Entry – Place Armand-Carrel, 19th Arrondissement, also…

1 Rue Botzaris
2 Rue Manin
55 Rue de Crimée
42 Avenue Simon-Bolivar

Metro – Buttes Chaumont or Botzaris, Line 7B
Free WIFI available in four areas of the park
Hours – 7 AM to 9 PM. 24/7 in the summer.