Dining in Napoleon's Hunting Lodge At Restaurant La Grande Cascade
A spray of water mists our faces as we walk beneath the falls, water ultimately fed by the artesian wells of Passy, or perhaps from the Ourcq Canal. Hanging off of the southwest edge of Paris is one of most relaxing places in the city — 2,090 acres of woodlands aptly called the Bois de Boulogne.
In the mid-nineteenth century Paris was undergoing a massive renovation — Emperor Napoleon III ordered large parks to be built with lakes and streams and…a grande cascade. The emperor was so enamored with the big waterfall that he had a hunting lodge built next to it as a woodland retreat for his royal self. During the intervening one hundred fifty years the hunting lodge has grown into a lavish restaurant with a large curved glass and iron wall opening up onto its namesake, La Grande Cascade. Here's our retrospective review, from 2014.

Arriving at La Grande Cascade
The restaurant resembles those Art Nouveau Metro station entrances designed by Hector Guimard. Light, lattice-like ironwork surrounds the windows and doors of the curved wall, allowing the complete spectrum of natural light to pass into the dining room. Above each set of windows is a high, sweeping filigreed arch. Topping it all off, ten feet above the ground, is a glass-paneled overhang, like the brim of a giant's sunhat, providing shelter to the patio that surrounds the dining room.
La Grande Cascade Experience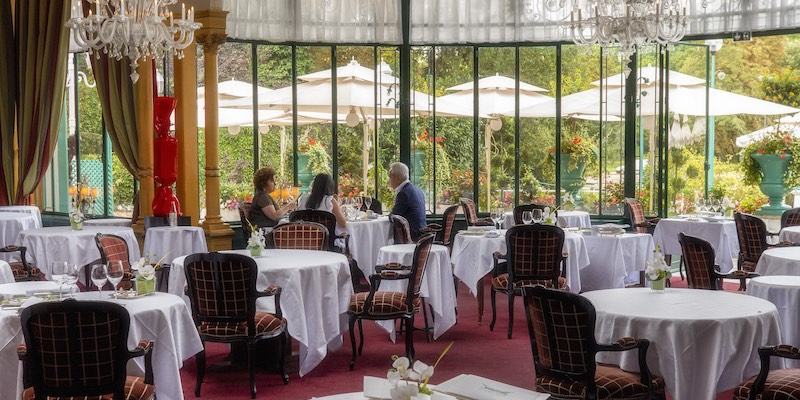 The room is classic elegance. Soaring windows are partially covered in white sheer curtains; the lace-like chandeliers are a matching color. Along the sides of the room plush draperies hang. Louis XVI armchairs, with their distinctive oval backs and slim tapered legs, are upholstered in a geometric-patterned heavy fabric. Tables are set with white tablecloths, an array of matching glassware, and Limoges green-and-white plates trimmed in gold leaf.
A young man pushes a cart in our direction — no, it's more than a cart, let's call it a wagon — he trundles a champagne wagon in our direction. Clearly designed for the sole purpose of conveying a sizaine of champagnes set in a giant ice bath, at its edges are specially cut holes to accommodate fluted glasses.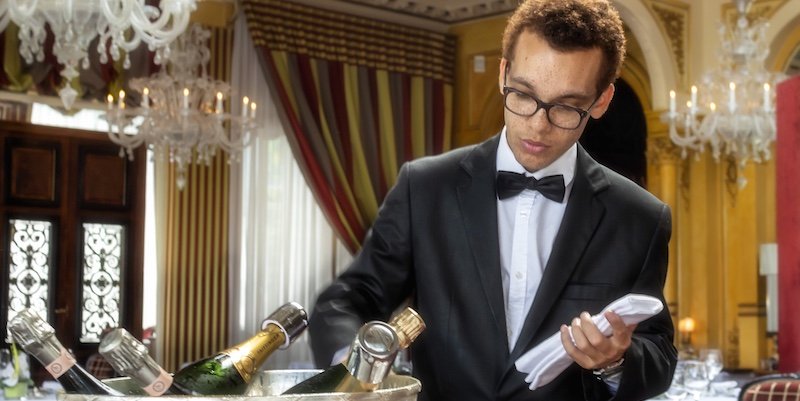 "Madame, monsieur, voulez-vous commencer par le champagne?" He suggests we try a different sort of bubbly, a blanc de noirs that is 100% Pinot Noir. Gonet-Medeville Premier Cru — pale gold, almost caramel in color, it's hard to imagine this champagne is made from red Pinot Noir grapes. But that's what the name means, blanc de noirs, a white champagne made entirely from dark grapes. White from blacks. With the first sip we taste strong citrus tones and wet-stone mineral flavors.
A warm ball of cod, coated, quickly deep-fried to crispy perfection, and anchored to a dollop of citron sauce with a tiny bamboo skewer sits on a small white plate which is laid upon a doily, which is laid upon another white plate which is laid upon the luscious green and gold china plate. Fat, crunch and silkiness is cut with the citrus and chalk of the champagne.


Two uniformed servers simultaneously place a new dish in front of each of us: a single slice of crab maki with a deep fried wonton wrapper on the side. It's a fresh, salty bite of crab meat and cucumber wrapped in nori. A thin wedge of radish balances precariously on its edge with two tiny pieces of chive glued onto the upright radish, like antennas.
The sommelier approaches our table and pours another wine — a lively Loire white Domaine Pellé from the AOC Menetou-Salon, pretty much dead-centre France. Like its valley neighbors the wine is made from 100% Sauvignon Blanc grapes, with flavors of lemon, grapefruit, lilies and chalk.


Servers follow with two plates covered with a silver domes. After a pause of three beats the domes are lifted in unison to reveal bar de ligne aux écorces de citron, a nicely seared, small piece of sea bass, the size of an elongated matchbox with a sliver of lemon rind jutting from the flesh. Surrounding is pan-fried fennel, two thin apple slices, and two perfect potatoes with a brunoise of other vegetables in their jus.
Like moving from summer into autumn, the meal moves from fish to red meat with carre d'agneau de Lozere frotte au piment d'Espelette, pastilla d'epaule confite aux epices, marmelade d'aubergine. The perfectly-pinky-rosy roasted lamb is tender with a hint of spice from the Basque Espelette pepper (an AOC product) and a dollop of eggplant marmalade, pistou and pimentos. The star of this dish is a crunchy pastilla (a nod to North African cuisine), filled with spicy lamb confit, wrapped and deep fried.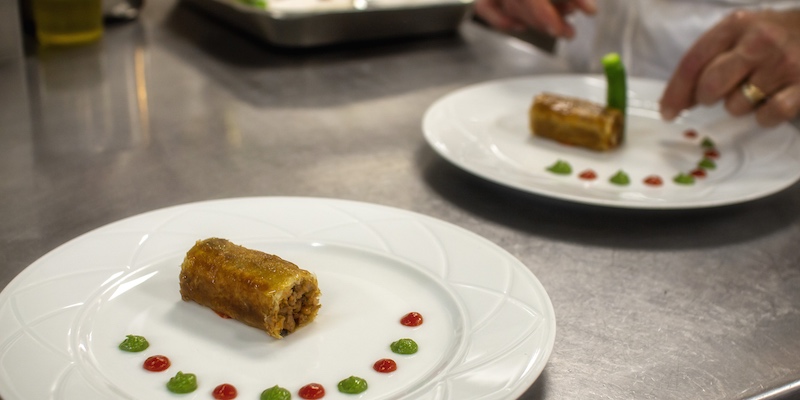 In the kitchen of La Grande Cascade

This confluence of North African flavors, perfect meat, classic French cooking techniques and Chef Frédéric Robert's deft touch with garnishes signals the climax of the meal. We attack the pastilla with gusto knowing that there is only dessert to follow.
A perfect red ball sits on a white plate. The only garnish is a sliver of edible gold-leaf to indicate where an apple stem would naturally grow. Suddenly waiters arrive in a pack, surrounding the table, one waiter per diner. With perfect timing and a deft touch they tap a large spoon on the spheres simultaneously to break one open in front of each of us; releasing a stream of rippling creaminess: fresh strawberry compote, whipped cream, scarlet strawberry sorbet. Un vrai triomphe.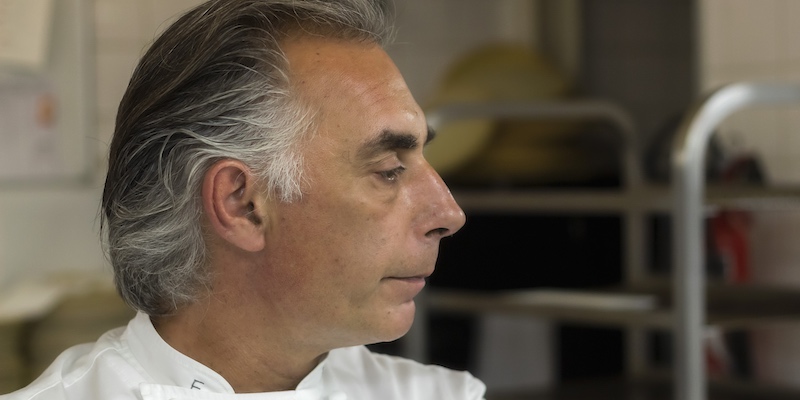 Chef Frédéric Robert

The dessert wine matches the dessert — in both flavor and color. In this case it's a quirky, sparkling pink wine we've never heard of before, and it's absolutely delightful — Cerdon Benardat Fache, 2013, Appellation d'Origine Bugey Controlée. Even though it's pink it's not overly sweet. It is delicate, berry-scented, refreshing, and a delicious match to the sweetness of the alpine strawberries.


Guy Savoy, the Michelin three-star chef, once said, "Restaurants are the last refuge of civilization on the planet." Sitting here in this jewel of a restaurant, we agree. Dining at La Grande Cascade is like stepping into another world — of luxury, privilege, and certainty — if only for a few hours.

La Grand Cascade Resources
Allée de Longchamp, Bois de Boulogne 75016
01 45 27 33 51