Montmartre Paris – A Stroll Through The Bohemian Village On The Hill
This most bohemian of Paris neighborhoods is known for its cobblestone streets, its village atmosphere, its nightlife, a big white church, and for the artists who found a home there more than a century ago. Up on a hill sits the former village of Montmartre, where narrow streets climb and bend their way up to Sacre Coeur, the white church visible from most everywhere in Paris. Still famous for nightlife, at the foot of Montmartre you'll find Moulin Rouge and late-night bars.

Local Life in Montmartre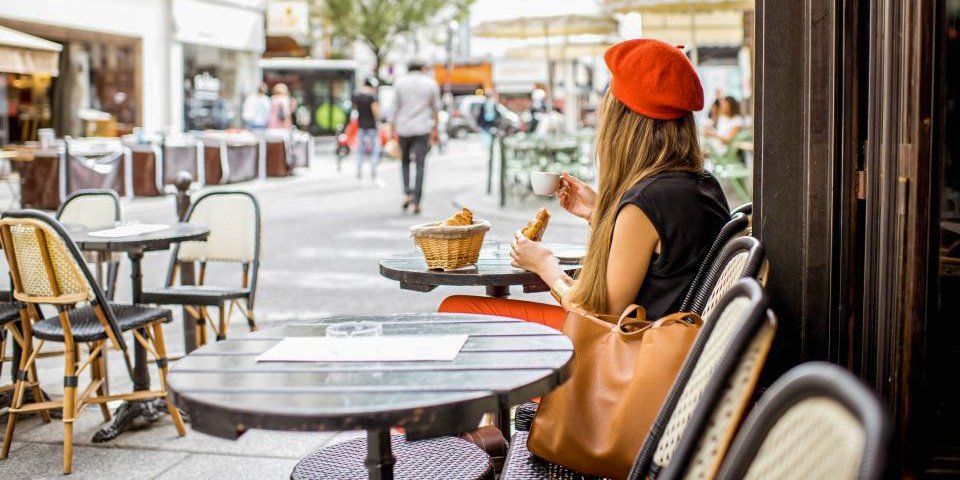 But, Montmartre is much more than nightlife and a church. There's a real sense of local life here with restaurants, streets, and shops to explore. Recently, Montmartre has also become known for its top-notch boulangeries, ranking high in the city's annual best baguette competition. Plan to spend at least a part of a day in Montmartre. Get off the beaten track and seek out spots like Espace Dali, or the site of Picasso's famous early studio. Let's take a walk around to discover what else is great about this quaint quartier.
Eleven Great Things About Montmartre
1. The Old Village of Montmartre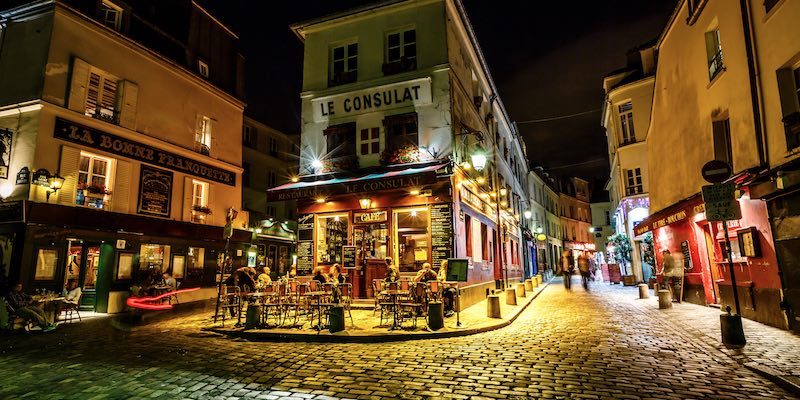 Montmartre began life as a hilltop village, surrounded by vineyards and farmland, and commanding a lovely view of Paris at the bottom of the hill. Its rural tranquility was disturbed during the Napoleonic Wars when the Russian army used it as a base to bombard Paris in 1814.
The village thrived commercially when a tax wall was built around Paris in 1785. Montmartre, being outside the walls, was a center for business wanting to avoid taxation and the cafes and bars that served them. (The wall was called le mur des fermiers généraux and existed solely to make it easier to collect takes on goods entering Paris. The wall was torn down by Haussmann and replaced with Boulevards Courcelle, Batignolles, Clichy, Rochechouart, and Chapelle. Today, this is also the route followed by Metro Line 2.)
Incorporated into the city of Paris in 1860, Montmartre managed to retain its rural aspects for decades. Today the old village still exists on the top of the hill, centered around Place du Tertre. It's a destination for many visitors to Paris, but retains a certain charm and an aura of its village past.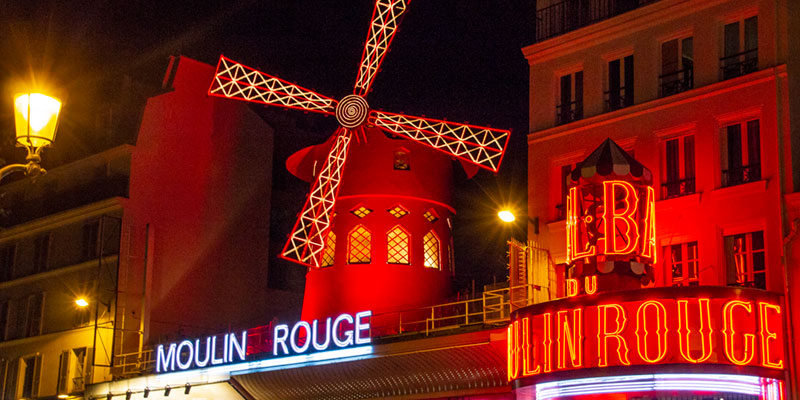 Moulin Rouge is still the #1 rated cabaret show in Europe, and it's been that way since 1889. It's a spectacular show and a great way to spend an evening in Paris. Many others have thought so, too. Over the decades, Moulin Rouge has had its fair share of scandal and celebrity sitings, including Queen Elizabeth. (For the siting, not the scandal!)
It's a great experience and recommend that you book a VIP package tour that gets you the best seats in the house. While dining on a traditional 3-course meal — with champagne of course — take in the lavish cabaret that features a troupe of 100 dancers and 1,000 costumes. This activity tends to sell out, so it's a good idea to book as early as you can. It's an evening you'll never forget.

3. Artists & Writers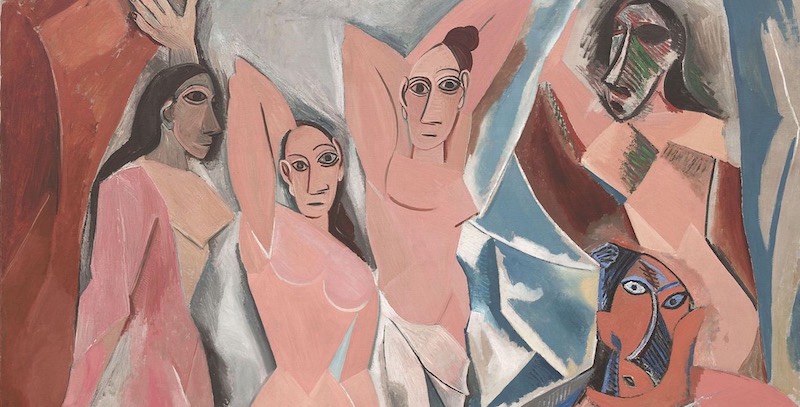 Les Demoiselles d'Avignon, 1907, by Picasso
In the period following the incorporation of Montmartre into Paris, that is to say the late 19th century, artists and writers began visiting, working in, and moving to what was still a hilltop village. Part of the reason is that it was cheaper to live here than in the more urban parts of the city. But another reason must have been the attraction of the area's rural-inspired, slower pace of life.
Walking along the cobblestone streets during that period you might encounter Renoir, Pissarro, or even Van Gogh. Renoir worked at 12 Rue Cartot in 1876 when he painted Bal du Moulin de la Galette. Van Gogh lived on the north slope of the hill. A couple of decades later giants of 20th century art congregated in Montmartre, the only place they could afford to live in Paris. Think of Max Jacob, Modigliani, Matisse, Jean Cocteau, even composer Erik Satie. Perhaps most famously, it's where Picasso painted his breakthrough masterpiece, Les Demoiselles d'Avignon.

4. It's Where the Commune of 1871 Started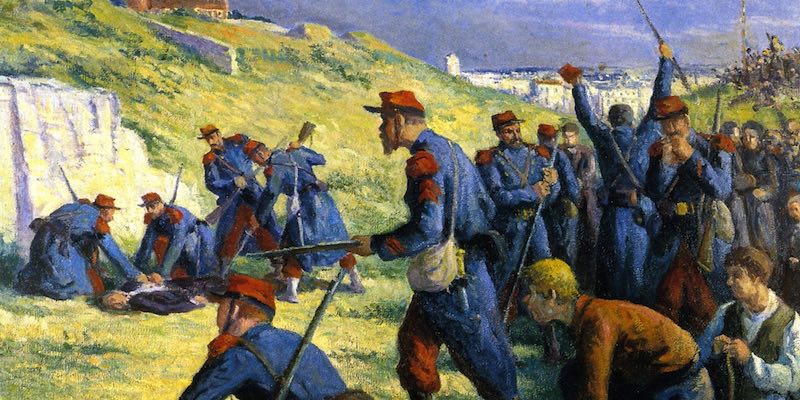 Napoleon II thought he could do no wrong. He had easily taken power in 1848, proclaimed himself emperor, and had spent fifteen years completely transforming Paris from a medieval city of narrow dark streets into a modern capital of broad, tree-lined boulevards. Heck, he even had a brand-new sewer system built.
So, when the Prussians teed him off in 1870 he didn't hesitate to go to war. Bad move. Within a short time the French army was defeated, Napoleon III had taken himself off into exile, and the Prussians subjected Paris to a four-month siege and great hardship.
The Prussians finally left, following a peace brokered by the new government of France. But a radical group in Montmartre wasn't about to let the government get away with its mismanagement and its treaty with Prussia. The Commune, as they named themselves, quickly spread from the working class of Montmartre to the other areas of Paris
The French government (the Third Republic) was forced to move to Versailles and a sort of socialist republic was established in the city. Anarchist Louise Michel became known as the Red Virgin of Montmartre and remains a legend of the Commune. The uprising ended on May 28, 1871, when Eugene Varlin, one of its leaders, was shot by government soldiers on Montmartre. The Paris Commune lasted only about ten weeks, but was marked by many deaths and the destruction of sections of the city, including the Hotel de Ville and the Tuileries Palace (which was never rebuilt). In the end, as many as 20,000 were killed and 40,000 Communards were arrested or deported.
5. Espace Dalí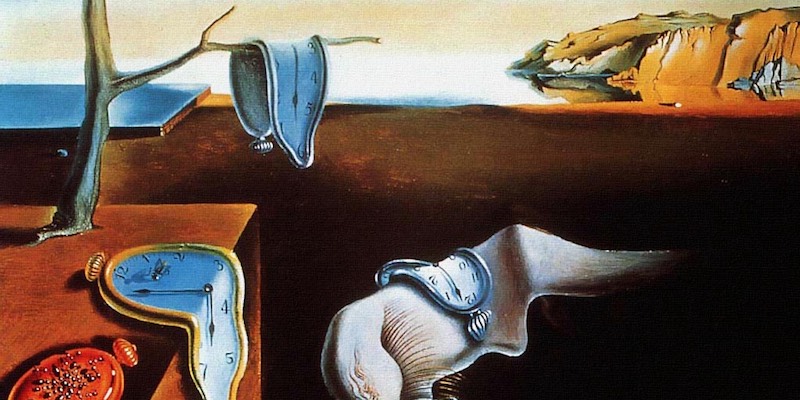 This museum devoted to Salvador Dali, the master of Surrealism, is located at the top of Montmartre, on Place du Tertre. It's more of a commercial enterprise than are most Paris museums, but there are two floors of some of Dali's best paintings, sculptures, drawings, and cartoons.
In case you've forgotten your French art history, Salvador Dali (1904 to 1989) was born in Spain, near the French border. Like his countryman, Picasso, Dali didn't complete art school (Picasso dropped out, Dali was expelled). The two artists met in Paris in 1926 and Picasso's influence can be seen in Dali's early works. Dali dabbled in everything — photography, sculpture, film, fashion, and theatre. Check to see what temporary exhibits are showing at Espace Dali.

6. Basilica Sacre-Coeur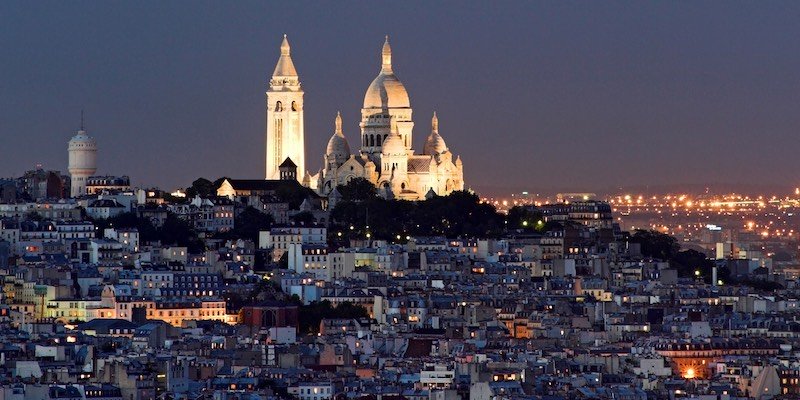 Even though some consider this snow-white church to be an eyesore, a white elephant, there's no better view of Paris than from atop the steps of Sacre-Coeur. In fact, because it's built on the hill of Montmartre, it's the highest point in Paris (higher than the Eiffel Tower). If you want to avoid the climb, catch the automated funicular lift near Rue Tardieu — you can ride with a Metro ticket.
The approach to the Sacre-Coeur area is a tricky one. If you take Metro Line 2 to Anvers and walk up Rue Steinkerque you will be subjected to a double row of the worst kind of tourist shops — even on the top of the hill you'll find a horde of hawkers selling every imaginable tacky knick-knack.
We recommend instead that you take Metro Line 12 to Abbesses and wander the streets of Montmartre, wending your way up the hill and east to reach Sacre-Coeur. (See our Montmartre Promenade, below.) At the basilica you will be rewarded with an endless panoramic view of Paris.
As you enter the Basilica you may find there's something magical about the building, no matter what your religious beliefs. Of note is the 125-year-old grand organ. Arrive for Mass at 3 PM on Friday, or daily Mass at 11 AM, 6 PM, and 10 PM, and you will hear the organ's music fill the church. Oh, and don't forget to look up to see one of the world's largest mosaics in the world.
7. Our Favorite Eyeglasses Store in Paris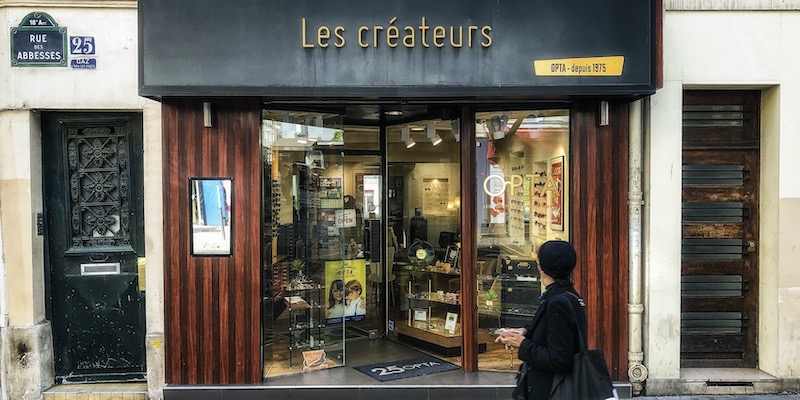 The way we figure it, most everyone in Paris gets their hair done daily and changes their eyeglass frames monthly. At least that's how it seems from the number of hair salons and eyeglass boutiques. Among all these, the place we like to buy our eyeglass frames is right up here in Montmartre, Les Créateurs d'Opta. The staff have been very good at showing us the perfect frames for our needs and they have a nice selection of hard-to-find designer frames. In fact, we bought another cool designer frame on our last visit to Montmartre. Do what we do — buy your frames when you're in Paris and have your optician at home fit the lenses.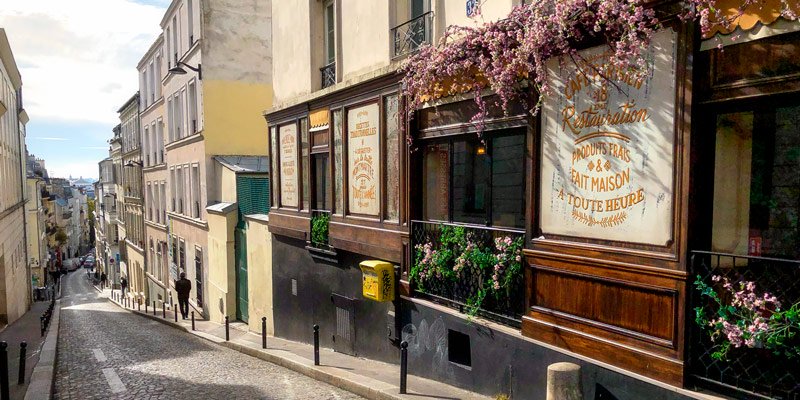 Join a food-expert guide on gourmet walking tour that traverses the cobblestone streets. Visit the shops of Montmartre with the tastiest treats — from acclaimed French cheeses to perfect pastries to the best boulangerie in Paris. Not only do you meet some of the most talented food artisans in the city, you see and learn so much about this hilltop quartier. Luckily, there's plenty of sampling!
9. Rue Lepic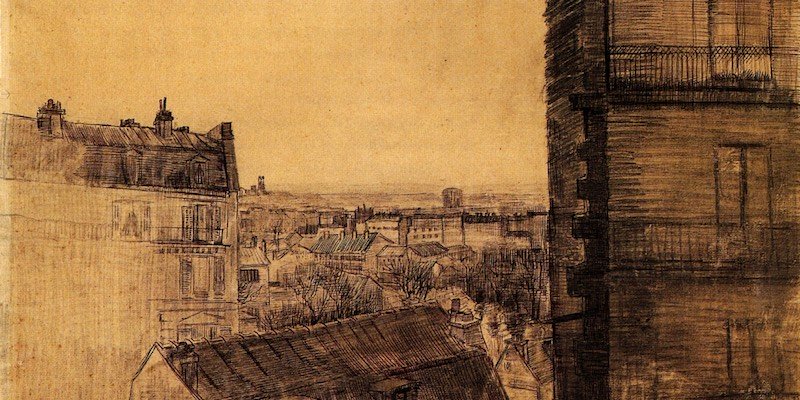 From an apartment on Rue Lepic, 1887, by van Gogh
If you think of Montmartre as only the "flats" — the area at the foot of the hill where you find Moulin Rouge and Metro Line 2 — then you're missing the true heart of the quartier. Up on the hill the real Montmartre starts at Place des Abbesses, where you emerge from Metro Abbesses. From the place a stroll uphill (heading west) along Rue des Abbesses takes you through the modern heart of the neighborhood, past restaurants, shops, and some of the best boulangeries in all of Paris. It's along here that locals shop for their daily needs.
As you continue uphill, Abbesses gently curves into Rue Lepic, the street most typical of residential Montmartre. It's a lovely walk along its cobblestoned surface, taking you past a few restaurants and shops, but mostly among the buildings where Montmartrians live. Near the top you reach restaurant Le Moulin de la Galette where you find one of the original windmills. This is the place where Renoir painted his canvas of the same name. Van Gogh also drew and painted Rue Lepic when he lived here. (Van Gogh's drawing above is of the view from his apartment.)
The street forks at the park. Take the left fork to Rue Norvins and the old village of Montmartre, after at Place J.B. Clément, which you can carry on to reach Sacre-Coeur.

10. Amélie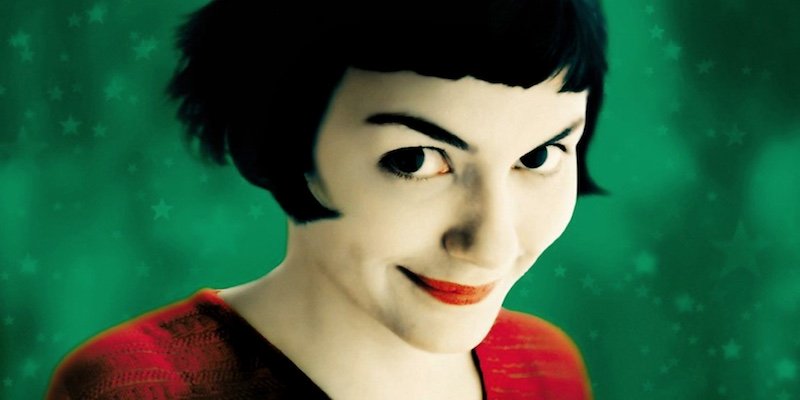 The quirky, romantic filmthat made Audrey Tautou a star takes place in a somewhat-romanticized Montmartre, and is a total delight. Montmartre is definitely the co-star of the movie. Amélie herself works at Café des 2 Moulins, still located at 15 Rue Lepic.
Amélie is not the only movie set in Montmartre. Think of Moulin Rouge and parts of Woody Allen's Midnight in Paris. A fun way to learn about the films shot here, and about the neighborhood itself, is on a movie tour of Montmartre, along with an expert guide.
11. A Short Promenade in Montmartre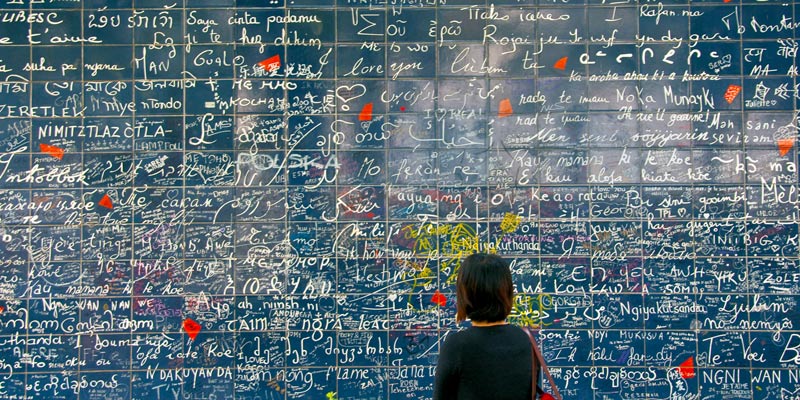 Wall of Love tile mosaic, Square J, Rictus, photo by Mark Craft
There's quite a lot to see in this historic neighborhood on top of the hill. Come along with us on this short (and virtual) walking tour. Start by taking Metro line 12 to Abbesses station. When you get off the train at Abbesses make sure to use the elevator instead of the stairs — it's a long way up!
You come out on Place des Abbesses with its year-round carousel. take a few minutes to visit Square J. Rictus, a small park on the north side of the place. Rest on a bench and look at the unusual mural tile installation on the many ways to say "I love you". (Photo.)
Return to Place des Abbesses, turn right (uphill) and walk to the first passageway on your right, Passage des Abbesses. Climb up the hill to Rue des 3 Frères. Turn left to a small place (on your right). Here, at 11 bis , was the location of a famous rooming house called Le Bateau-Lavoir. Though the original building is gone, this is where some important artists and writers lived, wrote and painted — Picasso, Max Jacob, Henri Matisse, Jean Cocteau.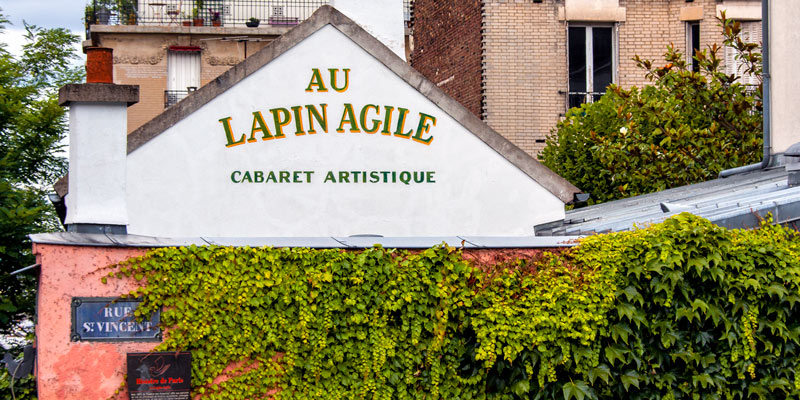 Au Lapin Agile, photo by Mark Craft

Cross the place to Rue Ravignan and turn left into Rue d'Orchampt. Walk this narrow cobblestone street to its end. You'll be on Rue Lepic, at the windmill of Moulin de la Galette, a mill since the 17th century and a nightclub since the 19th. In its heyday it was frequented by Pissarro, van Gogh, and Renoir, who famously painted the gay scene at Galette. (Shown further above, with the Montmartre Impressionist Art Walking Tour) Now, continue right on Rue Lepic until you come to Rue Norvins.
This is the heart of old Montmartre village. You'll join throngs of tourists, but it still has charm. Before you explore, you might want to take a side trip down Rue des Saules to visit Le Lapin Agile, a Montmartre cabaret made famous by Picasso's painting of the same name. Across the street is the Montmartre vineyard, where the only wine still made in Paris comes from. (It's a fun tradition but a lousy wine!) Return to Rue Norvins and stroll through the old village.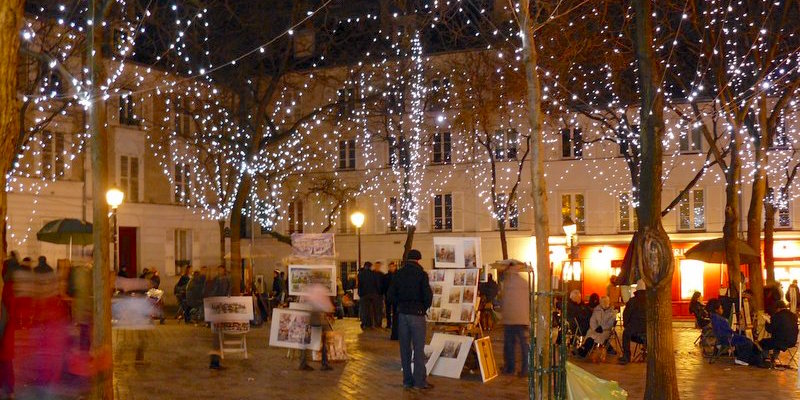 Place de Tertes in Montmartre

Rue Norvins takes you to Place du Tertre, a lively square where artists paint and ply their works, and where tourists mingle and have their portraits painted. (Photo.) You can go further along Rue Norvins to get to Sacre Coeur or exit the place on the south to Rue de Calvaire, where steps take you Rue Gabrielle.
Turn left a few steps then head downhill on Rue Drevet, which turns into more steps after you cross Rue Verthe. At the bottom of the steps you'll be on Rue le Vieuville. Follow this street as it curves back to Place des Abbesses.

The Best Places to Stay in Montmartre
Located on a quiet side street just off Rue Lepic, Hotel des Arts was named in honor of the likes of Picasso, Renoir, and Matisse, all of whom spent time in Montmartre. It's right in the center of all things Montmartre, yet it remains an oasis of calm. Travelers write about the clean rooms, great service, and great location. We give it our top rating of Superb-Plus!. (Yes, the exclamation point is part of the rating.)
Our Rating — Superb-Plus!
• 5 rue Tholoze
• 18th Arrondissement
Montmartre Resources
Montmartre was a hilltop village surrounded by vineyards and fields, with windmills erected to take advantage of the winds that swept up over the hill. A couple of windmills still exist as well as a small plot of vines that produce the only wine grown in Paris.
It wasn't until 1860 that Montmartre was added to Paris during the expansion of the city under Emperor Napoleon III and his city planner, Baron Haussmann.
Montmartre Metro. Line 2, which arcs across the north of Paris from Etoile to Nation, can get you to the flat area at the foot of the hill, to stations Blanche & Anvers. But there's only Metro that takes you up the hill — Line 12 at station Abbesses.