There's nothing wrong with the Louvre. In fact, it's probably the greatest art museum in the world, and million of visitors a year support that idea. The Louvre is always busy and lines are always long. So, we've personally adopted the strategy of signing up for a skip-the-line Louvre tour to get us inside quickly. Once you're inside, you can explore on your own, but the most important thing is to have a plan of what you want to see before you get there. Our guide to the Louvre has some great ideas for the not-to-miss art.
But, once you've done the Louvre, what next? Luckily, Paris is absolutely filled with more than one hundred great museums — and none of the others is as crowded as the Louvre can be. You need to pare down those 100-plus museums to the ones you really want to visit. So, here's our personal list of the twelve top Paris museums we like visiting again and again. Bonus — except for maybe Musée d'Orsay, getting inside shouldn't take very long.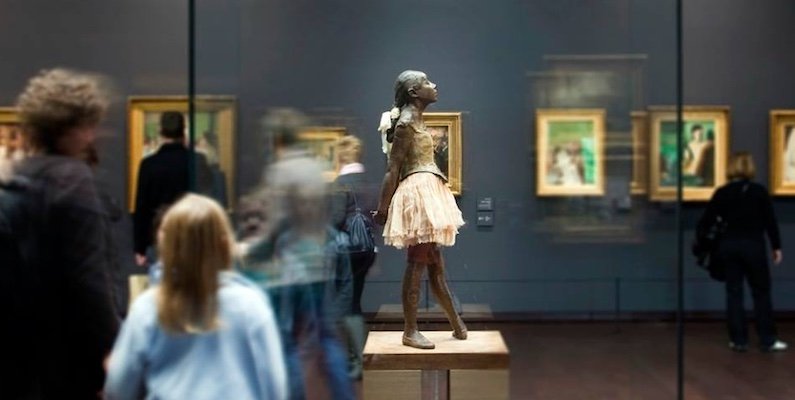 Let's start with the one museum on this list that may have long ticket lines — the Impressionist palace, Musée d'Orsay. This former 1900-era train station has become the world's foremost museum of the Impressionists and other late 19th-century art. Even though there are likely to be crowds, the masterworks on display here make it worthwhile.
To make your wait as short as possible, we recommend signing up for a skip-the-line guided tour with an art expert that bypasses the ticket lines to take you through a priority- access entrance.
2. Focus on Claude Monet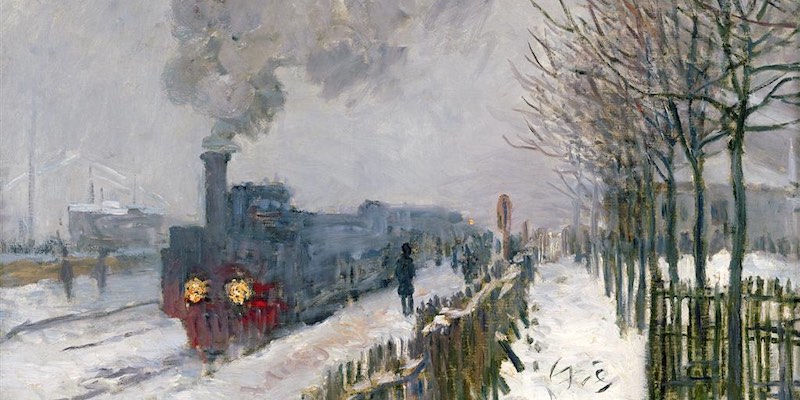 We're suckers for the works of Claude Monet, the most enduring Impressionist master. Luckily for us, and those visitors with similar feelings, there's a museum in Paris that holds the world's greatest collection of his works. It was in 1966 that Musée Marmottan Monet (as it's now called) received a bequest from Monet's last surviving son of sixty-five of the master's paintings. They are now housed in a specially-built space in the museum.
Marmottan, we're happy to report, also displays Impressionist works by Edouard Manet, Edgar Degas, Henri Rouart, and especially Berthe Morisot, the most well-known woman Impressionist painter. The museum is off of the normal tourist route, out in the 16th, and is rarely crowded.

3. The Best Value in Paris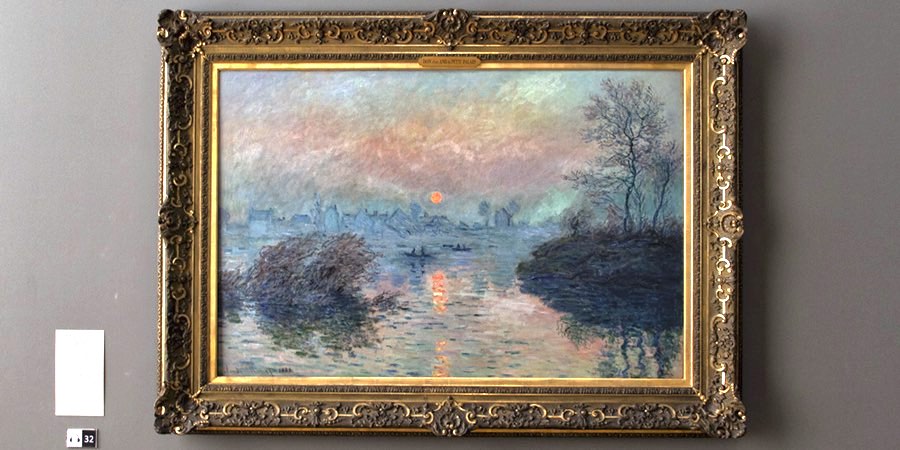 While we're on the topic of Claude Monet, let's mention the Petit Palais in the 8th Arrondissement. This 1900 building houses the Beaux Arts museum of the City of Paris. There are some surprising (and pleasing) finds here, including a magnificent Monet, quite reminiscent of his famous Impression: Sunrise. You can also see fabulous works by Gustave Courbet and Camille Pissarro as well as a broad collection that ranges from the Classical World to the 19th century.
We saved the best part for last. Because this is a City of Paris museum, entrance is absolutely free. Perhaps because of that, it's probably the Paris museum we visit most often. (Not that we're cheapskates or anything.)
4. The 20th Century's Most Important Artist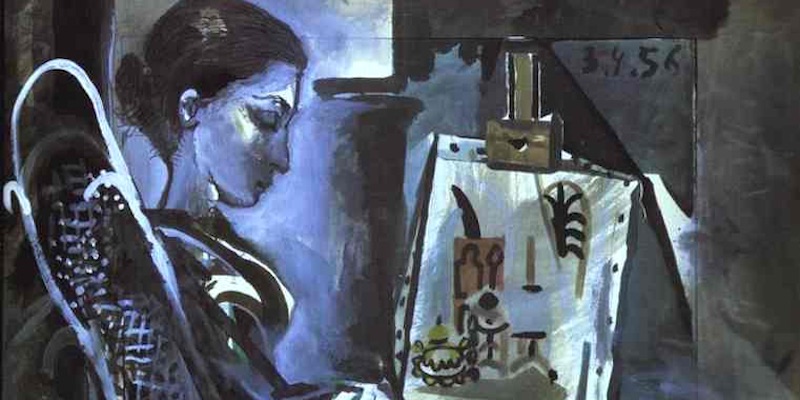 It was only after we first visited the Picasso Museum in Paris that we felt we understood the man and his art. And, following a renovation, it's a better experience than ever. As befits such an important figure, the museum is both lively and comprehensive, filled from basement to attic with works from Picasso's long life — paintings, sketches, prints, sculptures, letters, and even his poetry.
The museum is arranged to reflect the artistic periods in Picasso's life, like the Blue Period and the Rose Period. One of the most fascinating aspects of the museum is the display of works of art from Picasso's personal collection that include works by Degas, Cézanne, Gauguin, Georges Braque, Joan Miró, and Henri Matisse.

5. Explore the History of Paris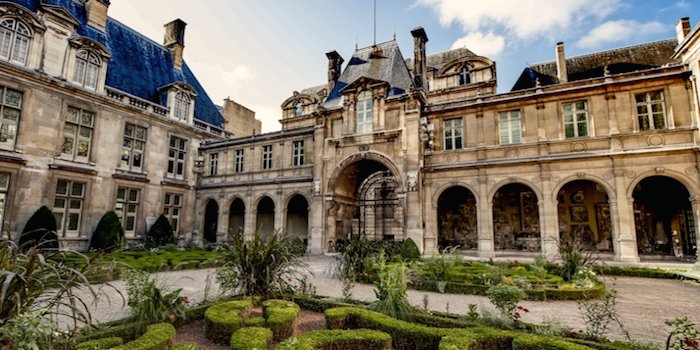 For lovers and Paris and for history buffs, nothing beats Musée Carnavalet in the Marais, now reopened after a five-year, €58 million renovation. In over one hundred rooms and with more than half a million exhibits, Carnavalet shows off Paris history the way the city's residents experienced it. The museum is free (it's a City of Paris museum), making it easy to return again and again for leisurely visits.
We often visit Carnavalet for its interesting special exhibitions (not free) such as the story of Paris under the German Occupation of World War II, and a show exploring the impact on Paris of Napoleon. Other times we stop by simply to enjoy the lovely garden.
6. Museum in the Garden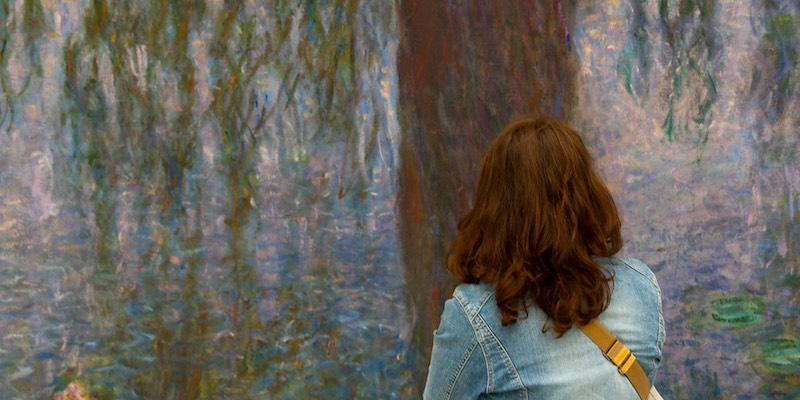 Let's talk about one more museum that spotlights Claude Monet. In the Jardin des Tuileries, which runs between the Louvre and Place de la Concorde, up against its western end, is the relatively small museum housed in what once was the garden's orangery. Called, unsurprisingly, Musée de l'Orangerie, it's home to Monet's famous waterlily paintings. These large-scale Impressionist masterpieces cover the walls of two specially-built rooms. (The construction of the rooms was overseen by Monet himself, just before his death.)
As if the waterlilies weren't awe-inspiring enough, the museum also houses a superb assortment of early 20th-century paintings collected by art dealer Paul Guillaume. You might find yourself gawking at great works by Picasso and Matisse and Modigliani. We did.

7. Inventions, Technology & Machines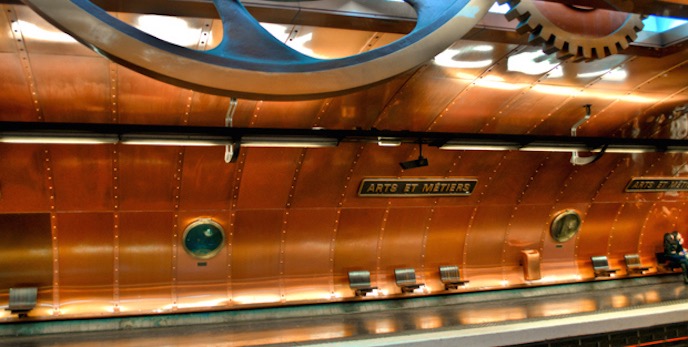 Let's move from one aspect of human creativity (art) to another (technology). In the upper reaches of the Marais, located in a former priory, the Musée des Arts et Metiers has collected fantastic examples from the history of human inventiveness.
From the first airplanes to the first model of the Statue of Liberty to the original Foucault's pendulum, Arts et Metiers shows off the history of the science and technology that infuses our life today. We find it to be a completely fascinating adventure through human ingenuity and invention, and we discover something new every time we visit.
8. The Life Romantic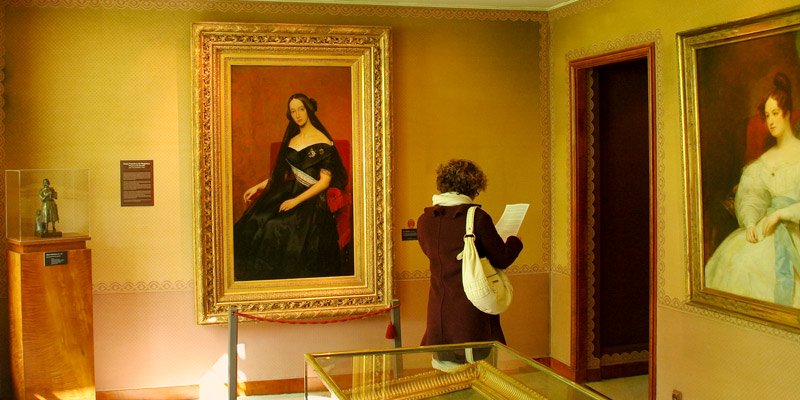 In a pretty garden in the 9th are two small hôtels particuliers where you can take a trip back to early 19th-century Paris, when artists and writers frequented cultural salons, and Paris was expanding north in a new district known as Nouvelle Athènes — the New Athens. That era is now called the Romantic Period (at least by certain historians).
Musée de la Vie Romantique celebrates some of the icons of the period. What is now a museum was once the home and studio of Romantic painter Ary Scheffer. Guests at his regular Friday night salons included George Sand, Frederic Chopin, and the likes of Delacroix, Ingres, Liszt and Charles Dickens.
9. A Slice of 19th-Century Parisian Life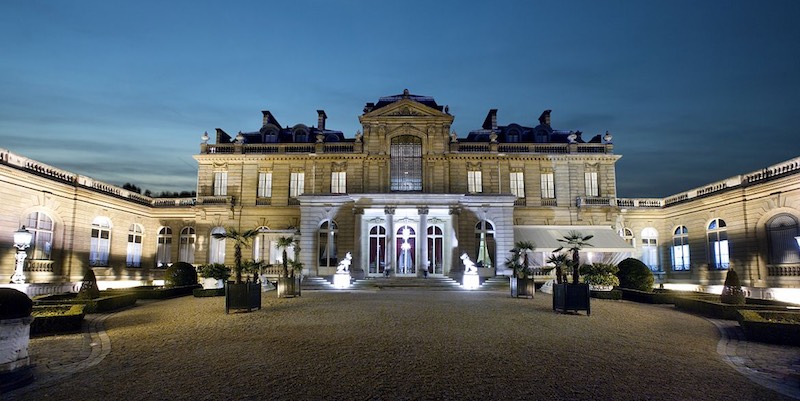 For more on chi-chi life in Paris in the 19th century we head over to Musée Jacquemart André. Edouard André was born to privilege during the Romantic Period. He started collecting art early in life, and after his marriage to Nélie Jacquemart the couple devoted their lives to traveling and expanding their collection.
But it's not so much the art collection that blows us away. It's the mansion they built to house the art. Visiting it is like taking an amazing trip through the fairytale existence of these wealthy Parisians. Curved walls, gilded details, marble staircases — they are all there. But perhaps most amazing are the moving walls that could transform the already large rooms into one huge party central — although they called it a ballroom.

10. Better Homes & Gardens, Rodin Style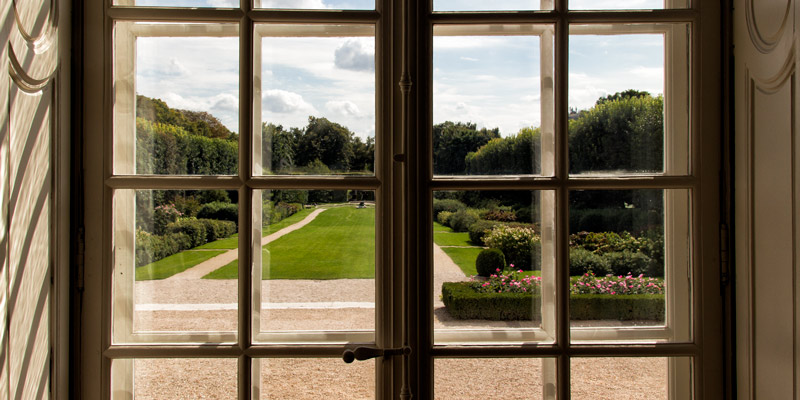 As we say in our review, "there's really no other museum like it in Paris." There are other museums that are located in the former homes or studios of artists, but in Rodin's case the home and studio were in a striking two-story mansion that overlooks seven acres of gardens, ponds, and perfectly-pruned trees. You feel like you're in the country, but you're pretty much right next to Les Invalides in the middle of Paris.
While the mansion (Hôtel Biron) and the artwork it contains are fascinating in their own right, it's the gardens that shine for us. Somehow, viewing Rodin's sculptures in amongst the trees and the flowers and the lawns is exactly right — it's the perfect setting for his work. Go on a sunny day in Spring if you can arrange it.
11. For the Photography Aficionado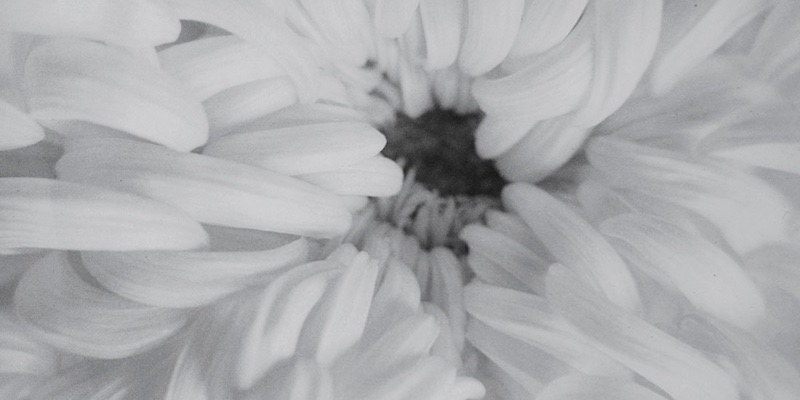 Paris is a very good place to see photographic works. There are the annual Mois de la Photo and photo industry fair. There are also a couple of excellent photo museums, but for location and calibre of the exhibits, we think Jeu de Paume stands out. This national gallery of photography is found in the Tuileries, up against Place de la Concorde and across from l'Orangerie.
It seems like there's always something fresh and interesting on display. We've seen exhibits featuring the work of one or another historically famous photographers, as well as others showcasing photographers we had not been aware of but whose work is very good. So, we go for both the big names and for fascinating new discoveries. (Like too many Paris museums, Jeu de Paume has a mediocre-to-lousy website that can take too long to load.)

12. The Art Museum Without an Art Collection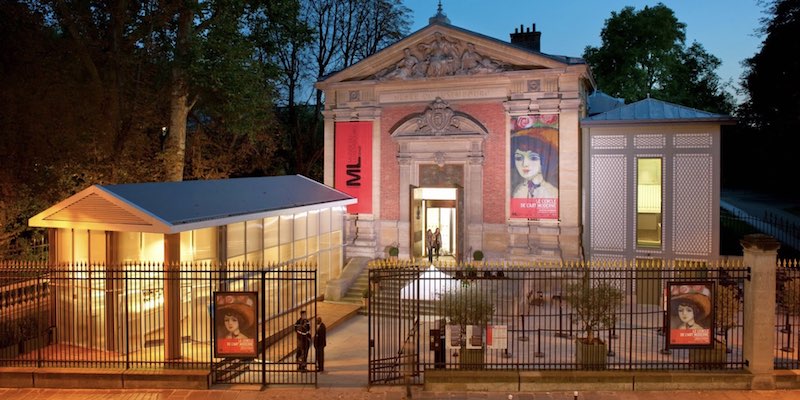 Let's round out this list of the top 12 Paris museums that aren't the Louvre with a museum that doesn't have a permanent collection, and is only open for a few shows each year. Musée du Luxembourg is tucked into a corner of Jardin du Luxembourg and is part of the Palais du Luxembourg complex — it's all owned and operated by the French Senate.
Musée du Luxembourg was actually the first public art museum in France, back in 1750, but today it's known for its stellar special exhibitions, staged only a few times a year. There have been shows like the portraits of Titian, and the later paintings of Pissarro. All of the shows bring together exemplar paintings from top galleries and museums from around France. If there's an exhibition at Musée du Luxembourg while you're in Paris, be sure to get tickets.