Our Paris Diary From March 2012 – Twelve Great Things We Did
The Paris Cookbook Fair is an annual event in which cookbooks from around the world are displayed and awarded. In 2012 the Fair was held in March, but the night before the fair, at the famous theater, Folies Bergere, was the award ceremony, where food books published around the world in the previous years were recognized, and where a few books received coveted prizes.
It was an exciting time for us, since one of our books, How to Cook Bouillabaisse in 37 Easy Steps: Culinary Adventures in Paris and Provence, was up for an award in the Paris Gourmand Cookbook Award French Cuisine category. It was the perfect excuse to spend another month in Paris. Here are excerpts from our diary of the time, along with the photos we shot.

March 5 – Drinking Our Favorite Wine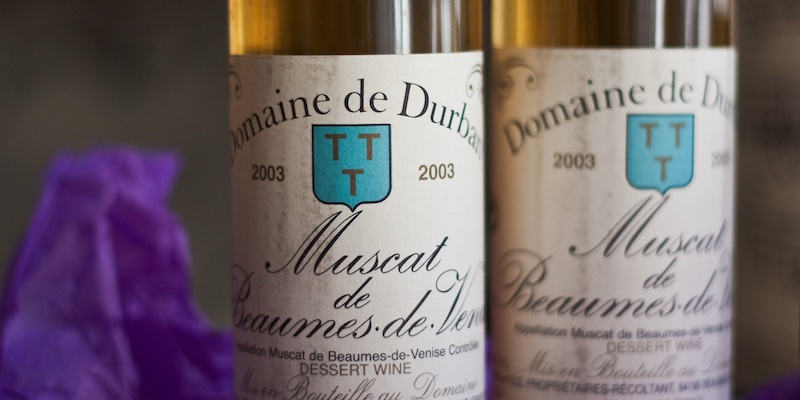 Our favorite dessert wine is Muscat de Beaumes de Venise from the Cotes-du-Rhone region. In fact, if you've read our book (and we know you have!), you'll remember that we used that Beaumes de Venise wine from our favorite producer (Domaine de Durban) to seal our wedding vows. Yep, we know how to set our priorities!
However, we can no longer find that wine in our area. So naturally, one of the first things we do when we get to France is to find a wine store that sells the Durban Beaumes de Venise. First thing this morning, on our first day in Paris, we set out to track down a wine store that stocks the wine. Luckily, only about only minutes away, right near the distinctly unlovely Place de la République [renovated since this was written], we found the charming Le Petit Bleu, a store that carries wine, fine foods, and other interesting stuff.
Now, with bottle of Domaine de Durban nestled safely in our refrigerator, it feels like we're home again.
March 7 – Our Book #1 in North America !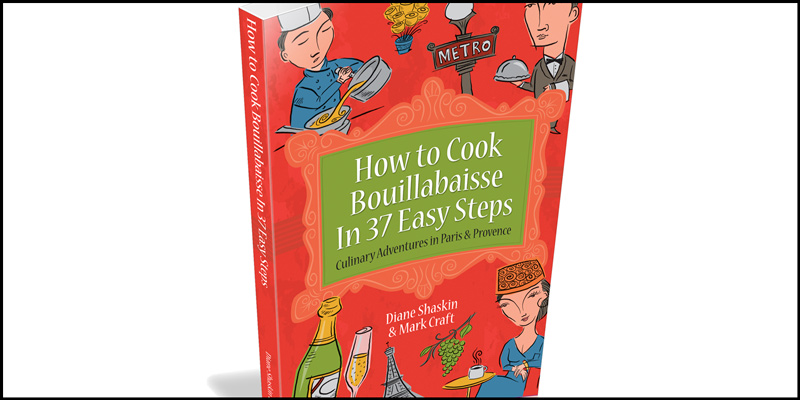 Last night in Paris at the annual International Gourmand Cookbook Awards ceremony we learned that our book, How to Cook Bouillabaisse in 37 Easy Steps, placed first in North American books in the category French Cuisine. The world grand prize went to a French book (naturally!), but we came ahead of all the other American and Canadian books on French Cuisine, including well-known author Adam Gopnik's latest book, The Table Comes First.
It was a lot of fun being at the famous Folies Bergere theatre with the other finalists from all over the globe.
March 9 – Bob Dylan 1961 to 1966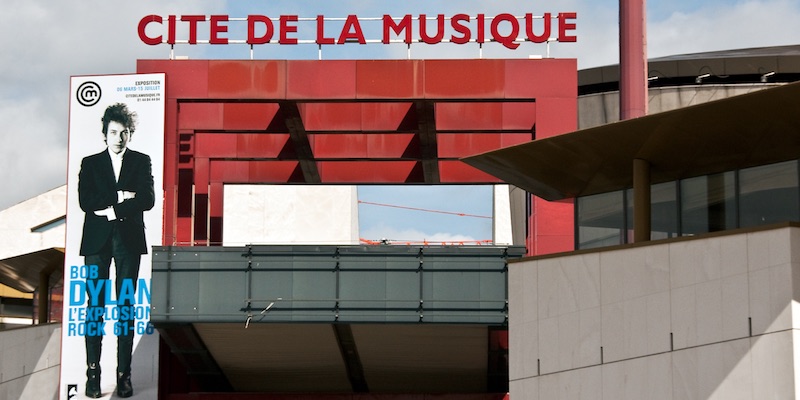 The Parc de Villette is located in the 19th Arrondissement in northeast Paris. What was once the location of huge slaughterhouses and the national wholesale meat market of France is today a family-themed park with two large museums, bicycle paths, canal boat rides, and a large exhibition space.
La Cité de la Musique, located at Villette, is the music museum of Paris where you can see and listen to instruments from 1,000 years of music. The museum also hosts kids' programs, concerts, and lectures on music. This month (March 2012) Cité de la Musique has mounted a Bob Dylan retrospective covering the years 1961 to 1966. A lot changed in folk & rock music in that period, and Dylan was a major influence and trendsetter.
In photos, films, concert footage, and displays of some of the actual instruments played by musicians of the period, the history of that fascinating half-decade comes back to life. Highlights include Dylan's high school yearbooks, film of a a live performance of Like a Rolling Stone, and Pete Seeger's banjo.

March 10 – Wine Shop, Wine Bar & Restaurant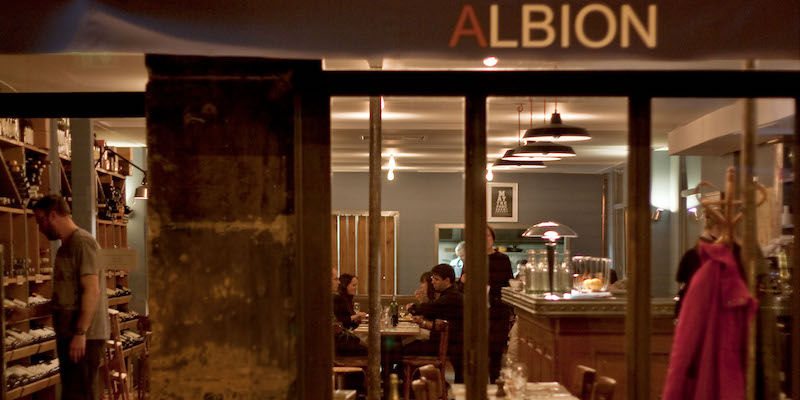 When we learned that Stephanie Fray's marketing company, Conundrum, specializes in food and wine we knew we had something in common! So we were excited when New York & Paris-based Stephanie suggested we go to a new Paris restaurant, Albion.
Albion covers all the wine bases. It is a wine store, it's a wine bar, and it's also a restaurant that serves simple, delicious food paired with wines sold at retail prices! For instance, with our entrée of risotto calamari with squid ink, we drank a white Chenin (L'Echalier 2010) that was both crisp and wonderfully fruity, and cost less than 20 Euros. Albion occupies a large, rectangular room, with wooden floors. Shelves of wine for sale line the walls. It's rustic, the French would call it convivial — "nice" or "friendly". The service is also fresh and friendly, in a casual way.
80 Rue du Faubourg Poissonnière
10th Arrondissement
March 12 – Au Revoir Vieux Ritz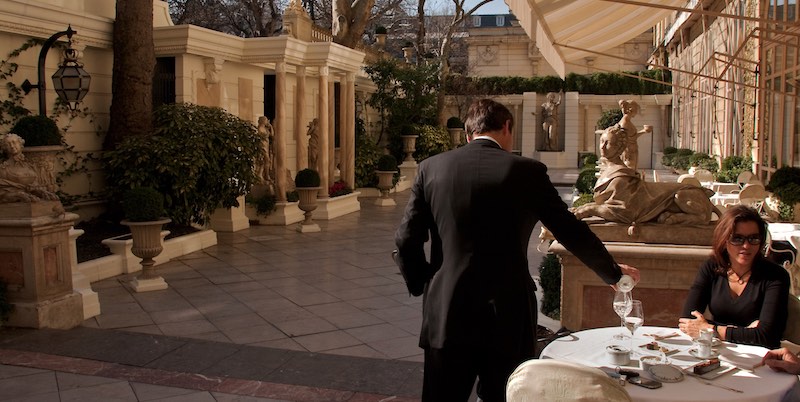 Today we had tea with Laure France, director of Ecole Ritz-Escoffier, the world-famous cooking school at the world-famous Ritz Hotel Paris. Laure told us that her son is now two years old, but the big news is that the Ritz Hotel is going to be closed for 27 months starting August 1, 2012. The Ritz, it seems, needs a facelift to stay current with the standards of today's Palace Hotels of France, such as the Bristol, the Hotel George V, and the Meurice.
But not to worry, Laure assured us, the Ritz will open better than ever once the work is completed. We're holding our breath and waiting for November 2014, when the Ritz doors open again.
[Note: It's a good thing we didn't actually try to hold our breath, since the Ritz didn't reopen until June 2016 — 18 months late and millions of Euros over budget. But, Laure was right in that the new Ritz Hotel is spectacular.]
March 14 – Palais Garnier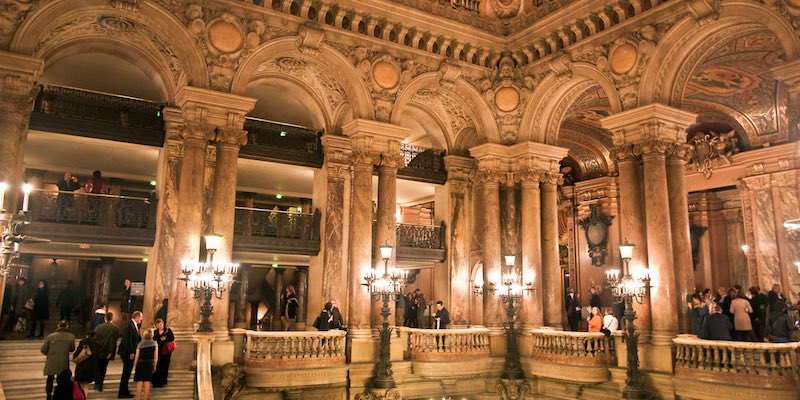 The famous Beaux-Arts Paris opera house, Palais Garnier, is as spectacular as when it opened on January 5, 1875. The building itself overlooks and dominates the Place de la Opera in the center of Paris. In recent years the facade has been cleaned, repaired and restored to its shiny, golden glory. Inside, grand marble staircases take you up the the seating levels, and the marble and gilt columns are a wonder to behold. There's a Grand Salon for dinners and special events decorated with gold, silver, and huge chandeliers.
Nowadays operas are staged at the new Paris opera house, Opera de la Bastille. At Palais Garnier you can attend musicals, light operettas, and, as we did last night, ballet. We saw a work by choreographer Jerome Robbins.

March 16 – Cité des Sciences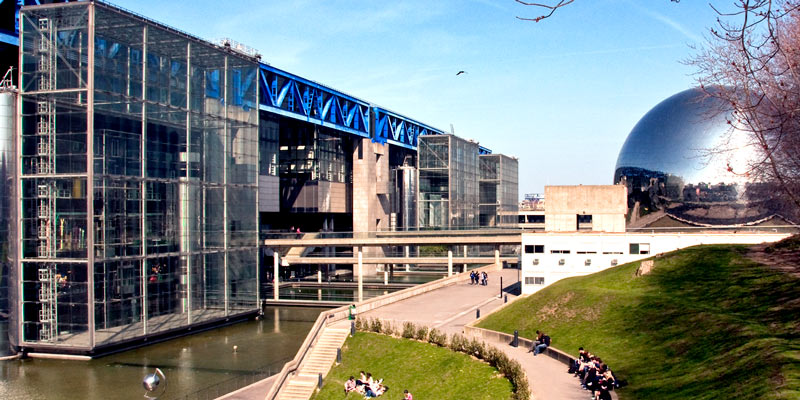 Today we traveled back to Parc de la Villette in northeastern Paris to visit the other big museum located there. The Cité des Sciences. This museum is run by the same people who run Palais de la Decouverte in central Paris, but it's much different, and much bigger. There are huge spaces given over to temporary exhibits such as the current Shadow & Light and The Ocean, The Climate & Us.
But today we visited a cité within a cité, the special space within the museum called Cité des Enfants 5 – 12. It's all hands-on and kids can build a cardboard box from scratch; play with cameras in the TV studio; measure how fast they can run; create their own experiments with water; and much more. And it was jam-packed with kids! It seemed that whole schools of kids were making field trips to the museum today. As our son Alexandre reviews it:
"The activities were superb, but there were too many kids, with not enough supervision, so it was was hard to enjoy the displays and experiments."
It's probably best to visit Cité des Enfants in the summer, when school is out and there are not so many large groups visiting the museum.
March 17 – Brasserie de l'Île Saint-Louis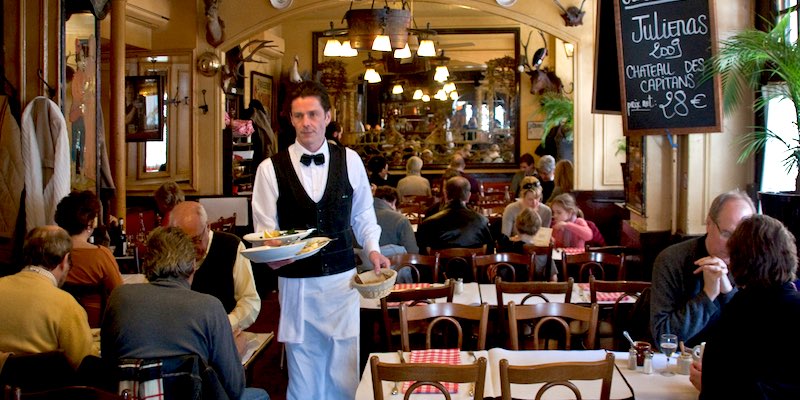 Family-owned, traditional and authentic, Brasserie de l'Île Saint-Louis serves traditional brasserie food, and it's a tradition with us. We went there today for lunch. It's located on, you guessed it, île Saint-Louis, just behind Notre Dame Cathedral and across the pedestrian bridge.
There's always been a restaurant on this site — that is, at least since the 19th century. The restaurant was purchased by the Guépratte family in 1953 and renamed Brasserie de l'Île Saint-Louis. It's now run by the third generation of the family, grandchildren of the original owners.
This is the place to seek out traditional brasserie classics like herring and boiled potatoes slathered in butter and olive oil, perfect omelettes with house-made frites (which may be the best frites in Paris!), or a huge plate of charcuterie. And when you have a craving for the Alsatian dish of sausages and tangy sauerkraut – this is the place.
It's the best way to fortify yourself before you head to Notre Dame to climb the 387 stairs to the top of the towers!
55 Quai de Bourbon
4th Arrondissement
March 20 – The Top of the Tower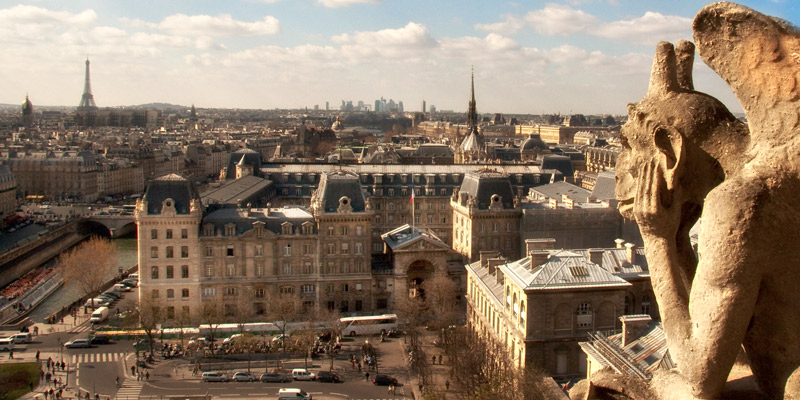 No, not that tower. We mean the bell towers of Notre Dame. To get to the top you must climb a succession of narrow, winding stone staircases. (Probably best to skip it if you're claustrophobic!) But 387 steps later you have a gargoyle's view of central Paris, and the geography of the city becomes very clear.
The entrance to the tower is outside the cathedral, on the northwest side of the building. Visitors are allowed inside in batches, and once you're at the top it's clear why. There's limited space at the top of the tower and there's only one narrow staircase, which serves both up and down traffic. Although we waited in line about half an hour, it was worth it for a chance to be at the top of this historic building smack dab in the most historic part of Paris.

March 22 – Springtime in Paris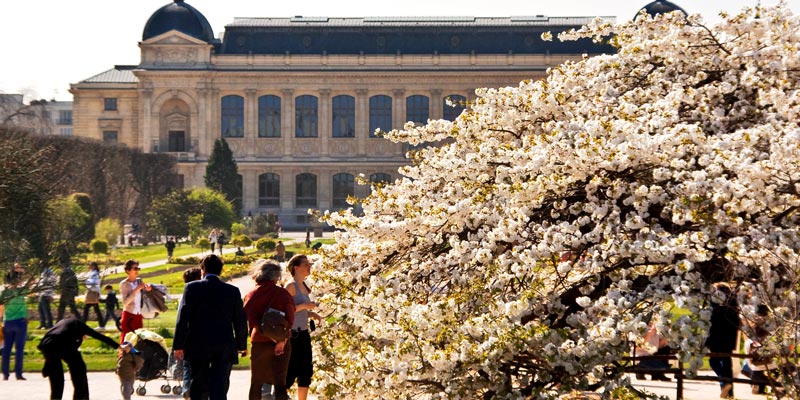 It's definitely Spring here in Paris with trees showing their leaf buds, birdsong in the air, and flowers blooming. And then there's that perfect Paris weather we've heard about in so many songs. Along the banks of the Seine Parisians of all ages are promenading and basking in the sunlight. On Spring days like these the lineups at the museums are shorter than they were last week, since everyone wants to spend their days outdoors.
We did go indoors long enough to to visit Musée d'Orsay to see the current exhibit of Degas nudes, and to spend time among some of the most famous Impressionist paintings. After the Orsay we crossed the Seine on the pedestrian bridge and spent time among the budding trees of the Tuileries Garden.
March 23 – Arts et Metier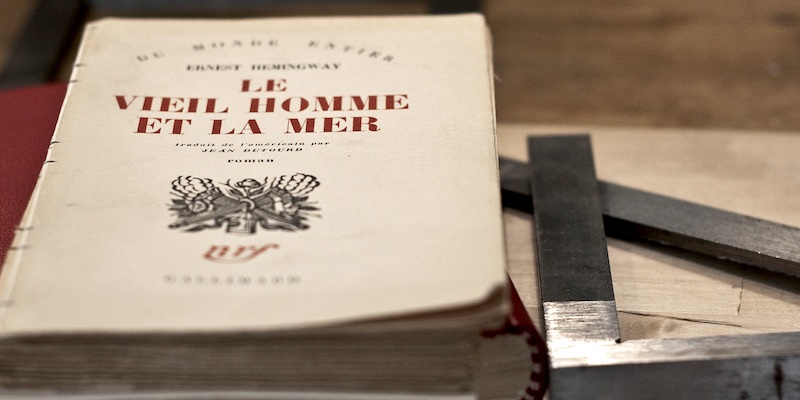 To say that the craft trades are flourishing in Paris is a bit of an overstatement. A couple of decades ago there were 20,000 or so traditional craftspeople still at work in Paris; today that number is probably only a couple of thousand. We had the chance to visit one of them at a small bookbinding studio, where books are made, repaired, and rebound using traditional methods. When working to restore old books, everything must be done by hand, and it's a very exacting process.
Aude Quere, the bookbinder and owner of the studio, demonstrated two methods of repairing old books and restoring their binding, spine and even covers. These traditional methods employ carton (a special type of hardboard used for the covers), thread, muslim, and up to three different types of glue. Aude, a former travel agent, decided to turn her passion for old books into a career. She attended one of the four major crafts schools in Paris, this one specializing in trades such as bookbinding. The course took a year to complete.
We were spellbound as she showed us how to stitch, shave, polish, glue, press and even hammer a book into shape. Good eyesight and hand-to-eye coordination are important assets to a skilled book binder. To repair a book using the traditional methods takes hours to complete can cost up to 400 euros. Aude said that most of her business comes from individual clients who wish to restore books that are family heirlooms.
March 26 – A Tale of Two Flaneurs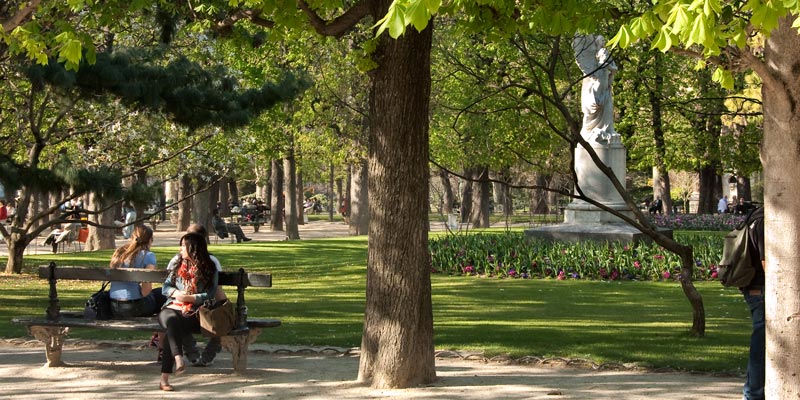 Sometimes the best plan in Paris is having no plan at all. Aimless wandering has long been part of the fabric of Parisian life. In fact, there's a name for it — a person who wanders is called a flaneur. The weather in Paris has been glorious for the past two weeks, and yesterday was no exception. The summer-like weather was the perfect backdrop to our day spent "flaneuring".
We started the day in the Marais, stopping to admire the small Place du Marché-Ste-Catharine. The buds on the trees were just about to burst. We came to the river at Hotel de Sens, one of the last surviving medieval private mansions in Paris.
As we crossed the Seine on Pont Marie, one of the thirty-seven bridges in Paris, we espied the symbol for Paris on one of the lamp posts; the symbol is a boat on the river. Once spotted, we noticed it everywhere. In the spirit of the flaneur, you don't rush. You drift. As we drifted across the Île St. Louis, we spotted the enormously tall and thin statue of Sainte Genevieve, the protector saint of Paris. She faces away from the city to warn aggressive forces who might be trying to enter the city up the Seine.
We ambled in the 5th Arrondissement to visit the grounds of the College Polytechnique where students have studied since the 16th century. But our flaneur apex moment occurred when we discovered the steps from Midnight in Paris, where Gil waits for the car to transport him to the Jazz Age. These were on a church just behind the Pantheon.
Now we were in the true Latin Quarter, where several colleges are located and students are everywhere. Our feet were flagging, it was time to stop and refuel. A charming cafe facing the Pantheon beckoned to us. Coupes de champagne, escargots and other delicacies were our reward.
Revived, we continued down the hill to Jardin du Luxembourg where hordes of fellow flaneurs strolled or reclined around the central pond. One last stop at the church of St Sulpice to admire the the fountain, the famous Delacroix fresco of Jacob Wrestling the Angel, as well as the gnomon (or seasonal sundial) laid into the floor. You may remember that this church played an important role in The Da Vinci Code.
4 arrondissements, 3 bridges, 5 colleges, 1 saint, 12 escargots, 2 coupes, 5 hours. Another perfect day in Paris.