Hotel Le Meurice Paris – The First Palace Hotel In France
Hotel Le Meurice Paris
No luxury hotel in Paris has a longer or more distinguished history than Le Meurice. Now located in the very center of things on Rue de Rivoli across from Jardin des Tuileries, Le Meurice actually began life in the coastal town of Calais when Charles-Augustin Meurice opened his first hotel in 1771. He decamped to Paris in 1815 and opened Le Meurice on Rue Saint Honoré, but then moved to a luxurious building on the newly-completed Rue de Rivoli in 1835, and it's been there ever since.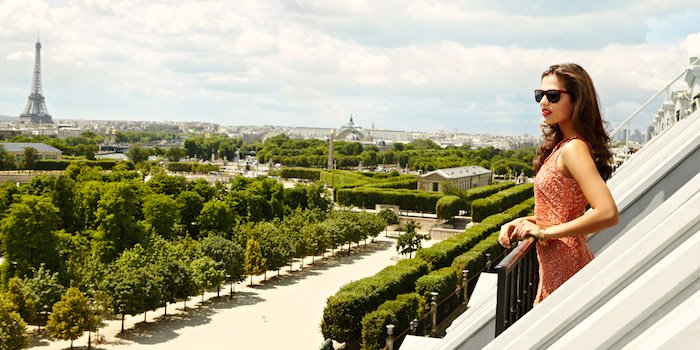 Le Meurice has an unbeatable location with spectacular, iconic views. Located on Rue de Rivoli (the first grand street of Paris, created by Napoleon) the hotel faces the stunning garden and is just steps away from the Louvre. From the upper floors you can see all of Paris spread out before you. Le Meurice was the first hotel in France to be awarded the coveted Distinction Palace rating, designating the ultimate in luxury and comfort in French hotels.
What You Can Expect at Hotel Le Meurice
What You Can Expect
Just stepping inside the entry, directly across from the Tuileries, makes you feel like you're in a relaxing oasis of calm. With design contributions by Philippe Starck and recent upgrade renovations in the 2010s, Le Meurice is a startling good blend of 18th-century French opulence and modern luxury.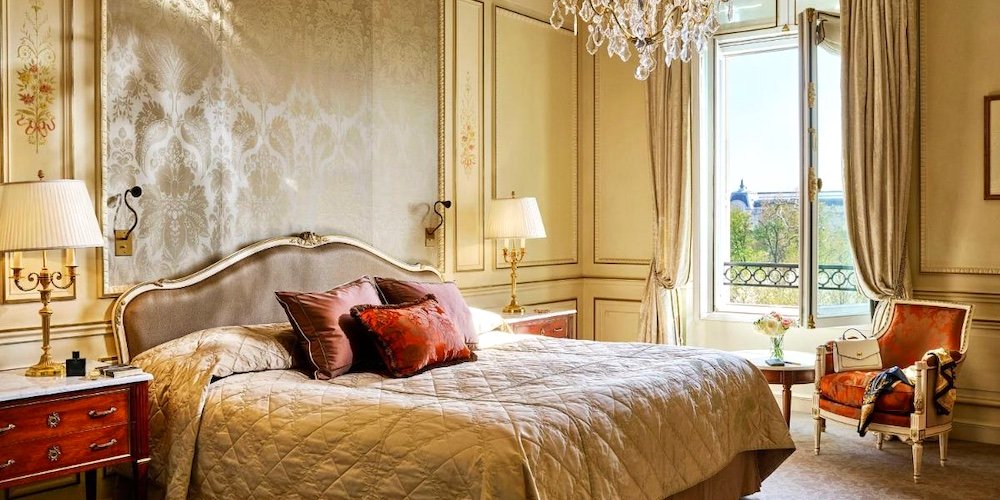 Unusually, each of the hotel's seven floors is decorated in a distinct style, although a Louis XVI sensibility and elegance is found throughout. Each room is individually appointed and includes handcraft period furniture, marble bathrooms and works of art.
For perhaps the greatest luxury splurge in Paris, book the 280-square-metres (that's right 3,000 square feet) of the Belle Étoile Suite with a private elevator, a dining room and a kitchen for your personal chef. The equally-large terrace of the suite provides an amazing 360° view of the City of Light — you look down on everything from the Tuileries Garden across the street to the Eiffel Tower, Palais Garnier, Grand Palais and Sacre Coeur.


Le Meurice is a much-sought-after location for weddings and honeymoons. Speaking of romance, a starry nighttime stroll through the Tuileries, holding hands, will set the mood for a fantastic gourmet meal in the hotel's Michelin-starred restaurant, under the direction of super-chef Alain Ducasse. The stunning dining room was inspired by the Salon de la Paix at the Château de Versailles. Le Meurice has recently moved to free WIFI for guests. That's allowed us to re-rank them to our highest possible rating.

Our Rating — Superb-Plus !
228 Rue de Rivoli
1st Arrondissement