Visitors Guide To The Bustling 19th Arrondissement Of Paris
The 19th Arrondissement in Paris holds down the northeast corner of the city and contains two of its largest parks — Parc des Buttes Chaumont and the museum-and-music-filled Parc de la Villette. Although a good half-hour Metro ride from central Paris, the 19th Arrondissement has become a sort of cultural hub, especially with the addition of the new Philharmonie de Paris music complex. The 19th is also about waterways, with two canals coming together from the east and north of France, that eventually spill into the Canal St Martin and head south to the Seine.

Discover What's On When You're Here...
Discover What's On When You're Here
12 Great Things About The 19th Arrondissement
1. 185,000 Parisians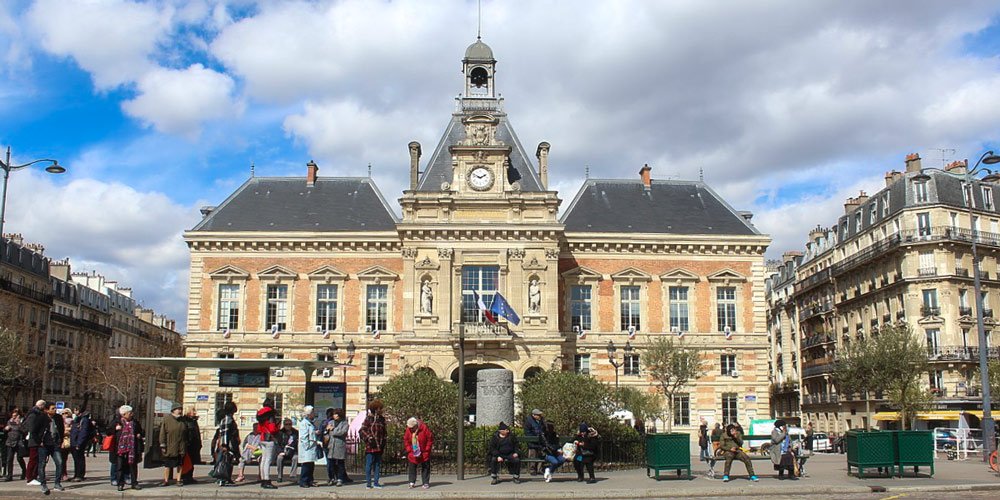 The mairie, or town hall, of the 19th Arrondissement, photo Wikimedia by Chabe01
But mainly, the 19th is about Parisians. almost 185,000 of them live here, and it's one of a few arrondissements where the numbers have been rising recently — it's at its population peak right now (we think). Compare that to the 7th Arrondissement, which reached its peak in 1954 and whose population has dropped 30% since then. There's a lot of new construction going on in the 19th and it's a good guess that the population will continue to rise. Let's take a look at some of the best things about the bustling and busy 19th Arrondissement of Paris.

La Grande Halle at Parc de la Villette, photo Parc de la Villette
The largest park in Paris (outside of the bois, of course), Parc de la Villette has plenty of open spaces. The site was formerly the location of the largest meat market in France and was dotted with abattoirs. Today it's a much nicer place.
When it was turned into a park in 1987, the original market structure — La Grande Halle — was preserved and restored. The Grande Halle now hosts fairs and various cultural events. Other parts of Villette are home to the Cité de la Musique, the Cité des Sciences, a giant geodome, and the impressive new performance venue, Philharmonie de Paris.
3. Cité des Sciences et de l'Industrie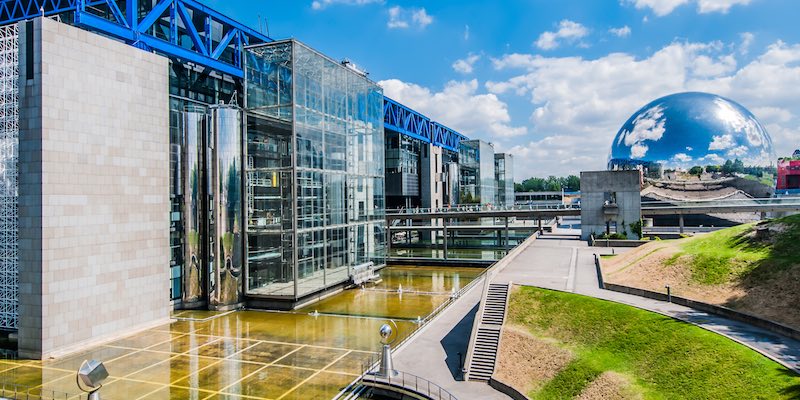 Cité des Sciences with the IMAX dome
At the northern end of Parc de la Villette you'll find the biggest science museum in Europe with a planetarium, an IMAX theater, and an impressive collection of interactive, hands-on, scientifically-engaging exhibits. It's always filled with young people eager to learn and an older generation keen to explore. Plan to a spend a good part of a day here.
Parc de la Villette,
30 Avenue Corentin Cariou

Inside the Musée de la Musique, photo Musée de la Musique by William Beaucardet
In the heart of the Parc de la Villette, the Museum of Music has 1,000 vintage instruments on display, including ones owned by Frank Zappa and Frederic Chopin. Frank and Fred, together at last. You really get a feeling for the history of Western music. There are also regular fascinating temporary exhibitions to be seen here.
Parc de la Villette,
Avenue Jean-Jaures
Metro: Porte de Pantin
5. Philharmonie de Paris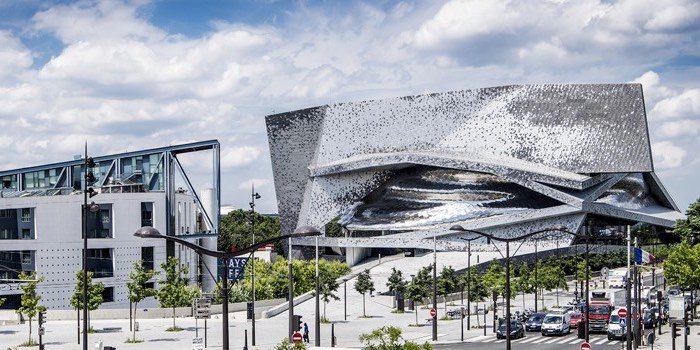 Philharmonie de Paris architectural drawing
A lot has been written about this magnificent new performance venue and music complex, and for good reason. First off, it's a spectacular structure, designed by Jean Nouvel, the architect who shot to fame with the design of the Institut du Monde Arabe (also in Paris) in the late 1980s. Secondly, the acoustically-superior symphony hall is now the largest in the world, seating 2,400 listeners. Make sure to pay careful attention to the exterior of the building to spot some of the 340,000 images of birds etched in the shiny surface.
Parc de la Villette,
221, avenue Jean-Jaures

6. Conservatoire de Paris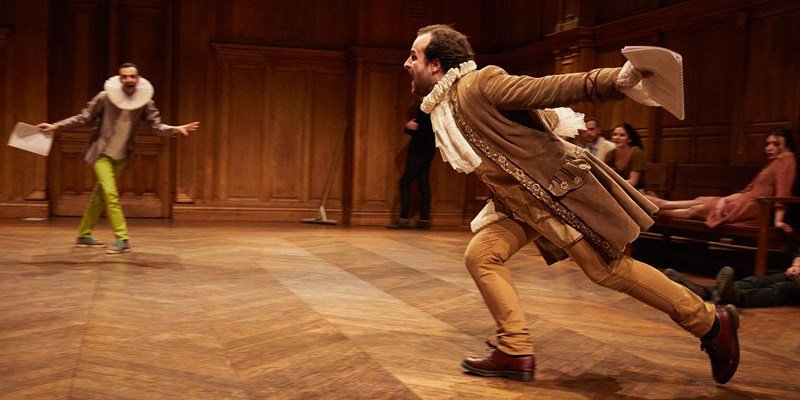 Performance at Conservatoire de Paris, photo Conservatoire de Paris
With a definite music theme happening at Villette, it makes sense that one of the country's most prestigious schools of music, dance, and drama would be nearby. And in fact, the Conservatoire de Paris is located next to Musée de la Musique and the Philharmonie, where students are able to take advantages of the practice spaces and performing venues found there.
As you might expect, the Conservatoire is much older than the park, dating back to 1795. It used to be located in the 9th Arrondissement and only moved to Villette in the 1980s. BY the way, the full name of the school is Le Conservatoire National Supérieur de Musique et de Danse de Paris.
7. Tram Line T3b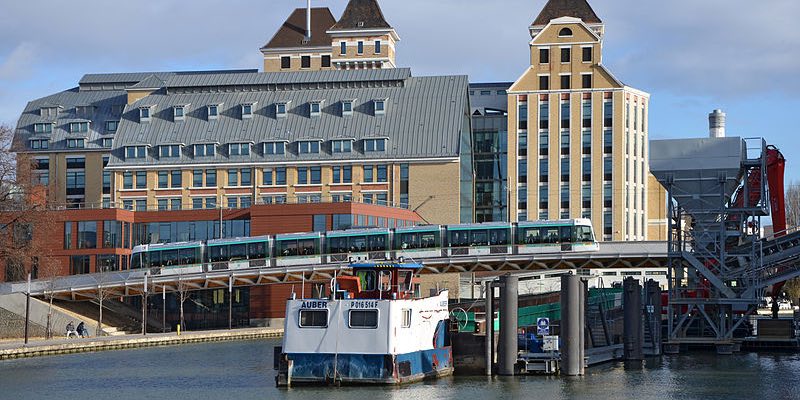 Tram Line T3b crossing Canal de l'Ourcq, photo Wikimedia by Pline
The tram system in Paris is relatively new. These surface trains run in tracks at street level, sometimes, in fact, share the streets with cars. Although the cars are all clean & modern, the whole thing feels pleasantly old-fashion — tooling around the city at a moderate speed, enjoying the city views, stepping on and off your car at ground level.
The trams lines run in various places around the perimeter of the city. The 19th Arrondissement is served by tram Line T3b that runs from Porte de la Chapelle in the north of the city, skirting Villette in the east, and heading south all the way down to Porte de Vincennes. It's a great way to get around and see the quartier.

8. Canal de l'Ourcq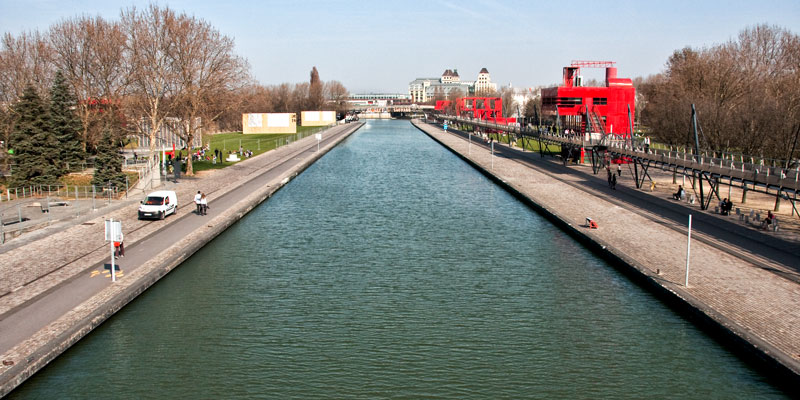 Canal de l'Ourcq, photo by Mark Craft
Canal de l'Ourcq comes into Paris from the east, in which direction it extends for a long, long way, more or less paralleling the river Marne. In the summer you can join in the fun at Eté du Canal festival, which takes place about the same time as the Paris Plage. In the Parc de Villette, Canal de l'Ourcq joins up with Canal Saint Martin and they both head on down toward the Basin de la Villette.
9. Basin de la Villette
Basin de la Villette, photo by Mark Craft
This artificial, strictly rectangular, man-made pond forms the intersections of Canal de l'Ourcq and Canal Saint-Martin. It looks all angular and modern, but it was built in 1802, part of the canal systems ordered up by — you already knew it, didn't you? — Napoleon. Today there are concerts, movies, and festivals taking place in the buildings that front onto the bassin. You'll see ducks, rowers, canal boats, and even wind surfers on the water.

10. Pont Crimée
Pont Crimée, photo by Mark Craft
At the northern end of Basin de la Villette, where it meets Canal de l'Ourcq, is the last remaining lift-bridge in Paris. Right next to this bridge is an arched pedestrian bridge, and from there you get a great view of the lifting action. In 2010 Pont Crimée was completely renovated and got a new lifting roadbed, manufactured elsewhere and floated down the Canal de l'Ourcq.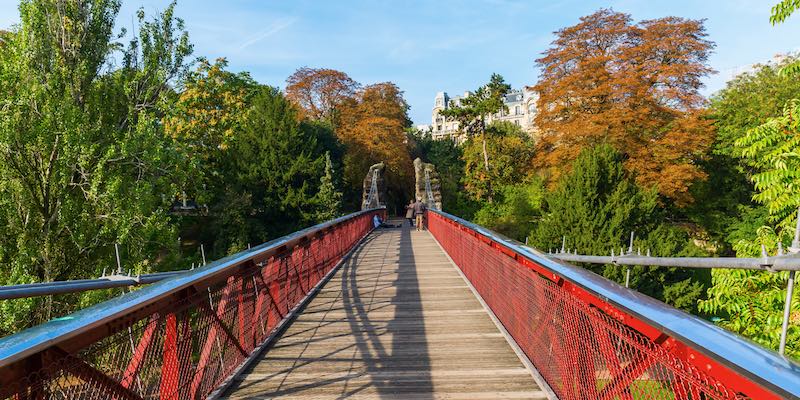 The suspension bridge at Parc des Buttes Chaumont
This large, croissant-shaped park was built in 1867 on the site of a former limestone quarry where a lot of the stone used in new buildings came from during the Haussmannian renovation of Paris. We'd always heard that the pits were filled in with the tons of horse manure generated in Paris every day. Other histories mention the topsoil that filled the park. Whatever the case, today there are trees, paths, park benches, a big pond, a waterfall, a great pedestrian bridge, and lots of lawn area for kids to run around on.

12. La Mouzaïa Neighborhood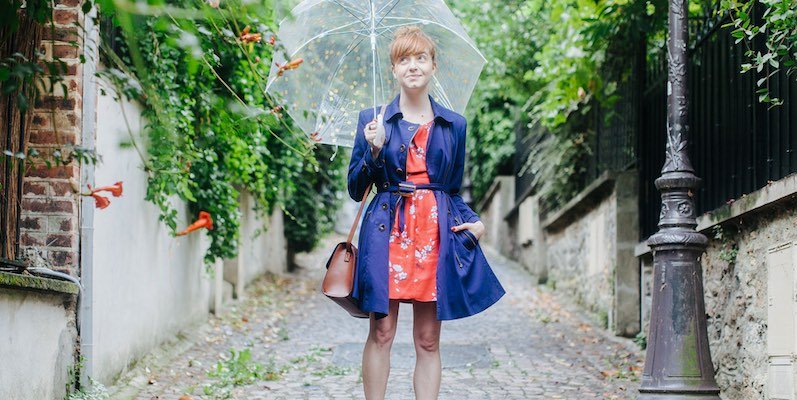 This is a lovely and unusual quartier of Paris, filled with narrow passageways free of cars, low-rise houses, and lots of small gardens. It extends from Rue de Mouzaïa north to Place Danube. It you're out here visiting Buttes Chaumont, be sure to set aside a little time to walk these delightful streets. Why does this section of Paris have such cute little houses? It seems that, like Buttes Chaumont, this area was the site of gypsum mines. Once the gypsum was mined out, the ground was left pocked with holes and tunnels — a situation that wouldn't support heavier buildings. Luckily!
19th Arrondissement Resources
Getting to Villette — Metro Line 5 takes you to the south side of the park at Porte de Pantin, Metro Line 7 to the north side at Porte de la Villette. Tram line T3b skirts the perimeter of the park.
Getting to Buttes Chaumont — We recommend Metro Line 7B (pick it up at Stalingrad) to stations Buttes Chaumont or Botzaris.
Metro Line 7B passes under Parc Buttes Chaumont, stops at the two stations mentioned above, and then traverses a loop, passing through Place Danube (Metro Danube) and Mouzaïa (Metro Pré-Saint-Gervais), before heading back to Buttes Chaumont through station Place des Fetesê, where you can transfer to Line 11. 7B is the shortest Metro line in Paris.