Guide to Classic Paris Movies – Midnight in Paris
This gorgeous movie was shot at some gorgeous locations… that is to say, Paris! Woody Allen's Midnight in Paris elegantly captures the spirit of 1920s and a glimpse into the marvelous and legendary Belle Époque, the period of flowering at the end of the 19th century between the close of the Franco-Prussian War and the beginning of the First World War.
Woody takes us on a wildly imaginative journey where we meet many of the famous writers, composers, and painters of the Jazz Age in Paris — Ernest Hemingway, Scott and Zelda Fitzgerald, Cole Porter, Pablo Picasso, Salvador Dali, and Gertrude Stein. The film starts with a dazzling selection of Paris locations and sets up the scene starting in Le Bristol, one of Paris' most luxurious hotels. The director spends almost as much care and attention to the Paris locations as he does to the actors' performances.
Midnight in Paris Locations
Rue Montagne Sainte-Geneviève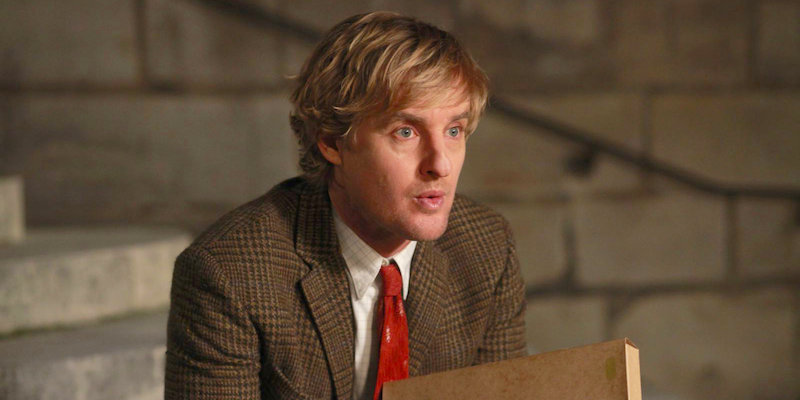 In the film, these are the stairs where Gil goes nightly to catch his magic car ride to the past. It's become a place to see in Paris for Woody Allen fans (and Owen Wilson fans), who sit on the steps at the church of Saint-Etienne-du-Mont behind the Pantheon to pay tribute to the movie.
Saint-Etienne-du-Mont, Rue Montagne Sainte-Geneviève, 75005
Hotel Le Meurice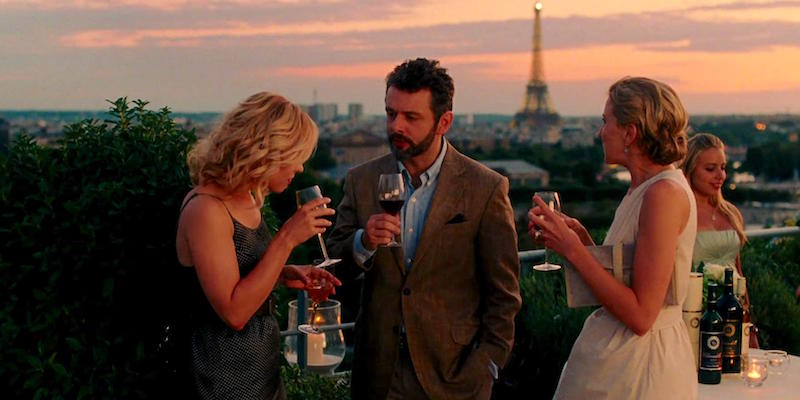 Le Meurice is the setting for the rooftop terrace wine tasting, where Michael Sheen gives his famous wine tasting speech. The Meurice has been granted the Palace designation, the highest hotel rating in France. The Belle Etoile Royal Suite at the Meurice clocks in at over 15,000€ per night. We'd love to stay there, but…
Hotel Le Meurice, 228 rue de Rivoli, 7500
Hotel Le Bristol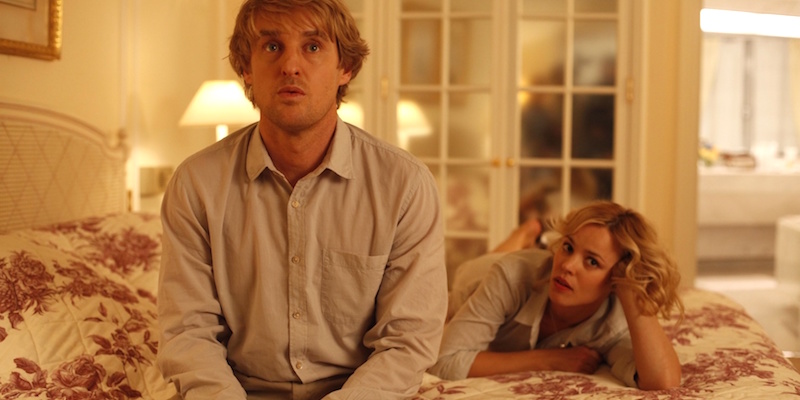 Le Bristol, another Palace hotel in Paris, first opened its doors in 1925. In Midnight in Paris, this luxury hotel is the Paris base for Gil (Owen Wilson), his fiancée (Rachel McAdams) and her parents. You can stay in a Junior Suite (as Owen & Rachel did) for as low as 1,500€ per day.
Hotel Le Bristol, 112 Rue du Faubourg Saint Honore, 75008
Maxim's Restaurant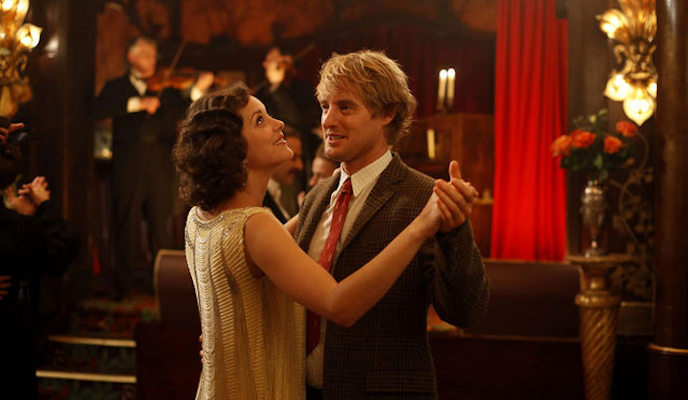 Maxim's de Paris, famous for its Belle Époque décor, is where Gil and Adriana (Marion Cotillard) pay a visit to the 1890s. We like how Woody Allen manages to give us a taste of the good life throughout the film and has chosen some of the most luscious locations in Paris.
Maxim's, 3 Rue Royale, 75008
Other Restaurant Locations
Le Grande Vefour – 17 Rue du Beaujolais, 75001
Le Polidor – 41 Rue Monsieur Le Prince, 75006
Restaurant Paul – Rue Henri, Place Dauphine, 75001
Musée Rodin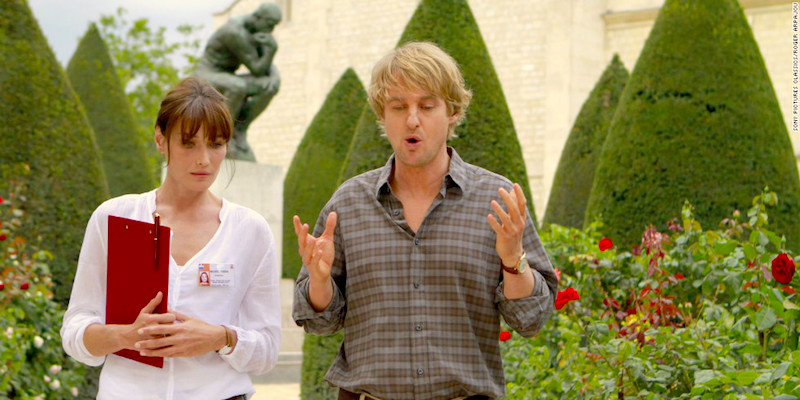 Set in the garden of the Rodin Museum in the 7th Arrondissement is a great scene where the former First Lady of France (and former rock-and-roll groupie), Carla Bruni, gives a surprisingly believable portrayal as a museum curator.
Musée Rodin, 79 rue de Varenne, 75007
Other Museum Locations
Musée de l'Orangerie – Place de la Concorde, 75001
Monet's Garden at Giverny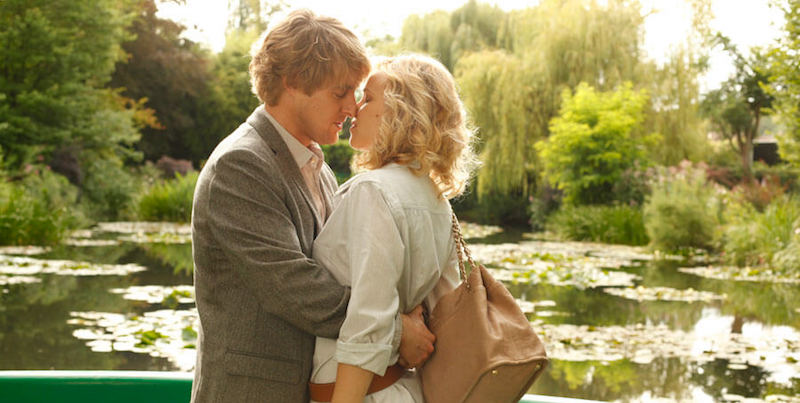 There's a very romantic scene on the famous Japanese bridge that arches over Monet's equally famous lily pond. Only Woody Allen could get the gardens at Giverny for himself for a day to shoot the "I love you" scene with Gil and Inez.
Other Locations
Midnight in Pairs is an exploration of Paris and of the things we love about it, and there are dozens of additional scenes set in locations that show off the city. Here are just two —
THE PALACE & GARDENS OF VERSAILLES
A spectacular showing of the Sun King's sumptuous palace.
→ Read Our Guide to Versailles…
PONT ALEXANDRE III
The bridge where Gil meets Gabrielle. One of most beautiful bridges in Paris, it connects the Grand Palais and Petit Palais on the Right Bank with Hotel des Invalides on the Left Bank.
→ Guide to the Bridges of Paris…