8 Historic Impressionist Exhibitions – A Different Guide To Musée d'Orsay
The 8 Historic Impressionist Exhibitions
They were rebels, misfits, young artists with something to prove. In 1874, a group with a gloriously forgettable name — the Anonymous Society of Painters, Sculptors, Printmakers — pooled their paltry resources to put on an art show that would launch Impressionism. Claude Monet, Edgar Degas, Camille Pissarro, Berthe Morisot, and other friends ended up transforming modern art during eight historic exhibitions held between 1874 and 1886.

Our Top-Rated Museum Tours in Paris
Art Critics Were Not Impressed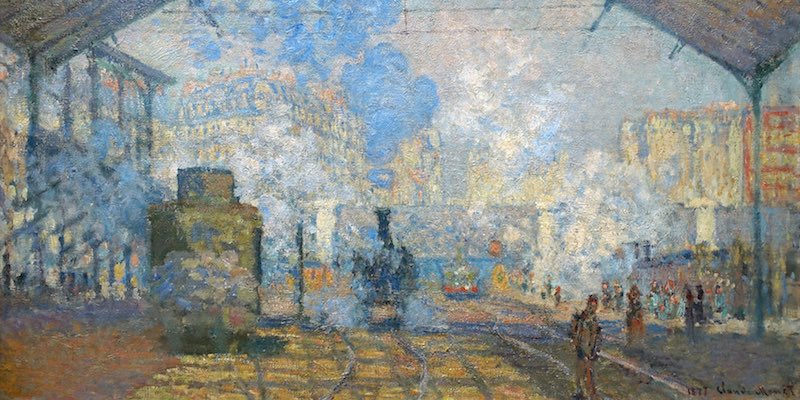 Monet, Gare St Lazare, 1877
Critics were divided, with some flatly panning the work for its unfinished appearance. A few more progressive critics praised it for a modern approach. While you're at the Musée d'Orsay you can take in the largest single collection of Impressionist and post-Impressionist masterpieces in the world.
Let's look back at the eight Impressionist exhibitions. It might cause you to visit the Musée d'Orsay in a different way — by seeking out our example paintings from each historic show. Simply search for each artwork's current display location by going to the Musée d'Orsay's Collections search page.

1874 – The Anonymous Cooperative Society of Artists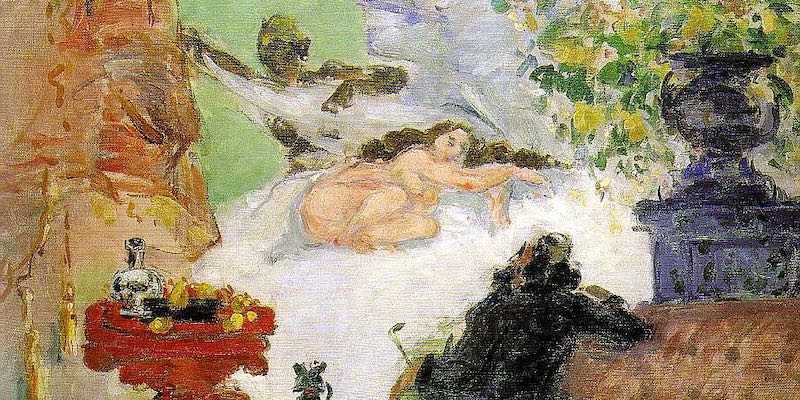 Cezanne, A Modern Olympia, 1874
At this time, the latter part of the 19th century, there was an official state-sponsored annual exhibition called the Salon. It was about the only way to show off new art and critical if you were trying to make living as an artist. The not-yet-named Impressionist painters were frustrated by continual rejection by the establishment Salon, so these defiant artists pooled their money and rent a studio belonging to the photographer Nadar to open their first show, running at the same time as the Salon.
The first Impressionist exhibition opened on April 15, 1874 upstairs at 35 Boulevard des Capucines, about halfway between the nearly-completed Palais Garnier and Église de la Madeleine. Led by Claude Monet, Edgar Degas, Pierre-Auguste Renoir, Camille Pissarro, and Berthe Morisot, 165 artworks by thirty artists were shown including Monet's Impression, Sunrise, the painting that would give the new movement its name.
A flight of stairs lead directly from the street to the exhibit where the walls were covered in red, a favorite color of Nadar. Admission cost one franc and the catalogue, edited by Renoir's brother Edmond, cost fifty centimes. In addition to new painting techniques, the bright colors of the canvases were shocking to an audience more familiar with the sober tones of academic painting. By the time the show closed on May 15, 4,000 patrons had witnessed art history in the making.
1876 – The Second Exhibition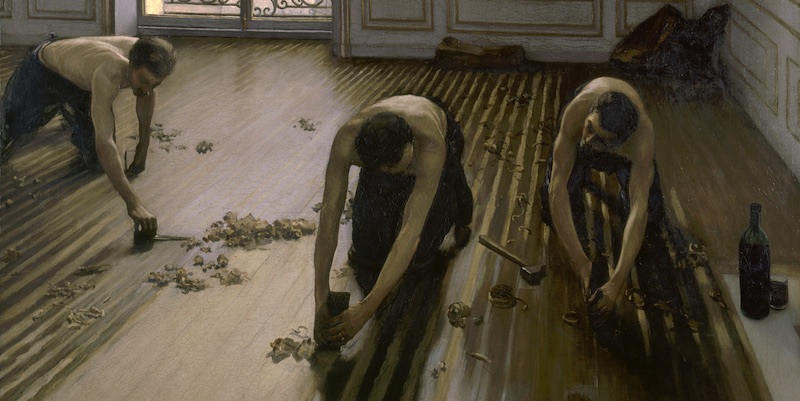 Caillebotte, Les Raboteurs de Parquet, 1875
The second exhibition moved from Nadar's studio to the Durand-Ruel Gallery, just off of Boulevard Haussmann. There were twenty painters showing 250 pieces.
Gustave Caillebotte, famous for his scenes from everyday life, presented Les Raboteurs de Parquet — workmen, naked to the waist, strip the varnish from a hardwood floor. Caillebotte's unusual perspective showed the toil of the working class, a perspective rarely seen in art to that point. Refused at the Salon, his work received high acclaim at the second exhibition.

1877 – Third Impressionist Exhibition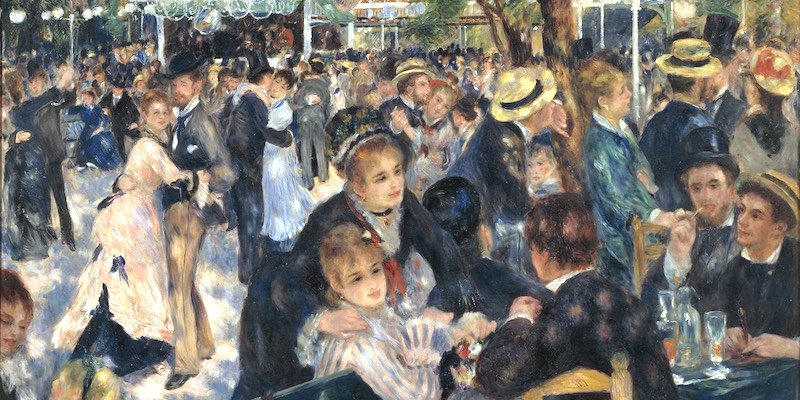 Renoir, Le Bal du Moulin de la Galette, 1876
By the third exhibition, the group, which had been called everything from "Anonymous" to "Independents", were now called "Impressionists". The 1877 show, held once again at Durand-Ruel Gallery, was led by Gustave Caillebotte, a relative newcomer, with the type of temperament that was able to settle disputes among the strong personalities of the other painters.
There were eighteen artists participating. Degas invited American Mary Cassatt to join the group. Monet, in dire financial straits, showed thirty paintings, among them his now-famous series from Gare Saint-Lazare. Degas contributed Women in Front of a Cafe, and Renoir debuted the glorious Le Bal du Moulin de la Galette.
1879 – Fourth Impressionist Exhibition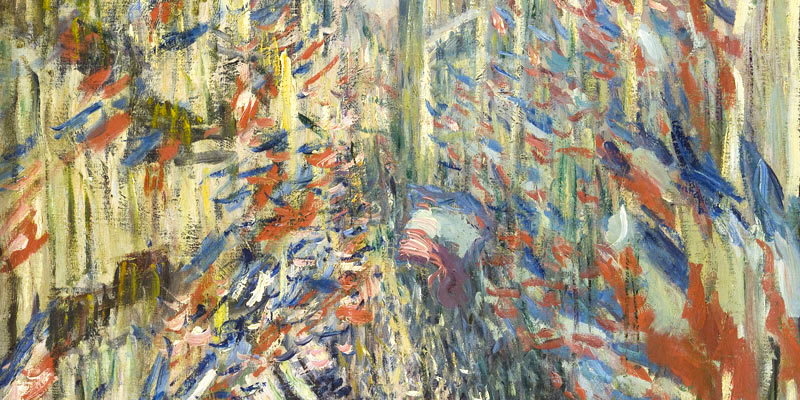 Monet, Rue Montogrueil, 1878
While this show lacked notable names like Cézanne, Renoir, Morisot, and Sisley, it still drew 15,000 people (the first exhibition drew 4,000) and introduced new talent like Marie Braquemond and Paul Gauguin. The fourth Impressionist exhibition in Paris included fifteen participating artists (although some reports say there were sixteen).
Pissarro invited Paul Gauguin who displayed one sculpture and seven paintings. Monet presented an older work, Garden at St-Adresse as well as an 1878 piece, Rue Montogrueil, 30th of June 1878 with French flags surrounding a crowded boulevard. (Detail shown above.)

1880 – A Fifth of Impressionism
Morisot, Jeune Femme en Toilette de Bal, 1879
Much to Degas' dismay, the poster advertising the fifth Impressionist exhibition didn't include the names of the women artists who were exhibiting with the group — Marie Braquemond, Mary Cassatt and Berthe Morisot. This was also the first year Monet did not participate, instead trying his luck at the Salon. Nineteen artists hung over two hundred works with highlights including Cassatt's Five O'Clock Tea; Gauguin's first sculpture, a marble bust of his wife Mette; and Morisot's Summer and Jeune Femme en Toilette de Bal.
1881 – The Sixth Impressionist Exhibition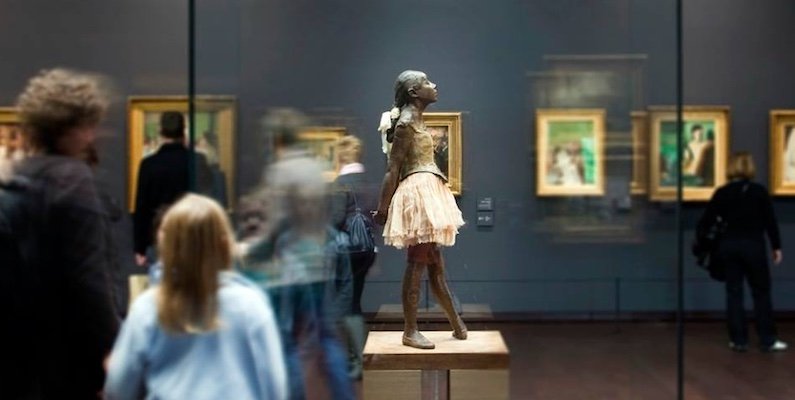 Degas, Petite Danseuse de 14 Ans, 1880
The sixth show was moulded by Degas' taste and vision as many of the other big names decline to participate in 1881. The exhibition returned to Nadar's studio, taking up five small rooms rather than one large studio space. Thirteen artists displayed 170 works, a sign that the group was dwindling. The most notable work of the sixth Impressionist exhibition was Degas' unconventional sculpture, Petite Danseuse de 14 Ans .

1882 – The Seventh Impressionist Exhibition
Monet, Les Coteaux pres de Vetheuil, 1881
1882 saw the return of some of the Big Guns — Monet, Sisley, and Caillebotte — while Degas and Cassatt were absent. Some artists began to introduce techniques other than classic Impressionism (if such a young movement could even be called classic) — Pissarro's works featured farmers and peasants, in contrast to his previous landscape paintings.
Renoir showed off another one of his greatest hits, The Luncheon of the Boating Party — included in the party was his future wife Aline and his friend Gustave Caillebotte. Monet brought Sunset on the Seine at Lavacourt, Winter Effect (which can now be see for free, at the Petit Palais), which could be thought of as a follow-up to his Impression, Sunrise.
The exhibition, staged at 251 Rue Saint-Honore, showed off two hundred works by just nine artists. 1882 was also the year that Monet moved to Giverny; Manet had a success at the official Salon with Bal aux Folies-Bergere, but he was to take ill, dying early the next year.
1886 – The Eighth & Final Impressionist Exhibition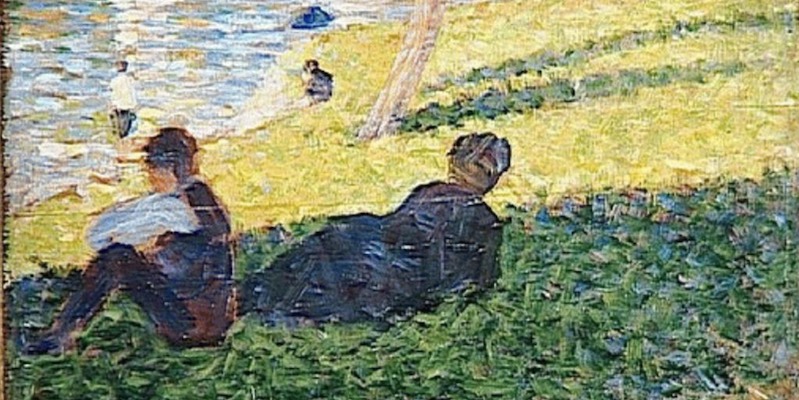 Seurat, Sunday Afternoon, 1884
By the time of the final exhibition of the Impressionists commercial art galleries had grown in number and started to dominate the art market. Since most sales were now taking place in private galleries, shows were less beneficial to the artists. The eighth gathering reunited many of the artists that had come and gone in previous years; Degas, Cassatt, Gauguin, Monet, Renoir and Pissarro were all there. Even Pissarro's son, Lucien, exhibited while Marie Braquemond showed a portrait of her husband.
But the biggest news in 1886 was the debut of Post-Impressionism at the show. Art historians point to Georges Seurat's Un Dimanche Après-Midi à l'Île de la Grande Jatte as the start of the post-Impressionist era. Rue Laffitte, where the eighth took place, would eventually become home to a row of art galleries. Ambroise Vollard, the famous art dealer who championed the work of young, artists ran his studio selling modern art at 6 Rue Laffitte from 1896 to 1924.