7 Pivotal Paintings By Claude Monet At Musée d'Orsay
Chances are, the first Impressionist painter you knew about was Monet. His waterlilies speak volumes about the artist who revolutionized the way we look at art. "Apart from painting and gardening, I am good for nothing," he wrote. "My greatest masterpiece is my garden".
When we think of Monet we naturally think of his gardens, his waterlilies, and his dedication to painting them for almost thirty years. But what else do you know about him? Let's delve into the world of Claude Monet, the spiritual leader of the Impressionist movement, to discover a few of his pivotal paintings that can be seen today at the Musée d'Orsay, starting with the most recent.

Discover What's On When You're Here...
Discover What's On When You're Here
1. Nymphéas Bleus – 1916-1919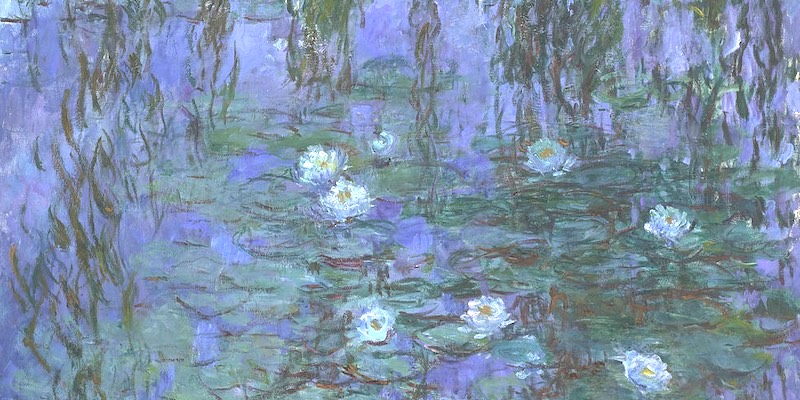 Nymphaea, the botanical name for the waterlily, was a source of endless inspiration for Monet. In this painting there is no horizon or sky, Monet focused solely on a close-up of the pond, giving an overall impression of a shapeless surface with infinite, limitless space. Located in room 34 at d'Orsay.
2. Londres, Le Parlement – 1900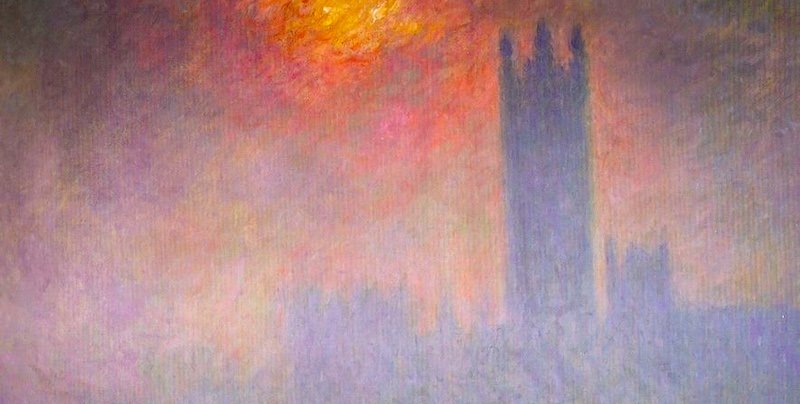 The outline of Parliament buildings looms like an apparition; the stone architecture is barely visible as sky, fog, and water dominate in eerie tones of mauve and orange. (The painting's subtitle is The Sun Shining through the Fog.) Monet painted almost 100 canvases from the same viewpoint — out of his window at St Thomas' Hospital overlooking the Thames. The paintings in the series were captured at different times of the day.
By 1900, Monet had stopped finishing his paintings on location and was completing them in his studio at Giverny, using photographs to help jog his memory. Londres, Le Parlement was gifted to France from the estate of Isaac de Camondo in 1911. Located in room 34 at d'Orsay.

3. Camille sur Son Lit de Mort – 1879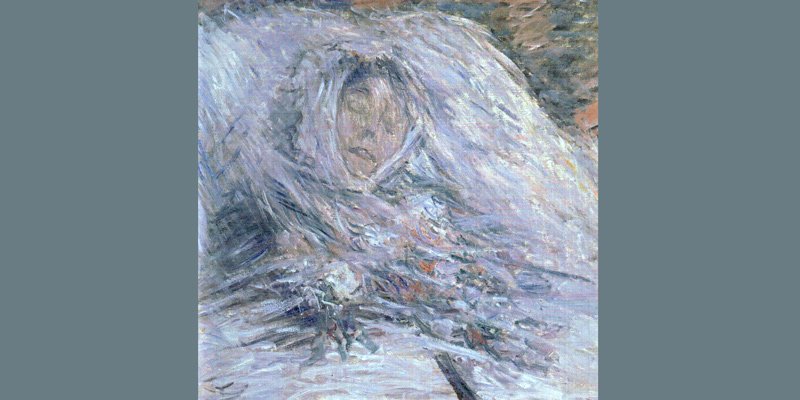 This is Monet's most personal and poignant painting. His wife Camille died at the age of 32, leaving Monet and their two young sons grief stricken. Somehow he was able to channel his grief into art. She was a favorite model of Monet, as well as of Pierre-Auguste Renoir and Edouard Manet.
When Camille and Monet were married in 1870 both families disowned them. On August 31, 1879 a priest was called to administer the last rites to Camille and to sanction the couple's marriage (which had been a civil ceremony in 1870). Five days later, on September 5, Camille died.
Years later, Monet confessed to his friend Georges Clemenceau that painting the deathbed scene helped him through his grief. After many difficult months of grieving, Monet began to create his best paintings of the 19th century, with landscapes and seascapes that documented the French countryside. Located in room 32 at d'Orsay.
4. Rue Montorgueil, à Paris, Fête du 30 juin 1878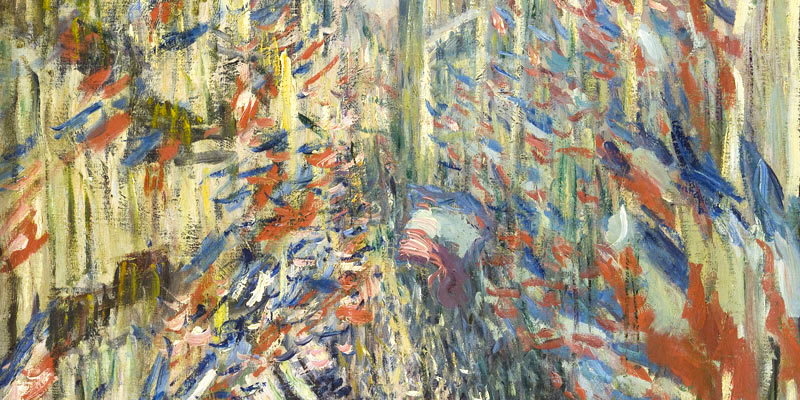 Many think this painting is of a Bastille Day celebration. In fact, Monet painted it on June 30, 1878 for a festival celebrating peace and work. It was one of the events organized for the 1878 Exposition Universelle, meant to symbolize France's recovery after the defeat of the Franco-Prussian War of 1870. Somehow Monet captured the feeling of nationalism and you can almost see the flutter of flags and hear the joy of the people. Vivez la France! Detail shown above. Room 31 at Musêe d'Orsay.

5. Gare Saint-Lazare – 1877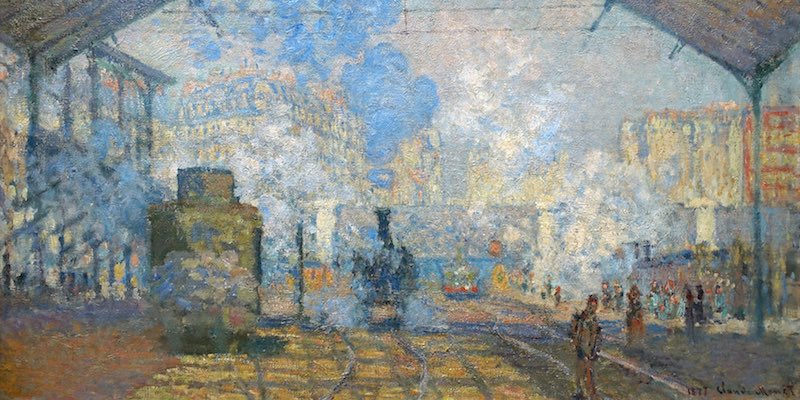 After years of painting the countryside, Monet turned to urban landscapes. He had left the sleepy suburb of Argenteuil and settled in the Nouvelle Athènes neighborhood of Paris. One of a series of twelve paintings, Monet captured the light, movement and clouds of steam in the modern setting of the Saint-Lazare train station.
There's a famous story about Monet bustling unannounced into Gare Saint-Lazare with all his painting gear and, we assume, an assistant or two, demanding attention and assistance from the station manager. Suitably impressed, the station manager ignored timetables and passengers to "pose" the engines for Monet — having them emit the huge clouds of steam seen in the paintings. Room 31 at Musêe d'Orsay.
6. Coquelicots – 1873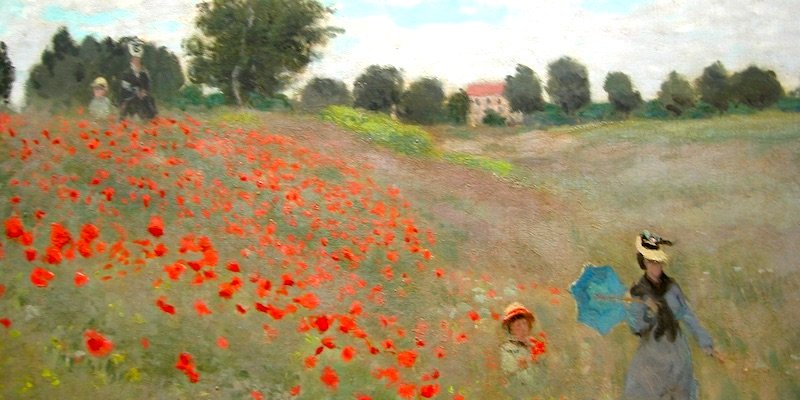 After the Prussian War ended, Monet, his wife Camille and young son Jean returned from England in the autumn of 1871 and settled in the idyllic Paris suburb of Argenteuil. These were happy years. His art dealer, Paul Durand-Ruel was supporting him and Monet found the bright landscapes ideal for plein-air painting.
An interesting tidbit about the painting is that Camille and Jean appear in the painting twice. Poppy Fields was first exhibited in 1874, at the premier Impressionist exhibition in the photographer Nadar's studio. Room 29 at Musêe d'Orsay.

7. Femmes au Jardin – 1866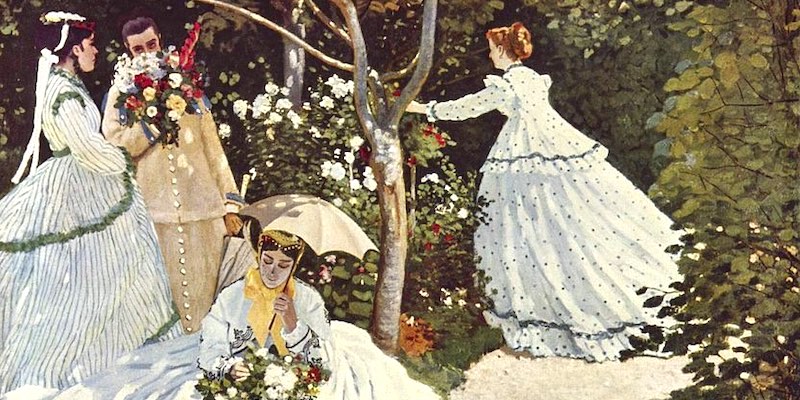 Rejected for the 1867 Salon, the judges decreed that Women in the Garden lacked " subject and narrative". They also criticized the visible brushstrokes, regarding it as a sign of carelessness. One jury member declared, "Too many young people think of nothing but continuing in this abominable direction. It is high time to protect them and save art!"
Monet was a young man of 26 when he painted this garden scene at his rented residence in Paris. It presented him with some challenges — primarily, the large canvas was so tall it had to be lowered into a trench by pulley so he could paint the upper portion without changing his viewpoint. Camille posed for three of the four figures and Monet rendered the dresses into a symphony of greens and browns. Monet finished it in the studio. Room 29 at Musêe d'Orsay. Detail shown above.
Who Was Claude Monet?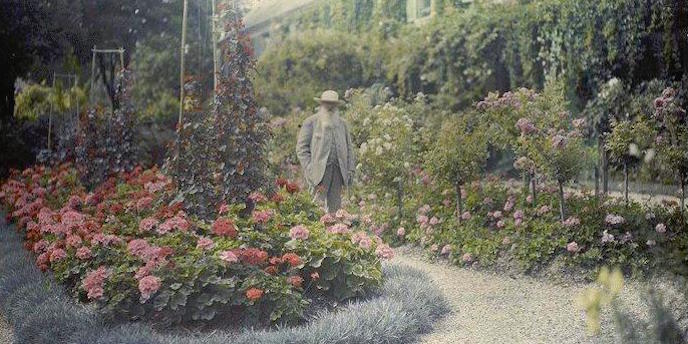 Claude Monet in his garden, c. 1920
He lived and painted for a very long time. After many of his Impressionist friends were long gone, Claude Monet lived well into his 80s. He was born on November 14, 1840 on Rue Laffitte in the 9th arrondissement of Paris, the second son of Claude Monet and Louise Monet. Both parents were second-generation Parisians and made sure that Oscar-Claude Monet was baptized in Notre-Dame-de-Lorette, at the end of the street he was born on. The baby would, in later life, became an atheist.
When he was a small child the family moved to Normandy where his father planned for Oscar-Claude to go into the family grocery business. But Monet wanted to become an artist. At age 11, young Monet entered Le Havre Secondary School of the Arts where he became known for the charcoal caricatures he would create and sell for spending money. He took his first drawing lessons from Jacques-François Ochard, who himself was a student of Jacques-Louis David.
On the beaches of Normandy, Monet met the artist Eugene Boudin who would became his mentor and teach him to use oil paints. Boudin introduced Monet to en plein air, an outdoor painting technique later used extensively by the Impressionists. When he was 16 years old, Claude's mother died and he left school to live with a widowed aunt.


The young Monet loved to travel to Paris to spend time at the Louvre. When he saw other painters copying from the old masters, it inspired him to bring his paints and do the same. During this period Monet met young painters including Edouard Manet and others who would become the Impressionists.
At age 21 Monet was drafted into mandatory military service with the First Regiment of African Light Cavalry in Algeria; his term was to be seven years. His father could have bought Monet's way out from conscription but he declined when Claude refused to give up painting. In an interview from 1900, Monet reminisced about the light and colors of North Africa being early inspirations. However, after only a year of duty, Monet caught typhoid fever and his aunt got him released from service on the condition he went to art school.
In the early 1860s Monet (in his twenties) thrived in school, studying with Charles Gleyre in Paris, where he met Auguste Renoir, Frederic Bazille, and Alfred Sisley. Together they shared their approach to art — painting en plein air with brazen colors and rapid brushstrokes. This was the beginning of Impressionism.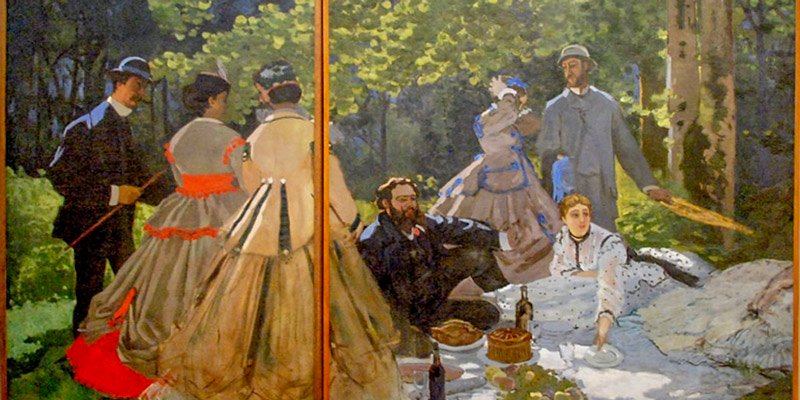 Panels from Monet's "Dejeuner sur l'Herbe", 1866

In 1865 Monet started on his version of Le Déjeuner sur l'Herbe, inspired by Manet's painting of the same name and featuring Gustave Courbet, Frederic Bazille, and Monet's sweetheart Camille. (Pictured above.) His hope was to exhibit it at the Salon, which had rejected Manet's original painting two years earlier. However, the painting was not ready in time so he submitted instead La femme à la Robe Verte, one of the many works featuring his future wife, Camille Doncieux.
The next year Camille was again his model in Femmes au Jardin and Au Bord de la Seine, Bennecourt. They had their first child, Jean, in 1867 and the couple married in June 1870, just before the outbreak of the Franco-Prussian War. The small family fled to England where Claude studied the paintings of John Constable and Joseph Mallord William Turner. Both of those painters would leave a lasting impression. Unfortunately, most of the family's time in London was spent in poverty. Even though Monet had a successful exhibition of his maritime paintings and won a silver medal at Le Havre, his paintings were seized by creditors.

"The Monet Family In Their Garden At Argenteuil" by Edouard Manet, 1874

In 1871 Monet left London for the Netherlands where he completed twenty-five paintings. That same year the family returned to France to live in Argenteuil, on the banks of the Seine. Argenteuil was a popular Sunday outing for Parisians and became the scene for some of his best-known works. He purchased a boat to use as a floating studio. From the boat Monet painted portraits of Édouard Manet and Berthe Morisot. Manet, in turn, painted Monet and his family aboard the boat and in the garden, as shown above.
Monet and his like-minded artist friends continued to be rejected by the annual Salon. So in 1874 Monet with Auguste Renoir, Camille Pissarro, Berthe Morisot, and Alfred Sisley organized the Sociétè Anonyme les Artistes Peintres, Sculpteurs et Graveurs to exhibit their works. (A most inauspicious name for what was to become the most influential group of artists in the history of painting.) At their first exhibition Monet showed the painting that would give the group its lasting name, Impression, Sunrise. (Shown below.)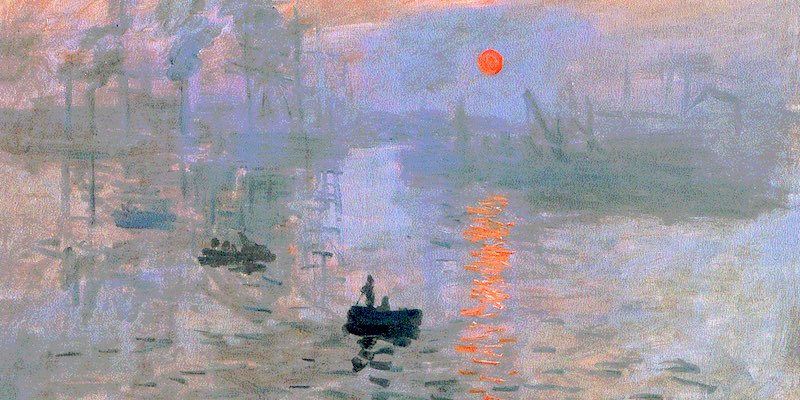 Monet's seminal "Impression, Sunrise", 1874

The purpose of first Impressionist exhibition wasn't so much to promote their new style as to free themselves from the constraints of the Salon. The exhibition gave the artists an opportunity to show their work without the interference of a jury. In addition to Impression: Sunrise, Monet showed four oil paintings and seven pastels including The Luncheon, featuring Camille and little Jean, which had been rejected by the Paris Salon of 1870.
Almost two hundred works in total were exhibited by Morisot, Renoir, Degas, Pissarro, and Cezanne including several works on loan like Cezanne's Modern Olympia, Morisot's Hide and Seek, and landscapes by Sisley. 3,500 art lovers attended, although a few works sold. Some said the prices were too high — Pissarro asked 1,000 francs for The Orchard and Monet the same for Impression: Sunrise. Neither sold.
Barely two years later, in 1876, Camille became ill with tuberculosis. The birth of their second son, Michel in 1878 weakened her fading health. In the summer they moved to Vetheuil (located on a bend of the Seine, near Giverny), where they shared a house with Ernest Hoschede, his wife Alice, and their family. (Hoschede was a wealthy department store owner and patron of the arts.) It was there that Camille was diagnosed with uterine cancer and died months later at the age of thirty-two.
Circumstances changed even more for Monet when Ernest went bankrupt. Hoschede abandoned his family, leaving widowed Monet, Alice, and a combined brood of children consisting of Monet's two boys and Alice's six children — Blanche (who would marry Jean Monet), Germaine, Suzanne, Marthe, Jean-Pierre, and Jacques.
Claude, Alice, and the children moved to Vernon. In 1883, looking out the window of the train between Vernon and Gasny, Monet discovered Giverny. Following the death of Ernest, Monet married Alice and in May 1883 they rented a house and two acres between the towns of Vernon and Giverny, where Monet would plant a garden, create a pond with waterlilies, and paint for the rest of his life. A barn was transformed into his studio along with orchards and a small garden. The house was close enough to the local schools for the children and the surrounding landscape gave Monet scenery to paint.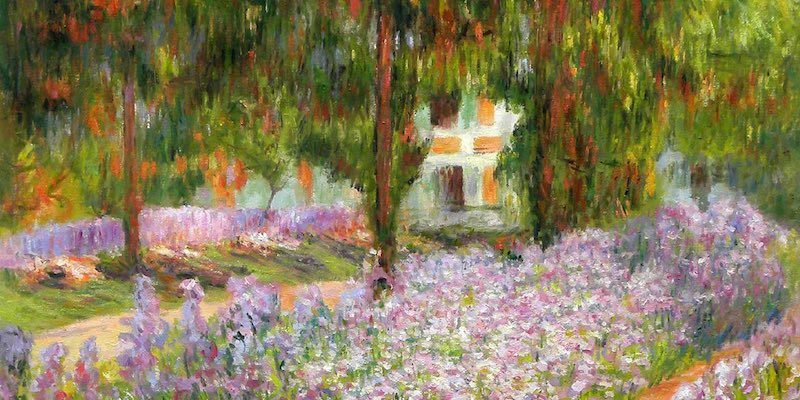 Monet's "Garden Irises", 1900

As the family worked and developed the house and gardens Monet's fortunes began to change. His dealer, Paul Durand-Ruel, was having success selling his paintings and by 1890 Monet was wealthy enough to buy the house, the surrounding buildings and the land for his gardens. During the following decade he built a greenhouse and a second studio with spacious skylights.
Monet would write daily instructions for his head gardener with precise designs and layouts for plantings. As his wealth grew, the garden evolved but Monet remained its chief architect, even when he had seven gardeners working for him. He was able to purchase additional land across the road with a water meadow. There he began a vast landscaping project that would include the lily ponds which that become the subject of his best-known works. White waterlilies were planted along with imported South American and Egyptian varieties, in colors ranging from yellow to blue to white.
At the dawn of the twentieth century, Monet began painting water lilies, often with the Japanese bridge as the central feature. These series of large-scale paintings would occupy him for the next 25 years By the mid-1910s Monet had achieved a completely new, fluid style of painting and the waterlily pond became the focal point for his surreal, almost abstract art.
Alice died of leukemia in 1911, followed by the death of his oldest son Jean in 1914. (Jean, you will recall, was married to Alice's daughter Blanche). Both deaths sent Monet into a deep depression and he stopped painting. It was Blanche who consoled and encouraged him, and eventually convinced him to start painting again.
During World War I, Monet painted a series of weeping willow trees as homage to the French fallen soldiers. It was in this period that Monet developed the first signs of cataracts. To accommodate his poor eyesight, he only painted outdoors in the early morning and late afternoon and spent the middle of the day in the studio. For years he refused to have cataract surgery but finally, in 1923, he underwent two operations to remove them, successfully.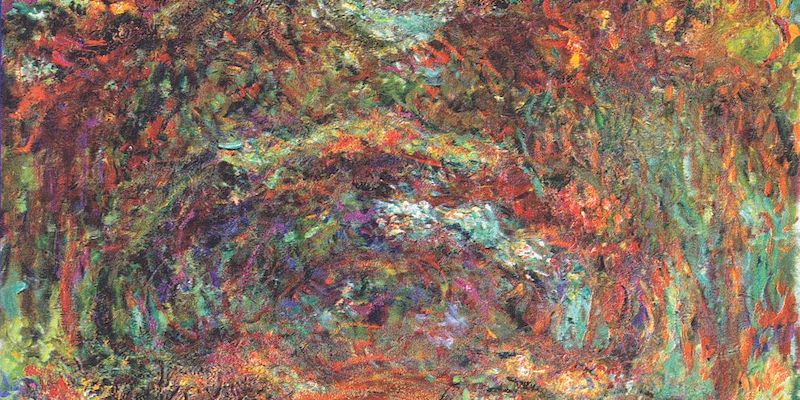 Monet's "The Rose Walk", 1922

Looking at the paintings from this period you can observe the effect his cataracts had on his work. Those done when he had cataracts have a reddish tone, like The Rose Walk from 1922 (shown above), today found at Musée Marmottan Monet. After his surgery he was able to see ultraviolet light and the waterlilies he painted afterwards have bluer tones.
Claude Monet died on December 5, 1926 at the age of 86. He is buried in the Giverny church cemetery. He had insisted that his service be simple; at his funeral, his long-time friend Georges Clemenceau removed the black cloth draped over the coffin, and declared "No black for Monet!", replacing it with a flower-patterned cloth. Monet's home, garden, and waterlily pond were bequeathed by his son Michel, his only heir, to the Institut de France in 1966. Following restoration the house and gardens were open to visitors in 1980.