The Best Paintings By Manet At Musée d'Orsay – Five Not To Miss
There are 49 artworks by the French painter Edouard Manet (1832-1883) at the Musée d'Orsay. Even for a museum dedicated to the 19th century Impressionists, that's quite a few paintings by one artist. Manet was the spiritual father of a younger generation of painters who longed to be free from the constraints of the stuffy Paris Salon, the annual state-sponsored art show.
Manet was revolutionary in painting scenes of everyday people engaged in activities like relaxing on the beach, in bars, cafes, and theaters. He didn't depict the ideal, classical world that the École des Beaux-Arts encouraged. In fact, Manet scorned rules and conventions and is today considered the master of the painters collectively called the pre-Impressionists. We love roaming the rooms of the d'Orsay to find all of Manet's works exhibited there. But for a quicker tour, here are five of his paintings not to miss when you're at the center of Impressionism in Paris.

Discover What's On When You're Here...
Discover What's On When You're Here
1. Le Déjeuner Sur l'Herbe – 1863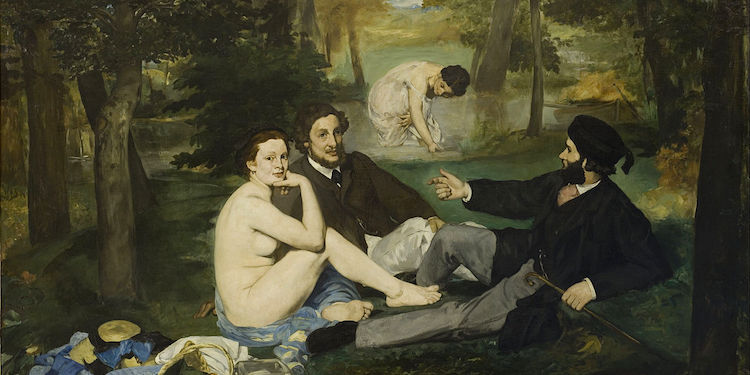 Laughter. Scandal. Edouard Manet didn't intend to ignite both when he entered this painting to the 1863 official Paris Salon. It was rejected by the stuffy committee members but Manet went on to exhibit it at the famous Salon des Refusés — an alternative art show initiated by Napoleon III as a venue to exhibit the paintings that had been rejected — where it was the star attraction, if only for the controversy it generated.
Manet borrowed classical references from Titian and from Raphael's Judgement of Paris and then added his own brand of boldness with a nude woman, model Victorine Meurent, sitting amongst a group of clothed men. There is no subtle gradations between light and dark; Manet favored brutal contrast and diminished both depth and perspective. The critics were outranged by the painting and criticized its irregular patches of color and visible paint strokes. Luncheon on the Grass (its English title) is considered by many the departure point for modern art. Found in Musée d'Orsay room 29.

2. Olympia – 1863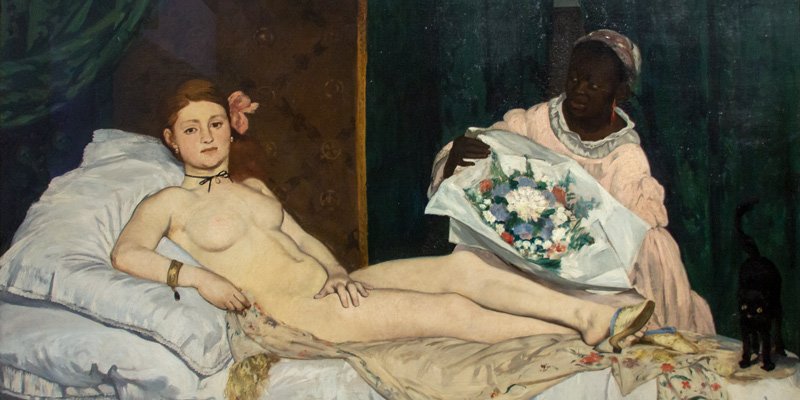 Edouard Manet's Olympia was accepted by the Salon of 1865, just two years after Le Déjeuner Sur l'Herbe had been rejected. But if he thought the criticism of the earlier painting was harsh, he must have been even more dismayed by the reaction to this one.
The nude painting unleashed harsh criticism and created another scandal. His model was once again Victorine Meurent, and her jewelry, a flower tucked behind her ear, and decorative slippers made it clear she was adorned to seduce. For many years, Olympia was considered offensive and unacceptable. After Manet's death, Claude Monet championed the painting, urging it be hung in the Louvre (this was long before Musée d'Orsay was created). After a lengthy negotiation, Olympia was finally exhibited in the Musée du Luxembourg, at that time devoted to contemporary art. Found at Musée d'Orsay in room 14.

Victorine Meurent – Manet's Muse
Manet's favorite model in this period was Victorine Meurent (1844-1927). Her petite statue, red hair, and piercing dark brown eyes haunted Manet. He first met her in 1862 on the streets of Paris while she was carrying a guitar. Victorine quickly became his model of choice and appeared in many of his works, including as a toreador (Mlle. Victorine in the Costume of a Matador, 1862), naked on the grass (Le Déjeuner Sur l'Herbe, 1863), with a bouquet of violets (Woman with a Parrot, 1866), and in Olympia. Victorine was herself a painter and exhibited her work regularly at the Paris Salon. In fact, her paintings were selected for the Salon's 1876 exhibition, when all of Manet's submissions were rejected.

3. Portrait of Emile Zola – 1868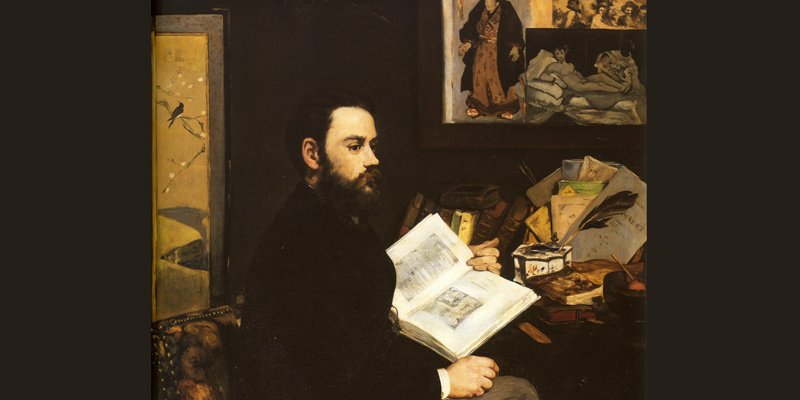 Emile Zola — the famous French novelist, critic, and political activist — loved the arts. He was especially interested in the painters who were rejected by the official critics. In 1866 he wrote a glowing article about Manet and the following year defended him when Manet organized his own independent exhibition on the fringes of the Universal Exhibition. Zola regarded Manet a master who deserved to be represented in the Louvre.
To thank Zola, Manet offered to paint his portrait. The sittings took place in Manet's studio. The setting was arranged with items representing Zola's personality, preferences, and occupation. Hanging on the wall behind Zola is Manet's Olympia, which Zola considered to be his best work. Behind it is a Spanish engraving from Velazquez, giving a nod to their mutual taste for Spanish art. A Japanese print by Utagawa Kuniaki completes the decor.
In the painting, Zola is sitting at a work table, holding a book. An inkwell and a quill on the desk symbolize his occupation as a writer. The portrait was the beginning of a long and loyal friendship between the two men. Room 14 at the d'Orsay.
4. Le Balcon – 1869
When Manet painted Le Balcon scenes of bourgeois life were very popular, yet this work went against the conventions of the time. All the subjects were friends of Manet — Berthe Morisot (an accomplished painter in her own right and married to Manet's brother) sits in the foreground, making her first appearance in one of Manet's paintings. Morisot would become another of Manet's preferred models. Unlike other paintings of the time, this one doesn't tell a story; the characters are frozen, as if isolated in a dream.
At its reveal at the 1869 Salon one critic cattily remarked, "close the shutters!" Another wrote, "Manet has lowered himself to the point of being in competition with the painters of the building trade."
Manet never sold Le Balcon, keeping it until his death in 1883; it was then bought by Impressionist painter Gustave Caillebotte, who bequeathed it to the French state in 1894. The painting has made the rounds of Paris museums — it was first displayed at the Musée du Luxembourg from 1896 to 1929, then at the Jeu de Paume, then the Louvre, finally being transferred to the Musée d'Orsay when it opened in 1986. Room 20.

5. Berthe Morisot au Bouquet de Violettes – 1872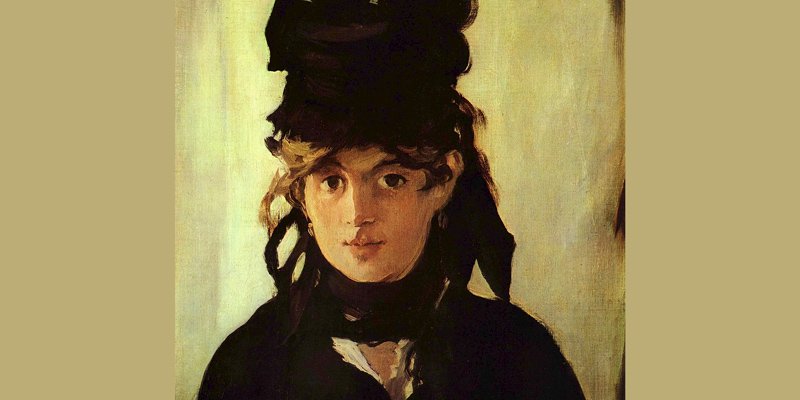 Manet was profoundly influenced by the disastrous Franco-Prussian War (1870-71), when he fought in the defense during the siege of Paris. He remained in the city during the 1871 populist uprising known as The Commune that followed the war. Serving in the garde nationale, he didn't have time to paint. But later in 1871 he resumed his work with his current favorite model, Berthe Morisot.
Here, Manet chose to light Morisot from the side; her face seems to be all light and shadow. All is black (he even painted her eyes dark, though they were actually green) — she is dressed all in black, with a matching black hat to enhance her Spanish beauty, noted in her first appearances in Manet's work. This composition in black confirmed Manet's virtuosity. The spellbinding portrait was considered by his friends to be one of the artist's masterpieces. Room 20.

Who Was Edouard Manet?
Born in Paris in 1832 to an affluent and socially important family, Edouard Manet's mother was the goddaughter of the Swedish crown prince and his father was a judge who expected his son to become a lawyer. It was his uncle who encouraged Edouard to pursue the arts by enrolling in a drawing course.
In 1848, at the age of 16, Manet sailed to Rio de Janeiro, training to join the navy. After failing the examination twice, his father allowed Edouard to follow his dream to pursue the arts. Manet studied under the academic painter Thomas Couture, where he practiced by copying the old masters in the Louvre. By the time he was 20 years old, Manet had traveled throughout Europe and had fallen under the spell of Dutch painter Frans Hals and Spanish artists Diego Velazquez and Francisco Jose de Goya.
In 1856 he opened his own studio in Paris and favored a style characterized by loose brush strokes, simplification of details, and the absence of transitional tones. Manet adopted the then-current style of realist Gustave Courbet when he painted The Absinthe Drinker in 1859. By this time Manet shunned painting religious, mythological, or historical subjects.
Manet was a friend of many of the Impressionists — Edgar Degas, Claude Monet, Pierre-Auguste Renoir, Alfred Sisley, Paul Cezanne, Camille Pissarro, and Berthe Morisot. Morisot is credited with convincing Manet to try painting en plein air outdoors. In 1874, Morisot married Edouard's brother Eugene Manet.



Although his use of black is uncharacteristic of the Impressionists, you can see their influence on him in his transition to a lighter color palette as found in the above work, Le Chemin de Fer (1873), his last painting featuring Victorine. Manet's well-known paintings of 19th century cafe scenes depict bohemians, working people, and the bourgeoisie in everyday activities like drinking beer, listening to music, flirting, reading, or waiting for friends. Manet based these paintings on sketches he made on the spot while in brasseries. A favorite drinking hole was the Brasserie Reichshoffen on Boulevard de Rochechourt.
In 1863 Manet married Suzanne Leenhoff, a piano teacher who had been hired by Manet's father. Manet died in 1883 of untreated syphilis; the disease caused him pain and partial paralysis. He was only 51. Edouard Manet is buried in the Cimetiere de Passy. Today, art historians regard Edouard Manet as not only a founder of Impressionism, but one of the fathers of Modernism.