Gare Saint-Lazare In Paris – Connecting To The Heart Of Normandy
If, among the six train station of Paris, Gare Saint-Lazare is less well known to visitors, there's a good reason. Saint-Lazare is a terminus mainly for local and regional trains; 95% of its traffic is made up of suburban commuters. There is no TGV or other high-speed long-distance service. But, for visitors, the gare is where you'll want to go to get a train connection to the Chateau de Versailles, Monet's gardens at Giverny, and the D-Day beaches of Normandy.
Gare Saint-Lazare provides connections to points along the Paris-Le Havre line and elsewhere in northwestern France. Sixteen hundred trains arrive and depart daily, making it the second busiest station in Paris, after Gare du Nord. The multilevel gare was recently renovated and is now brimming with shopping and dining options in a three-level shopping mall.
A Multi-Purpose Rail Center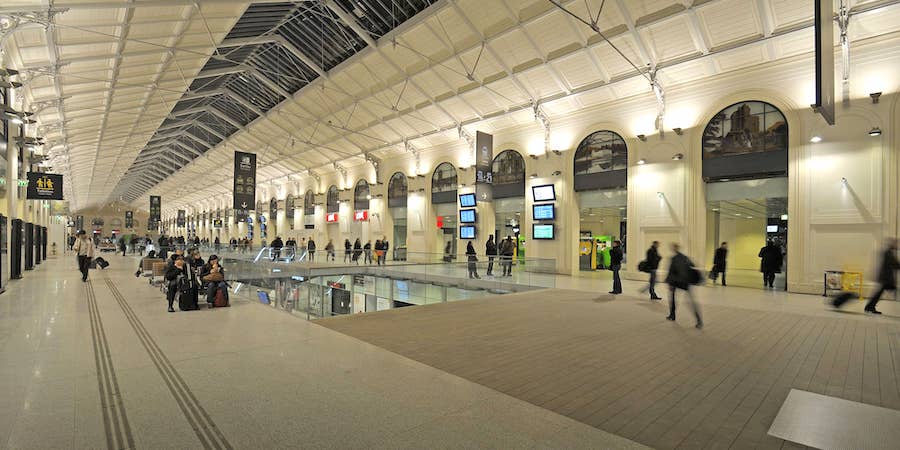 Upper level at Gare Saint-Lazare, post-renovation
Gare Saint Lazare is an all-in-one rail service station that offers up the rail melange of Paris Metro lines, trains connecting to the major centers of northwestern France, the commuter train system serving the southwestern suburbs of Paris, and the regional express serving upper Normandy.
France train nomenclature is a bit like jazz — it's free-form, there are lots of different notes, and you don't always know quite what's going on. And that's true of some of the train-naming at Gare Saint-Lazare where you'll find references to Les Grande Lignes, Transilien, TER, Intercité, and, simply, train. We'll take a stab at a glossary of these terms.

RER
Part of the Paris region underground commuter transit system. (There is no RER service directly to Saint-Lazare.) Like the Metro, the RER trains run on dedicated tracks, usually farther underground the the Metro, and serve Paris and its immediate surroundings. RATP, the transportation authority, plans to drop the term RER and substitute train.

Grandes Lignes
Grandes Lignes is a catch-all term for the intercity and long-distance trains of France. Some trains using this glorious moniker are high-speed TGVs serving distant places like Bordeaux and Marseille. Gare Saint-Lazare services the nearby cities of Normandy; its Grandes Lignes trains get you to places like Caen and Le Havre. There are no TGV trains departing from Saint-Lazare.


Intercité
The express trains serving Normandy destinations.

TER & Transilien
TER is acronym for Transport Express Régional and refers to trains that, from Gare Saint-Lazare, serve the region surrounding Paris. In the surrounding region close to Paris the TER trains are also known as Transilien (we told you it was freeform). These can be milk-run lines, with stops at numerous stations.

Pas de Probleme
You don't need to worry about any of this terminology when you're buying tickets online. You just enter your departure and arrival destinations with dates, and then the available trains and travel times are listed. Your only job then is to show up at the correct station on time and find your departure platform
Navigating Gare Saint-Lazare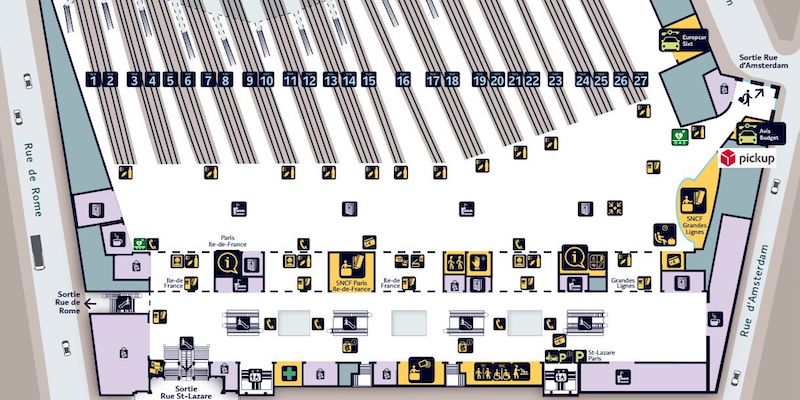 Map of the tracks at Gare Saint-Lazare
Gare Saint Lazare is found (naturally) on Rue Saint-Lazare in the 8th Arrondissement, equidistant from the Tuileries and Parc Monceau. At first view from Rue Saint-Lazare the station doesn't seem that big, but that's because most of the gare is obscured by the large hotel Hilton Paris Opera that sits in front. It's only when you step behind the hotel to the aptly name Rue Intérieure that runs between the hotel and the station that you get an idea of just how large Saint-Lazare is.
At either end of the hotel are two courtyards — Cour de Rome and Place du Havre. Most passengers enter through the doors opening onto those spaces. Inside, you have to run a gauntlet of retail shops before you reach the actual voies, or platforms. However, the open plan of the 2013-renovated station, with light wells and stairways, allows natural light from the large glass roof to reach all levels.
Once past the shopping onto the train level navigation is simplicity itself. The platforms are numbered 1 to 27, left to right and there's plenty of clear signage to tell you where to go and which voie your train will leave from. In here, too, large glass panels in the shed roof provide lots of natural light.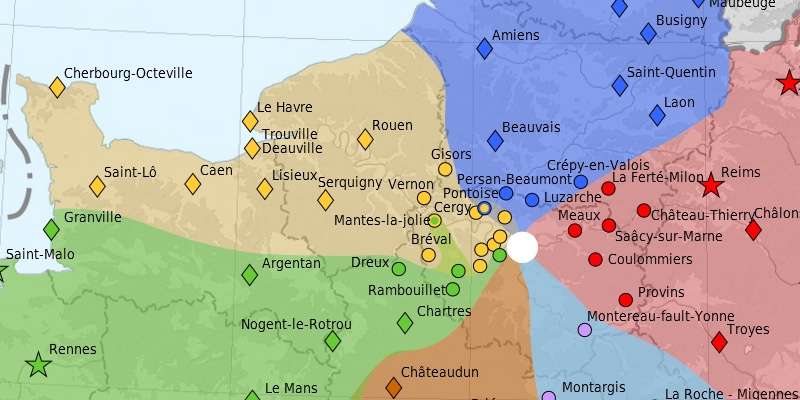 The region of France (in yellow) served by Gare Saint-Lazare
The name of the square outside the station, Place du Havre, gives the traveler a clue to the region Gare Saint-Lazare serves — the centers of Normandy along and near the tracks running to the Atlantic coast at Le Havre. For those interested in going farther afield than the suburbs of the Paris region (where most of the Saint-Lazare tracks run), here are a few details of where else you can go.
Local trains to Versailles-Rive Droite leave every 15 minutes from platforms 1 through 4. Trains boarding at platforms 18 to 27 head to Caen, Rouen, Dieppe, Le Havre, and Cherbourg. To get to Versailles, take the direct train from Gare Saint-Lazare to Versailles-Rive Droit. There's a train about every fifteen minutes. Afterwards, it's about a twenty-minute walk from the gare of Versailles to the Chateau de Versailles.
To get to the Normandy town of Giverny to see Monet's gardens, take the direct train from Gare Saint-Lazare to Vernon, the closest town, a forty-five minute trip. Fromthere you can take a bus shuttle, walk, or flag a taxi at the train station. It's about an hour's walk to Giverny from the Vernon station.
Gare Saint-Lazare in the Arts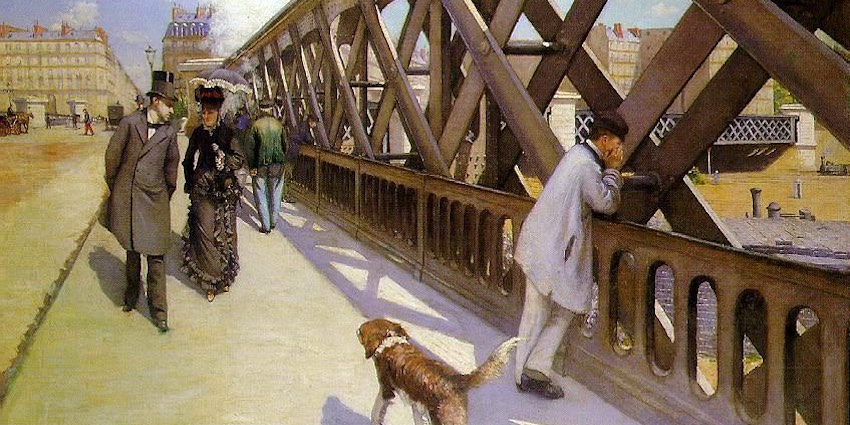 Le Pont de l'Europe, Gustave Caillebotte
During the heyday of Impressionism in Paris (1870-80s), many of the artists lived close to the Gare St-Lazare in a then new quartier known as Europe. Many of the district's streets were named for European cities — Londres, Moscou, Liege, Turin, Rome — and the center of the area was, and is, Place de l'Europe, with a Metro stop later adopting the district's name.
In the 1860s, a huge star-shaped iron bridge, Pont de l'Europe, was built to connect a cluster of avenues above the railway tracks. The bridge, with its unique view of the train tracks, made it a favorite new place for Parisians to promenade and for painters to capture the flavor of Parisian life.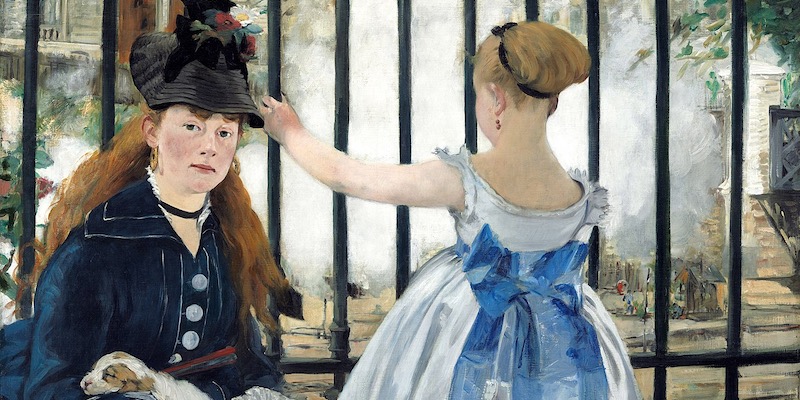 Le Chemin de Fer, Edouard Manet
Edouard Manet, the godfather of the Impressionists, lived nearby on Rue de Saint-Pétersbourg. His painting, Le Chemin de Fer (The Railway), was shown at the Paris Salon of 1874 and is one of the true masterpieces of the period. It was painted from the garden of a friend's house on nearby Rue de Rome. Gustave Caillebotte also lived nearby; he painted the bridge itself in Le Pont de l'Europe.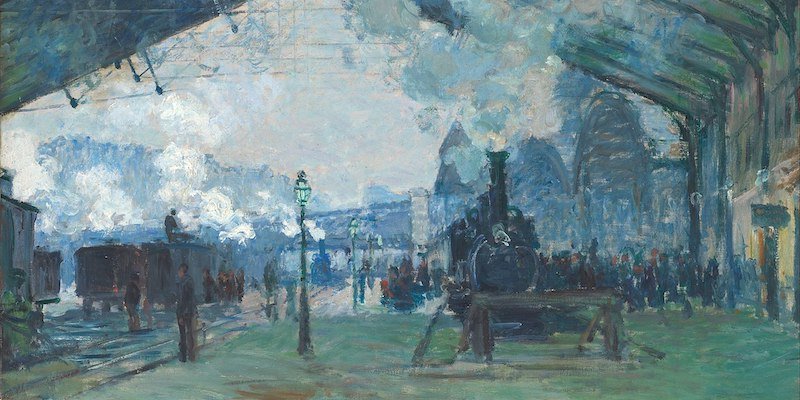 Arrival of the Normandy Train, Gare Saint Lazare, Claude Monet
By far the most famous paintings of Gare Saint-Lazare come from the master himself, Mr Impressionism, Claude Monet. In 1877, Monet also rented a studio on Rue de Saint-Pétersbourg; the same year he exhibited seven paintings of Gare Saint Lazare. This series of paintings, shown at the third Impressionist Exhibition, was his most famous work during his lifetime.
Derrière la Gare de Saint-Lazare (detail), Henri Cartier-Bresson
But it hasn't only been painters to capture the spirit of Gare Saint-Lazare. Emile Zola's 1890 novel, La Béte Humaine is based on the Paris-Le Havre railway and opens with a description of the station. French photographer Henri Cartier-Bresson also did his part in capturing it in one of his most famous photographs, Derrière la Gare de Saint-Lazare (full size photo here). The Musée d'Orsay and the National Gallery of Art in Washington DC once explored much of this in a joint exhibition called Manet, Monet, and Gare Saint-Lazare.

Gare Saint-Lazare Resources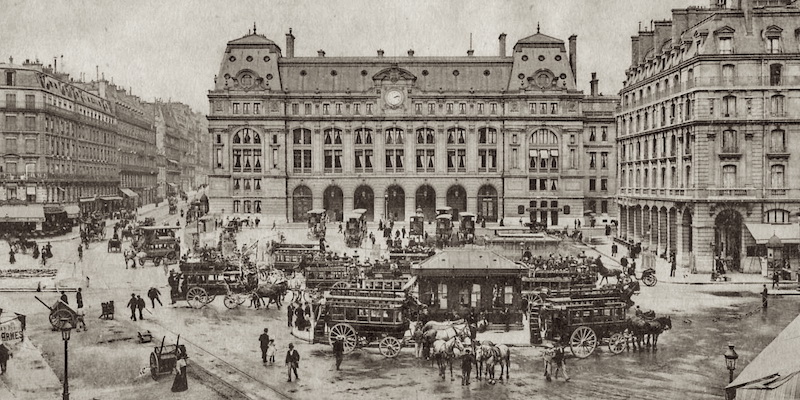 Main entrances from Cour de Rome and Place du Havre
8th Arrondissement
Served by Metro lines 3, 12, 13 & 14