Église de la Madeleine & Its Stormy History
Église de la Madeleine owes its existence to France's last kings and to its first emperor — but few churches in Paris have had such a stormy history. When Place Louis XV (known today as Place de la Concorde) was built in 1755, a suitable monument was needed at the north end of Rue Royale — where there was a slight hill perfectly viewed from the place. Therefore, in 1764, under the auspices of Louis XV, an architect drew up plans based on the domed church of Les Invalides. But, that architect died in 1777.
The architect who took over, a student of the former, decided to start anew, and razed what had already been built, starting with an empty piece of land. The idea now was that the new church should resemble the Panthéon. The new work proceeded slowly so that by 1789 only the foundations had been completed — just in time for the French Revolution.

La Madeleine – Back to Square One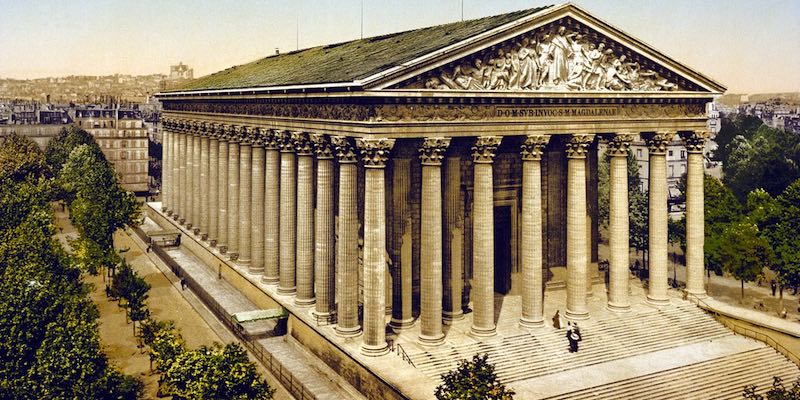 The French Revolution — Revolters. Church-destroyers. Burning. Riots. Swimming Pools. Movie Stars…
Okay, we know we're wrong about that last part. But during the revolution most churches became warehouses or "Temples to Reason" or things like that. Worked stopped on the new church at the top of Rue Royale. Even after Napoleon Bonaparte came to power, the site sat dormant while various projects were considered. Use of the site was debated and a library and a market were suggested. But in 1806 Napoleon, by then emperor, decreed that a memorial to the Grand Army would be built on the site, modelled on Greek temples of antiquity.
So once again the site was cleared back down to earth and the new structure was begun. However, work was not completed while Napoleon reigned and it was Louis XVIII, the restoration monarch, who declared that the building would be completed and become a church dedicated to Mary Magdalene. In the tradition of the grand churches of Paris, it had taken nearly a century from initial planning to completion in 1842. (Even so, during that period, in 1837, the site was nearly selected for use as Paris' first railway terminal!)

Classical Music at La Madeleine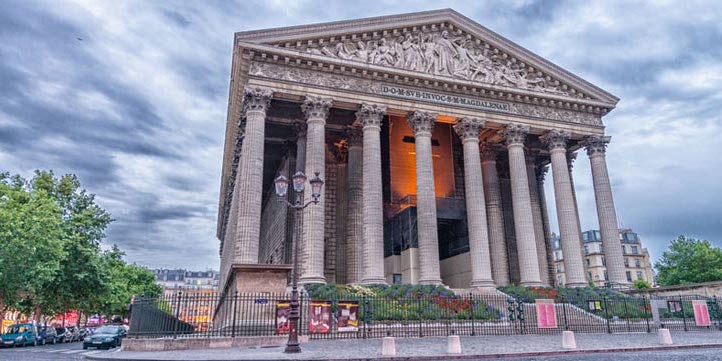 Today masses and other religious services are celebrated daily, as are funerals, weddings and other church rites. Place de la Madeleine has become one of the centers for gourmet food in Paris, being the location of Hediard, Fauchon, Prunier, La Maison de la Truffe, Caviar Kaspia, and the Maille mustard boutique.
Just as interesting, there are classical music concerts performed at La Madeleine on a regular basis. You'll need to reserve your tickets online, in advance.