The 5 Best Paintings By Camille Pissarro At Musée d'Orsay
Camille Pissarro was the only artist to display paintings in all eight Impressionist exhibitions, starting in 1874. Typical of painters of that group, he had a fascination with rural life and loved to paint en plein air — studying nature under different conditions of light, color, and seasons. A mentor to Cezanne and Gauguin, Pissarro is known as the Father of the Impressionists.
While the Impressionists are generally known for their depictions of city life and country leisure activities like sailing, picnics or parties, Pissarro was absorbed by the everyday life of French peasants. Unlike many of his contemporaries, who lived in Paris, he lived in the French countryside where many younger artists traveled to study with him. Pissarro, with his gentle demeanor, would allow his young colleagues to stay for long visits. There are 51 works of Camille Pissarro at the Musée d'Orsay — here's what to look for when you're there.

1. Portrait de l'Artiste – 1873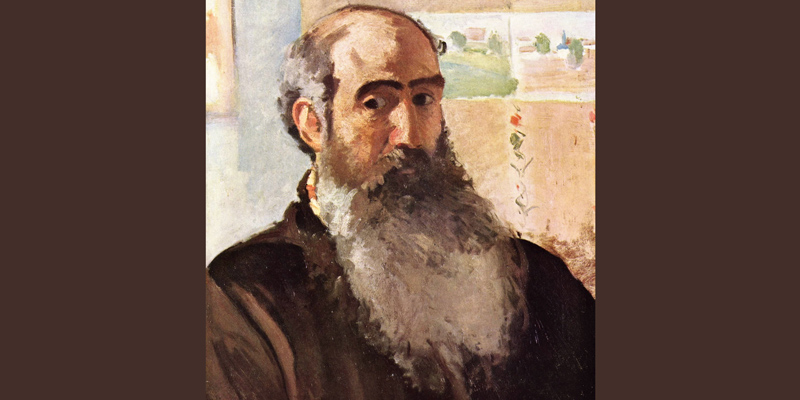 Pissarro was known to his colleagues as a collaborator and mentor. Because of his willingness to allow younger artists to study with him and because of his role as a father to seven children, he was affectionately referred to as Pere Pissarro. In this famous self-portrait, Pissarro shows himself as a wise father-figure with his famous, long beard and lively, dark eyes. Although he looks like a grandfather, he was only 43 years old at the time.

2. Hoar Frost, the Old Road to Ennery, Pointoise – 1873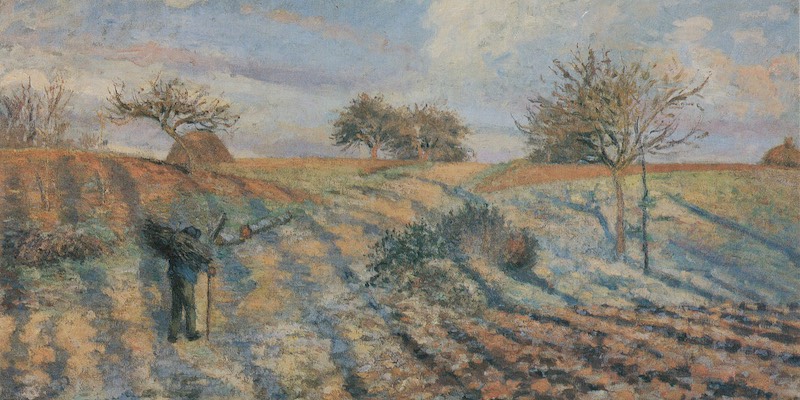 Considered one of Pissarro's masterpiece, Geée Blanche is one of five paintings exhibited at the first Impressionist exhibition in 1874. Here, a peasant worker works a field in Pissarro's town of Pointoise. The painting emphasizes color, harmony and composition. Cezanne famously said "We must make of Impressionism something solid like the art of the museum," referring to the group's paintings' lack of structure.
Pissarro used tilled fields crossed with paths and trees on the horizon to create a balanced composition. The cool color palette and vanishing point directs your attention to the wandering figure. Located in room 32 at d'Orsay.
3. La Seine et le Louvre – 1903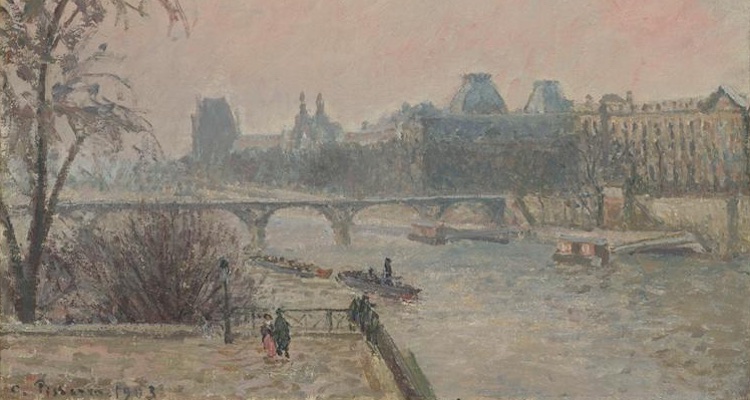 After 1893, Pissarro turned away from the countryside that had been the theme his work for most of his life. He began to create paintings of urban scenes in Paris, Rouen, Le Havre, and Dieppe. Unlike Monet, Pissarro did not study variations on the same theme, he preferred to vary his subjects. When he started his Paris series in 1893 he first painted crowd scenes around Gare Saint-Lazare, on the Grand Boulevards, and in the Tuileries Garden. Then he turned to quieter locations, with a series on the Seine and the Louvre, like this one. During the last decade of his life the sky and the water became very important features.
In La Seine et le Louvre, completed the same year he died, the palette conveys a winter's day in soft light. He painted it from the second floor of a house on Place Dauphine — you can see the tip of the Square du Vert-Galant, the Pont des Arts over the Seine, and a view of the Louvre. Always prolific, Pissarro produced thirty paintings from this window between 1900 and 1903. The painting is located in room 32 of d'Orsay.

4. Coin de Jardin à l'Hermitage, Pontoise – 1870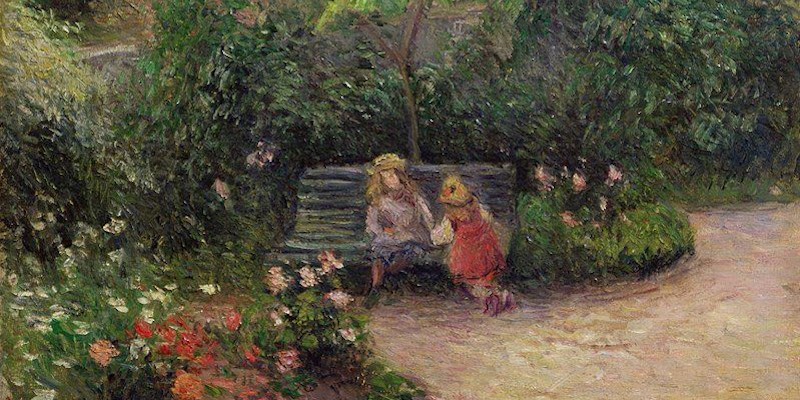 In Coin de Jardin you can see Pissarro move away from his familiar world towards a more sophisticated and urban vision, much like Monet and his garden. In the nearly square picture (detail shown above) an attractive garden replaces the usual village vegetable gardens he had been known for. Cultivated flowers beds, trees, and shrubs replace cabbages, lettuces, and artichokes.
During the first Impressionist exhibition in 1874 Pissarro was heavily criticized for his portrayal of ordinary vegetable patches instead of noble French gardens. Pissarro — who described himself as "a penniless bourgeois", and not one to care about social class — in this painting may have been responding to the criticism. Room 60 at d'Orsay.
5. Les Toits Rouges, Coin de Village, Effet d'Hiver – 1877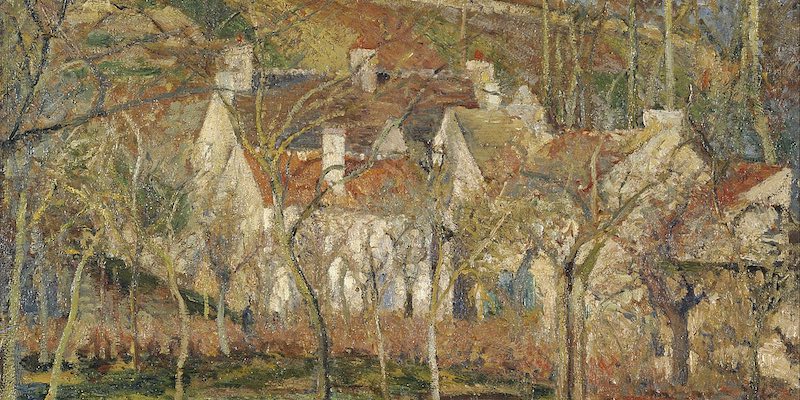 Red roofs in the corner of the village, in winter. The colors of the roofs, ranging from orange-red to brown, can also be seen in the fields and the plants — in the foreground and the background. The brushstrokes are vibrant, resulting in a sense of intensity and movement.
This painting follows some sessions in 1865 when Pissarro and Cezanne had worked together on the same subject. Cezanne's version — The Orchard, Côte St Denis, at Pontoise — showed a view from higher up. Here, the houses and roofs disappear behind a curtain of trees. (Detail shown above.) Pissarro displayed Les Toits Rouges at the third Impressionist Exhibition in 1877. It was well received and one critic wrote: "A pretty painting, a small house hidden in the forest, which impressed us with its strong and simple touch". Room 30.

Who Was Camille Pissarro?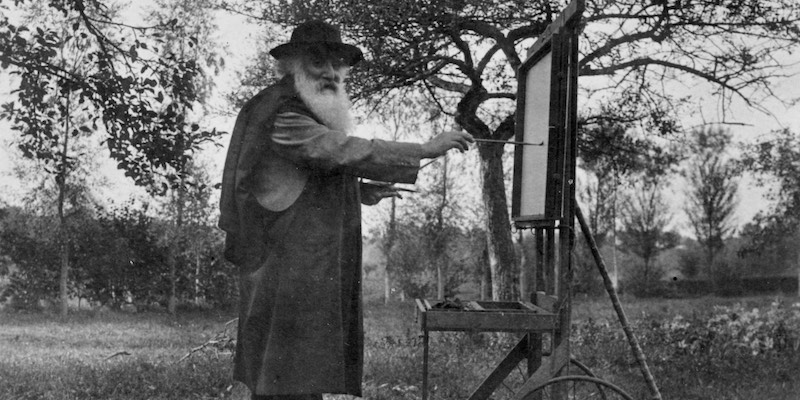 Camille Pissarro in 1900
Camille Pissarro (1830-1903) was famous for his influence on Impressionist and Post-Impressionist painting. Unlike his Impressionist friends, Pissarro was not from France. He was born on the island of St. Thomas (the US Virgin Islands, since 1917) in the Danish West Indies. His father was French who had traveled there to help settle the estate of his late uncle. He ended up marrying the uncle's widow. As you might guess, the marriage was controversial and, as a result, their four children, including Camille, grew up as outsiders.
(Writer Alice Hoffman was so intrigued by the story of the father, his aunt, and their life on the exotic island that she wrote a novel about them, The Marriage of Opposites.)


Age twelve, Camille was sent to boarding school in Paris, where he developed an appreciation of the French masters. After graduating he returned to St. Thomas to work in the family's mercantile business, but he never stopped drawing and painting.
Pissarro met Danish artist Fritz Melbye in 1849, who encouraged his artistic interests. The pair moved to Venezuela, where they drew, traveled, and worked. After this experience Pissarro returned to Paris to study at the École des Beaux-Arts and the Académie Suisse. It was in this period that he met Camille Corot and Gustave Courbet and began to work closely with them.
Pissarro also became close to another group of young artists, including Claude Monet and Paul Cezanne. At the time, their work was rejected by the French artistic establishment, and was excluded from the official Salon exhibitions. Though Pissarro kept a studio in Paris, he spent much of his time outdoors. Like many of his contemporaries, he preferred to paint en plein air.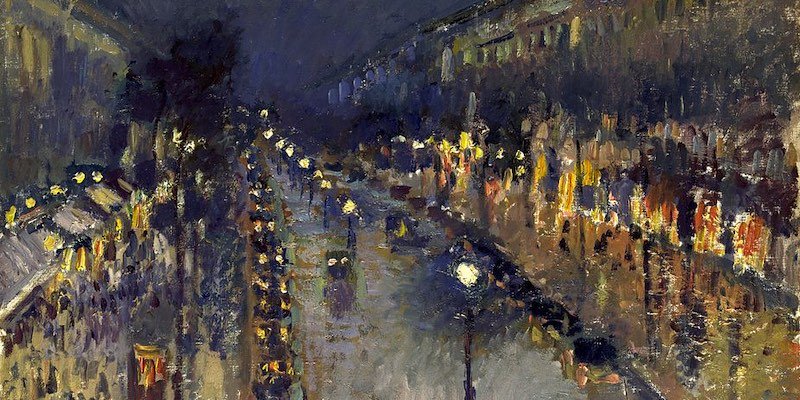 Pissarro, Boulevard Montmartre Night, 1897

Pissarro became romantically involved with Julie Vellay, his mother's maid. They married in 1871 and had a large family of seven children. Like many artists and most Parisians, their life was interrupted by the Franco-Prussian War of 1870-71, when they fled to London. Returning home at the end of the conflict, Pissarro discovered that most of his 1,500 paintings had been destroyed.
He rebounded from the loss and reconnected with his Impressionist friends, by now including Cezanne, Monet, Manet, Renoir, and Degas. You can see the Impressionist influence in his painting, Boulevard Montmartre at Night, above. In 1874, Pissarro was part of the collective of fifteen artists staging an alternative to the official state Salon. The group's first exhibition was unconventional, shocking critics and helping to define Impressionism. Pissarro placed five paintings in the premier show, including Hoar Frost, The Old Road to Ennery.
By the 1880s had Pissarro moved into his Post-Impressionist period, returning to his earlier themes and exploring new techniques. He forged new friendships with Georges Seurat and was an early admirer of Vincent van Gogh. In the end, Pissarro turned away from Impressionism.
Later in life, Pissarro suffered from a recurring eye infection and as as a result he often painted while looking out the window. Pissarro died in 1903 and is buried in Pere Lachaise Cemetery. All his children painted; his son Lucien Pissarro became a respected artist.