The Five Best Works Of Berthe Morisot At Musée d'Orsay
Berthe Morisot (1841-1895) was a leading Impressionist artist. Although she remains less known than her famous friends — think Monet, Degas, and Renoir — she had an exceptional career and was a key figure of the avant-garde movement in French art from the late 1860s until her death in 1895. Admired for her personality, beauty, and talent, Morisot was the first woman to crack this boy's club.

Our Top-Rated Museum Tours in Paris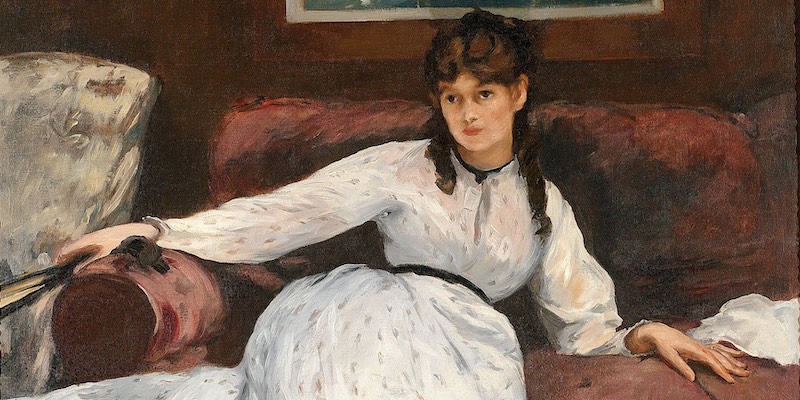 Manet, Le Repos (detail), with Morisot posing
Morisot explored themes of modern life — the private life of the bourgeoisie, the popularity of holiday spots, gardens, the importance of fashion and other female pursuits like motherhood, friendships, and fancy balls. There may only be a handful of paintings from Berthe Morisot at the Musée d'Orsay, but she's one of our favorites. Let's examine her top five found here.
1. Le Berceau – 1872
Morisot, Le Berceau, detail
Morisot's most famous painting, The Cradle, features her sister Edma gazing down lovingly at her baby Blanche sleeping in a cradle. This early work is the first example of Morisot's treatment of motherhood, which would become a recurring theme.
Although the work was admired by critics for its grace and elegance when it was shown in the first Impressionist exhibition in 1874 (in fact, one of the few paintings at that show that garnered any positive notice), it did not sell and Morisot kept it in her private collection. It stayed with Morisot's family until 1930 when it was finally purchased by the Louvre. (This was before the d'Orsay was created to house Impressionist pieces.)
You can see how the painting relies on two visual triangles — a dark one formed by Edma's body and a light one formed by the veil — creating a balanced composition between mother and child. As Edma draws the gauzy curtain around the cradle, she protects her daughter from the viewer and emphasizes the nurturing, private bond. (Detail crop shown above.)

Discover What's On When You're Here...
Discover What's On When You're Here
2. Jeune Femme en Toilette de Bal – 1879
Morisot, Jeune Femme en Toilette de Bal, detail
Berthe Morisot demonstrates the range of her work with this wonderful and dynamic painting, created by the floral background, echoed in the trimmings of the woman's dress. Critics have argued that the background is a key element, claiming it shuts out the external world and (symbolically, at least) protects the young woman's youth and beauty. The messy brushwork, particularly to the left, is typical of Morisot's work from the late 1870s, which has been compared to the other famous female Impressionist, the American Mary Cassatt.
This free-form portrait of an unknown debutante at a ball is the complete opposite of the society portraits churned out by the mainstream painters at the Salon. Here, Impressionism meets the art of Manet (Morisot's brother-in-law). When Morisot exhibited this painting along with a dozen others at at the Impressionist Exhibition of 1880, art critic Charles Ephrussi wrote "Berthe Morisot is very French in her distinction, elegance, gaiety and nonchalance – she grinds flower petals onto her palette...producing something vital, fine, and charming". This painting sold immediately. (Detail crop shown above.)

3. Dans les Blé – 1875
Morisot, Dans les Blé
The village is Gennevilliers, just outside Paris, where Morisot's husband's family, the Manets, owned a house. The painting's visual composition of horizontal zones of color is punctuated by the figure of a young boy. With Morisot's loose brushwork, the wheat is indistinct, as if it's blowing in the wind. In contrast, she defines the buildings in the background with sharpe detail, revealing even the smokestacks of the factories on the horizon.
The boy with his belongings slung over his shoulder emerges from the edge of the wheat field, opposite the village and factories, representing his attempt to escape the march of industrialization, or so the art critics tell us. (Most of her fellow Impressionists tended to paint out any references to modern industrialized life.) If the critics are right, Morisot's painting is a quiet protest against the transformation of modern life. Found in room 32 at the d'Orsay.
4. Sur un Banc a Bois de Boulogne – 1894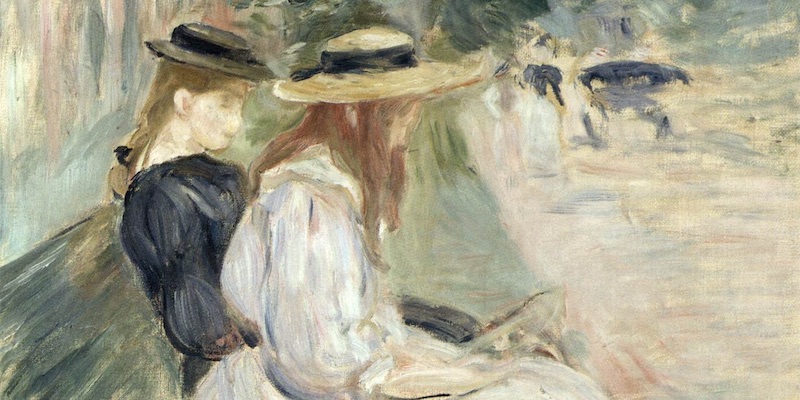 Morisot brings her feminine touches to this portrait of two young girls sitting on a bench in the vast outdoor woodland park of Bois de Boulogne, on the western edge of Paris. The painting has been a bit of a globetrotter, appearing in previous Impressionist exhibits in Spain, Hungary, Singapore, and the USA. (Detail crop shown above.)

5. Chasse aux Papillons – 1874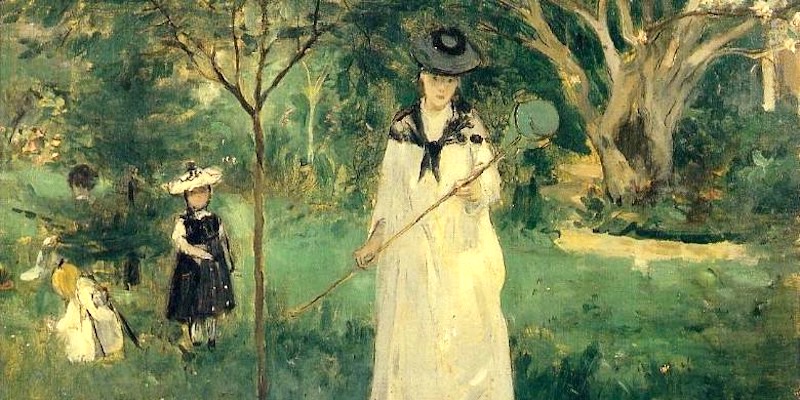 This whimsical painting captures the leisure activities of the bourgeoise of the 19th century, in this case, chasing butterflies, or papillons. The painting was exhibited in the 1875 Impressionist show along side works by Monet and Renoir at the Hôtel Drouot. It was purchased by the Louvre in 1906 and was hung at the Jeu de Paume from 1947 to 1986, when the Musée d'Orsay opened. Found in room 29. (Detail crop shown above.)

Who Was Berthe Morisot?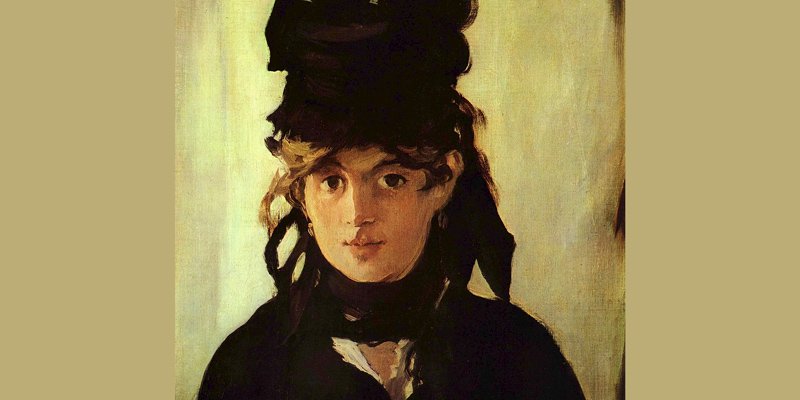 Manet, Bouquet Violettes, featuring Morisot
When the 1876 Impressionist exhibition opened, one critic described the group as "five or six lunatics, one of which is a woman." The woman was Berthe Morisot, who was a leading figure in the most famous artistic movement of the 19th century. Born in Bourges in central France to a successful bourgeois family, her father was employed as a high-ranking government official and her mother was related to the famous painter, Jean-Honore Fragonard. When Berthe was a child, the family relocated to Paris, where she would live for the rest of her life.
Both parents encouraged Berthe and her sister Edma in their exploration of the arts. When Berthe decided to pursue art as a career, her family encouraged it. In those days, being a woman, she was unable to gain admittance to the major art schools, so she began private lessons. Tall and slender, Berthe Morisot was a dark beauty who was fiercely independent; she turned down many offers of marriage including one from French statesman Jules Ferry.
When Berthe was 20 she met Camille Corot, an important landscape painter of the Barbizon School, who introduced her to artistic society and was the one who encourage her to paint en plein air. Morisot had two landscapes accepted by the Salon in 1864 at the age of 23. She continued to show there until 1874, the year of the first Impressionist exhibition.
Initially Morisot was intensely critical of her own work. In fact, she destroyed almost all of her early paintings. When she discovered plein-air painting through Corot she began experimenting with watercolors, perhaps because the materials were easier to carry around than oils. As she began to feel more confident she painted in oils, watercolor, and pastel, all during the same period.
While Morisot painted quickly, she did a lot of work in advance, producing countless studies until she became familiar with a scene. When it was too cold to paint outdoors, she would complete the painting in her studio. Morisot like the technique of using tracing paper to copy her drawing to the canvas.


Manet, Le Balcon, featuring Morisot

Morisot met her greatest influence, Edouard Manet, in 1868; she also became one of his favorite models. She can be seen at the railing in his work, Le Balcon (above), with a distant, dreamy air. Art historians and gossips alike wonder about her relationship with Manet, but in 1874 she married Edouard's younger brother, Eugène Manet. It was Berthe who convinced Edouard Manet to attempt plein air painting and who introduced him into the circle of painters who would become known as the Impressionists. (The painting at the top of this section is Berthe by Manet.)
Her works are known for feminine charm; her brushstrokes are light as a petal. Critics described her work as effleurer (to touch lightly, to brush against). Though barred by social conventions from pursuing the same subject matter as male artists (think of Degas' L'Absinthe)), Morisot carved out an independent career as an artist and left a permanent influence on the direction of art. Morisot's artwork celebrates aspects of feminine life to show private, intimate moments that were generally disregarded by her male counterparts. She also produced landscapes, street and urban scenes, nudes, still lifes, and portraits.
But, Berthe's favorite subject was her daughter Julie, born four years after her marriage to Eugène. After her husband died in 1892 Morisot withdrew from the art world to spend more time with her daughter, who would have been fourteen years old at her father's death. Berthe Morisot herself died in 1895, at the age of only 54, of influenza caught from her daughter. She is buried in the Cimetière de Passy.