Where To Eat At Musée d'Orsay – From Beaux-Arts To Modern Brasserie
Second only to the Louvre in terms of popularity, the Musée d'Orsay holds the world's best collection of French art from the period 1850 to 1914. Built as a Beaux-Arts train station and debuted at the 1900 Universal Fair, it was transformed into the museum in 1986 to hold Impressionist treasures previously housed in the Louvre and Jeu de Paume. (The train station that now houses the museum was scheduled to be demolished in the 1970s. Good thing it was listed as a French Historic Monument in 1978, halting any demolition plans.)
At Musée d'Orsay you'll want to spend hours exploring the Impressionist collection, but when you get hungry and tired, take a break in one of the cafes or the restaurant. Let's discuss the dining options. All the restaurants are inside the Orsay, you can't access them without a museum ticket.
Le Restaurant – Beaux-Arts Beauty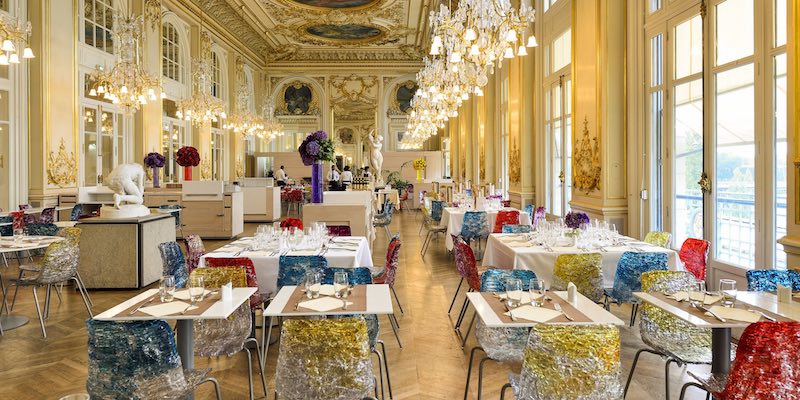 Once the formal restaurant of the Hotel d'Orsay, located in the train station, this room is as magnificent as when it first opened in 1900. If this is your first visit to the Musée d'Orsay, this is our number-one dining recommendation. You'll be dazzled by the chandeliers, the tall gilded ceilings, and the wall of windows that overlook the courtyard and the Seine River. No wonder it's been listed as a French Historic Monument.
Is it fine dining? The service and food can be spotty, but you can expect it to be average to excellent, not bad for a museum restaurant. Sometimes, the setting is more important than the quality of the food. The menu offers traditional French cuisine, along with a few inventive, modern dishes. The restaurant can be very busy at peak times like high noon. Plan to arrive at 11:30 PM or 1:00 PM for a chance of standing in a shorter line.
Late-Night Thursday Evenings
You can combine a visit to d'Orsay with dinner at Le Restaurant on late-night Thursdays.There's a Discovery Pass the includes a set menu plus a museum ticket. You must purchase it in advance. It's by reservation only, and you have to telephone 01 45 49 47 03. (Outside of France it's +33 1 45 49 47 03.)
Le Restaurant Typical Menu
Entrées/Starters
Gratinée à l'oignon et Beaufort — French onion soup with Beaufort cheese
Lentilles vertes du Puy, saucisse de Morteau, moutarde violette et chicorée sauvage — Green lentils, Morteau sausage, wild chicory & purple mustard. (Morteau is a traditional smoked sausage from an area near the French-Swiss border. The pork meat is smoked in pyramid-shaped chimneys with conifer and juniper.)
Pâté de canard en croute, jeunes pousses et vinaigrette au jus de viande — Duck paté baked in a crust, spring mix and jus.
Plats/Main Dishes
Vol au Vent de poulet, mini quenelles, petits légumes et champignons boutons, sauce financiere — Chicken Vol-au-Vent, dumplings, vegetables & mushrooms in a white sauce.
Filet de Saint Pierre poêlé, panais et poire, jus de veau perlé — Pan-fried white fish, parsnip, pear & veal jus.
Ravioles du Royans crémeuses aux champignons de saison, réduction de Porto — A French twist on ravioli made in small squares, filled with gruyere & goat cheese, with seasonal mushrooms & reduced Port sauce.
Fromages et Desserts/Cheese & Desserts
Ardoise de Fromages affine par Marie Quatrehomme — Cave-aged cheeses from Marie Quatrehomme. (Marie Quatrehomme is the grand dame of French cheeses. Her flagship Paris shop, La Maison du Fromage on Rue de Sevres in the 7th, is worth a detour. Marie was awarded the Chevalier de la Légion d'honneur, the highest award in France, to recognize her contribution to fromage.)
Dôme croustillant vanille, cassis — A crunchy pastry in the shape of a dome with vanilla & blackcurrant cream.
Tartelette pomme caramel, beurre salé façon tatin, creme mascarpone — French apple tart with salted butter, caramel & mascarpone cheese
Le Restaurant Resources
Tuesday to Sunday, 11:45 AM to 5:30 PM
Late-Night Thursdays, 11:45 AM to 2:45 PM and 7:00 PM to 9:30 PM

Café Campana
Located just outside the Impressionist Gallery on the 5th floor is Café Campana. Renovated in 2011 with a bold design by Brazilian designers, brothers Fernando and Humberto Campana, the cafe is now a modern, colorful dining room with the famous giant clock as the centerpiece. The brothers drew design inspiration from Emile Gallé (1846-1904), considered the godfather of Art Nouveau.
The menu is classic Parisian brasserie with hearty salads, foie gras, charcuterie, quiche, and a long list of desserts like Ile Flottante, baba au rhum and chocolate hazelnut cake. This is a full-service restaurant with sit down service. It's not quite as formal as Le Restaurant but the sleek design is a good option for those seeking a modern setting.
Tuesday to Sunday, 10:30 AM to 5:00 PM
Late-Night Thursdays, 10:00 AM to 9:00 PM
Nearby Dining Ideas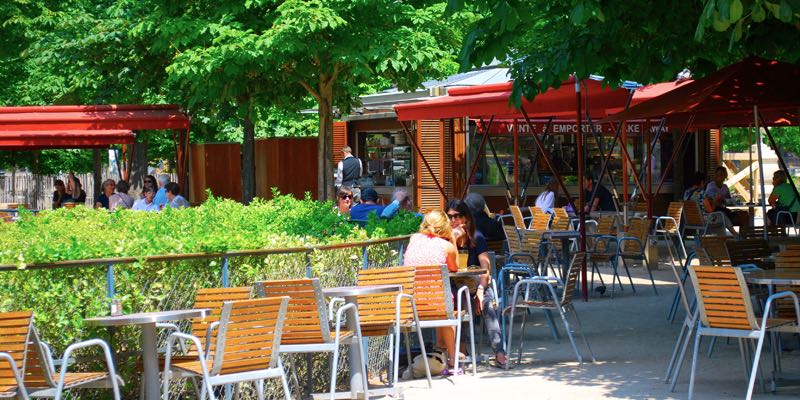 Of course, you can always leave the Musée d'Orsay and have lunch at a nearby restaurant. It's a 9-minute walk to cross the Seine River on the pedestrian bridge, called Passerelle Léopold-Sédar-Senghor (we don't name these things), to access the Jardins des Tuileries where you can dine at outdoor restaurants, Café Diane or Terrasse de Pomone (open from April to October). Read about those cafes in our guide to where to eat at the Louvre…