Decorative Arts At Musée d'Orsay – Second Empire To Art Nouveau
Although we tend to think of the Musée d'Orsay as the center of Impressionism, there's another side to the museum worth exploring — its decorative arts collection. When the museum was first conceived many decorative art treasures were collecting dust in government storerooms at the Mobilier National (the French state's furniture collection), the Ministry of Foreign Affairs, Chateau de Fontainebleau, and the Louvre.
Once plans for the Musée d'Orsay were finalized in 1977, an active acquisition plan was ignited that added hundreds of works to the museum's decorative arts collection, including gold and plaster moulds by Carlo Bugatti and treasures from Gustave Eiffel's collection of letters, drawings, and journals. The current decorative arts collection, assembled from many museums, took a decade to bring together under one glass roof. Now these precious objets can be seen at the spacious train-station-turned-museum. Here's what to expect when you visit.

Pavillon Amont – The New Home of Decorative Arts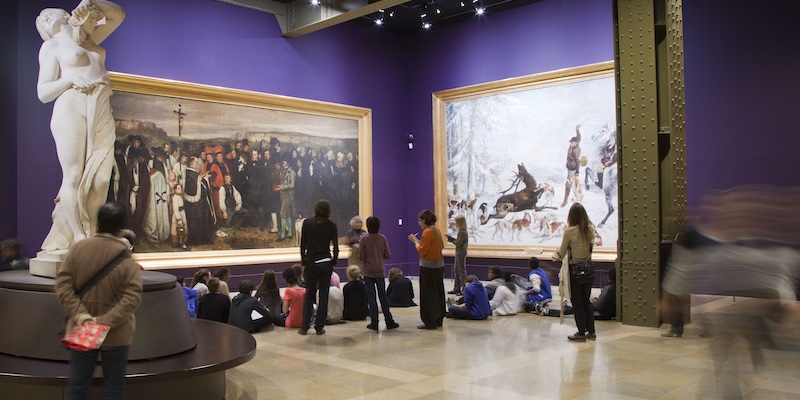 Covering four levels of real estate, the Decorative Arts collection is displayed in Pavillon Amont, the newest gallery space at Musée d'Orsay, located in the northeast corner of the building (where the elevators used to be).
It's an opulent setting resplendent with furniture, vases, and other objects that display the inventiveness of the period from the mid-19th century to the mid-20th century. A handful of paintings and portraits complete the tableau. And it's not just French — the collection includes masterpieces from England, Germany, Scandinavia, and the USA. When the Musée d'Orsay opened in 1986 the inventory of decorative arts was listed at a thousand pieces. Today, the collection is many times that and grows each year through acquisitions, gifts, and donations. (The decorative arts collections are found in Pavillon Amont and in other rooms — or salles — on level two of the museum.)

The Second Empire (1852-1870)
Decorative arts flourished during the Second Empire (the period of Napoleon III) and were displayed in abundance in the luxurious homes of the aristocracy and the bourgeois. Furnishings and interior decorations were lavish, reflecting the economic optimism of Napoleon III and the redevelopment of Paris under Haussmann. During this period France led the way in decorative arts and earned a reputation for its design excellence. The style of the Second Empire is characterized by eclecticism with influences drawn from classical antiquity to the Renaissance to the 18th century.
Many of the d'Orsay masterpieces from the Second Empire were first displayed at the Paris Universal Expositions. An example is a dazzling gilded silver, copper. and emerald dressing table made for the Duchess of Parma by the goldsmiths Froment-Meurice and sent to London's Crystal Palace. There's also a group of English works with painted woodwork, furniture, hangings, pottery and silver, which show the role William Morris played in creating an aesthetic suited to modern life.
Another highlight from the era is a majestic crystal holy water font, a gift to Empress Eugénie from the Société de la Cristallerie de Lyon at the 1867 World Exhibition. It sparkles in its own showcase with specially designed mirrors.

Art Nouveau Wonders (1890-1910)
Art Nouveau is recognized by its use of organic lines and is seen in architecture, interior design, jewelry, glass design, posters, and illustrations. On levels three and four of Pavillon Amont are found stunning Art Nouveau objets d'art and furniture. A highlight from the collection is a fabulous chiffonnier made by sculptor-turned-furniture maker Jean Dampt. The carved oak dresser is simply constructed with drawers, wrought-iron handles, and with small, carved mice sculptures scampering up the front. It was brought out of storage from Musée des Arts Décoratifs along with stained-glass windows by Carot, Coulier, Healy and Millet.
Interior designers, architects, decorators, sculptors, and craftsmen who developed the Art Nouveau style throughout Europe in the 1890s all have a place at the museum. One example is a rare, complete set of woodwork by Alexandre Charpentier (shown above) along with furniture by Guimard, Horta and Majorelle, Gallé and Vallin, Carabin and Adolphe Loos, Serrurier-Bovy, Mackintosh and Frank Lloyd Wright, Otto Wagner, Hoffmann and Van de Velde.
Other Art Nouveau pieces at d'Orsay include faïence and glasswork by Gallé,stained glass by Gruber, stoneware by Carries and Hoentschel, silver by Follot, vases by Otto Eckmann, chairs by Carlo Bugatti, hangings by Voysey, gold work by Hoffmann, and glasswork by Kolo Moser. There's also exceptional Tiffany stained-glass windows, cast iron ornaments by Guimard, and a rare set of white furniture by Mackintosh.
Modern Decorative Works (1905-1914)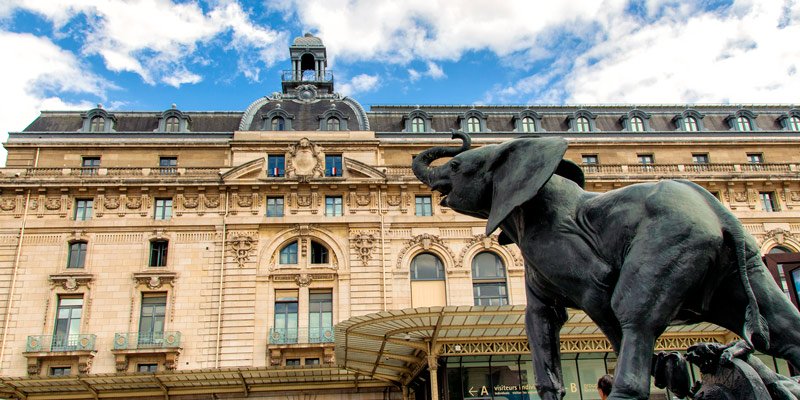 L'Atelier de l'Île, on the second level, houses decorative works by Les Nabis, including Maurice Denis' designs for a chapel in Vésinet, shown to the public for the first time. (Les Nabis were a group of post-Impressionist artists from the end of the 19th century that counted among its members Pierre Bonnard, Maurice Denis, and Paul Sérusier.)
Other pieces in the modern collection include furniture by Diehl; a large medal cabinet decorated with bronzes by Frémiet, Roudillon and Fourdinois; wood carvings from the Guérêt brothers; and bronze ornaments by Barye, Crozatier and Barbedienne. The most famous metal sculpture by Frémiet (this one in cast iron) is Young Elephant Caught in a Trap, now seen in the plaza outside the museum (and shown above).

What Are Decorative Arts?
The term "Decorative Arts" encompasses everyday objects that are works of art, often purely ornamental in nature, including textiles, jewelry, glasswork and ceramics. You probably have heard of the most famous decorative artist, William Morris (1834-1896, photo above), who believed decorative art improved our lives. He designed furniture, tapestry, stained glass, fabrics, carpets, even wallpaper. You can see a collection of his decorative wall coverings at the d'Orsay.