Musée d'Orsay – 19 Must-See Paintings, From Manet To Gauguin
Famous for its vast collection of Impressionist paintings, Musée d'Orsay holds the largest number of famous paintings in the world by the painters we love — Monet, Manet, Pissarro, Morisot, and Renoir. But where do you start? Here, we've put together an essential must-see list that will get you to the greatest hits of Impressionism.

Month-By-Month Guides To Paris Activities & Events
Edouard Manet (1832-1883)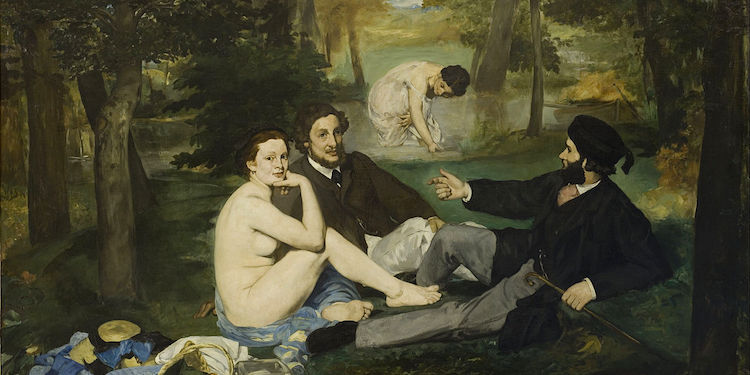 Manet, Le Déjeuner Sur l'Herbe, 1863
Manet was one of the first painters to feature scenes of modern life (as opposed to classical themes and landscapes) and was a key player in the transition from Realism to Impressionism. His early paintings — like Déjeuner Sur l'Herbe and Olympia — were both controversial and an inspiration for younger painters. You could say, in fact, that Manet launched modern art.

1. Le Déjeuner Sur l'Herbe – 1863
In 1863 Manet's style was as shocking as the subject itself. Rejected by the Paris Salon, Manet exhibited Le Déjeuner at the Salon des Refusés (where he titled it Le Bain). It became the star attraction for all the wrong reasons. Here Manet pays tribute to the European artistic heritage, borrowing from Titian and from Raphael's Judgement of Paris. But the classical references are offset by Manet's boldness. Room 29 at the d'Orsay.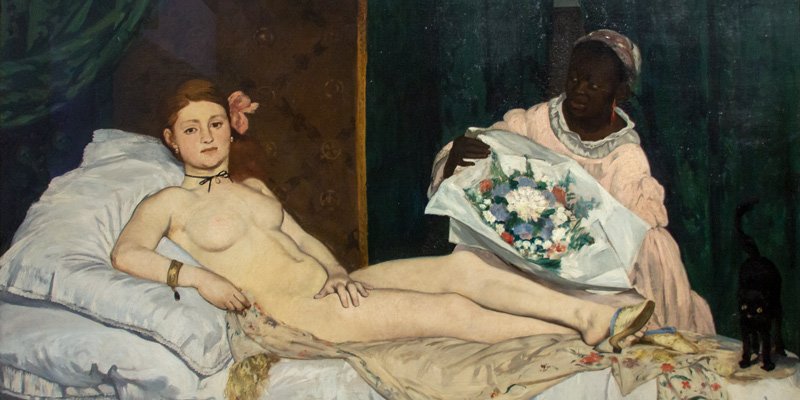 2. Olympia – 1863
Manet's female nude caused another scandal at the 1865 Salon. Even though he again borrowed themes from classical paintings of Venus by Titian, Goya, and Ingres, the painting caused a violent reaction. In Manet's Olympia, Venus is a prostitute, challenging the viewer with her calculating look. Room 14 at the d'Orsay.

Claude Monet (1840-1926)
The undisputed master of Impressionism, Claude Monet was born in Paris. Even as a child he showed great talent as an artist. In 1872 he painted a canvas later titled Impression, Sunrise that would launch the term Impressionism and fuel an art movement. (You'll have to cross town to see Impression, Sunrise at Musée Marmottan.)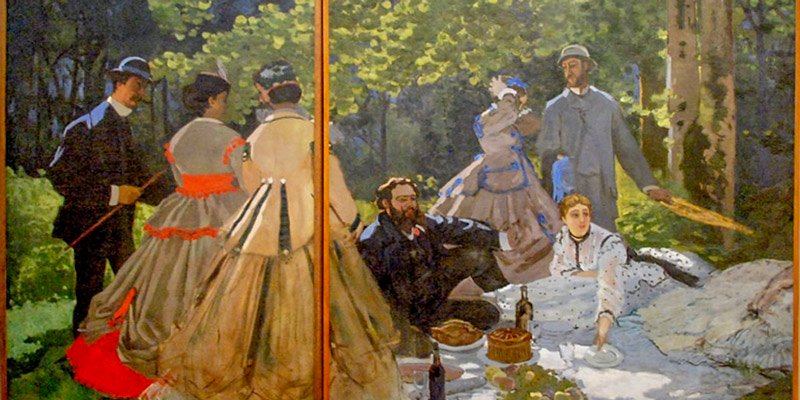 3. Le Déjeuner Sur l'Herbe – 1866
That's not an error, for Monet painted a tribute to Manet's earlier work, using the same title. Originally measuring over six metres across, there are only two or three surviving pieces of Monet's tribute. Monet's monumental work, begun in the spring of 1865, was never completed.
In 1920, Monet revealed the story, "I had to pay my rent, I gave it to the landlord as security and he rolled it up and put in the cellar. When I finally had enough money to get it back, as you can see, it had gone moldy." In 1884 Monet cut it up, and kept only three fragments, one of which has since disappeared. What remains can be viewed at the d'Orsay, as shown above. Room 29 at d'Orsay.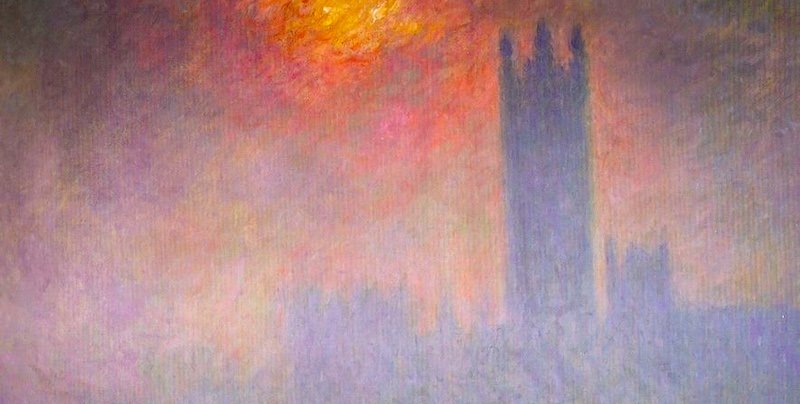 4. Londres, Le Parlement – 1904
The London Houses of Parliament are seen in a numbers of Monet's works. The surreal outline of Parliament buildings in the fog looms like a ghost; the stone architecture seems to have lost its form with the sky and water painted in orange and mauve tones. The brushstrokes are broken into patches to give it a misty atmosphere. It was first owned by Isaac de Camondo, until 1911. Room 34.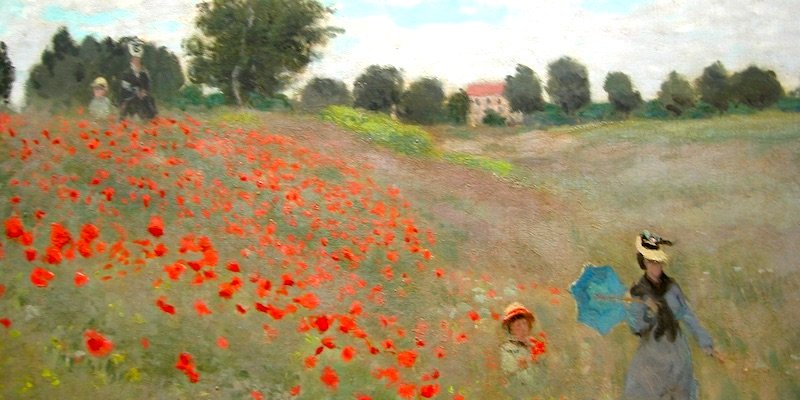 5. Coquelicots – 1873
When Monet returned from England in 1871 (after the cessation of the Franco-Prussian War) he settled just outside of Paris in Argenteuil. These were good years for him; he was financially supported by his art dealer, Paul Durand-Ruel, and there were plenty of beautiful places to paint nearby with bright landscapes, allowing him to explore his love of en plein air painting. Coquelicots (poppy fields) was shown at the first Impressionist exhibition in 1874. It is now one of the most well-liked paintings, conjuring up the joyful atmosphere of a summer's day. Room 29.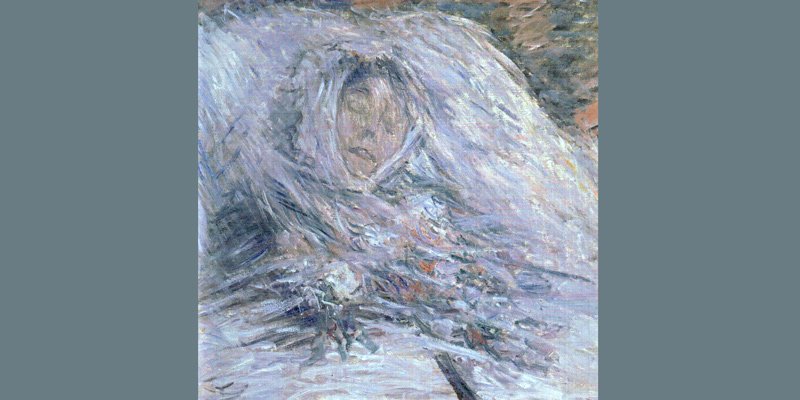 6. Camille Sur Son Lit De Mort – 1879
This haunting portrait captures Monet's wife Camille on her deathbed. She died at 32 years of age after a lengthy illness, most likely cervical cancer. She had been Monet's inspiration and model; his painting of her in Woman in Green was acclaimed at the Paris Salon. For a decade of their married life, Camille, either alone or with their son, were the primary models for his paintings. (Both are seen, twice in Coquelicots.) Room 32.

Pierre-Auguste Renoir (1841-1919)
Another beloved Impressionist painter, Renoir was financially independent thanks to his regular, lucrative portrait commissions. In the 1880s, Renoir traveled to Italy where he felt he had reached the end of Impressionism, and could neither paint nor draw. The pilgrimage was a motivation for Renoir to move away from the loose quality of Impressionism towards a more classical school of composition.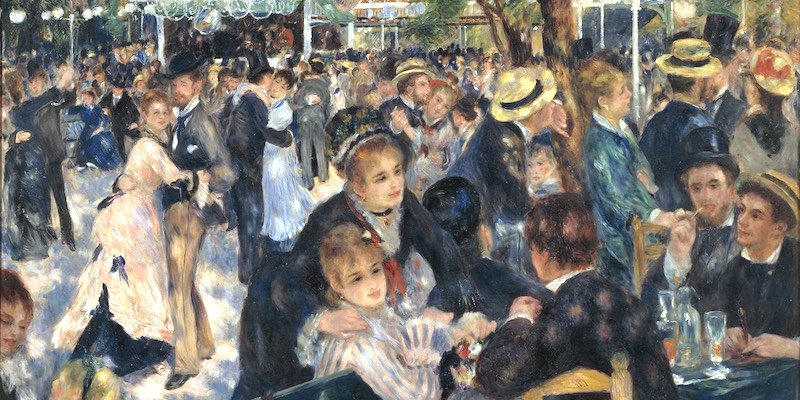 7. Bal du Moulin de la Galette – 1876
Not only Renoir's most well-known work, Bal du Moulin is one of the most popular of all Impressionist paintings. First shown at the third Impressionist exhibition in 1877, it depicts a weekend dance part in the courtyard of the Moulin de la Galette in Montmartre. Seen in Room 30.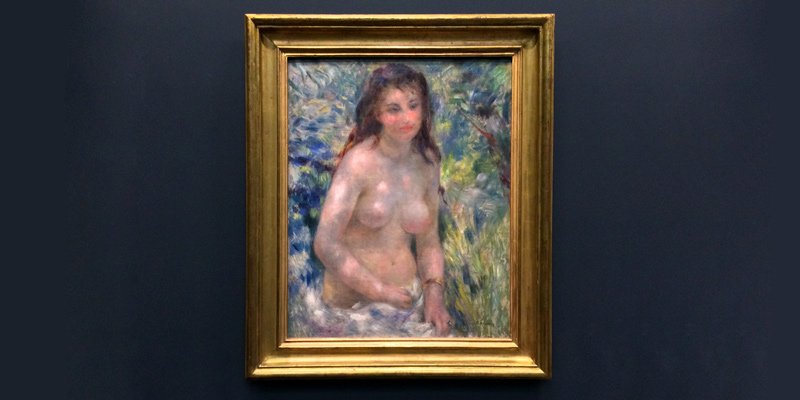 8. Etude: Torse, Effet de Soleil – 1876
A young, female nude is depicted in half length against an impressionistic background of sunlight-dappled foliage. She looks downward, with a dreamy expression. Room 30 at Musée d'Orsay.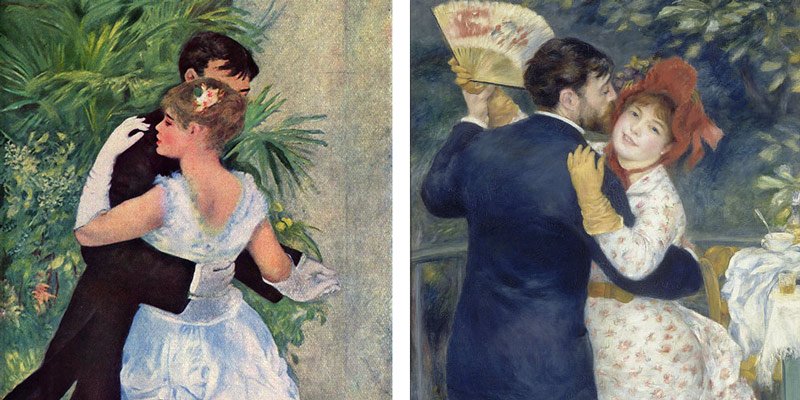 9. Danse à la Ville & Danse à la Campagne – 1883
Two more dance scenes, both painted in 1883, one in the country and one in the city. Room 32.

Vincent van Gogh (1853-1890)
A failure in his lifetime, van Gogh is now considered the greatest Dutch painter after Rembrandt. In fact, Vincent van Gogh is probably the most famous painter who ever lived, despite not having sold a single work during his (short) lifetime.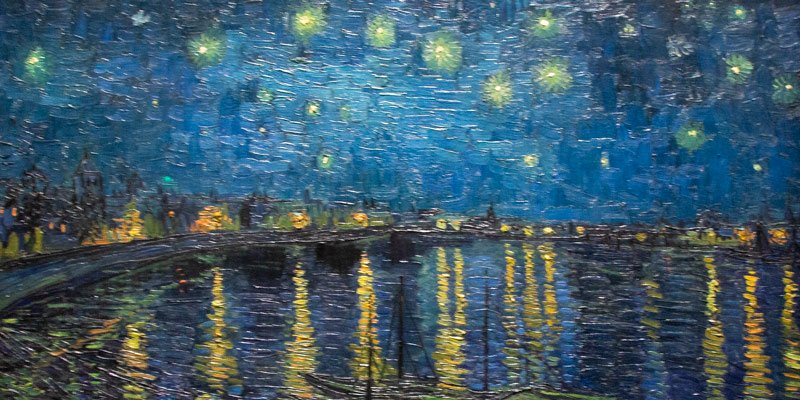 11. La Nuit Étoilée
Starry Night Over the Rhone is a perfect example of what makes van Gogh so popular. Found in room 72.

12. Eugène Boch & The Church in Auvers-sur-Oise
Van Gogh at the height of his powers, painted in 1888 and 1890 respectively. During the last two months of his life van Gogh finished seventy paintings, one per day. The Church in Auvers-sur-Oise is his only painting that depicts the early Gothic church in Auvers, and it's a perennially favorite. Room 71.

Jean-Auguste Dominique Ingres (1780-1867)
Ingres was a Neoclassical painter, whose expressive paintings would influence Picasso, Matisse, and other modernists. His portraits, both painted and drawn, are considered his greatest legacy. He died of pneumonia at age of 86 in Paris. You can visit him at Père Lachaise Cemetery where he's laid in a tomb sculpted by his student Jean-Marie Bonnassieux. The contents of his studio, including 4,000 drawings, a number of paintings, and his violin, were bequeathed to a museum in Montauban, in southwest France, where he was born.

14. La Source – 1820 to 1856
"Never has suppler, fresher flesh, so full of life and light, been offered to our eyes in its modest nudity," mused Theophile Gautier, the French poet. Although Ingres started this painting in 1820, he didn't finish it until decades later. He was assisted by two of his pupils, a common practice at time for large formats. The standing nude is placed in a vertical format as if she is in an alcove like a marble statue. Although Ingres stayed true to David's classical teaching, his innovative style forged the path for future artists Degas and Picasso. When the painting was in its first home with Count Duchatel, it was surrounded by large plants and aquatic flowers so the nymph of the spring looked even more like a real person. Found in Room 1 at Musée d'Orsay.
Mary Cassatt (1844-1926)
Mary Cassatt was an American painter who introduced Impressionism to art aficionados on the other side of the Atlantic. She was a close friend of Edgar Degas and took part in the Impressionist exhibits from 1879.

15. Jeune Fille au Jardin – 1882
Cassatt excelled at portraits of her close family and friends, often women and children captured in their everyday lives. The floral background with its broad diagonal stripe gives the painting depth and sets off the figure of the young woman. The sketched treatment of the skirt contrasts with the clear outline of her face, showcasing Cassatt's precise drawing skills. (Detail shown above.) Room 32.

Gustave Moreau (1826-1898)
Not an Impressionist painter, Moreau was a French Symbolist of an earlier generation, famous for his depictions of mythological and religious subjects. Born in Paris he studied at the École des Beaux-Arts and traveled to Italy to study Leonardo da Vinci, Michelangelo, and Giovanni Bellini. Moreau eventually would teach Henri Matisse.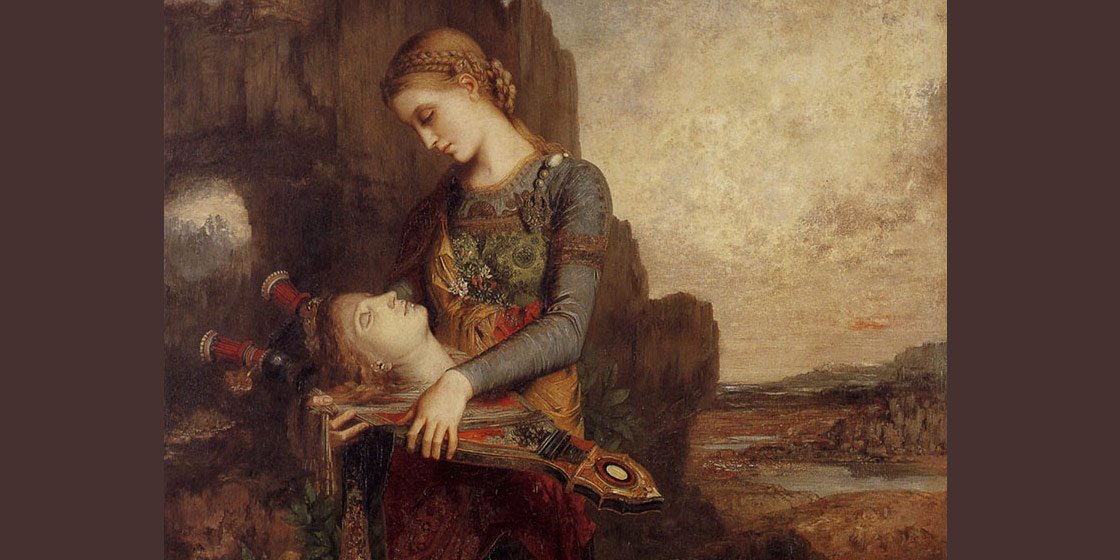 16. Orphée – 1865
In Greek mythology Orpheus's skill as a poet and musician was so powerful that he could charm even wild beasts. As misfortune would have it, he charmed the Maenads, who tore him to pieces after the death of Eurydice. Moreau's vision is of a girl dressed in finery holding the poet's head, which rests on his lyre. The two faces look strangely similar with their eyes closed, absorbed in contemplation. The scene is strangely calm, free of violence, and is bathed in a twilight glow with a background landscape worthy of da Vinci. (Detail shown.)
Gustave Courbet (1819-1877)
You could say Courbet planted the seeds of Impressionism. Although Courbet painted landscapes, seascapes, and still life, he created controversy when he painted subjects considered vulgar, like peasants and the working conditions of the poor. His work, along with Jean-François Millet, was coined Realism. He depicted the harshness in life, and challenged academic ideas of art.

17. L'Origine du Monde – 1866
The first owner of the painting, Turkish-Egyptian diplomat Khalil-Bey, was a flamboyant figure in Paris society and had a dazzling art collection devoted to the female body. That was before he was ruined by gambling debts. It's not clear what happened to the painting during the next century until it ended up at the Musée d'Orsay in 1995.
Courbet regularly painted female nudes, sometimes in a lustful way, but here he went to daring lengths for a startling view. Thanks to Courbet's virtuosity and his refined amber color palette, it escapes pornographic status. Courbet's ample, sensual brushstrokes severed links with traditional nudes and his use of color recalls Venetian paintings of Titian, Veronese, and Correggio.
Berthe Morisot (1841-1895)
Morisot was one of the leading Impressionists and her paintings were shown at seven out of eight Impressionist exhibitions. She only missed the 1877 show because she had just given birth to her only child Julie (who would become her favorite model). Another fun fact — Morisot sold more paintings during her lifetime than any of her male peers (except Monet).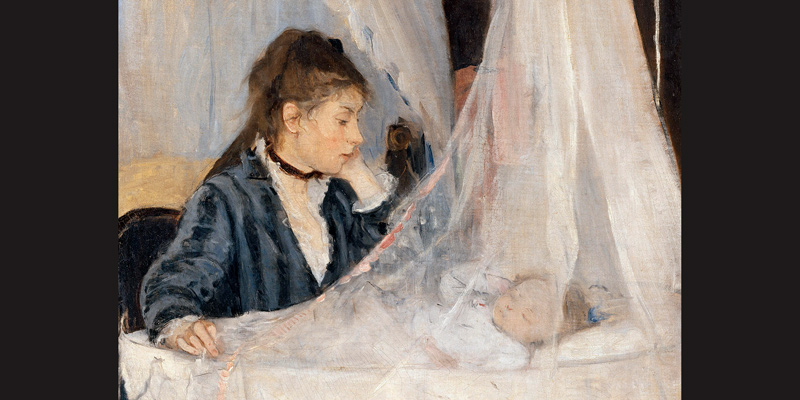 18. Le Berceau – 1872
Morisot's most popular painting shows her sister Edma gazing down lovingly at her own baby, Blanche, as she sleeps in a cradle. Admired for its grace and elegance and its classical composition it was one of her paintings that didn't sell; it remained in the Morisot family until 1930, when it was hung in the Louvre.
Paul Gauguin (1848-1903)
Like van Gogh, Gauguin was not appreciated until after his death. He is now recognized for his experimental use of color and a departure from Impressionism. He spent the last ten years of his life in French Polynesia. His work would influence many artists, such as Pablo Picasso and Henri Matisse.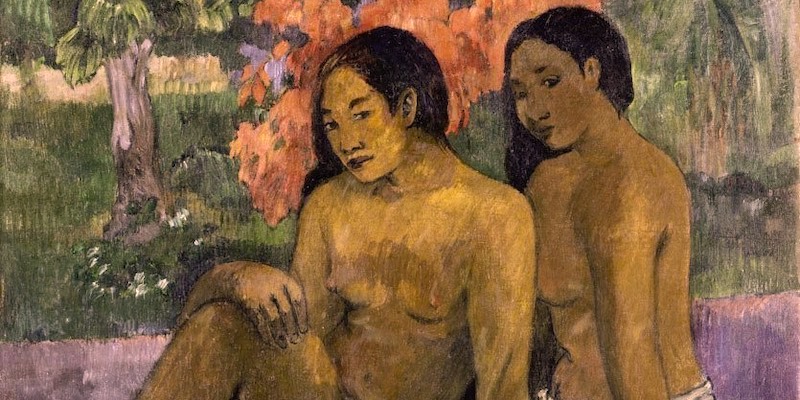 19. Et l'Or de Leur Corps – 1901
This painting appeared at one of the last Salons, held in the Petit Palais in 1903, the year Gauguin died. It was acquired by the National Museums in 1944 and then hung in the Louvre, Jeu de Paume, and, finally, d'Orsay in 1986.

Expanded List of Top Paintings at Musée d'Orsay
Edouard Manet, Le Déjeuner Sur l'Herbe
Edouard Manet, Olympia
Edouard Manet, La Blonde Aux Seins Nus
Claude Monet, Le Déjeuner Sur l'Herbe
Claude Monet, Londres, Le Parlement
Claude Monet, Coquelicots
Claude Monet, Camille Sur Son Lit De Mort
Auguste Renoir, Etude. Torse, Effet de Soleil
Auguste Renoir, Danse à la Ville
Eugène Delacroix, Passage d'un Gué au Maroc
Vincent van Gogh, La Nuit Étoilée
Vincent van Gogh, Portrait de l'Artiste, 1889
Vincent van Gogh, L'Église d'Auvers-sur-Oise
Jean Auguste Dominique Ingres, La Source
Mary Cassatt, Jeune Fille au Jardin
Eugène Delacroix, Passage d'un Gué au Maroc (shown above)
Jean-Baptiste Carpeaux, La Danse
Jean-Baptiste Carpeaux, Ugolin
Gustave Moreau, Orphée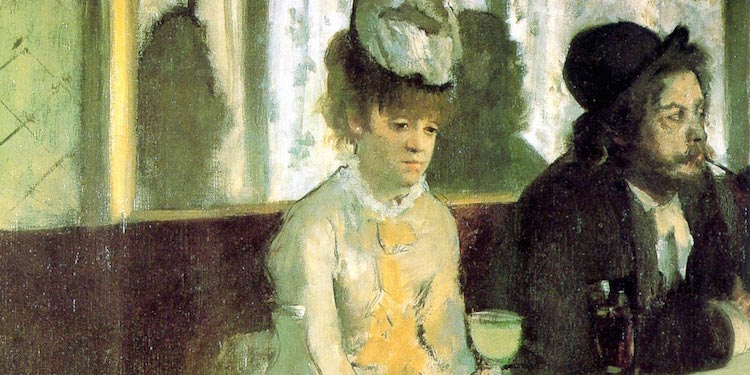 Edgar Degas, Dans un Café – L'Absinthe
Edgar Degas, Dans un Café – L'Absinthe (shown above)
Edgar Degas, Danseuses Bleues
Edgar Degas, Répétition d'un Ballet Sur la Scène
Edgar Degas, La Classe de Danse
Gustave Courbet, L'Origine du Monde
Alfred Sisley, La Neige à Louveciennes
Alfred Sisley, Allée Se Peupliers aux Environs de Moret-Sur-Loing
Camille Pissarro, La Bergère
Camille Pissarro, Femme au fichu vert
Berthe Morisot, Sur un Banc a Bois de Boulogne
Paul Gauguin, Et l'Or de Leur Corps