Musée d'Orsay's Photography Department – Paris' Best-Kept Secret?
The photography collection at Musée d'Orsay is one of the best kept secrets in Paris, and for good reason. Due to the sensitive nature of these historic photos they can only be exhibited for a short time and only very occasionally. But there's some good news for photography lovers — the Musée d'Orsay has recently dedicated a new, permanent gallery to showcase their photography collection.
Located on the ground floor (near Rue de Lille), three galleries, once used for temporary exhibitions, are now used exclusively for the huge photography collection. As prints cannot be shown permanently, the museum stages three shows per year.

Month-By-Month Guides To Paris Activities & Events
13 Fascinating Facts About the Photography Department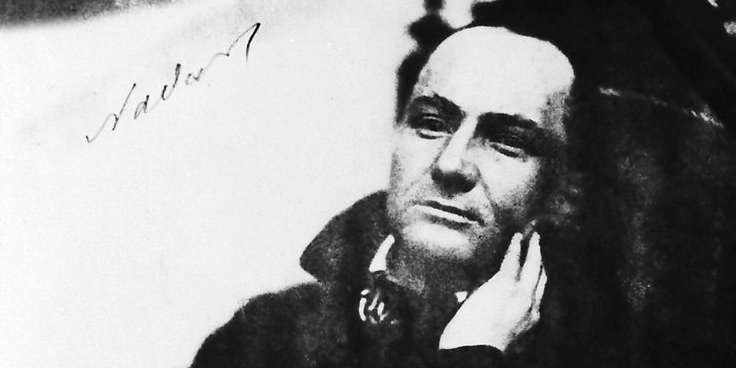 Charles Baudelaire by Nadar, 1855
1. The First Photo Museum in France
When it was decided to convert the Orsay railway station into a museum dedicated to art of the 19th century, no art museum in France had a photography department. It is France's first permanent exhibition devoted to photography.
2. 55,000 Photographs
At Musée d'Orsay's inauguration in 1986, the photography collection included twelve thousand photographs. It now has over fifty-five thousand and is growing.
3. A Rare Print
Among the collection's most-treasured works is a portrait of French poet Charles Baudelaire by Nadar. Nadar, a sought-after portrait artist of the mid 19th century, photographed Baudelaire many times. This print at the d'Orsay (the negative has been destroyed) is the only known extant copy from the first sitting in 1855. (Shown above.)
4. French Origins
Photography is a French invention. On January 7, 1839, the French Académie des Sciences were shown an invention that would change visual representation. The pictures presented were by Louis-Jacques-Mandé Daguerre, a Romantic painter and printmaker (who was also the owner of the Diorama, a Parisian spectacle featuring theatrical painting and lighting effects). Each image, called a daguerreotype was on a highly polished, silver-plated sheet of copper.
5. Technological Advances
The d'Orsay's photography curator's primary goal is to trace the development of photography, including its technical advances. Photography underwent profound changes over a short period of time: the first cameras were bulky, difficult to handle and required long poses. They had had little in common with the small cameras of the late 1880s, which enjoyed immediate commercial success.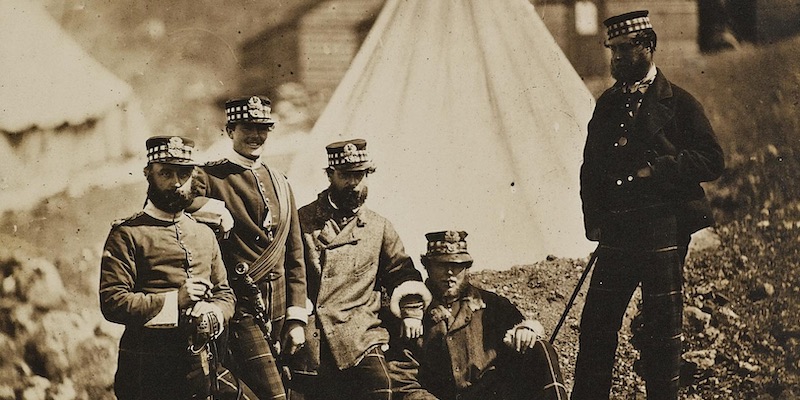 Crimean War scene, by Roger Fenton, 1855

6. Crimean War
A series on the Crimean War, shot around the port of Balaclava, by English photographer Roger Fenton, demonstrates how photography was able to record powerful records of historical events.
7. Color Enters the Picture
The Musée d'Orsay photography collection concentrates on the development of photography from 1839 to 1918. 1904 marked the arrival of color photography, with the autochrome perfected by the Lumiere brothers.
8. The Postcard
Eugene Disderi was a French photographer who gained fame for patenting the carte de visite, a small photographic image mounted on a card. The postcard! He was a brilliant showman and brought his mass-production portraiture to the public. By the end of his life he was penniless and died in the Hôpital Sainte-Anne (an institution for alcoholics and the mentally ill). His self portrait from 1860 is now at the Musée d'Orsay.
9. Egyptian Archaeology
Archaeological photographs from the 1850s, now at the d'Orsay, were taken in Egypt by Félix Teynard, John Beazly Greene and Théodule Déveria. The work produced by these men during their journeys in Egypt are the only known photographs of their work and were often presented in elegant portfolios, intended for a cultivated audience in Paris.


Self Portrait by Pierre Bonnard

10. Photographs by Painters
The d'Orsay also seeks out photographs taken by painters or writers, like Edgar Degas. The collections of prints by Pierre Bonnard and Maurice Denis (donated by their families) also show the development of photography by painters.
11. An Ever-Growing Collection
The museum continues to add to its photography collection. In Memoriam, a nude by Edward Steichen was acquired in 1999; Winter Landscape by George Seeley in 1994; and the complete works by Paul Burty Haviland, a colleague of Stieglitz, was acquired from his heirs in 1993.
12. Alfred Stieglitz
The Musée d'Orsay also houses several major works by Alfred Stieglitz who was instrumental in the transition to modern photography. An American photographer, Stieglitz was also known for his New York art galleries, where he introduced avant-garde European artists to a north American audience. Oh yeah, he had a steamy, adulterous affair and was married to painter Georgia O'Keeffe.
13. A Collaborative Collection
Founded in 1979, the Musée d'Orsay photography collection was compiled through permanent loans, gifts and acquisitions, and from the support of the Commission Nationale de la Photographie, the Fond du Patrimoine and of the Société des Amis du Musée d'Orsay. It also receives donations from the Fondation Kodak-Pathé.

Photography Department Resources
Musée d'Orsay
Esplanade Valéry Giscard d'Estaing 75007