The Best Works By Pierre-Auguste Renoir At Musée d'Orsay
The Best Of Renoir At Musée d'Orsay
Besides having the coolest French name of all the Impressionists, Pierre-Auguste Renoir's eye for beauty made him one of the movement's most popular painters. You can easily recognize his iconic paintings of bustling Parisian leisure life captured in the last decades of the 19th century.
The most cinematic of the Impressionists, Renoir's paintings sparkle with happy people engaged in life. He was at his best when he painted real-life situations involving large groups. His nearly two-metre-wide Bal du moulin de la Galette successfully demonstrates how his virtuoso brushwork could record the movement and sparkle of modern life. If you're in the mood for feeling good, head to the Musée d'Orsay for a dose of Renoir's brand of joyous art.

Bal du Moulin de la Galette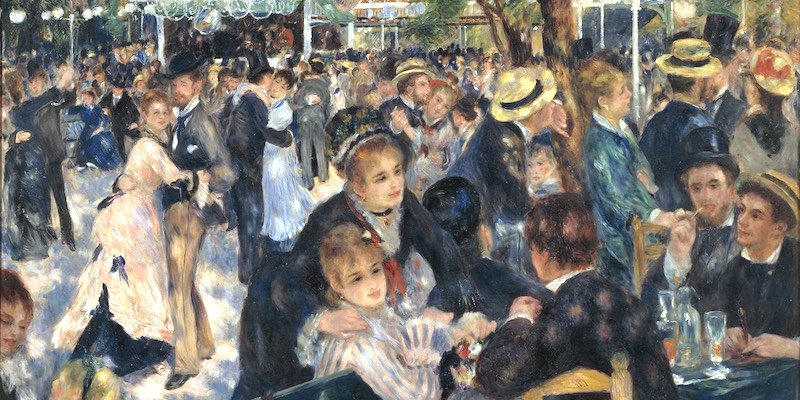 Bal du moulin de la Galette, 1876
Renoir's masterpiece was first shown at the third Impressionist exhibition in 1877; where the large painting occupied a wall of its own. At the time the critics preferred the socially-charged paintings of Degas and Manet over Renoir's optimistic and prosperous works.
In the painting Renoir conveys the vivacious and joyful atmosphere of this popular Montmartre dance venue. The crowd, bathed in light, is handled using vibrant, brightly coloured brushstrokes. This portrayal of carefree Parisian life was a sign of Renoir's artistic ambition and is one of the masterpieces of early Impressionism.
The cinematic painting captures everyday life in Montmartre in the courtyard of the Moulin de la Galette, still in existence today, though in a different location. In the 1870s it was a popular gathering place for the working class to drink, dine, and dance. Renoir's challenge was to capture the sheer number of people, details of the flickering sunlight, and the movement of the dance. His solution was a larger-than-average canvas, where he joined vignettes of couples dancing, a table of friends drinking, groups talking, using colorful brushstrokes to emphasize the shade and light from the canopy of trees overhead.
In 1876 Renoir found lodging nearby at 78 Rue Cortot where his studio overlooked a large garden surrounded by trees. This outdoor space would serve as a background for other paintings including La Balancoire and Le Jardin de la Rue Cortot. The art critic Georges Riviere, a friend of Renoir, claimed that Renoir painted Bal du Moulin on location and carried the canvas back and forth daily between Rue Cortot and the moulin. Today you can still visit Renoir's garden on Rue Cortot, now preserved as the Musée de Montmartre.
Dance at the Moulin de la Galette was first owned by French painter Gustave Caillebotte; on his death in 1894 it was bequeathed to France. From 1896 to 1929 it was on display in the Musée du Luxembourg, from 1929 to 1986 it was in the Louvre, in 1986 it was moved to the Musée d'Orsay, where it now can be viewed in room 30. (Renoir also painted, at the same time, a smaller version of Bal du Moulin de la Galette that is today in private hands.)

Les Baigneuses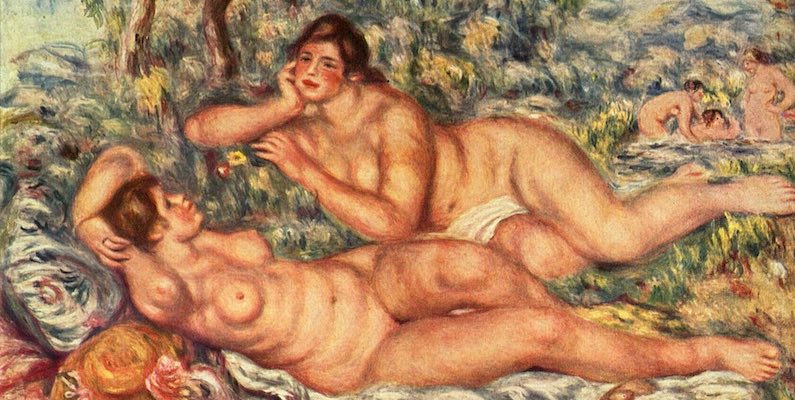 Les Baigneuses, 1919
In the years following 1910 Renoir returned to his favourite subject — nudes en plein air — and produced several large paintings. Les Baigneuses (The Bathers) is his last testament; he died a few months after its completion.
His three sons, including the filmmaker Jean Renoir, donated the painting to the French State in 1923. The two models in the foreground and the three bathers in the stream posed in Renoir's olive garden at his property Les Collettes in the South of France. The idyllic vision is emphasized by the models' sensuality, the rich colors and their full forms. Les Baigneuses influences can be traced back to Titian and Rubens, both admired by Renoir.

Danse à la Ville & Danse à la Campagne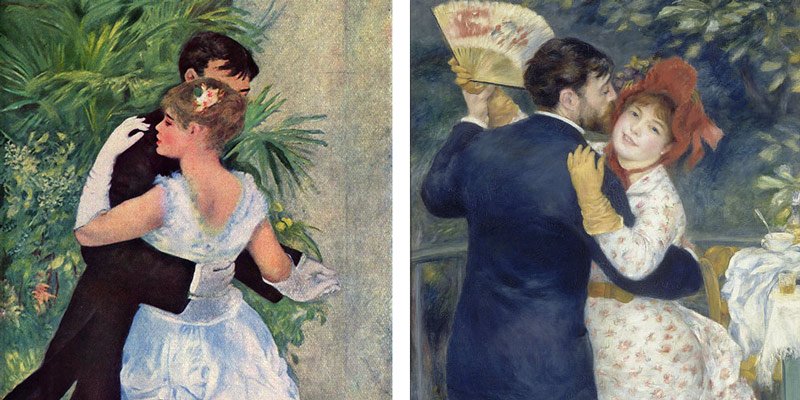 Danse à la Ville (L) & Danse à la Campagne (R), both 1883
Renoir adored dance scenes. This pair of paintings, both done in 1883, are similar, with the figures (almost life-size in the originals) representing two contrasting views. The elegant restraint of the city dancers are all in cool tones set in a formal dance hall while the gaiety of the country dance is shown in the open air, painted in warmer tones.
The country couple seem to be swept away by the music, accentuated by a hat left lying on the floor. (Not shown in the detail above.) Aline Charigot, Renoir's future wife, lends her laughing features to the country dancer. The two paintings marked a change in Renoir's technique — his drawing became more precise and the simple palette contrasted with the vibrant brushstrokes of his earlier works. Renoir admitted that after seeing Raphael's works in Italy he improved his drawing techniques. See these paintings in room 32 at d'Orsay.
Claude Monet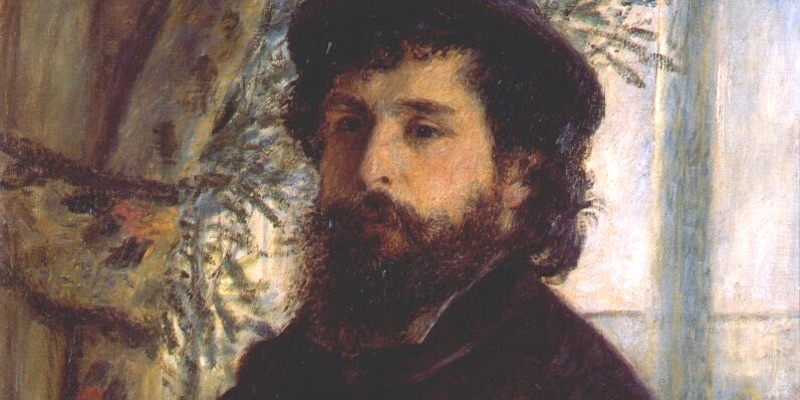 Portrait of a young Claude Monet, by Renoir, 1875
At the second Impressionist exhibition in 1876 critics considered Renoir's portrait of Claude Monet to be the equal of the great masters of a previous era. Emile Zola wrote that "his work is worthy of Rembrandt, illuminated by the brilliant light of Velasquez".
Renoir portrays Monet at the age of 35, holding his palette and paint brushes, wearing his painting clothes, and in a relaxed, natural pose. He's captured in the moment; Monet stops what he is doing and looks up at his friend. This lively, dynamic canvas is reinforced by a variety of tones; short brushstrokes give vibrancy to Monet's face and contrast with the long strokes of thick paint on the right side of the canvas.

Fernand Halphen Enfant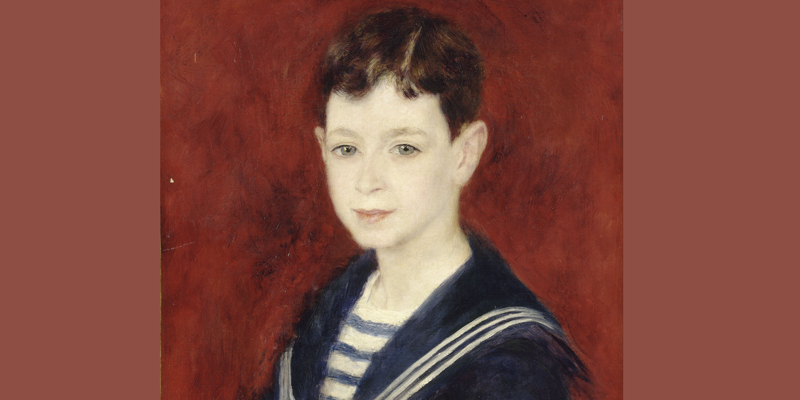 Portrait of Fernand Halphen, 1880
Renoir did a fair share of portrait commissions and his first success was an ambitious family portrait titled Mrs Charpentier and her Children exhibited at the Salon of 1869. Madame Charpentier was instrumental in garnering several other portrait commissions for Renoir early in his career and may have recommended him to the Halphen family.
The parents of Fernand Halphen were influential members of the wealthy, Jewish middle class in Paris. Fernand, their youngest child, would grow up to win the second Grand Prix de Rome for composition in 1896. It's too bad that Halphen's parents didn't value this early painting by Renoir — it was given to the boy's governess. (It passed through several hands before eventually being (re)purchased by Fernand Halphen's wife years later.) The simplicity and the contours in the portrait show that Renoir was at a decisive point in his career.
BONUS – Gabrielle and the Artist's Son, Jean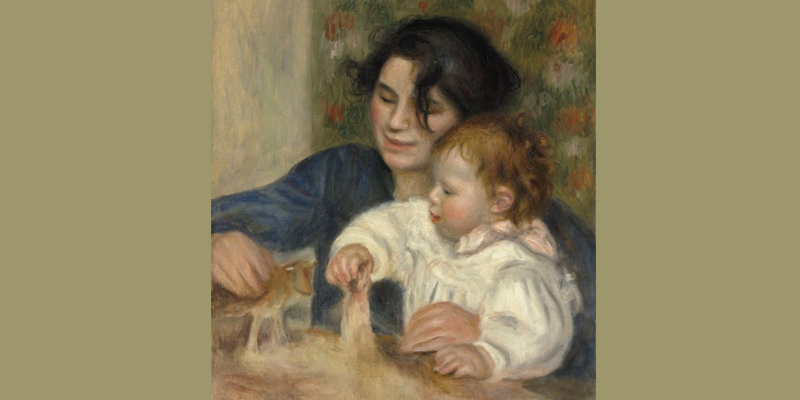 Renoir's wife, Gabrielle and his son, Jean, 1896, located at Musée de l'Orangerie
Beyond his masterpieces, Renoir's talent is demonstrated in the number of idyllic images of families, often featuring his own wife and three sons. In this 1896 painting Renoir shows the family's nanny Gabrielle playing with his son, the future film director Jean Renoir.
When Jean published his biography, Renoir, My Father, in 1962 he wrote about the positive influence his father had on his artistic career. Most of our most intimate knowledge of Pierre-Auguste Renoir comes from his son. We've included this important work even though it's not found at Musée d'Orsay. You have to cross the Seine to the Musée de l'Orangerie to get a glimpse of this masterful painting. (To get there, cross the pedestrian bridge directly in front of d'Orsay to reach the Jardin des Tuileries, where the Orangerie is located.)

Who Was Pierre-Auguste Renoir?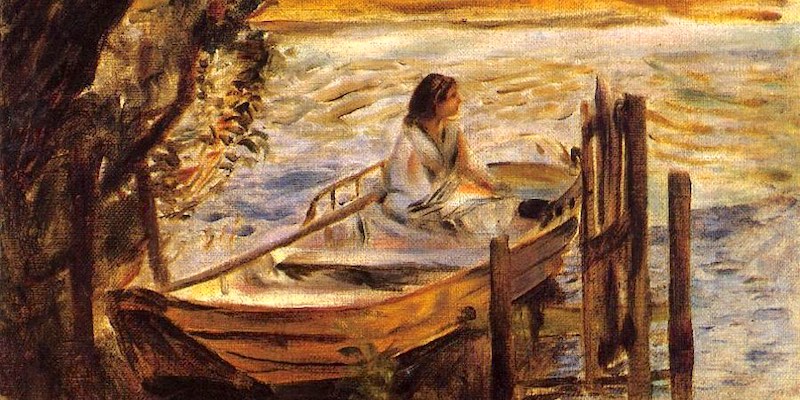 Jeune Femme dans une Barque, Renoir, 1870
Renoir (1841-1919) was born into a working-class family at Limoges, the town in central France famous for its porcelain production. In fact, his first job at 13 years old would be painting in a porcelain factory. The son of a tailor and a seamstress, Renoir had a steady hand and a talent for decoration that earned him praise from his employers; the same talents would later bring him to the attention of wealthy patrons for whom he painted portraits. These early successes allowed Renoir to leave the factory and pursue his career in the fine arts.
In 1844 Renoir's family left Limoges for Paris where they found an apartment at 23 Rue d'Argenteuil, close to the Louvre where Pierre-Auguste would go to study the French masters Jean-Antoine Watteau, Jean-Honore Fragonard, François Boucher, and Eugène Delacroix. Although Delacroix and the Rococo painters (Watteau, Boucher, Fragonard) are almost a century apart, Renoir recognized the similarities in their loose brushstrokes, use of bold color, and movement in their canvases.
In 1862 Renoir began his formal training with Charles Gleyre, the academic painter who also taught Claude Monet, Alfred Sisley, and Frederic Bazille. Renoir and his friends would travel into the forests of Fontainebleau to practice their plein air landscape painting. However, unlike Monet and Sisley, Renoir preferred the studio and painted more traditional portraits in the style of the 18th-century French masters he so admired.
Fontainebleau became one of Renoir's favorite painting locations and one he visited often, thanks his friend Jules Le Coeur, an admirer of his art who owned a house near the forest's southern border. In 1865 Le Coeur introduced Renoir to the Lise Trehot, who became Renoir's lover (probably) and favorite model. Trehot sat for many portraits, including Diana the Huntress, which portrays her as a Greek goddess, and Lise with a Parasol, which was popular at the French Salon of 1868. (Lise is also the model in Jeune Femme dans une Barque, 1870, shown above.) Aware of the Salon's conservative standards, Renoir painted these portraits in a conventional style, combining smooth lines with meticulous coloration and a naturalism reminiscent of the Gustave Courbet.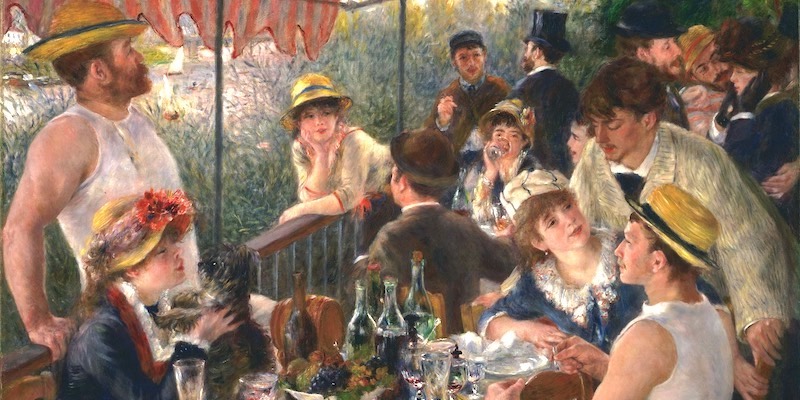 Le Déjeuner des Canotiers, Renoir, 1881

In 1890, nearly fifty years old, Renoir married Aline Victorine Charigot, a dressmaker twenty years younger, who had appeared in another favorite Renoir work, Le Déjeuner des Canotiers (Luncheon of the Boating Party, above); that's her in the front left playing with the dog. Over the years Renoir would paint many scenes of Aline and their children. Renoir's three sons would all pursue careers in the arts — Pierre Renoir was an actor, Jean Renoir a film director, and Claude Renoir a renowned ceramic artist.
Celebrated as a master colorist with a keen eye for capturing the movement of light and shadow, Renoir's most timeless canvases capture the joy of French life. Working with Claude Monet, he was essential in developing the Impressionist style. There is a human element to his work that sets Renoir apart from other artists of the group.
Renoir also had a keen eye for domestic life and his images of happy families and well-dressed Parisian pleasure seekers created a bridge from Impressionism's more experimental painters to the modern, middle-class public. His composed, vivid paintings also were a link from earlier painters like Raphael, Rubens, Watteau, and Delacroix to 20th-century megastars Matisse and Picasso.
Later in life, Renoir developed painful rheumatoid arthritis; he moved to the warmer climate of Les Collettes, a farm close to the Mediterranean coast. He continued to paint even after his arthritis limited his mobility and he developed deformities in his hands and right shoulder. In his last year of life, Renoir went to the Louvre to visit his paintings, now hanging with the old masters he had so admired in his youth. Renoir died in Cagnes-sur-Mer, Provence in December, 1919 at the age of seventy-eight.