The 5 Best Impressionist Paintings By Alfred Sisley At Musée d'Orsay
Alfred Sisley is one of Impressionism's most overlooked artists, possibly because he straddled two cultures, having been born to English parents in France. Although he was a key Impressionist figure — along with Manet, Degas and Renoir — he remained an outsider and is sometimes referred to as the Invisible Man of Impressionism.
Unlike his peers, who painted a variety of subjects, Sisley focused exclusively on landscapes. His landscapes have few rivals in European art — there is a moodiness that conveys a sense of atmosphere and light, punctuated by big, expressive skies, a central feature of his paintings. Admirers are spellbound by Sisley's tonal control, his mastery of design, and his way of capturing the light. While you're at the Musée d'Orsay spend some time admiring Alfred Sisley's mastery of the landscape.

Discover What's On When You're Here...
Discover What's On When You're Here
1. Le Chemin de la Machine, Louveciennes – 1873
Le Chemin de la Machine, Louveciennes, Alfred Sisley, 1873
One of Sisley's favorite themes is a road disappearing into the distance. Here, the illusion of three-dimensional space is successful conveyed by the road stretching into the distance. The row of trees add rhythm and accentuate the impression of depth. The rise in the road creates a vanishing point slightly off center. Finally, as was his signature, Sisley humanizes the landscape by introducing a couple of small figures on the left.
2. Footbridge at Argenteuil – 1872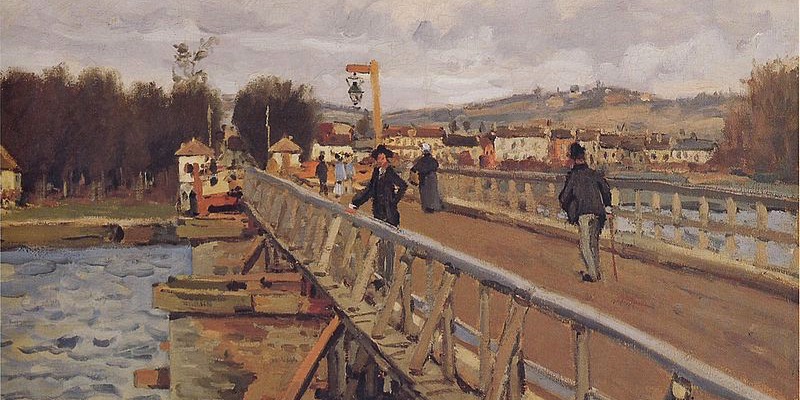 Footbridge at Argenteuil, Alfred Sisley, 1872
This Sisley work focuses on architecture and shows little interest in the people strolling along the bridge. The landscape, inspired by Japanese prints, captures modern life at the end of the 19th century and is not typical of Sisley. The main focus is the bridge, which dominates the canvas and flattens out the composition through the use of diagonal lines.

3. La Neige à Louveciennes – 1878
La Neige à Louveciennes, Alfred Sisley, 1878
The countryside in winter attracted Sisley, who excelled in capturing its sadness and desolation. His solitary temperament was more suited to the pale countryside than to sun-drenched landscapes. By using small touches of color on the canvas the land appears lustrous with bluish reflections. Sisley spent the winters in Louveciennes (a suburb of Paris) where he painted many snowy scenes. Here Sisley experiments with perspective — a snow-covered road disappears into the background with one isolated figure. The sensitivity expressed in this delicate landscape makes it one of Sisley's masterpieces.
4. Le Canal du Loing – 1892
Le Canal du Loing, Alfred Sisley, 1892
In 1880 Sisley left Seine-et-Oise, where he had lived and worked for almost a decade, for Moret-sur-Loing, attracted by the picturesque small town near Fontainebleau and its location on the banks of the river. For another twenty years Sisley painted along the Loing river. Here, he positioned himself at a point where the canal curves and where the opposite bank can be seen through a screen of poplar trees. Typical of Sisley, the sky is prominent. He explained to a critic, "the sky cannot only be a background… I always begin by painting the sky."

5. La Barque Pendant l'Inondation, Port-Marly – 1876
La Barque Pendant l'Inondation, Port-Marly, Alfred Sisley, 1876
In the 1870s Sisley lived and painted in towns just to the west of Paris. When the Seine flooded in the village of Port-Marly, Sisley produced six paintings of the event, capturing the expanse of water with its reflections transforming it into something mysterious and poetic.
Sisley positions the house at an angle, leaving space for sky and water. In the flooded area the light colors and his broad, brushstrokes express the solidity of the house; the human figures in the boats reinforce the impression of an ordinary day transformed by an unexpected, enigmatic event.

Who Was Alfred Sisley?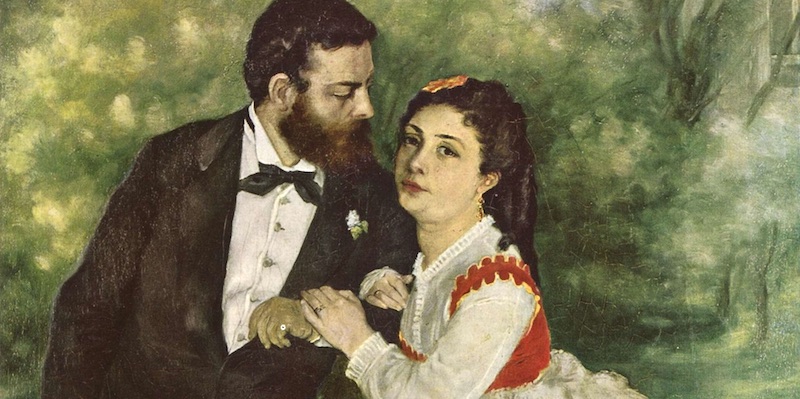 Alfred Sisley & His Wife, Pierre-Auguste Renoir, 1868
Alfred Sisley's life began with wealth, fun, flirtations, and adventure. "He never could resist a petticoat," Renoir wrote about him. (Renoir painted a portrait of Sisley and his wife in 1868, shown above.) The Impressionist painter (1839-1899) was born in Paris to wealthy English expats; his father was in the silk business and his mother was a music connoisseur. At the age of eighteen Sisley was sent to London to study for a career in business, but after four years he abandoned his classes and returned to Paris.
In 1862 he began studying with the artist Marc-Charles-Gabriel Gleyre, in whose studio he met Frederic Bazille, Claude Monet, and Pierre-Auguste Renoir . Together they painted landscapes en plein air to capture the effects of sunlight. This approach, innovative at the time, resulted in natural, colorful paintings, something art lovers weren't accustomed to. In 1873 Sisley became a founding member of the Impressionist group; at their first exhibition in 1874 he showed six paintings.


Unlike his fellow art students, who suffered from financial hardships, Sisley received an allowance from his father until 1870, when his fortunes took a turn for the worse. His financial security vanished when the Franco-German War of 1870-71 brought ruin to the Sisley family. From then on Sisley's sole means of support became the sale of his art; for the rest of his life he would live in grinding poverty.
After his family money ran out and when his paintings failed to sell Sisley became depressed and unsociable. It didn't helped when in February 1897 his show of 150 works in Paris did not result in a single sale. The last years of his life were grim, Sisley wrote to a friend after his wife's death: "We must struggle to the last. That is what I am doing." Within a three-month period, both Sisley and his wife died of cancer.
Unfortunately Sisley's student works were lost or were destroyed during the Franco-Prussian War. His earliest known work, Lane near a Small Town, was painted in 1864. His first landscape paintings are sombre with dark browns, greens, and pale blues. It was only after his death that his talent was recognized and his work values.