The Five Best Works Of Edgar Degas At Musée d'Orsay
Unlike his Impressionist friends who adored painting landscapes, Edgar Degas (1834-1917) was an urban painter who liked to paint ballerinas, theater shows, leisure activities, and cafe life. Although Degas was a leading Impressionist artist, he didn't really like that term and thought of himself as a Realist, as we'll see later.
Degas regularly attended the opera house as a backstage visitor and one of his favorite subjects was ballerinas — either at work, in rehearsal, or at rest. Degas tirelessly explored the theme with many variations — half of his works are centered around dancers. More than stage performances Degas was interested in rehearsals and training. There are 111 sculptures, paintings and drawings by Edgar Degas at the Musée d'Orsay. That's a lot of art, so if you want to concentrate on the greatest hits, here are the top five.

1. Petite Danseuse de 14 Ans – 1865-1881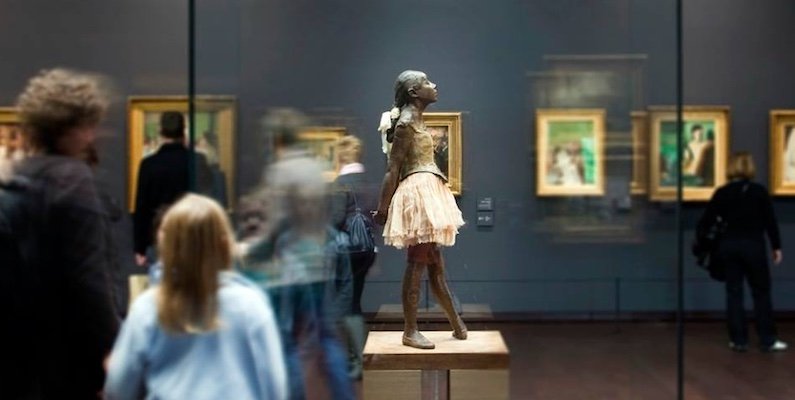 When Degas died, 150 wax and clay sculptures were found in his studio. These statues were unknown to the public, with the exception of this famous one, which Degas had exhibited in the Impressionist exhibition of 1881. In fact, it's the only sculpture that Degas allowed to be shown during his lifetime.
The eerie wax sculpture of the real teenage dancer Marie van Goethem is very lifelike. It's exactly one-third life size with the figure is dressed in a real bodice, tutu, and ballet slippers and fitted with a wig of real hair. Everything but the hair ribbon and tutu are covered in wax. Today it's adored but when the original sculpture was exhibited in 1881, critics had harsh things to say about the Little Dancer. After the unsettling reviews, Degas never exhibited the sculpture again and it was all but forgotten until it was rediscovered, along with other wax sculptures, in Degas' studio after his death. Located in room 31 of the d'Orsay.
2. Danseuses Bleues – 1890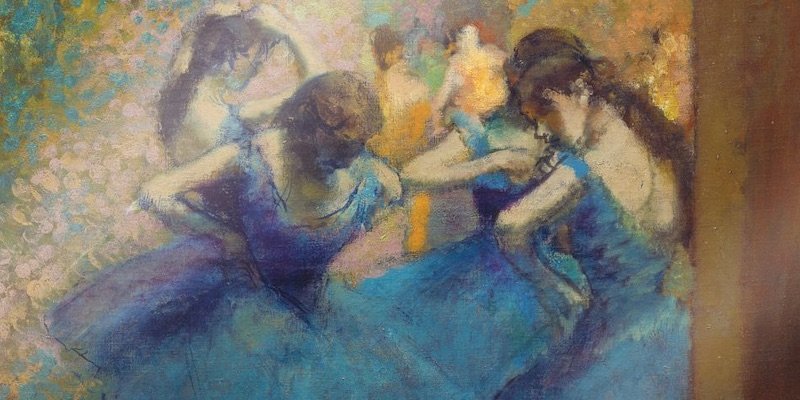 Danseuses Bleues exhibits Edgar Degas' love for the grace, beauty and movement of ballet dancers. Drawn in pastels when his sight was rapidly declining, it's an intimate moment capturing the light, energy, and movement of a small group of ballerinas. Due to his failing eyesight, Degas was more focused on sculptures than paintings but he continued to produce studies of dancers until his death.


Les Choristes – Stolen Degas Painting Recovered
A stolen painting, Les Choristes by Degas, was found by pure chance in 2018 on a bus during a routine luggage search. The 1877 work, a small pastel monotype — between a painting and an engraving — depicts the choir from the opera Don Juan during the first act's finale. It's the only Degas opera-inspired work that does not include dancers. French police discovered the painting inside a suitcase in the luggage compartment of a bus while it was parked at a gas station just outside Paris.
The painting was stolen in 2009 while on loan to a museum in Marseilles. It was unscrewed from the wall in what was suspected to be an inside job, but the investigation went cold. After its re-discovery art experts were at first unsure whether the signature was real, but d'Orsay officials quickly confirmed its authenticity.
In 1894 Les Choristes was bequeathed to the French state by Gustave Caillebotte, along with sixty other paintings including several other works by Degas. Les Choristes will make a special guest appearance in the exhibition Degas at the Opera due to open in September 2019 at Musée d'Orsay.
3. La Classe de Danse – 1871-74
In this painting Degas captures a dance class coming to a close. The pupils are exhausted, they stretch and twist, adjusting their hair, clothes and ribbons, paying little attention to the teacher Jules Perrot, a real-life ballet master.
Degas captured the spontaneous, natural gestures of the dancers — even the body as it is slumped after the exhausting class. Notice how the slightly elevated viewpoint looks across the studio and accentuates the vanishing perspective of floor boards. Famous art critic Paul Valery wrote: "Degas is one of the very few painters who gave the ground its true importance. He has some admirable floors". Room 31.

4. L'Absinthe – 1875-76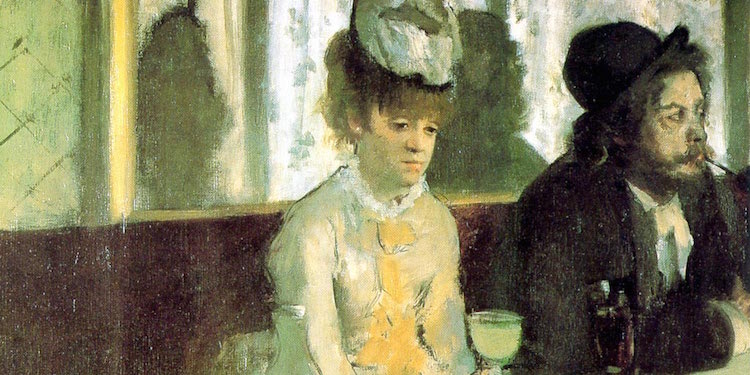 The painting exhibits the dangers of absinthe, a highly alcoholic spirit that was thought to be hallucinogenic and, hence, was prohibited around the time of the first world war. (Since then it's been shown to be no more dangerous that other spirits and is now again available.)
In any case, Degas' L'Absinthe is set at the cafe La Nouvelle Athènes in Pigalle, a popular place for artists and bohemians. The painting was in fact, done in the studio. Degas hired the actress Ellen André and an engraver and artist Marcellin Desboutin to model for him. The painting seemed so realistic that Degas was forced to release a statement that the pair were models and not actual alcoholics. Room 31 at d'Orsay.
5. Portraits à La Bourse – 1879
What seems to be a simple scene of Parisian life is essentially a portrait of the banker Ernest May (1845-1925), an art collector and admirer of Degas. More than a simple a snapshot of life in the Bourse, the painting shows clever composition — Degas observes the main subject, May, from a distance and makes him the center of our attention.
So, the banker dominates the frame. Around him, the other characters suggest stock exchange activity even though Degas doesn't show their faces and, in fact, leaves their features indistinct. May's face is the one defined — focused — component of the work, as if he is the only static element while all others are in motion. Room 31 at d'Orsay.

Who Was Edgar Degas?
Edgar Degas was born in Paris in 1834 to a bourgeois family; his father was a banker while his mother had Creole roots from Haiti and New Orleans. The oldest of five children, Degas began to paint as a young boy; by the time he was a teenager, he had transformed his bedroom into an artist's studio.
His father expected him to become a lawyer. Degas enrolled at the Faculty of Law at the University of Paris but didn't apply himself. Soon after he met Jean-Auguste-Dominique Ingres whose art and advice he respected. His words of wisdom had an impact on the young Degas, "Draw lines from life and from memory… and you will become a good artist." Degas enrolled in the École des Beaux-Arts and studied drawing in the style of Ingres. He traveled to Italy, staying for three years, drawing and painting copies by Michelangelo, Raphael, Titian, and other Renaissance masters.
When he returned to Paris Degas moved into a studio with enough space for him to work on large, historical paintings. He exhibited at the Paris Salon in 1865, with a painting called Scene of War in the Middle Ages. It attracted very little attention.
Although he would exhibit at the Salon for the next five years in a row he never again showed historical paintings. Another work, Steeplechase – The Fallen Jockey, signaled his growth as an artist. The change in his art was influenced by Edouard Manet, whom Degas had met while they both were copying a Velázquez portrait in the Louvre.



With the outbreak of the Franco-Prussian War Degas, like his idol Manet, enlisted in the National Guard, leaving him little time for art. He discovered his eyesight was defective during a training exercise; his eye problems would become a constant worry. After the war, Degas traveled to New Orleans where his brother and relatives lived. Staying with his Creole uncle, Degas produced a number of works depicting family members. One of them, A Cotton Office in New Orleans (1873, shown above), garnered favorable critical attention in France. It was the only work purchased by a museum during his lifetime. (That's his brother reading the newspaper.)
He produced his greatest works in the following decade (1874-1884). Disenchanted with the official Salon, he joined a group of young artists who were organizing independent exhibits. They were, of course, the Impressionists. In a twelve-year period they staged eight art shows, known as the Impressionist Exhibitions. Degas was the leader despite his conflicts with the others in the group. He didn't click with Monet and the other landscape painters, in fact, Degas mocked them. Conservative in his attitudes, Degas loathed the scandals created by the exhibitions, as well as the publicity his colleagues seemed to relish. Degas also deeply disliked the term Impressionist, which the press had coined and popularized. Degas rejected the term, preferring to be called a Realist. Like the Beatles, the Impressionists finally disbanded. (We imagine Degas being the George.)
Degas began to sell paintings and, as his financial situation improved, he was able to put together his own art collection, starting with works by old masters like El Greco, Ingres, Delacroix, Daumier and including contemporary artists like Manet, Pissarro, Cezanne, Gauguin, and Van Gogh.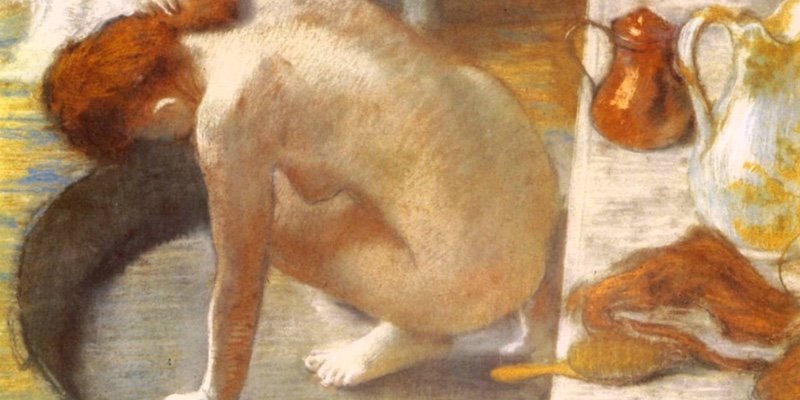 As the years passed Degas became increasingly isolated and even disliked. His anti-Semitic prejudices became public and his argumentative nature forced his friends to abandon him, including his final artist friend Renoir. He was a lifelong bachelor who spent his final years nearly blind, aimlessly wandering the streets of Paris. By the end of his life Degas was considered an influential artist famous for his ballet dancers, romantic Paris night-life, horse races, and nude bathers. (See above, Le Tub, 1886) He died in September, 1917. Edgar Degas is now regarded as one of the greatest artists of the Impressionist era.