Michelin-Star Restaurants In Paris For 2020 – 122 Make The Michelin Grade
In all of France there are 628 restaurants boasting at least one Michelin star for the year 2020 (down four from 2019). Paris is home to many of them — ten Paris restaurants have earned three stars, eighteen have two stars. The biggest category, though, is Michelin one-star restaurants, and Paris has a grand total of 94 of them. It's easy to eat well in the City of Food!
We've already talked about the Michelin three-star restaurants in Paris, so here we want to give you an overall report on all the Michelin-starred restaurants in the capital. Let's start from the tippy-top, with a list of restaurants holding trois macarons, and then take a look at two-star and one-star restaurants.
Michelin Restaurants in Paris – Le Menu
Michelin Three-Star Restaurants in Paris

Usually the best way to enjoy a meal at a Michelin-starred restaurant is to order the tasting menu. These entry-level menus give you a taste of the best of Paris cooking at a fraction of the cost. That's especially tRue at these 3-star restaurants.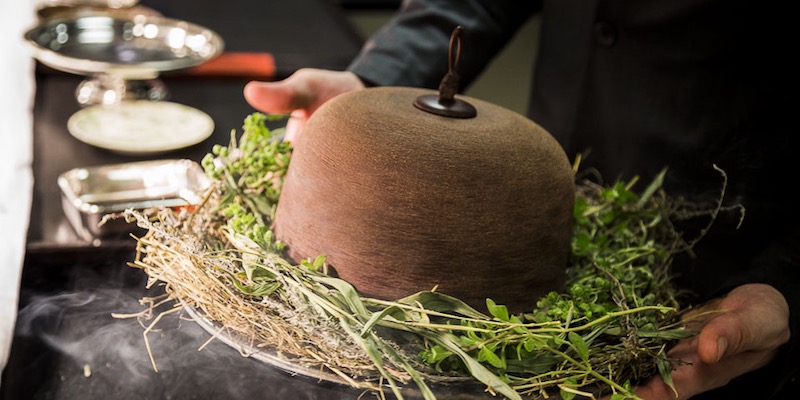 Pierre Gagnaire
Once you're seated several small dishes are whisked onto your table, each more delightful then the last. Even frequent diners will be amazed since the menus change as frequently as the seasons.

Le Pré Catelan
Life couldn't be better when you are seated beneath chestnut trees on the terrace of the Napoleon III Pavillon while enjoying this Le Pré Catelan's mouthwatering tidbits.

Arpège
If you're looking for a place to relax and be pampered after a wandering the rooms and garden of Musée Rodin, this is the restaurant for you. Provided you have a reservation, of course.

Guy Savoy
This restaurant is a combination of true luxury and ultimate simplicity in both decoration and menu.

L'Ambroisie
Located in the elegant 17th-century Places des Vosges, this restaurant is Paris' longest-running three-star establishment.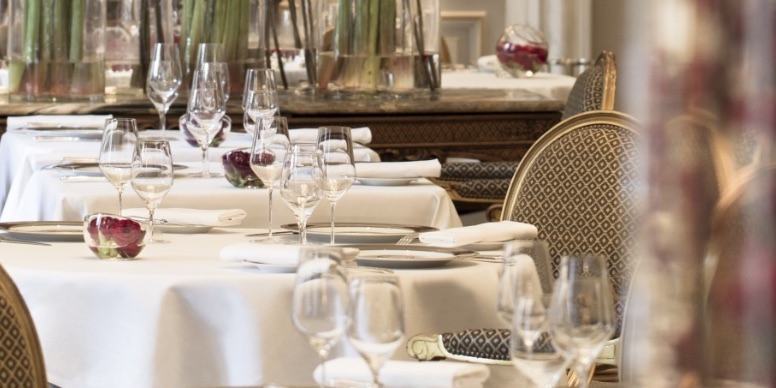 Le Cinq
Michelin has awarded Le Cinq its highest restaurant accolade, but The Guardian newspaper panned the place. Who to believe? The only sure way is to try it out.

Alléno Paris au Pavillon Ledoyen
Surely this restaurant will catch your eye, as it has Michelin's. Chef Yannick is still a rising star.

Epicure at Le Bristol
Dine at the Hotel Le Bristol's three-star luxury dining restaurant or lunch at its one-star bistro. Either way you're going to be awed by its delicacies.

Alain Ducasse at Plaza Athénée
This restaurant and its chef take a more natural approach to food, using sustainability-caught fish and organic produce to round out its menu.

Kei
When chef Kei Kobayashi discovered French cuisine on Japanese television, he made it his mission to move to France and train with the best. Now, in 2020, he has a coveted spot as the first Japanese chef to win three stars in France.

Michelin Two-Star Restaurants in Paris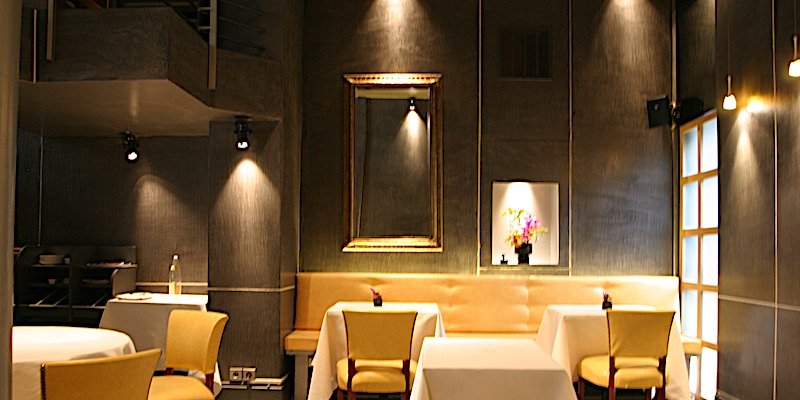 L'Astrance
This was one of the big Michelin stories of 2019 — l'Astrance lost its third star after a dozen years, and the culinary world gasped. 2020, though, saw no change in the restaurant's Michelin ranking and it remains at two stars. There are only twenty-five seats in the modern grey and mustard dining room, so reservations are hard to come by. Plan to book months in advance.

L'Abeille – Shangri-La Hotel
Chef Christophe Moret's resume reads like a tour of the best restaurants of the world. His past positions include Saint Jean-de-Luz Grand Hotel, Château Eza, Alain Ducasse's 3-star restaurant Louis XV in Monaco, and Plaza Athénée here in Paris. Moret joined Shangri-La Hotel in 2015 earning them two stars.

Le Clarence
Located in a 19th-century mansion steps from Champs Elysées, Le Clarence is owned by a French luxury company under the direction of Prince Robert de Luxembourg, who also controls three Bordeaux chateaux — Haut-Brion, La Mission Haut-Brion, and Quintus. At Le Clarence Prince Robert brings a little piece of Bordeaux to Paris. Chef Christophe Pelé (formerly of his own La Bigarrade) orchestrates the kitchen. He describes his culinary philosophy as generous, fresh, instinctive and spontaneous.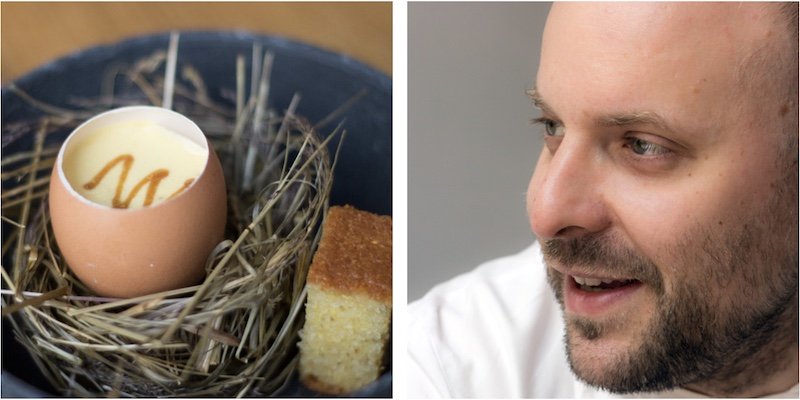 David Toutain
At age 20 David Toutain started at l'Astrance just as Alain Passard was reinventing his restaurant with an all-vegetable menu. In less than a year Toutain was promoted to sous chef. He then sharpened his skills at Pierre Gagnaire and with Bernard Pacaud at Ambroisie. He's now a culinary force to be reckoned as he's earned a second star in less than six years, a rare accomplishment in Michelin circles.

Le Gabriel
As stunning as David Toutain's achievement is winning two Michelin stars at a restaurant open for not much more than a year. Le Gabriel made a solid entrance onto the Paris luxury restaurant scene. The elegant Napoleon III interior was designed by Jacques Garcia. Chef Jérôme Banctel leads the kitchen.

Le Grand Restaurant – Jean-François Piège
He may have a baby face, but Jean-François Piège is no slouch in the Michelin star department. He won two Michelin stars at Hotel Thoumieux before he branched out on his own with casual, neighborhood bistro Clover. Now Piège has hopes that his Grand Restaurant will eventually be awarded three stars. He won a second star in 2016, less than a year after opening. Keep your eyes on this up and comer.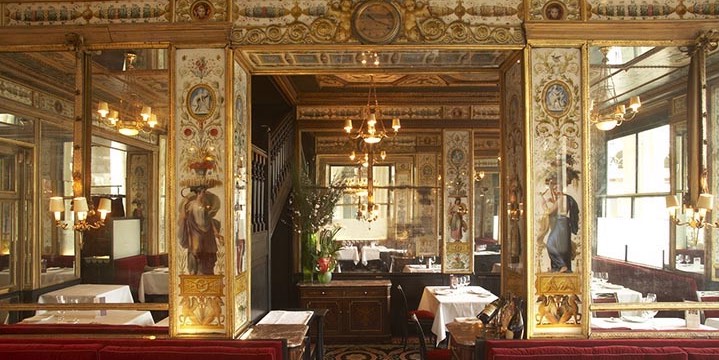 Le Grand Véfour
Le Grand Véfour was possibly the first grand restaurant in Paris, opening in 1784 under the arcades of the Palais-Royal as the Café de Chartres. For more than two hundred years, it cultivated its legendary status, attracting celebrity diners from Napoleon to Sartre. Today, self-taught chef Guy Martin has maintained its reputation since 1991. Le Grand Véfour once held three stars, but lost one in 2008.

Maison Rostang
2020 wasn't a particularly good year for Chef Michel Rostang. Although he maintained his two stars, 150 bottles of Bordeaux and Burgundy wine was stolen from the cellar of his restaurant, Maison Rostang. The estimated value of the wine is about €600,000. Police believe the thieves broke into the cellar through the Catacombs.

Le Meurice Alain Ducasse
Le Meurice, the restaurant of the hotel of the same name, has everything you could possibly want in a fine dining experience — location, brilliant service, and Michelin 2-star chef Jocelyn Herland. A Paris landmark, Le Meurice opened its doors in 1835 and has seen a bevy of important chefs work the kitchens, including Yannick Aléno, now at 3-star Aléno Paris au Pavillon Ledoyen. Chef Herland has been with the Alain Ducasse Group since 2003.

Sylvestre
When Jean-François Piège left Hotel Thoumieux, the owners had a culinary dilemma. How to replace the chef who earned your restaurant two stars? But they made a a very smart choice when they hired Sylvestre Wahid for the job. Wahid trained with Thierry Marx, Alain Ducasse, and in Les Baux de Provence. He now has his own kitchen for the first time and has been clearly impressing the Michelin inspectors.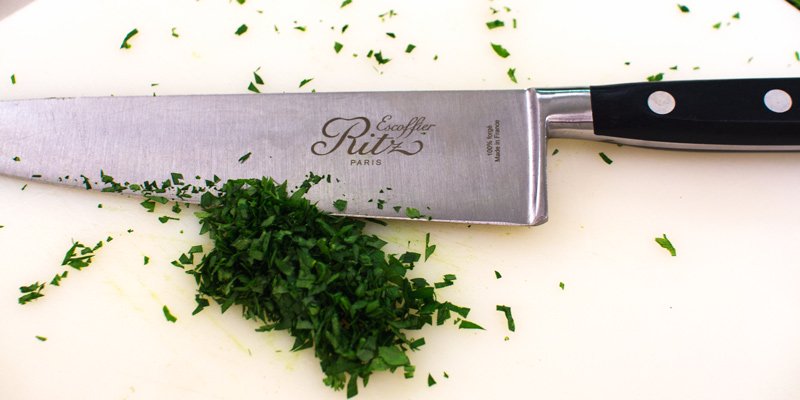 La Table de L'Espadon
The iconic Ritz Hotel, opened in 1898 by Cesar Ritz and chef Auguste Escoffier, has seen only ten chefs at the helm throughout the its 120-year history. The latest is Nicolas Sale, who has been leading La Table de L'Espadon since the hotel reopened in 2016 after a four-year renovation. A year later, Sale made restaurant history by winning two Michelin stars for L'Espadon plus another star for its sister restaurant, Les Jardins de L'Espadon.

La Scène
There are (still) only a few women chefs showing up in the Michelin Guide, Stéphanie Le Quellec is one of them. Running the kitchen of La Scène, Le Quellec is one of the most talented chefs in France. This year the chef was awarded two stars at her new restaurant, relocated after she moved out of Hotel Prince de Galles. As we said elsewhere, in the space of twelve months this chef went from one star to two stars to zero stars to two stars.

Sur Mesure par Thierry Marx
Thierry Marx trained at Ledoyen, at Taillevent, with Robuchon, and was awarded his first Michelin star in 1988. For a decade he held two stars at Châteaux Cordeillan Bages in Bordeaux before joining the Mandarin Oriental in Paris in 2010. Less than two years into that gig he earned two stars. In other restaurant news, in 2020 Marx brought new energy to the Eiffel Tower with Tour Eiffel Brasserie way up on the first level of the monument.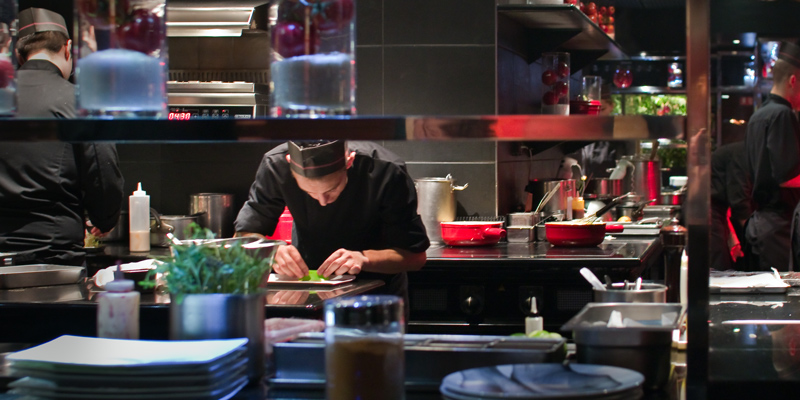 L'Atelier de Joël Robuchon
Chef Robuchon created two locations of L'Atelier in Paris — one next to the Arc de Triomphe at l'Étoile and one in Saint-Germain. Following the Joël of Joel Robuchon we wondered what the fate of his restaurants would be. Well, this year the Saint-Germain location held on to its two stars, and, perhaps surpassingly, the Étoile location won back its second star that it had lost a couple of years ago.

Le Taillevent
The legendary restaurant has reclaimed a second star under the leadership of chef David Bizet. Alongside sommelier Antoine Petrus, the duo have infused fresh energy into the historic dining room. In case you're wondering, Le Taillevent is named for a famous chef from the 14th century, who, they say, wrote the first cookbook, for Charles V.

L'Abysse au Pavillon Ledoyen
Chef Yannick Alleno has done it again! This is his 3rd restaurant in Paris to be awarded Michelin stars. Here, chef Yasunari Okazaki is turning out technically perfect sushi, nigirizushi, and chirashizushi. According to restaurant critic Patricia Wells l'Abysse is serving the best sushi outside of Japan. High praise, indeed.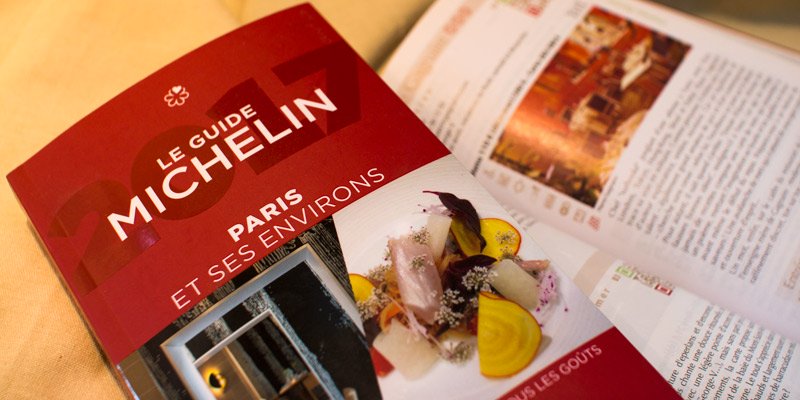 When you're in Paris you'll want to have the guide that chooses and lists the best restaurants in the city. This guide has descriptions and photos not only of the 3-, 2-, and 1-star establishments but of all the restaurants the Michelin inspectors have deemed worth a visit. Grouped first of all by arrondissement, with indexes showing the restaurants in alphabetical order, by number of stars, by type of food, etc. In French, but we find it easy to understand. 288 pages, color photos.

Michelin One-Star Restaurants in Paris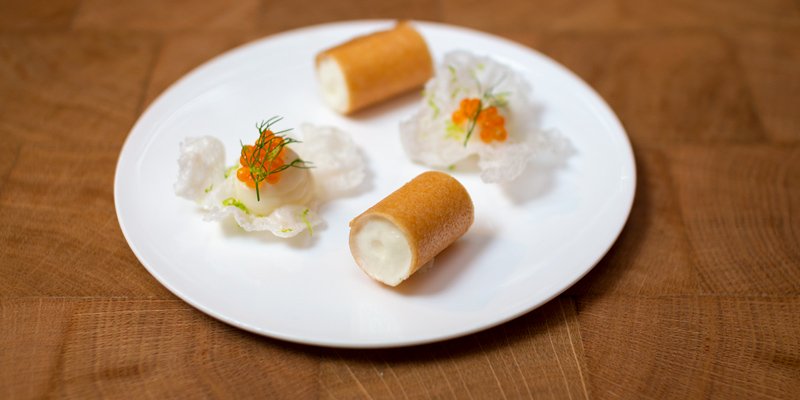 In the 2020 Michelin Guide a dozen restaurants in Paris were awarded their first star, including Michelin royalty Mathieu Pacaud (his papa is 3-star legend Bernard Pacaud) at restaurantsAnne, Yannick Alléno's Pavyllon, and our favorite, Chef Frédéric Anton at marvelous Le Jules Verne on the Eiffel Tower. Le Sergent Recruteur, which lost its one star in 2016, gained it back this year.
Rightfully restored to Michelin glory was Chef Jacques Faussat at his eponymous restaurant (formerly called La Braisiere) out in the 17th, who regained the star he lost a few years ago, thereby righting a glaring Michelin error. (We kept telling them!)
This year's Michelin boo-boos include not awarding second stars to Les Climats and to Chef Anton at Le Jules Verne. Both were named to our list of Best Restaurants in France for 2020. On the same list was L'Assaggio in the 1st Arrondissement, which Michelin mysteriously passed over this year. (By the way, that's a plate from Les Climats pictured above.)
It wasn't all good news for Paris chef. Restaurants who lost their one star in 2020 include Racines, Il Carpaccio, Laurent, Montée, Le Quizième, and Le Pergolèse. Here, then, is the complete list of one-star restaurants in Paris for 2020, starting with the thirteen newest additions.