The 5 Stars Shine Bright at Hotel Plaza Athénée Paris
The famed luxury hotel Plaza Athénée Paris simply defines Parisian elegance. It's easy to spot the signature red awnings along posh Avenue Montaigne. Just follow the trail price tags from haute couture shops like Christian Dior, Prada, and Chanel and you'll soon find yourself in front of the Athenée.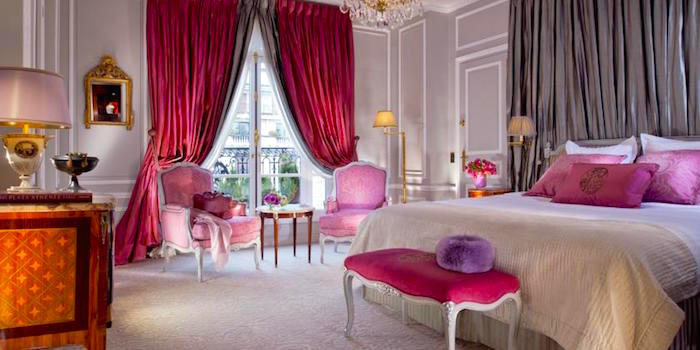 The Plaza Athénée Paris, an 1889 Art Nouveau marvel, has seen more than its fair share of celebrity guests including Jackie Kennedy, Gary Cooper, Josephine Baker, Rudolph Valentino, Maurice Chevalier, Grace Kelly, and even Mata Hari. But you don't have to be a celebrity to relax in the quiet courtyard draped in vines and dotted with red geraniums.
What You Can Expect at the Plaza Athénée
As a Five Star Luxury Palace, the highest rating a hotel in France can receive, you can expect the rooms to be to-die-for gorgeous with marble floors, a choice of Louis XVI, Regency or Art Deco styling. Sometimes it's the little things that set luxury hotels apart. like 100+ TV channels in 20 different languages, 200 films on request, and a music library of 5000 titles. Of course, there's a DVD player and WiFi, plus a phone with two lines.
Rooms either overlook the courtyard with awnings and parasol-shaded tables or overlook Avenue Montaigne with views of the Eiffel Tower. During Paris Fashion Week, the bar at the Athénée becomes the unofficial headquarters for designers and models alike.
When's the last time you saw a hotel pillow menu? Choose among osteopathic or synthetic pillows, pillows made from wheat or horse hair, pillows for destressing and pillows for beautifying. Hypo-allergenic linens are also available upon request. The hotel is also renowned for its soothing Dior Institute spa.
There's also a mini-bar loaded with 80 different drinks and concoctions. There are five in-house restaurants to choose from including the Alain Ducasse, where possibly the most-famous Paris chef oversees the menu and three Michelin stars. There are 35,000 bottles of wine in the cellar.
If you're traveling on business, the business center, the secretarial services, and personal assistants will help you get your work done. A team of 500 employees is dedicated to keeping the Plaza Athenée Paris one of the country's top-rated hotels. Recently the Athenée has switched over to free WIFI, allowing us to give it the highest-possible rating.
Hotel Plaza Athénée Paris
Paris Insiders Rating — Superb Plus
Free WIFI (Yay!)
25 Avenue Montaigne
8th Arrondissement