La Réserve Hotel & Spa – Another Palace Is Crowned In Paris
"Oasis" is a good way to describe La Réserve Hotel & Spa. Tucked away behind Champs-Elysées yet off the tourist trail, this elegant under-the-radar property manages to hit a home run when it comes to mastering old-school prestige and luxury. Located on Avenue Gabriel, a leafy side street, you're away from it all but still within easy walking distance to the Place de la Concorde as well as the best boutiques of Rue Saint-Honoré and Avenue Montaigne.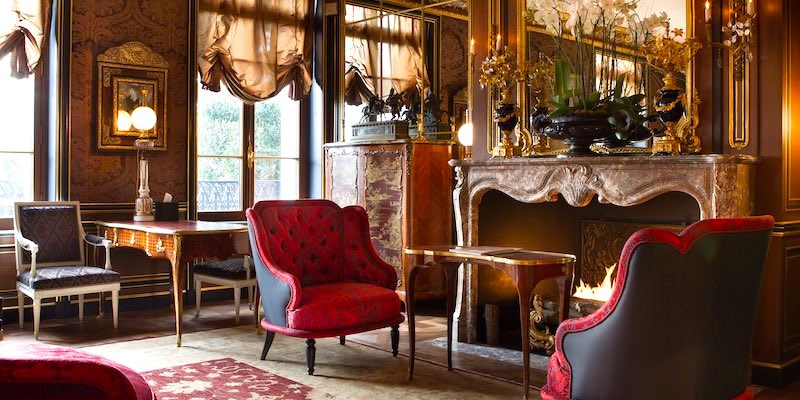 Although the five-star-plus, Palace-designated La Réserve Hotel is only a few years old, the Haussmannian-style mansion in which it is set has plenty of history; it was built in 1854 for the Duc de Morny, half-brother of Napoleon III. A century later it became the residence of the famous fashion designer Pierre Cardin.
What You Can Expect at La Réserve Hotel
The atmosphere is of a discreet, private club, where La Réserve's contemporary yet timeless interior is an homage to the Belle Époque — filled with antiques, elegant fabrics, regal colors and soft lighting.
Luxury sometimes is just another word for showiness, but here — with its intimate environment and low key, attentive service — La Réserve is carving out another approach to luxury accommodations. To be clear, there are no flags outside, no imposing entrance, no lobby with hovering bellhops. The welcome is relaxed and discreet, without stuffiness. The staff materializes just when you need them, with advice or suggestions about the best things to do and see in Paris.
With just twenty-six suites and fourteen rooms, even the smallest room is the size of a standard Parisian apartment. And when you book a room or a suite, a dedicated butler is assigned to you to manage every detail of your daily life in Paris. (We couldn't live without one, could you, darling?)
But, La Réserve takes discretion to another level. Most of the hotel's amenities — the library, spa and candlelit swimming pool, and fumoir (smoking room) — are mainly off-limits to non-guests. On the premises is a full-service spa, a fifty-two foot indoor pool, an outdoor patio and two restaurants — the Asian-inspired La Pagode de Cos and the more formal Restaurant le Gabriel, which has earned two Michelin stars.
The interiors may look antique, but only the carved marble fireplace is original. Renowned French architect and interior designer Jacques Garcia has put his stamp on La Réserve Hotel & Spa with what can only be called fabulously opulent details — like gilded rococo reliefs, antique mirrors, and parquet floors. Silk damask, taffeta, and velvet line the walls, frame the windows and are used to upholster the armchairs and sofas. The renovation employed 120 craftsmen and artisans, some borrowed from the Louvre ateliers.
The Non-Hotel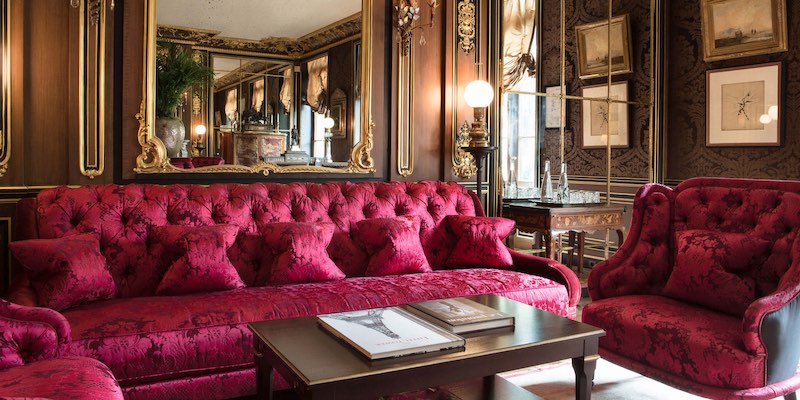 So much about La Réserve is more like a luxurious grand apartment than a hotel. (In fact, the first accommodations the group built in Paris were ultra-luxury rental apartments in the 16th, also called La Réserve.) One non-hotel-like touch is that there is no formal room service menu — you simply order whatever suits your mood. Craving some macarons from Pierre Hermé? Pas de probleme. A certain brand of champagne with coddled organic eggs and caviar? Encore ditto.
We like how the design team at La Réserve paid attention to the latest technologies when appointing the rooms. The staff scans your passport so it need never leave your sight. There are free-standing glass speakers in your room, made by the French luxury brand Waterfall that wirelessly stream music from your phone. There is also a well-stocked wine fridge with the best Bordeaux from the hotel owner's vineyards.
Each suite is individually decorated with damask wallpaper and touches of gold and velvet. Most have balconies on the Avenue Gabriel or the Rue du Cirque while the Premier and Prestige Rooms overlook the quiet patio. For sheer splendor book the 1,270-square-foot Imperial Suite, refurbished in Napoleonic style, with a tented drawing room in black lacquer and blood-red, with a Carrara-marble bathroom the size of a Sultan's tent.
The elegant Library is open only to guests of the hotel during the day and is a tranquil place to read and repose, with a view out onto an interior courtyard fitted with metal armchairs, clean white cushions, and matching parasols.
The Spa & Pool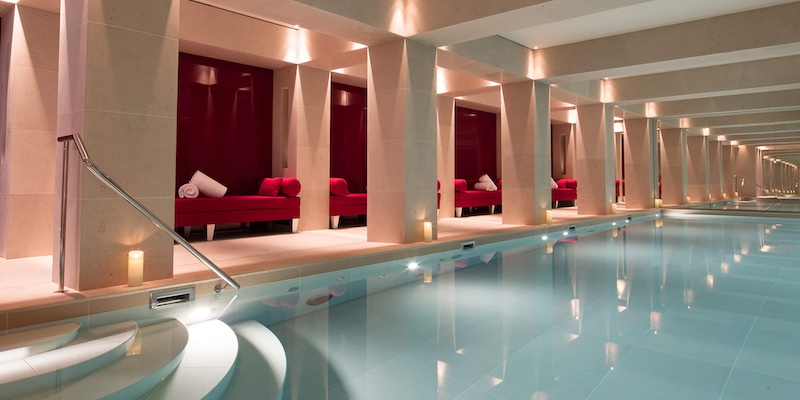 Set around the indoor pool are three treatment rooms and a fitness area with a personal trainer. Swiss anti-aging treatments are used to make you feel rejuvenated. The 52-foot swimming pool, hammam steam room and baths, and the fitness center are reserved exclusively for the guests of La Réserve.
Where to Eat & Drink at La Réserve
Le Gabriel Restaurant…
…with two Michelin stars, serves a selection of elegant French dishes with a hint of influences from Japan. Read our full review of Le Gabriel…
Le Pagode de Cos…
…offers seasonal French cuisine with a Japanese twist. Think steak tartare or cod curry with Japanese rice. The Carte Blanche lunch menu offers three courses served in the restaurant or the courtyard.
Le Bar…
…serves up signature cocktails, non-alcoholic beverages, as well as champagne cocktails like the Wanderlust made with champagne, Grey Goose vodka infused with fenugreek, rose Lillet, and lime juice. We like the seasonal beverages such as the Balthazar, a Christmas cocktail made with champagne, notes of citrus, and Frangipane. And to go with your drinkies are bouchées salées (salty bites) like blinis with Oscietre prestige caviar, vintage sardines with toasted bread, Iberian charcuterie, and salmon sashimi with gomashio.

High Tea at La Réserve
Take your afternoon goûter in the Salon Louis XV, a palatial reception room with rich, burgundy damask armchairs and sofas. Or you might prefer it in the library, at a table next to the original 19th century fireplace, surrounded by French literature and Pierre Cardin's original fashion books.
The Presidentiel Suite Tea is a private experience that takes place in a setting that is more luxury apartment than hotel room. Your butler escorts you to the suite and opens the doors to reveal a classical pianist tinkling on a Steinway grand piano. A chef from the hotel's restaurant will be on hand to personally prepare your own delightful afternoon tea, fit for a king or queen.
La Réserve Hotel & Spa
How Our Ratings Work
Superb Plus = 93%+ Travelers Rating
Superb = 88%+ Travelers Rating
Highly Rated Plus = 85%+ Travelers Rating
Highly Rated = 80%+ Travelers Rating

Our Rating — Superb-Plus !
42 avenue Gabriel
8th Arrondissement