Jacques Faussat: La Braisiere – A Preferred Paris Restaurant
As a boy, Jacques Faussat loved to wander the woods and countryside around his family home in southwestern France, foraging for mushrooms and escargots to sell to local restaurants for pocket money. Even at twelve years old he understood the importance of food. Quietly, without telling anyone, his mother began to let him skip mass on Sundays to go to his favourite chapel: to work in the kitchen of a Michelin-starred restaurant in the nearby town.
It was in that kitchen where young Jacques had his first experiences outside the home, experiences that would set the course of his life. Inspired, the next year Jacques, then fourteen, left his family and his childhood behind to enter cooking school fifty kilometres away.

Dining at Jacques Faussat: La Braisiere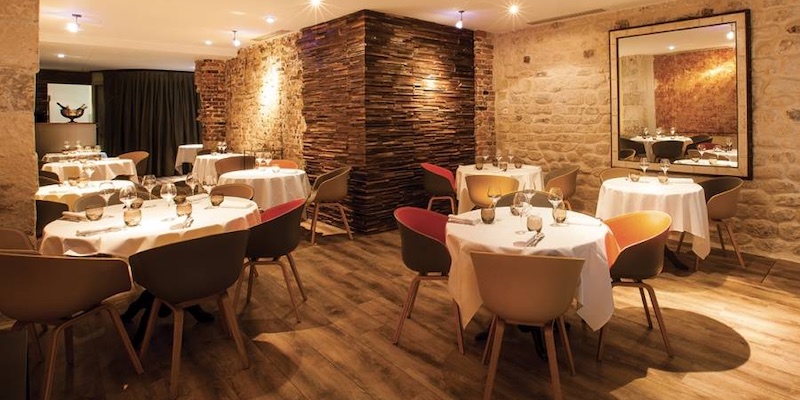 The dining room is tranquil, well-appointed with a central table holding a display of orchids; modern paintings adorn the warm grey walls; the overall effect is calming. Unusual for Paris, the tables are scattered with yards of space between them. We're sitting at a table near the front, next to a large framed mirror; the reflection makes the space seem even roomier.
The young waiter serves us the aperitif maison — a champagne cocktail inspired by the flavours of Chef's native region. A large prune sits at the bottom of a champagne flute, a dosage of armagnac covers the plump fruit, and is topped with champagne and a slice of lime.
Our amuse bouche is delivered — three samplings on a rectangular slab of granite — the savoury mustard ice cream has a bite to it and pairs well with the sweet, cold tomato soup and the tiny, delicate cookie with the faintest scent of cumin.
Next is Homard bleu en ceviche, écume d'amandes, a Brittany lobster dish inspired by the South American ceviche, a method of preparing seafood by marinating in citrus. The "lobster shell" lattice is constructed from pastry and is stuffed with a collection of spicy, baby greens that are specially grown and delivered to the restaurant. The lobster meat is in a cream sauce with perfectly cut tiny vegetables, the size of a baby's fingertip.

Together at Last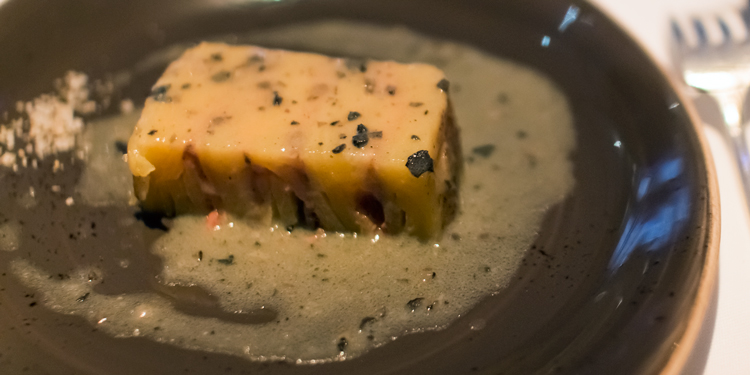 Gâteau de pommes de terre au foie gras, jus truffé follows. That's right — potatoes, foie gras and truffle jus, together at last. It's a rather plain-looking dish — a terrine of layers of waxy, yellow potatoes alternating with thick slabs of foie gras, a bit of cream and a light dusting of parmesan cheese on the top to form a gentle crust; then it's turned on its side and sliced so the layers are running up and down. The hearty terrine is seasoned generously with freshly ground black pepper and at the side of the plate is a small pile of fleur de sel combined with esplette.
We wonder what on earth could surpass that dish? Our thoughts are interrupted by the arrival of a culinary confluence of two of our best-loved ingredients. "Bacon and calamari… together at last," we again write in our notes. Calamar & pied du cochon. Served in a round, brown casserole dish looking like a curling rock with its top chopped off, the calamari and meat from pigs' feet are cooked to a golden deliciousness.
Our final course is another of La Braisiere's signature dishes, Epaule d'Agneau de Lait des Pyrenees, cocotte de feves et artichauts poivrade. Slow-roasted lamb that is crispy outside, and juicy inside with spoonfuls of roasted girolles, beans and artichokes. Chef tells us that this is how his mother cooked lamb.
We sit, imagining all the wonderful foods of southwest France we have yet to discover, when Chef returns to our table, rubbing his hands together, and asks us "Shall I make you a soufflé?" Minutes later, Chef places puffy soufflés on our plates, cuts into the interior with a large spoon and pours in white peach sauce. He shows us how to scoop up some soufflé and some sauce at the same time.
"Bon appétit", he wishes us and waits to see our faces turn to pleasure. Then Chef's face lights up with another inspiration. Soon he is hurrying back carrying two dusty bottles and four glasses. He pours us vintage Armagnac, both bas & haut (designating the two regions of Armagnac). As we sip Chef grabs a napkin and sketches out a map of his native region of France to illustrate where this rare elixir is made.

Restaurant Information
Jacques Faussat: La Braisiere (The name is now Restaurant Jacques Faussat).
54 rue Cardinet 75017 Paris
01 47 63 40 37