Restaurant Le Gabriel – Japanese & French Fusion in the Luxurious 8th
Sometimes you can feel a bit of reserve, a bit of trepidation, when you enter one of those grand palais — the big, exclusive & luxurious hotels and restaurants of Paris. But there's one palais that manages to combine that kind of unbridled luxury with welcoming, friendly service — Hotel La Réserve, the latest and perhaps most luxurious hotel in Paris.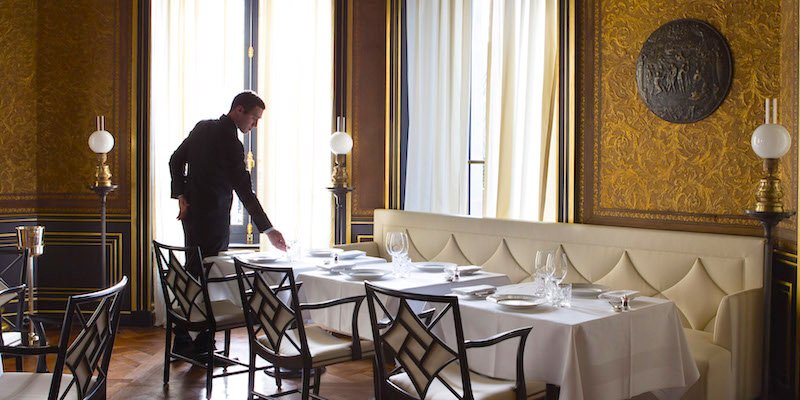 La Réserve is the dream of one man. Michel Reybier's roots are in the vineyards of Bordeaux, yet tied to the pleasures of Paris. His Paris dream was realized in early 2015 when La Réserve hotel, spa, and its gourmet restaurant, Le Gabriel, opened. Tucked away in a quiet corner of the 8th Arrondissement the hotel is surrounded by the Elysée gardens, by Avenue Marigny, and by the majestic trees on Champs-Elysées. Its regal neighbors include Théâtre Marigny and the Grand Palais.
Dining at Restaurant Le Gabriel
We are ushered into La Réserve through large wooden doors and directed to the calm, elegant bar — suitably named Le Bar. While we wait for coupes de champagne we take in the details. Plush, red upholstered sofas; red drapery; low, dark tables; mirrors; dark wood with gold accents, make it feel like a secret rendezvous between 007 and M in the library of MI-7. Service is polished, yet discreet.
After a brief tour of the hotel itself, where we are awed by the comfort and the painstaking attention to detail, we are welcomed into the equally-comfortable dining room. The dining room is just small enough to feel cozy, yet large enough to give us privacy at our corner table. Here the decor features gold accents, textured walls, white & gold drapery and white banquettes giving it a modern, airy feel. It's exquisite without being over-the-top opulent. In short, a very comfortable room.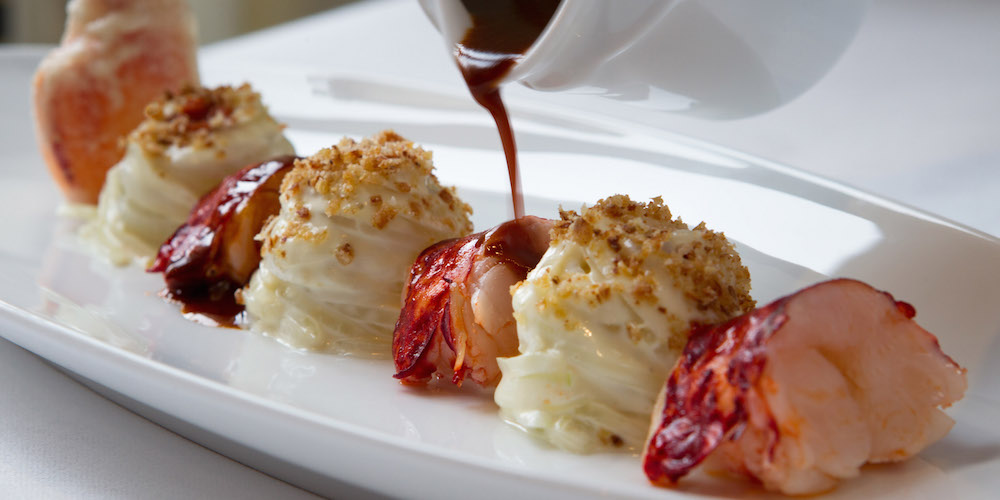 At the helm in the kitchen is Chef Jérôme Banctel, whose resumé reads like a list of the Best Places to Eat in Paris. After working in top kitchens with Christian Constant, at 3-star L'Ambroisie, and as executive chef alongside Alain Senderens, he's now in charge of this elegant, new 40-seat restaurant. Chef's light, seasonal cooking is influenced by Japanese flavors and techniques, yet grounded in classical French traditions.
To us, an indicator of a good restaurant is the quality of the amuse bouche, the small bite of flavor that the chef sends to your table as soon as you are seated. This is, after all, the first thing you taste and early impressions are made from these little bites. At Le Gabriel Chef Banctel has created "macarons" made of bite-size mushrooms with foie gras in the center. It's a bold, quirky and delicious beginning that promises more good things to follow.
An entrée called simply Le Saumon is a triumph. For five days salmon is marinated in miso and then served with raviole de daïkon — a paper-thin slice of marinated daikon enfolding smoked eggplant. Lemon paste is formed to resemble a small berry and then placed on top. The execution is amazing and the flavors are delectable.
With this and the other fish dishes, we are served a succession of crispy and flavorful white wines, mostly from the Michel Reybier's Burgundy vineyards — Chateau Cos d'Estournel — but also a Premier Cru Santenay from Beaurepaire.
Le Thon de Méditerranée is two perfect pieces of, as you might guess, mediterranean tuna of sashimi quality, cut to the size of match boxes, They're lightly seared with a deft touch and served with the contrasting flavors of what the chef calls tempura de tomates thaï and a playful accent of acidulated rhubarb. (That's rhubarb cooked in an acidic environment, more commonly done with artichokes.)
From the mellow flavors of the salmon and tuna dishes, Chef Banctel next takes us to the spicy side with a tender cod paired with just-tangy-enough Japanese curry, flecks of Thai basil, and soothing avocado. But it's in his roast demi-pigeon that Chef's genius is displayed. These are dark, rich flavors punctuated with tender buckwheat tagliatelle, and a dusting of cocoa powder.
Throughout the meal Chef has been building flavors, but for desserts he takes it down a note or two. Desserts are a retreat in flavors yet not in complexity. Mara des bois feature tiny strawberries under a tender shiso jelly-ravioli and a crispy meringue. The meal ends on a high note. A tiny, rich butter cake filled with marzipan and cherry is served with a glass of golden Hungarian Tokaj-Hétszolo.
It's not always that a brand-new restaurant oozes the sort of confidence that Le Gabriel exhibits through Banctel's cooking and the overall service (which is expert but friendly). Epitomizing a certain kind of class, Le Gabriel reminds you somehow of old money, secure in its station without unnecessary fuss and flamboyance.
Restaurant Le Gabriel
Hotel La Réserve
42 avenue Gabriel
8th Arrondissement
Website…
tel – 01 58 36 60 50
Email Reservations...