The Peninsula Paris – History of the Belle Epôque Restored
The Peninsula Paris made history when it opened its doors, becoming the first hotel in Europe for the Hong Kong based, ultra-luxurious Peninsula Group. But it wasn't the first time the building itself made history. It first opened as the Hotel Majestic in 1908 and was the hotel of choice for celebrities of the Jazz Age. In fact, it was at the Majestic that George Gershwin wrote An American in Paris.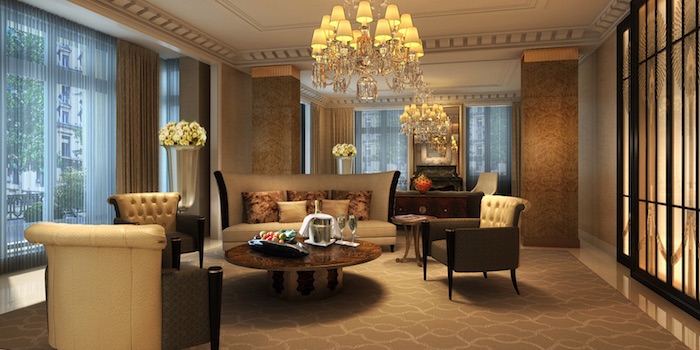 Rooms and suites at the Peninsula include Superior Rooms, at 375 square feet (a good size for a basic room in Paris), which feature the decorating details and modern amenities found throughout the hotel, and going up to the 3,400-square-foot Peninsula Suite (which the hotel claims is the largest 1-bedroom suite in Paris, and we believe them) with separate bedroom, bathroom, dressing room, office, and even dining room. All suites and rooms are equipped with modern technology.

What You Can Expect at The Peninsula Paris
Expect attention to historic detail, unmatched service and a hotel where everything is pretty much brand new. What with all the wear and tear the building sustained over the decades, it took Peninsula almost six years to restore it to its former glory, even though the originally building took only two years to build in 1908. The attention to detail will astound you.
There are six dining areas at The Peninsula Paris, but the most spectacular is the rooftop restaurant, L'Oiseau Blanc. It's already being called the most romantic spot in Paris. In addition to impeccable food and flawless service there is a view of the Eiffel Tower unmatched at any other hotel.
The Peninsula Spa is likely the most luxurious among Paris hotels. It boasts a very large, heated indoor pool, two jacuzzis, eight private treatment room, and an Asian-inspired design that is perfectly conducive to relaxation.
The Peninsula Paris is is a three-minute walk from the l'Arc de Triomphe and Champs-Elysées with easy access to everything else you want to see in Paris. It's even easier — the hotel keeps two Rolls-Royces and two smaller cars to transport you to the Parisian destination of your choice.

History of the Peninsula Hotel
During the Nazi occupation of Paris, the building (then owned by a French government ministry) was seized by the German military high command and used as its headquarters. A few years later, in his second floor office, German General Stülpnagel hatched the failed plot to assassinate Hitler in 1944. In what is now the Bar Kléber (see the photo below) the Paris Peace Accord was signed by Vietnam and the US in 1973. Finally, our favorite fictional French detective, Inspector Maigret, solved a case at the Hotel Majestic in a 1942 novel called, appropriately, Maigret at the Hotel Majestic.
Peninsula Hotel Paris

Paris Insiders Rating — Superb-Plus!
19 avenue Kleber
16th Arrondissement