Jardin Tino Rossi & Musée de la Sculpture En Plein Air
It's one of those places that is just outside the peripheral vision of most visitors to Paris. But if you happen to arrive at Gare d'Austerlitz and walk to Saint-Germain along the river (on Quai Saint-Bernard) you'll pass Jardin des Plantes on your left, while on your right, stretching for 600 metres along the river bank, you'll find Jardin Tino-Rossi full of pathways, plantings, and places to sit. It's also home to the only free, open-air museum in Paris — La Musée de la Sculpture En Plein Air, an outdoor sculpture museum.

Our Top-Rated Paris Experiences
Jardin Tino Rossi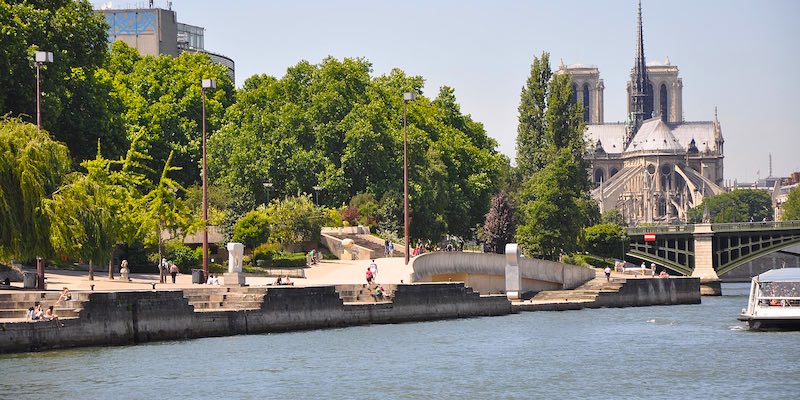 Jardin Tino Rossi, photo Wikimedia by Philippe Ales
The reason this riverside garden is not better known to visitors is that it's sort of hidden in plain sight in the 5th Arrondissement. It starts at the end of Boulevard Saint-Germain, at Pont de Sully (the bridge that crosses the end of Île Saint-Louis — you can see it in the photo above) and runs along the Seine to Pont d'Austerlitz at Jardin des Plantes. But Jardin Tino Rossi is hidden from the long view by the buildings of the Pierre & Marie Curie University (AKA Jussieu) as well as the Institute du Monde Arabe.
The garden is at one of the places along the the banks of the Seine where the quays are so low that you can almost touch the water. River boats churn back and forth, turning around at the end of Île Saint-Louis. The tree-lined paths attract strollers and picnickers in nice weather as they spend time among the plane trees, weeping willows, cherry trees, black pines, and poplars. Flowers bloom from spring to fall.

Discover What's On When You're Here...
Discover What's On When You're Here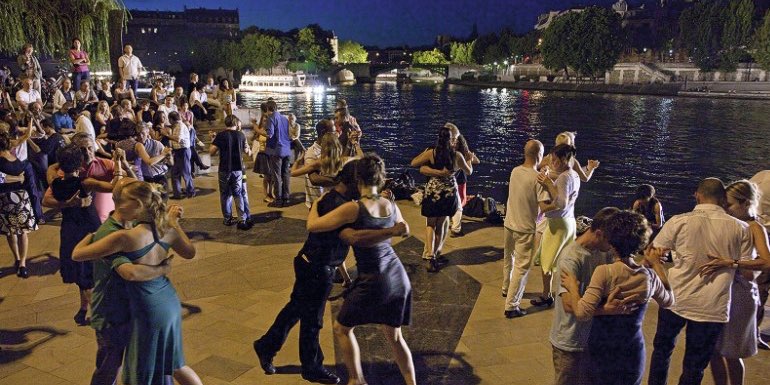 Dancing the night away at Tino Rossi, photo Paris Tourist Office

There's also nightlife in the jardin, for along the river is a series of small amphitheaters that are the settings of outdoor dance sessions on summer nights. Tango is la danse of choice here, often hosted by a group called Tango Argentin that offers lessons. But, there's more to riverside dancing than the tango — step out to cha-cha, hip-hop, even ballet. The music starts at 7 PM and runs to midnight

Musée de la Sculpture En Plein Air
The museum was established to display sculptures from the second half of the 20th century and, sure enough, here you'll find some of that interesting non-representative sculpture from the rebellious heirs of Rodin. We like how the artwork is scattered around the upper end of the park, some set on the walkways and quay-side, others placed in and around the plantings.
Perhaps the most well-known sculptor represented here, because there is a museum in Paris dedicated to him, is Ossip Zadkine. But if you're a fan of modern art you may recognize such artistic names as Alexander Archipenko, Jean Arp, César Baldaccini, and Constantin Brancusi. Each piece has a plaque with information about the artist and the work.

Tino Rossi & His Namesake Park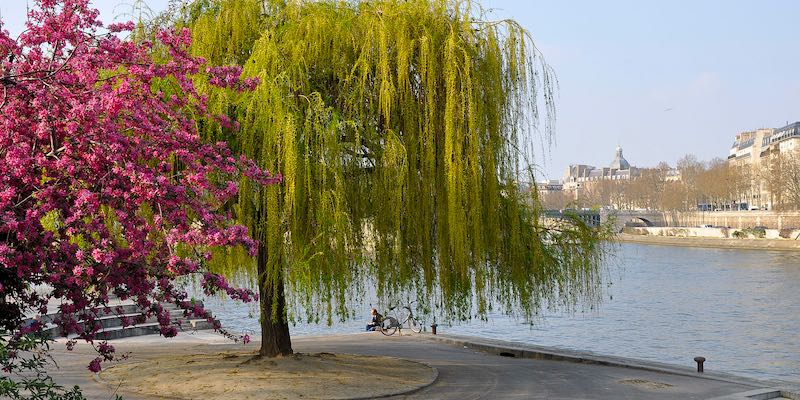 Sculpture en plein-air at Tino Rossi, photo Wikimedia by moonik
Tino Rossi was a cabaret-style singer and movie actor from Corsica who was immensely popular in Paris in the 1930s, 40s, 50s, right into the 70s. Although his style now seems a bit dated, he was performing to sold out houses right up to his death at age 76 in 1983. He was, as someone else quipped, the most popular personality to ever come from Corsica, other than Napoleon Bonaparte.
Tino's 30,000-square-metre namesake garden was created between 1975 and 1980.Musée de la Sculpture En Plein Air was installed around Place Tino Rossi in about 1980. Tino's garden is a quiet haven that takes full advantage of its riverside location.