Paris Expands Its Gardens & Green Spaces – Eleven New Parks
In the category of "Paris Just Keeps Getting Better", Parisians are enjoying more green spaces and gardens than ever before, thanks to the efforts of Paris Mayor Anne Hidalgo and her équipe. Abandoned spaces and small lots have been given a green makeover.
Across the twenty arrondissements six hectares (fifteen acres) of additional green spaces, plus 1,500 new trees were added in the year 2019 alone. Eleven new gardens were created, as well as four new sections of the La Petite Ceinture garden walkway, the abandoned urban railway transformed into an extended green belt. These may not be the first parks you visit on your sojourn in the City of Parks, but let's take a garden tour to these new(ish) Paris green spaces, spiraling out from our first stop in the 4th Arrondissement.

1. Jardin Teilhard-de-Chardin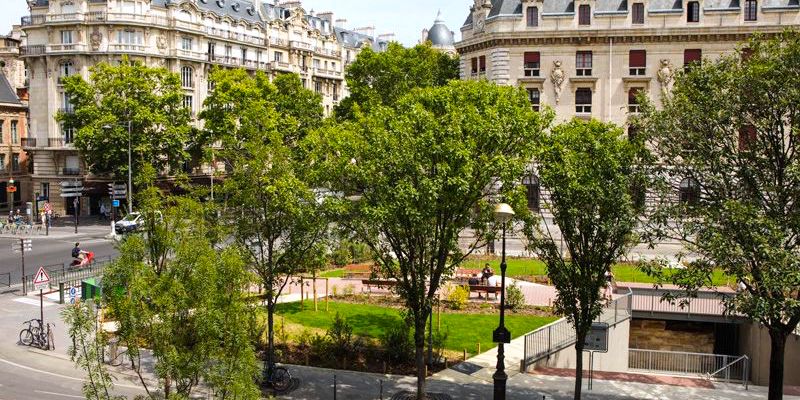 This peaceful park, at the intersection of boulevards Morland and Henri IV and Rue de Sully, has been in the works for years and is now finally completed. The new green space, dubbed Teilhard-de-Chardin Garden, is in front of Pavillon de l'Arsenal, an historic center of architecture and urban planning (and where the photo was taken).
The garden is now a heritage site of about a third of an acre and has accessible lawns for relaxing with a small grove of trees set in mini meadow. The oasis provides fresh air to the Marais and creates a barrier to traffic. The new park is named for Pierre Teilhard de Chardin (1881-1955) the French philosopher, paleontologist, and geologist who helped to discover Peking Man — homo erectus — during excavations in China in the 1920s.
Rue de Sully
4th Arrondissement
Metro – Sully-Morland
2. Jardin Tereska-Torrès-Levin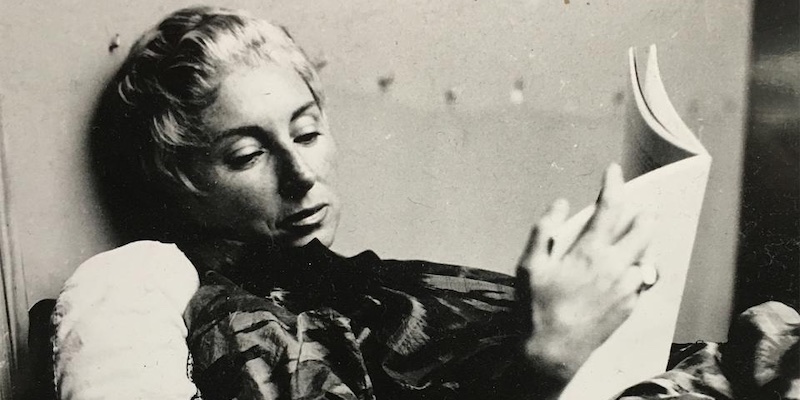 This new garden with green spaces, found along a tree-lined avenue, brings shade and freshness to the northwest corner of the 8th Arrondissement, between Rue de Courcelles and Faubourg Saint Honoré. The garden is resplendent with shrubs, grasses, perennials, fruit trees, bird houses and insect hotels with tiny ecosystems. A recreation area features curved benches and a large children's play area. The park is named for French writer Tereska Torrès (1920-2012) (photo) who served in the Volontaires Françaises — the women's army corps of the Free French Forces led by Charles de Gaulle during World War II.
Rue Laure-Diebold
8th Arrondissement
Metro – Courcelles

3. Jardin Marielle-Franco
This beautiful green space extends along the roof terraces of the railway line of Gare de l'Est (pictured). Designed around three terraces accessible by a footbridge from Rue d'Alsace, Jardin Marielle-Franco rises gradually along the railway.
In addition to lawns, planters, and a shared garden there are sixty new trees, most of them fruit trees. The garden has a drinking fountain, a solarium and a playground for children. Guard-rails and night lighting complete the layout. The park is named for Marielle Franco (1979-2018), a Brazilian activist who was murdered in Rio de Janeiro.
48 Rue d'Alsace
10th Arrondissement
Metro – Gare de l'Est
4. Jardin Martha-Desrumaux
At the site of the abandoned military post of Reuilly, on the street of the same name, a new garden space has been created. The former Place d'Armes has been transformed into a hilly garden covering almost an acre. Jardin Martha-Desrumaux features lawns to relax on among two thematic gardens — a flower garden and a perfume garden. Twenty-three new trees absorb rainwater to create a mini-oasis in the city. Leisure activities needs are offered including benches, chairs, and chess tables. The park is named for Martha Desrumeaux (1897-1982), feminist and a member of the French Resistance (photo).
Triangle formed by Rue de Reuilly, Boulevard Diderot, and Rue Chaligny
12th Arrondissement
Metro – Reuilly-Diderot

5. Place de la Nation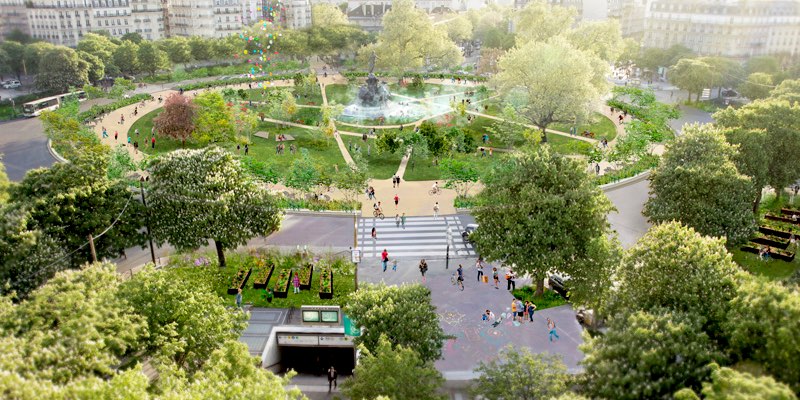 In 1660 this square was dubbed the Place du Trône in honor of the marriage between Louis XIV and Maria Theresa of Spain. It was later renamed Place de la Nation when, instead of a throne, it became temporary home to the guillotine. Now simply (and better) home to a garden and pedestrian park it's been revamped with 3,000 new plants and seems to have something for everyone — playgrounds, boule areas, and even a misting station for cooling down on hot summer days. Even better, traffic has been abated around the place.
Place de la Nation
11th Arrondissement & 12th Arrondissement
Metro – Nation
6. La Promenade de la Rivière des Minimes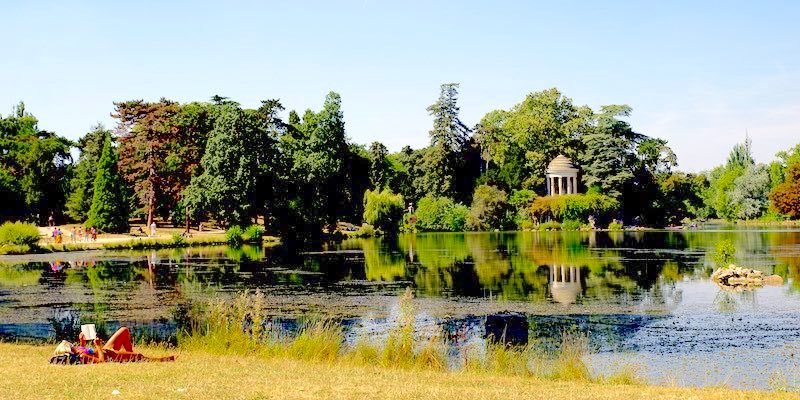 Take a walk along the restored banks of the Minimes River in the north end of Bois de Vincennes between Lac des Minimes (photo) and Esplanade Saint-Louis. The small waterway Rivière des Minimes has been uncovered and resuscitated to help restore the local "ecological continuity of the wetland", according to city parks planners. Another welcome improvement is the addition of a cycling trail. Even though Bois de Vincennes is quite a ways to the east, it's still within the extended boundaries of the 12th Arrondissement.
Bois de Vincennes
12th Arrondissement
Metro – Château de Vincennes

7. Jardin Jane et Paulette Nardal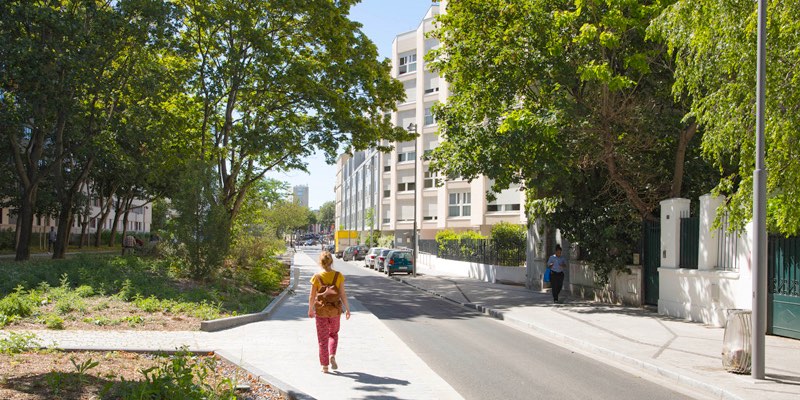 We love it when parking lots are transformed into green spaces. The new Jardin Jane et Paulette Nardal is a 520-meter-long planted walkway surrounded by trees and flowers and is bordered by four small thematic gardens. There's room for games, sports, and playgrounds for the kiddies to play in. It's way out in the 14th and is essentially an extension of part of the new green space along the old Petite Ceinture tracks.
Rue de Arbustes
14th Arrondissement
Metro – Porte de Vanves, Porte d'Orléans
8. Jardin de l'Impasse de la Chapelle
We can also get behind the idea of transforming an abandoned plot of concrete that dead-ends at the railroad tracks of Gare de Nord into a park with boule courts and a playground.
Impasse de la Chapelle
18th Arrondissement
Metro – Marx Dormoy

9. Forêt Linéaire Nord
Separated from the périphérique by an anti-noise wall, this new forest is located between two Paris suburbs — Aubervilliers and La Villette. Eight hundred new trees turn this former industrial area into a 5200 square-metre "linear forest".
Rue Emile Bollaert
19th Arrondissement
Metro – Corentin-Cariou
10. Parc Cesária-Évora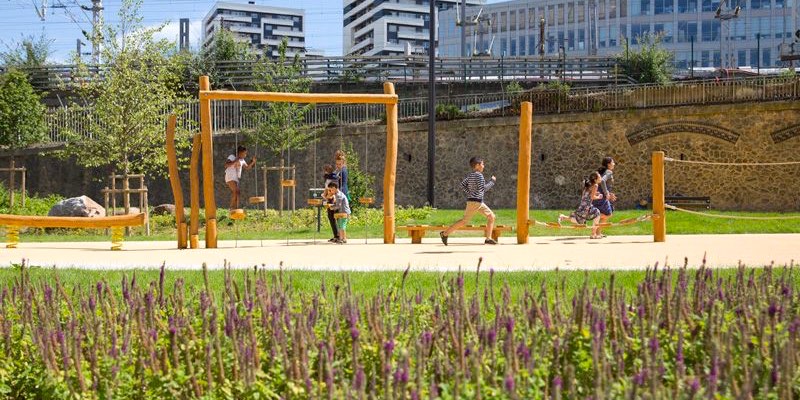 This large, new park follows the railway tracks that serve Gare de l'Est. Parc Cesária-Évora is dotted with activities to enjoy along its length — including chess, table tennis, and thematic lounges flanking the main pathway. The park is also home to four playgrounds. It is named for Cesária Évora (1941-2011), a popular singer from Cape Verde who was named a chevalière in the French Legion of Honour. The new park seems to have replaced a Parc Rosa Parks that was essentially a parking lot!
Rue Cesária-Évora
19th Arrondissement
Metro – Corentin Cariou

11. Jardin des Petites-Rigoles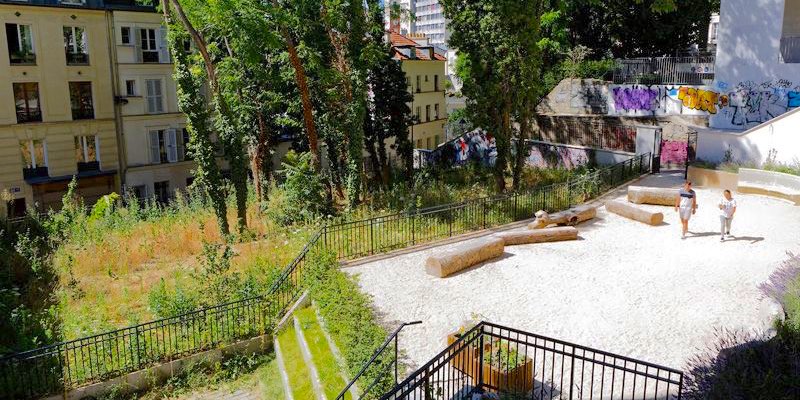 This jardin boasts works reminiscent of ancient Rome such as a small open air amphitheater theatre and small channels connected to an underground aqueduct built in the fifteenth century. Recent work has added more trees and shrubs to expand the garden's overall biodiversity. The garden is built on three levels — the highest level is planted with lavender, broom, and clematis and is decorated with masks formerly located on the Pont-Neuf.
42 Rue des Cascades
20th Arrondissement
Metro – Jourdain