Parc Monceau Paris – A Glimpse Of La Vie Parisienne In The 8th
If you want a peek into how Parisians truly live, spend an afternoon at Parc Monceau. The twenty-acre oasis on the border of the 8th and 17th Arrondissements gives you an insider's glimpse into how the bourgeoise spend their leisure time.
Well-heeled young mothers, nannies, and grandmothers push baby carriages as older children frolic in the manicured playgrounds. Tous les sportifs jog quietly along the perimeter of the park, stopping to stretch on the shaded park benches. But there's a lot of history and hidden significance to this majestic urban wonderland.

The Folies of Parc Monceau in Paris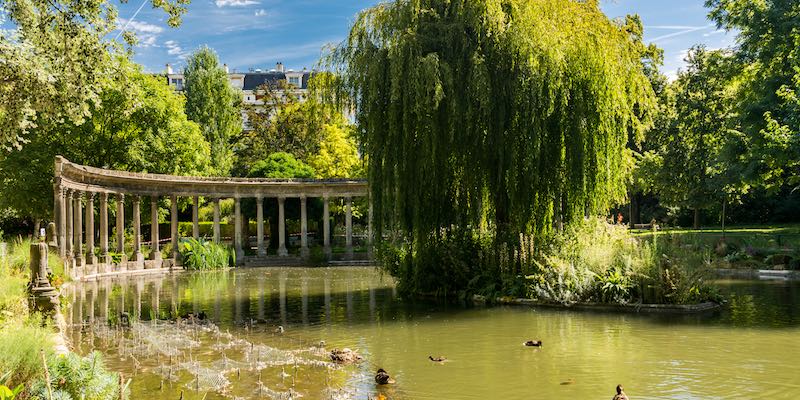 Curved Roman-style colonnade, courtesy of Philippe d'Orléans.
As you might expect, Parc Monceau's history reaches back to French royalty. We can thank the Duke of Orleans, who was the brains and heart behind the park. The Duke, AKA Philippe d'Orléans, cousin to Louis XVI, was fabulously wealthy and well-connected. In 1778, he transformed this expanse of field into a bucolic park. With the help of artist Louis Carrogis Carmontelle, Philippe's dream of a whimsical garden was realized.
The Duke, who, by the way, was a close friend of the Prince of Wales (later George IV), was a lover of all things English. His intention was to create an English garden, with architectural folies, or curiosities, dotted throughout the park to surprise and amaze visitors. And the completed garden delivered a plethora of them — a miniature ancient Egyptian pyramid, a Roman colonnade, antique statues, a pond of water lilies, Turkish tents, a Dutch windmill, a temple of Mars, an Italian vineyard and an enchanted grotto.
The Duke seems to have been a liberal, a free-thinker, and a supporter of the ideas of the French Revolution. And that's probably why he voted for the execution of his cousin, Louis XVI. Perhaps, though, that was his biggest folly for, in 1793, the Duke of Orleans himself was guillotined by the Revolution. (Karma is a bummer, isn't it?) Following his untimely death, Parc Monceau was eventually bought by the City of Paris and turned into a public park in 1860.

What You Will Find at Parc Monceau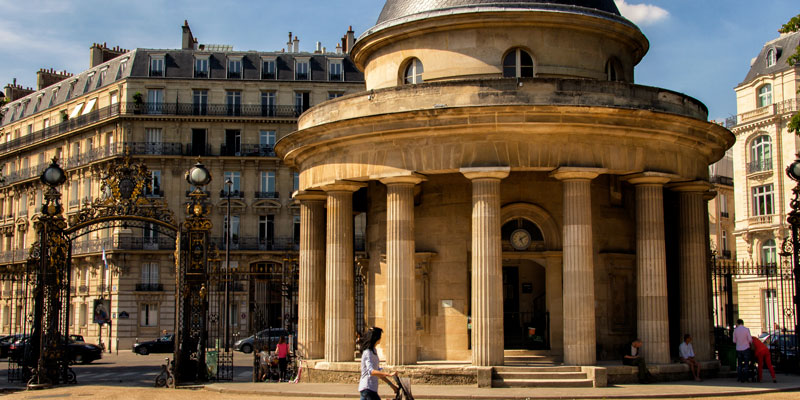 Pavilion de Chartres at the park's north entrance. Photo by Mark Craft.
That's enough of a history lesson, let's now look at what you can expect when visiting Parc Monceau today. As you arrive from the Courcelles Metro station on the northern edge (and the main entrance of Parc Monceau) you will see a classic, round Doric temple known as the Pavilion de Chartres. The ground floor was once used as a customs house when it was part of the taxation wall surrounding Paris, while the upper floor was a lavish garden view apartment reserved for the Duke. The stately dome was added by architect Gabriel Davioud in the nineteenth century. (More about him later).
It's amazing to think the park is essentially the same as when Marcel Proust played and strolled through its leafy pathways. In fact, he lived practically next door at 45 Rue de Courcelles. As this is a gated park, surrounded by a tall wrought iron fence, you will enter from one of the four entrances — Boulevard de Courcelles, Avenue Vélasquez, Avenue Van Dyck, or Avenue Ruysdael.
At the Avenue Van Dyck entrance notice the magnificent gold-tipped wrought-iron gates in Louis Quinze style. French architect Gabriel Davioud (1824-1881) designed each of the four park gates. His deft touch can be seen throughout Paris including the Saint-Michel Fountain, Theatre de Chatelet, and Theatre de la Ville. In the later 19th century Davioud was the chief architect of the City of Paris, when he also designed the Temple de la Sibylle and the main entryway at Parc des Buttes Chaumont.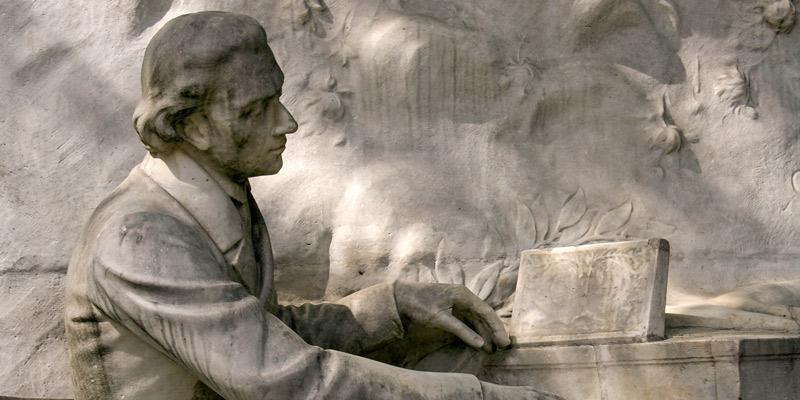 Frederic Chopin by Jacques Froment Meurice. Photo by Mark Craft

As you walk along the park's one kilometer perimeter pathway stop to admire the statues that dot the route — from the monument to Charles Gounod (1897), the bust of Alfred de Musset (1906) by Antonin Mercier, a sculpture of Frederic Chopin at his piano by Jacques Froment Meurice (1906), Ambroise Thomas by Alexandre Falguière (1902), Guy de Maupassant by Raoul Verlet (1897), and Edouard Pailleron by Leopold Bernstam (1906).
Parc Monceau is home to a spectacular sycamore maple tree, which is the oldest (planted in 1853) and the highest (thirty meters) in Paris, maybe in all of France. Its impressive circumference is a staggering seven meters. Even though in the heart of the city, Monceau has a great diversity of birds. They are attracted by the tall trees and the pond, resplendent with juicy, large carp and smaller goldfish. In the month of May you can see Mallard ducks escorting their ducklings around the pond.
Also within the park are two playgrounds, free WIFI, plenty of water fountains to quench your thirst, pony rides, a snack bar where you can grab a coffee, ice cream and crepes, and a charming, permanent carousel for the kids to ride to build strong Paris memories of their own.

Artists Who Painted in Parc Monceau
Le Parc Monceau by Claude Monet, 1878
Claude Monet
Not a lot has changed at Parc Monceau since Claude Monet painted a series of six paintings in the late 1870s. In these paintings a group of wealthy Parisians relax in the shade, with luxury townhouses seen in the distance. Art experts claim this is where you see the beginnings of Monet's bold two-dimensional style that would dominate his later work.

Le Parc Monceau by Gustave Caillebotte, 1878
Gustave Caillebotte
There are only two paintings by Caillebotte of Parc Monceau, which is surprising since he lived nearby on Rue de Miromesnil. Here Caillebotte shows the park on a bright spring day. His short, quick brushstrokes explore the play of light and shadow. Caillebotte has been called an Urban Impressionist, as he loved to capture scenes of nature within the city.

Nearby in the Parc Monceau Quartier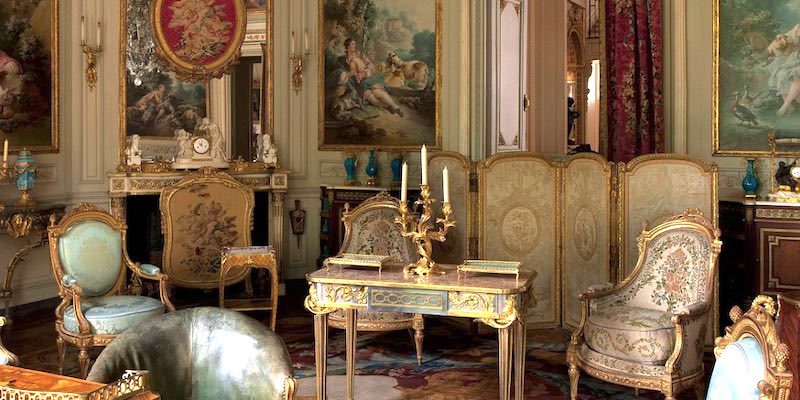 Musée Nissim de Camondo
Parc Monceau is a central starting point for visits to some of the most charming small museums of Paris. On the "back door" of the park, at 63 Rue Monceau, is Musée Nissim de Camondo. (Pictured above.) Also nearby are Musée Jacquemart-André, at 158 Boulevard Haussmann, Musée Cernuschi, dedicated to Asian art, at 7 Avenue Velasquez, and Musée Jean-Jacques Henner housed in a glorious mansion at 43 Avenue de Villiers.
The park is surrounded by other magnificent mansions, called hôtels particuliers, from the 18th and 19th centuries. The embassy of Singapore is housed in one of them. The most famous, and most magnificent, is Hôtel Menier — you can get a good look at its facade as you enter Parc Monceau on Avenue Van Dyck. Look on your left.
Pierre Hermé has a shop nearby on Boulevard Malesherbes and our Paris pal, Chef Jacques Faussat, can be found at his restaurant at 54 Rue Cardinet. Our recommended hotel in the quartier is Hotel du Collectionneur, which we have named one of the top five Charming Hotels of Paris.
Parc Monceau Resources
Main entrance 35 Boulevard de Courcelles, 8th Arrondissement
Hours – 7 AM to 9 PM, adjusted seasonally
Metro – Monceau or Courcelles, both Line 2