The large 17th Arrondissement of Paris starts at the Arc de Triomphe and holds down the northwest corner of the city. It is vast — three times the size of the center, where you find the Louvre, and much else. But the advantages of the 17th are many; to begin with, there are no tourist crowds, instead you find upscale neighborhoods filled with wonderful shops, markets, hotels, museums, and parks. Here, you enjoy la vie Parisien, yet you're close to the Champs-Elysées and all the other attractions and sights of the city. Let's explore a baker's dozen!

Thirteen Great Things About the 17th Arrondissement
Arc de Triomphe, as seen from the 17th Arrondissement, photo by Mark Craft
This iconic monument holds a prominent spot on the plaza known as L'Étoile (due to the eleven streets that lead off of it, like rays from the sun), but officially is called Place Charles de Gaulle. The Arc is Napoleon's monument to his foreign military victories. Here is where the 8th, 16th, and 17th Arrondissements meet and where Avenue des Champs-Elysées ends. To do the monument justice, we recommend you get your tickets in advances or combine a visit to the Arc de Triomphe with a Seine River Cruise.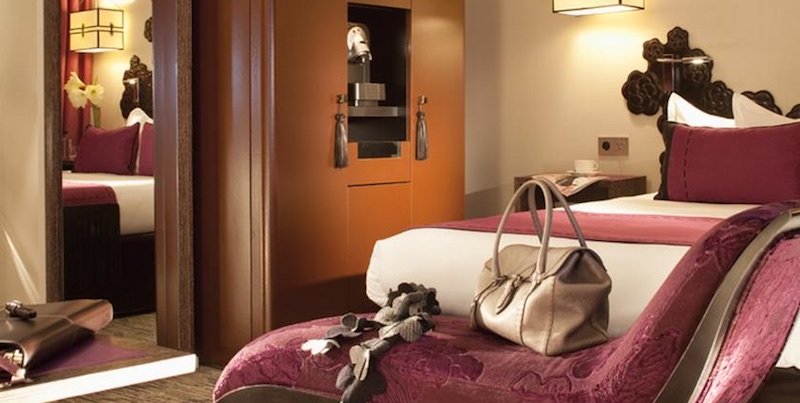 Comfortable room at Les Jardins de la Villa
The winter garden and the library are two wonderful places to relax at this chic hotel. Located in the 17th on a tiny one-way street next to Le Palais des Congrès de Paris, Les Jardins de la Villa is an oasis of calm in this busy part of Paris. This is a Traveler's Choice winner and our top choice in the 17th.
Our Rating — Superb
• 5 Rue Belidor
Park scene in the Batignolles, photo Wikimedia by KoS
Loved by locals for its bistros and bars, the trending Batignolles neighborhood, in the heart of the 17th Arrondissement, is worth a detour. We recommend this guided tour that takes you to the chic boutiques, local open-air markets, fromageries, boulangeries, and romantic gardens. Soak up the classic Parisian lifestyle and immerse yourself in the culture of this treasure of the city.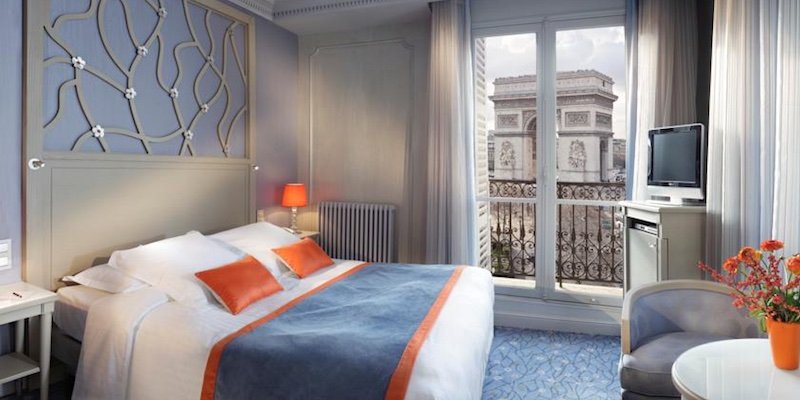 Hotel Splendid Etoile, room with a view
A close runner-up to Les Jardins de la Villa is hotel Splendid Etoile,close to the Metro, the Arc de Triomphe and Champs Elysées. The rooms are spacious and bright, many with balconies and, as a bonus, the hotel is also located on a quiet side street. Like one traveler put it, "As the name says… it's splendid".
Our Rating — Superb
• 1 Avenue Carnot

5. Square des Batignolles
Square des Batignolles, photo Wikimedia by Georges Seguin
More of a sprawling park than a place, this lush green space was created in 1862 in the style of a landscaped English garden. A charming stream cuts through the manicured lawns, decorated with statues and sculptures, and fills a large pond redolent with red carp and ducks. It's a great place for a picnic, and a perfect for the kids to run around, with playgrounds and an old-fashioned carousel. Found at 144bis Rue Cardinet.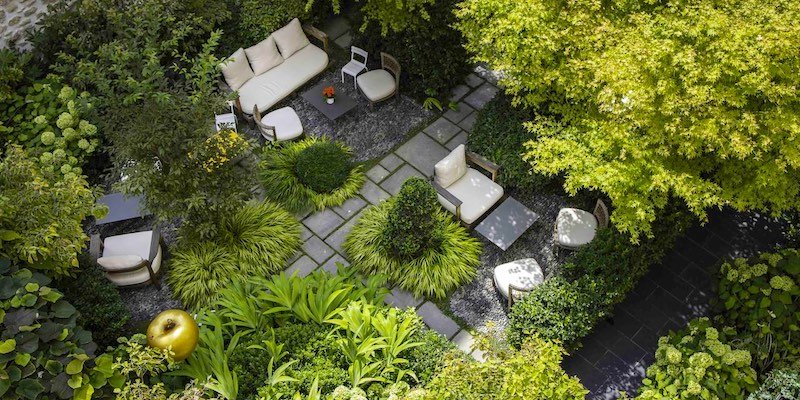 The garden at Hotel Regent's Garden
We know we said that Les Jardins de la Villa was our top choice in the 17th Arrondissement, but, really, it's hard to choose between the four hotels we recommend here — we would stay at any of them at the drop of a hat. We rate them all as "Superb" and the locations are really good.
The Regent's Garden is set in an historic mansion and is stylishly decorated with an artful fusion of old and new. Rooms look out onto a large, manicured garden. Just off Ternes, close to Rue Poncelet, in a quiet area.
Our Rating — Superb
• 6 Rue Pierre Demours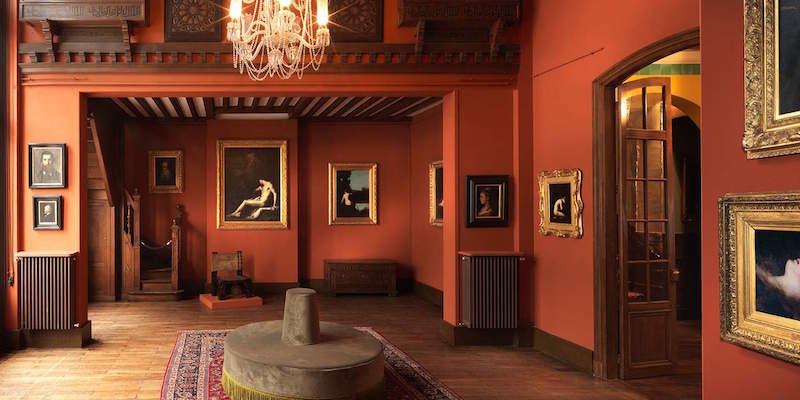 Photo Musée National Jean-Jacques Henner
If you've never heard of the artist Jean-Jacques Henner (and that wouldn't be unusual) you might be surprised to find that there's an entire museum dedicated to his work and life. However, it's unexpectedly interesting and even delightful. It's housed in a 19th-century mansion that features, among the artist's work, a charming winter garden.
By the way, the reason Jean-Jacques Henner is remembered is that he was an expert in two painterly techniques. "Sfumato" is a way of creating a smooth transition between parts of the painting, to achieve greater realism. Think Leonardo da Vinci, who may have invented the technique, and used it in Mona Lisa. Another technique, "Chiaroscuro", is the use of strong contrasts between light and dark sections to create depth and drama. Think Rembrandt and all those Dutch guys.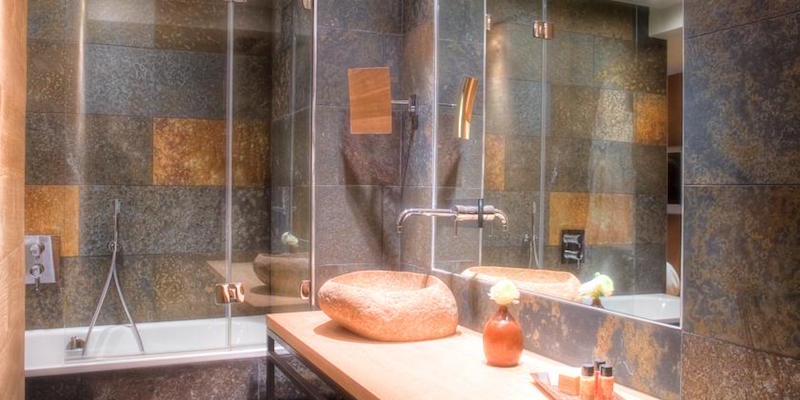 Located on a small street between Avenue Carnot and Avenue des Ternes, this fresh, environmentally-friendly hotel is an antithesis to those stuffy, Louis-XIV-style hotels. All the rooms have a modern decor with a blend of natural materials. "Superb cozy, feel-at-home hotel," a visitor opines, and we concur.
Our Rating — Superb
• 28 Rue de l'Arc de Triomphe
9. The Market on Rue Poncelet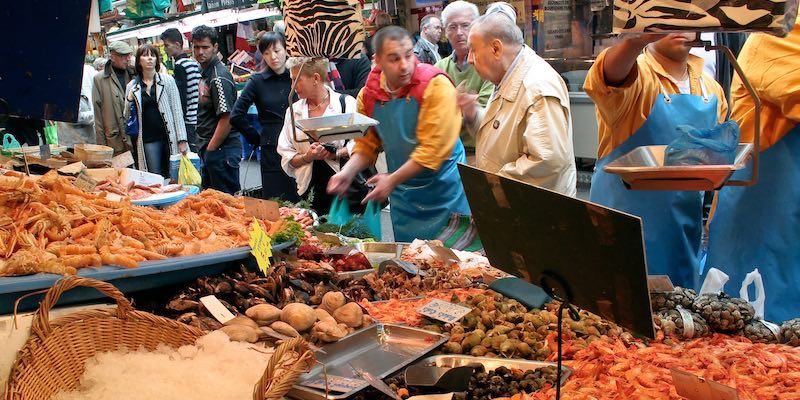 The lively Rue Poncelet market, photo by Mark Craft
This vibrant market street serves Parisians who live near Place de Ternes. It's a very busy place where you can find great vegetable stalls, boucheries, boulangeries, chicken rotisseries, flower stalls, and one of the best fishmongers in the city. (So busy is Rue Poncelet that there is a competing fish market directly across from the first.)
More food stores are located just off Poncelet along Avenue de Ternes, Rue Bayen, and Rue Saussier Leroy. There you'll discover a very good fromagerie, traiteurs (sort of a combination speciality food store and deli), wine sellers, and more boulangeries.

10. Restaurant Jacques Faussat
Restaurant Jacques Faussat, website photo
This Michelin one-star restaurant is tucked away on a residential street not too far from Parc Monceau and not too far from Place des Ternes. It's not a place you're likely to stumble upon while visiting the sights of Paris, but what a find it is! Chef Faussat hails from the Gers region in southwestern France, near to the Basque country, and the flavors of his youth are evident in his cooking. As we say in our review, his flavor combinations are not to be missed.
11. Martin Luther King Park
Design drawing of Martin Luther King Park, photo Ville de Paris
This lovely 25-acre green space was first developed as part of the Paris bid for the 2012 Olympics. The city wasn't awarded those games, but the park and the surrounding development went ahead. Built on land formerly owned by SNCF (The French national train company), Parc Clichy Batignolles – Martin Luther King (to give the park its full name) was designed to achieve a close-to-zero carbon footprint by including things like wind turbines and solar panels, rainwater harvesting, and waste management. The plants in the park consume little water and require minimal fertilizer.

12. L'Entregeu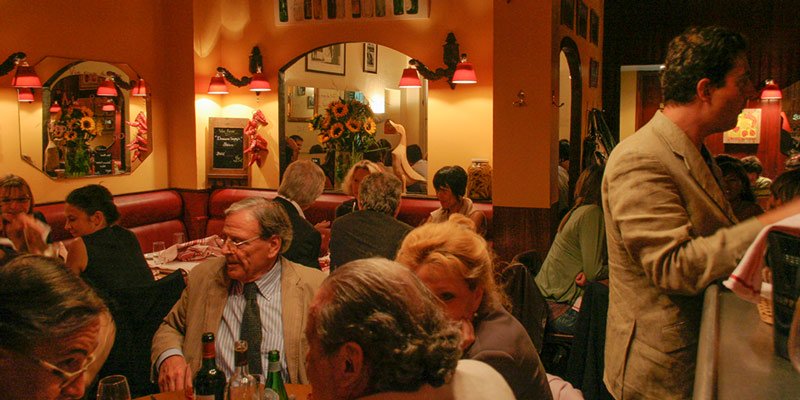 Local diners at L'Entregeu, photo by Mark Craft
There's a reason why this small bistro is always packed — it serves up good, traditional French fare at reasonable prices. And we do mean "packed". You may have to squeeze past other diners to get to your seat, and servers will be passing dishes over your head. But, that's all part of the charm. Our favorite seat is the corner table at the back left, between the chalkboard and the mirror.
Update — In the years since we first wrote about L'Entregeu (and took the photo) the restaurant has changed hands. Nonetheless, reviews are good, the room is charming, and the location is great.
13. Avenue Carnot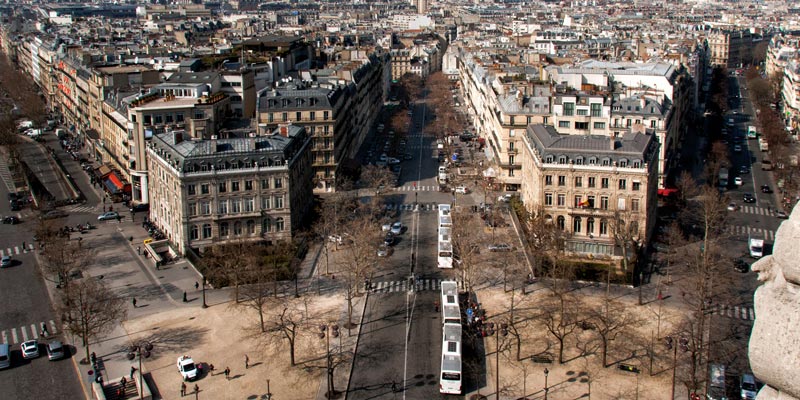 Avenue Carnot as seen from the Arc de Triomphe
During the second half of the 19th century, Napoleon III ordered his chief city planner, Baron Haussmann, to modernize the jumbled medieval city of Paris. And so, in 1854, a massive rebuilding began. Thousands of old buildings were torn down; wide, straight boulevards were plowed through the ancient neighborhoods of Paris. Parks were built, sewers were constructed, thousands of new five-story buildings were placed side by side along the new thoroughfares. This was also when Paris doubled in size by annexing surrounding towns and villages — including bringing in the rural enclave of Batignolles-Monceau to create the new 17th Arrondissement.
At L'Etoile a number of new wide, straight streets were created, radiating out from the center. Among them were the avenues Wagram, Kleber, Monceau, and Mac-Mahon. Avenue Carnot was to be the eleventh radial, heading to the northwest from Etoile to cross Avenue de Ternes on its way to the new boundaries of the city. However, when only the first block of Carnot was completed, Haussmann fell from power (followed soon after by Napoleon III himself) and work was abandoned, so that today the wide Avenue Carnot, with its side boulevards and its 5-story buildings, abruptly halts after one block and dumps all of its traffic into the narrow and ancient Rue de Armaillé.

17th Arrondissement Resources