7 Surprising Reasons To Visit La Defense – Architecture + Art
Within Europe, Paris is famous not just for its historical buildings but also for a modern business district called La Défense located to the west of central Paris. Named after a statue, La Défense de Paris, which was commissioned to commemorate the French soldiers who fought in the Franco-Prussian War, today La Défense is Europe's largest business zone. And if you think no one goes there, think again — eight million tourists visit La Défense each year.

Our Top-Rated Paris Experiences
The Historical Axis of Paris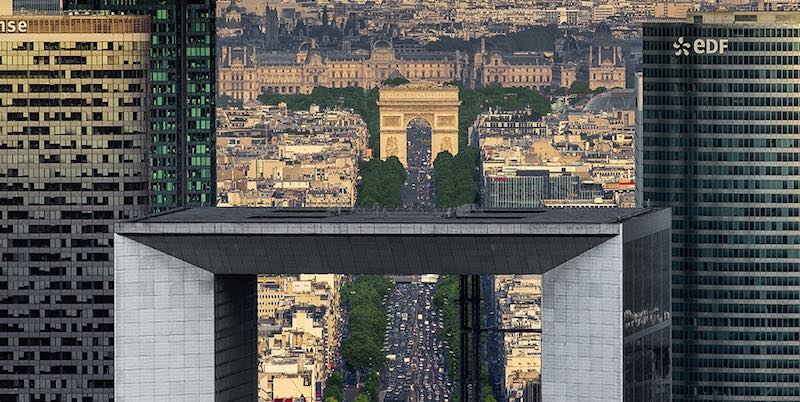 Historical Axis of Paris: from La Grande Arche to the Louvre
If you were a crow (or, these days, a drone) you could fly along the 10-kilometre-long Historical Axis of Paris, an imaginary straight line that starts at the Louvre, runs through the Arc de Triomphe du Carrousel, continues along the Champs-Elysées, dashes through the Arc de Triomphe, to continue all the way out to the center of La Grande Arche at La Défense. And here are seven surprising reasons to make that trip.

Discover What's On When You're Here...
Discover What's On When You're Here
1. La Grande Arche de la Défense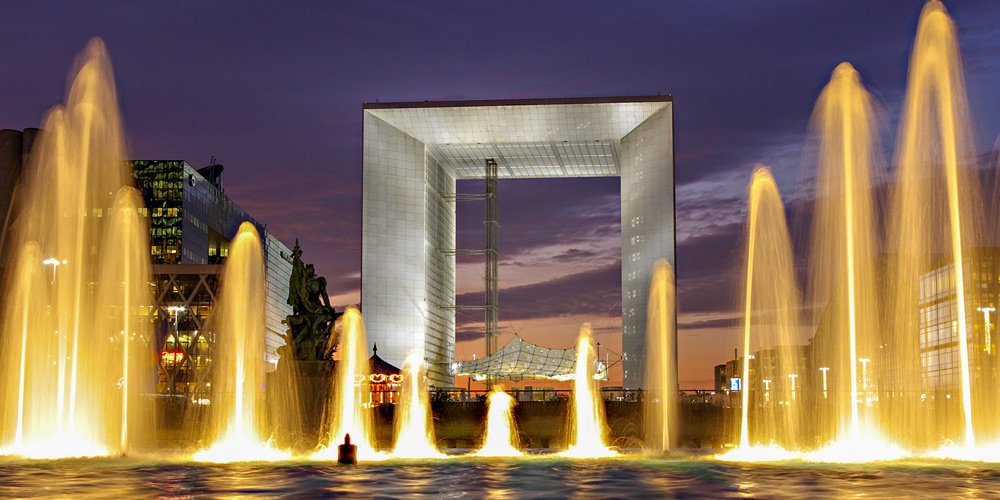 La Grande Arche is a cube, 110 metres on each side, photo Wikimedia by Feydey
Succeeding French presidents toyed with the idea of creating a visual landmark to extend the Paris Axe Historique, but it was François Mitterrand who finally launched a design competition to make this idea come to fruition. In 1983, Danish architect Johann Otto von Spreckelsen was selected to create a landmark — a modern interpretation of the Arc de Triomphe. (Von Spreckelsen's Grande Arche is twice the size of the Arc de Triomphe. Notre Dame Cathedral would easily fit inside of it!)
Instead of honoring military victories, the monumental arch is dedicated to humanitarian ideals. L'Arche, built in the shape of cube, is made of concrete and covered with glass and Carrara marble. The 110-metre-cubed structure was inaugurated in 1989 as part of the bicentennial of the French Revolution. The rooftop, closed for several years, has recently reopened with a breathtaking panoramic view, an exhibition area, and a restaurant.
2. La Défense Outdoor Art Collection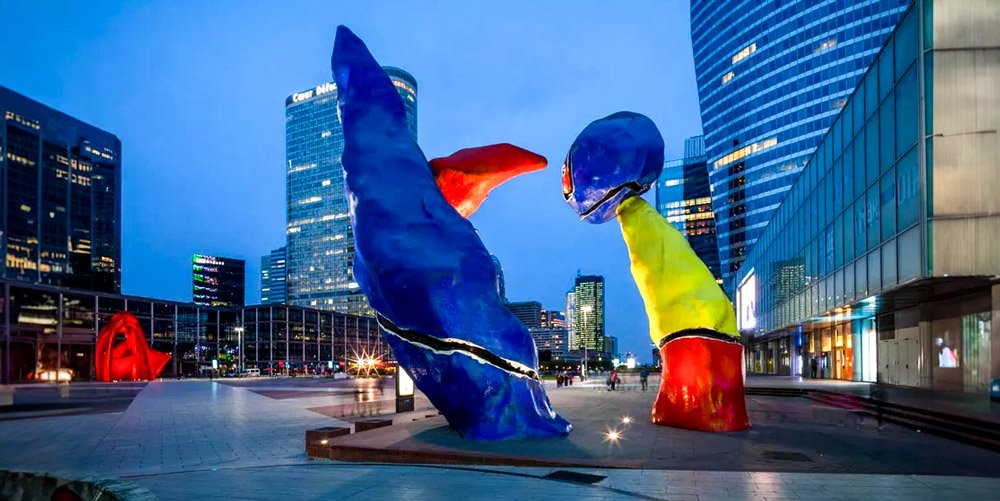 Deux Personnages Fantastiques, by Joan Miro, photo Paris La Defense
There's an outdoor art collection scattered around La Défense that includes works by Calder, Miro, and other world-famous artists. César Baldaccini is represented by his iconic sculpture of a 40-foot thumb. in total there are seventy pieces of contemporary artworks sprinkled throughout the district. The concept was an ambitious project initiated in 1958, just when the modernization of the area began. Some of the works are found on the main place of La Défense, others are hidden between skyscrapers.

3. L'Araignée Rouge – The Red Spider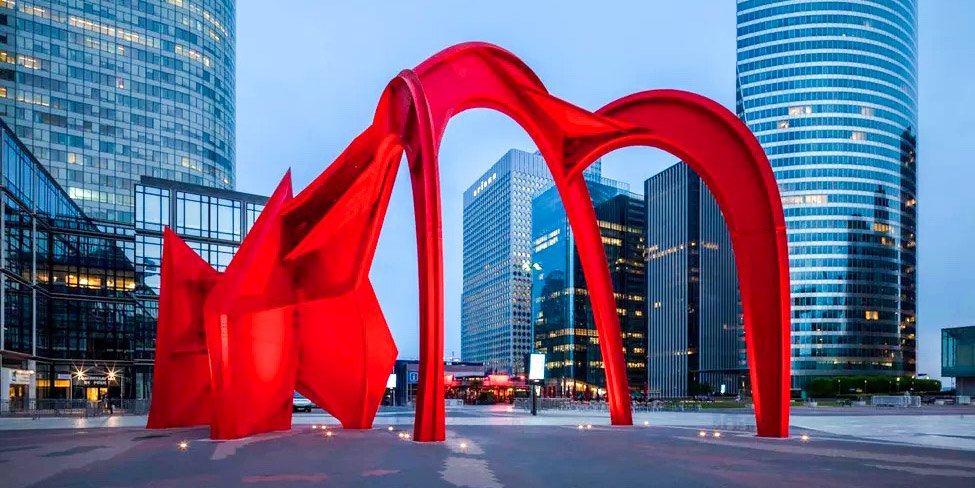 The Red Spider, by Alexandre Calder, photo Paris La Defense
American artist Alexandre Calder's (1898 to 1976) 50-foot sculpture was commissioned in 1974 to give the main esplanade of La Défense a more human-scale feel. An engineer by training, Calder built L'Araignée Rouge based on six vertical panels that were welded in a factory and assembled on site, using special bolts designed by the artist himself. Alexander Calder's love affair with France began with his arrival in Paris in 1926 and continued until his death in 1976.
4. Green Spaces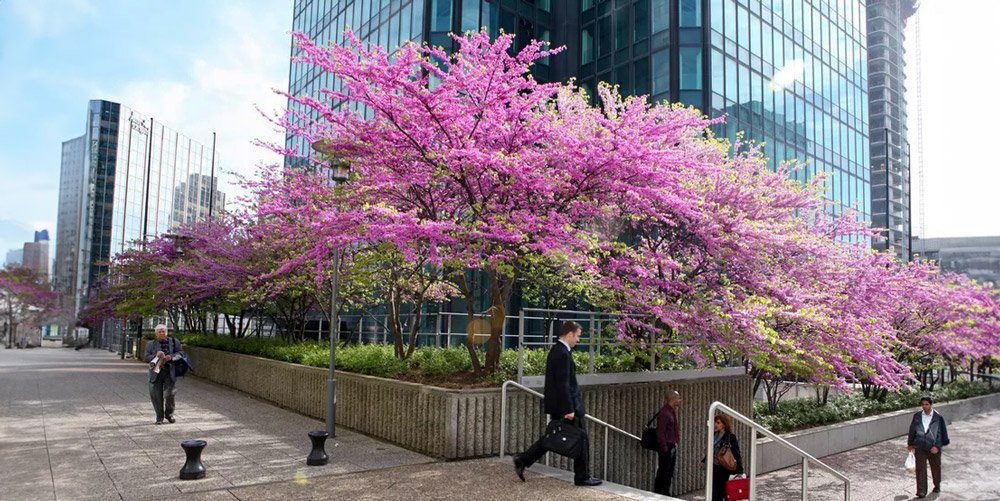 Japanese cherry trees, Place de l'Iris, photo Paris La Defense
In a district that includes almost a hundred skyscrapers, green spaces don't exactly spring to mind. However, there are a bevy of parks, places, and green spaces that dot the landscape of Europe's most expansive business area.
Cours Gambetta features a small body of water, trees, and grass. In spring, Japanese cherry trees blossom in Place de l'Iris. Parc Diderot covers 2½ acres with a garden set around a large waterfall and a collection of rhododendrons, azaleas, and boxwoods cut into squares and other shapes.
There's even a vineyard! Centuries ago, La Défense was home to some famous vineyards, close to the forest of Saint-Germain. Today, what remains is Clos de Chantecoq. In 2007, Pinot Noir and Chardonnay grapes were replanted on ten acres at La Défense.

5. Tour Initiale
The first tower at La Défense, 1966, photo Paris La Defense
The oldest office tower at La Défense, Tour Initiale (that means, like, "First Tower"), stands at 109 metres high and was completed in 1966. Its simple linear form reflects the restrictions placed on the design of buildings La Défense at the time. You can see the influence of Frank Lloyd Wright's Johnson Wax Headquarters in Wisconsin with its rounded corners. Engineer Jean Prouvé created the unique glass curtain wall. At the time, the curved glass corners could only be made in the USA, whence they were shipped to Paris.
6. Coeur Défense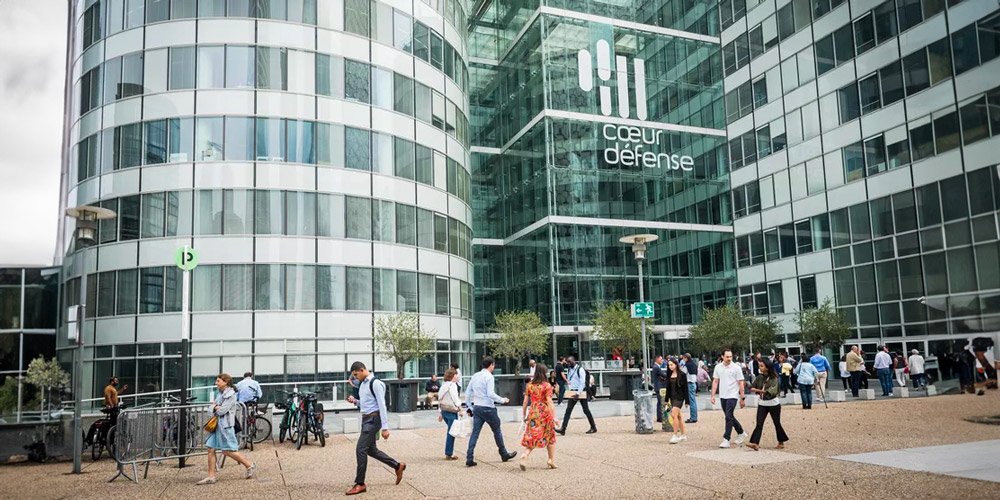 The curvy towers of Coeur Défense, 2001, photo Paris La Defense
Completed in 2001, this 161-metre-high skyscraper reflects the loosening of restrictions on form and height by the end of the 20th century. (Coeur Défense is not the tallest building at La Défense. That title belongs to Tour First at a soaring 231 metres, first built in 1974, with extra height added in 2011.) The Coeur Défense's two towers are connected with an undulating form that breaks up the mass of the building, making it appear more slender.

7. La Défense de Paris – The Sculpture
La Défense de Paris – the artwork that gave the district its name, photo Paris La Defense
In 1878, a competition was held to create a sculpture to commemorate those who participated in the defense of Paris during the Franco-Prussian War of 1870-1871. Hundreds of proposals were presented by the most famous sculptors of the time, including Rodin. Instead, the jury chose Louis-Ernest Barrias. For Barrias, this marked the beginning of a successful career.
(This was the same period when the French National Assembly voted to turn over the most visible land in Paris to the Catholic Church to build a church in order to "expiate the crimes of The Paris Commune", a citizens uprising that took over Paris in 1871 just after the Prussians left. The result was the still-controversial — and some say eyesore — Sacre-Coeur on the Montmartre hill.)
La Défense de Paris is a monumental sculpturein which the city of Paris is depicted as a woman dressed in the National Guard uniform, standing proudly. A young girl at her feet represents the suffering of civilians during the siege while an injured soldier beside her tries to load his rifle. He represents the resistance of the people of Paris.
The bronze sculpture was originally placed in the middle of a busy, six-lane traffic circle. But in 1983 it was decided to move the sculpture to La Défense. Today, this piece of 19th-century art is situated on the esplanade, amidst all that modern art, and maintains an important place at the center of the district.

La Défense History 101
The view of La Défense from the Arc de Triomphe, photo by Mark Craft
In that infamous period of urban planning known as The Sixties (the 1960s, to be clear) proposals were made for skyscrapers to be built throughout Paris, with the intention of "echoing the beauty of the Eiffel Tower". However, in 1972 when the tall, controversial, and massive 210-metre-high Tour Montparnasse was completed, there was a public outcry.
Further construction of skyscrapers within the Paris city limits was halted. So, city planners looked westward, just two miles outside of Paris, to plan their future skyscraper city. Initially, buildings were restricted to rectangular 30-floor-high structures, but over time, these restrictions were loosened. Today, there are 72 glass and steel buildings, with 180,000 daily workers, and 3,500,000 square metres (38,000,000 square feet) of office space.