Canal Saint-Martin – The Waterway & The Trending Neighborhood
Canal Saint-Martin is a trending neighborhood filled with younger Parisians who are attracted to the cheaper rents, la branché (that's trendy in French ), the restaurant scene, and the canal itself. This happening quartier straddles the canal in the 10th and 11th Arrondissements; the streets spreading east and west of the canal are peppered with cafes, ethnic restaurants, and old favorites like Le Verre Volé, Chez Prune, and Hotel du Nord.

14 Great Things About Canal Saint-Martin Paris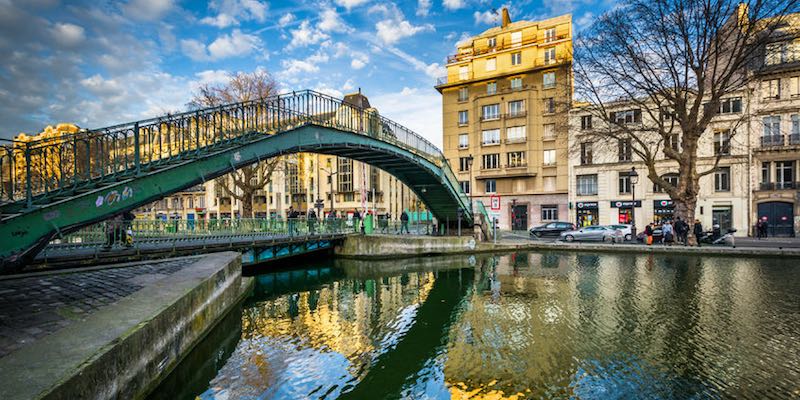 This is a wonderful way to experience both the canal itself and the quartier it flows through. As a bonus, you also get to cruise along the Seine River. It's a leisurely boat ride on the canals built by the two Napoleons, underneath Place de la Bastille, through The Arsenal, and out along the Seine.
We like the afternoon version of this cruise that starts off on Canal du Ourcq in the middle of Parc de la Villette in the 19th. We recommend you take Metro Line 5 to Porte de Pantin and walk through the parc. If you've timed it right you'll be able to stop for lunch at Café de la Musique.
It's a real pleasure to be able to sit back and watch this part of Paris pass by. You'll go through the former port of Bassin de la Villette, through all locks on the canal, and go underground to Place de la Bastille before finally emerging into the Seine and eventually docking near Musée d'Orsay. Two-and-a-half hours of pure relaxation. (The morning tour goes in the opposite direction.)

2. Hotel Fabric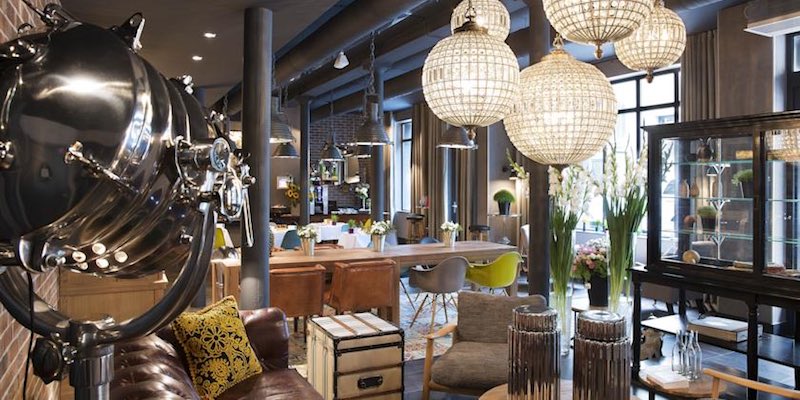 On a quiet street near Boulevard Richard Lenoir is this homey, comfortable, yet thoroughly modern hotel. This former textile factory was only converted into a modern hotel a few years ago and everything still seems spanking new. It's a good location, near the Metro, and a great value for a comfortable sleep.
"An excellent location," one traveler opined, "whether staying for business or pleasure; warm, friendly, efficient and helpful staff; beautiful ambience and decor. Will definitely be a first choice when returning to Paris." We ourselves give it one of our highest ratings, and it's our top choice in the quartier.
Our Rating — Superb
• 31 rue de la Folie Mericourt
• 11th Arrondissement
3. Flaneurs & Fishermen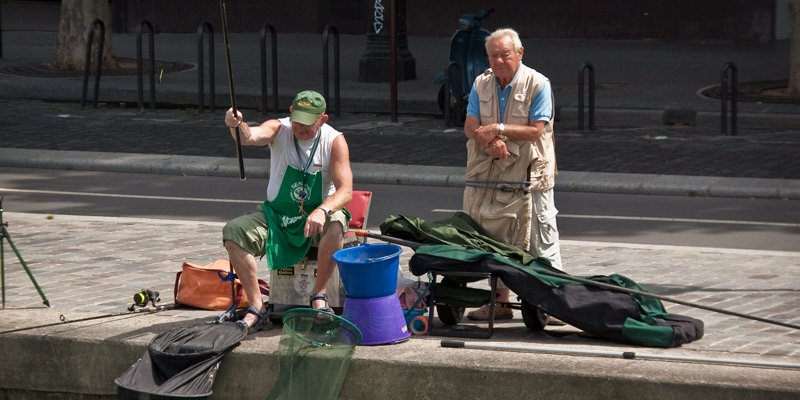 If you've ever seen the classic 2001 French film Amelie, you may recall the heroine, Amelie herself, skipping stones from an iron bridge that overlooks the canal. Like her, other Parisians love to relax along the canal's tree-shaded banks and you'll often see picnickers, poets, philosophers, and pêcheurs (fishermen) waterside. As a place to see and be seen Canal Saint-Martin is especially popular with the under-30 crowd. Despite its influx of flaneurs (strollers & pedestrians, like us), the canal remains charmingly calm.
As for the fishermen, we hesitate to guess what they might be catching!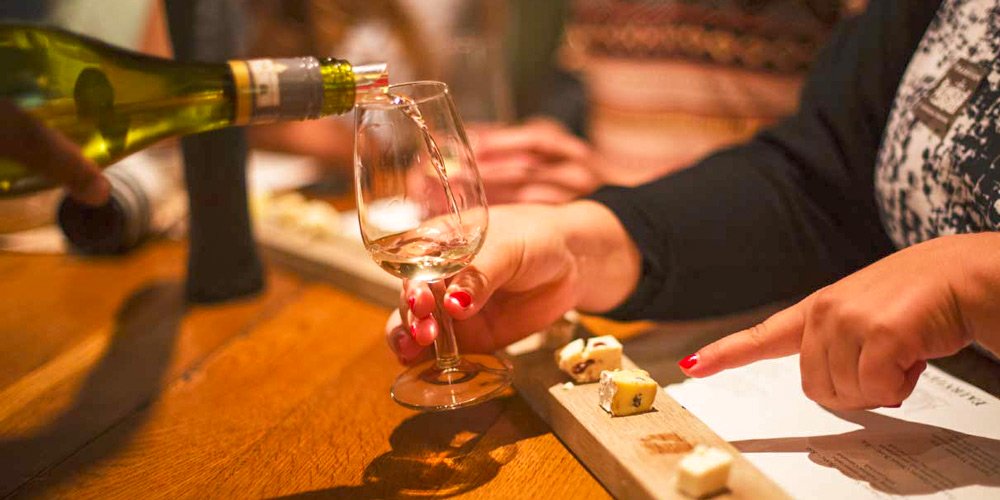 At a fromagerie located just where Canal Saint-Martin dips underground, you meet an expert in the art of cheese aging to learn about the cheeses of France, how they are made, and how they are aged to perfection in fromageries such as this one.
In the aging room, you are introduced to Beaufort (a raw cow's milk cheese produced in the French Alps), Etivaz (a hard, raw cow's milk cheese made in the Swiss Alps), and five other cheeses. You learn the history, traditions, and techniques of French cheese production, sampling at every stage. Each cheese is paired with a French wine.
5. Hotel Marais Bastille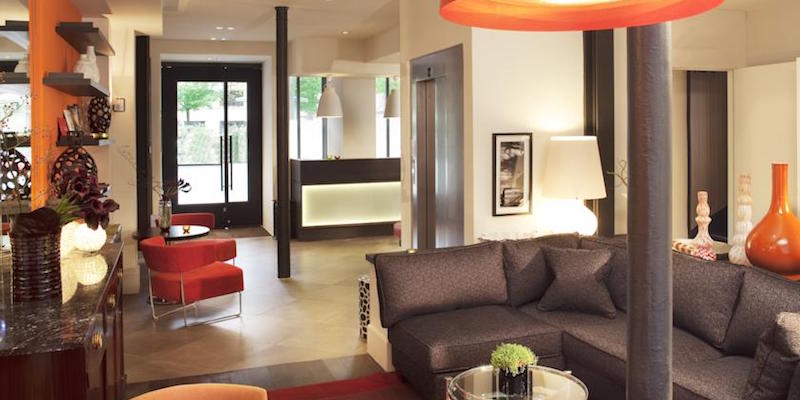 Despite the name, the hotel is neither in the Marais nor at Place de la Bastille, but near to both on tranquil Boulevard Richard Lenoir. This Canal Saint Martin quartier affordable hotel features a rooftop terrace, garden, and a library. It's just steps from the Metro (Bréguet-Sabin) with easy access to the Marais, the Bastille, and even the train stations Gare du Nord and Gare de l'Est.
• 36 Boulevard Richard Lenoir
• 11th Arrondissement

6. Two Napoleons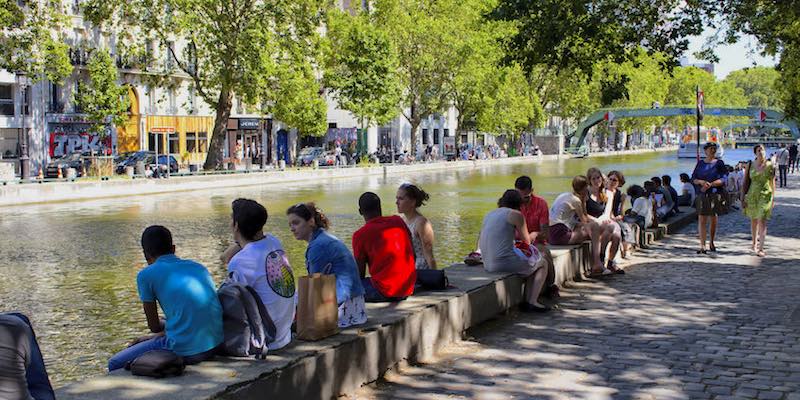 In 1802 Napoleon Bonaparte ordered the construction of Canal Saint-Martin. His vision was for this canal and others it connected with to become supply routes for Paris bringing in food, fresh water, and other goods. Under the guidance of of Pierre-Simon Girard, a top notch mathematician and road engineer, the canal was completed in 1825.
Barely half-a-century later, Napoleon's nephew, Napoleon III, undertook another massive modernization of Paris by building boulevards, parks, and sewers. When nephew's own engineer, Baron Haussmann, was in the process of creating the new straight-as-an-arrow boulevard Voltaire, instead of just building a bridge over the famous waterway, he sent the canal underground to create Boulevards Jules Ferry and Richard-Lenoir that now run above the subterranean canal.
7. Going Underground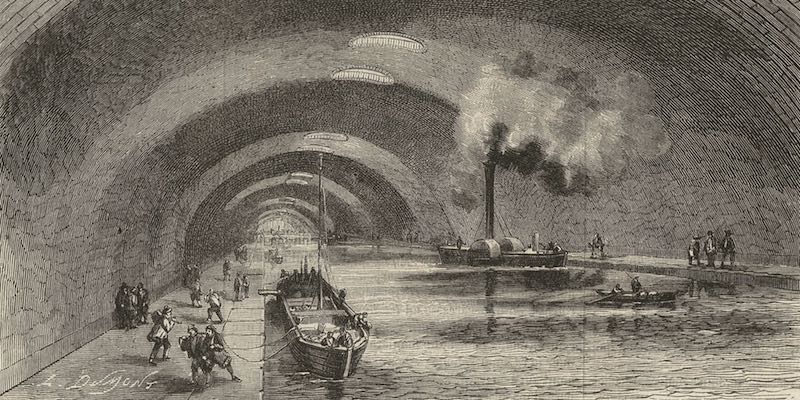 It was an odd decision by Haussmann to send the canal underground. In fact, he had to dig the canal lower and modify some locks to accomplish this. Coming from the north, the canal now dips underground near Place de la République and continues on to pass beneath Boulevard Voltaire all the way to Place de la Bastille (passing pretty much directly under the column), dumping out at The Arsenal, where private boats are docked.
This cavern-like passage makes for an extremely interesting canal boat ride. Another positive result is the narrow strip of parks created on Boulevard Jules Ferry and on Boulevard Richard-Lenoir. There are paths to stroll along, benches where you can rest, and play areas for children.

8. Hotel Gabriel
With a great location near Square Jules Ferry in the happening 11th Arrondissement, there's a zen-like vibe at the Gabriel. The common spaces are welcoming with a clean design and relaxing colors. The modern rooms are decorated in a white-on-white palette and the minibar offers antioxidant drinks and teas. It's an easy walk to the Marais.
• 25 Rue du Grand Prieure
• 11th Arrondissement
9. Restaurant Hôtel du Nord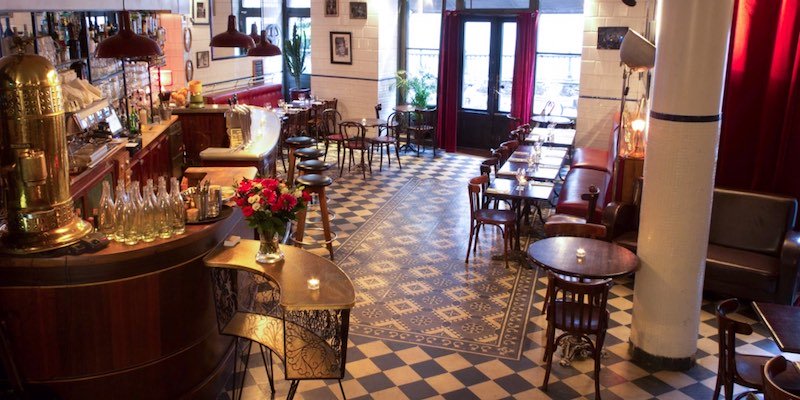 Hôtel du Nord was made famous by the 1938 French film of the same name. It's worth seeking out to have a glass of wine by the authentic zinc counter or on the outdoor patio or have lunch in the classic bistro. The young owners have infused a new life into this cafe and restaurant that was once slated for demolition. (Not to be confused with the many accommodations that have "Nord" in their name, such as Hotel at Gare du Nord.)
102 Quai de Jemmapes, 75010

10. Marché Couvert Saint-Martin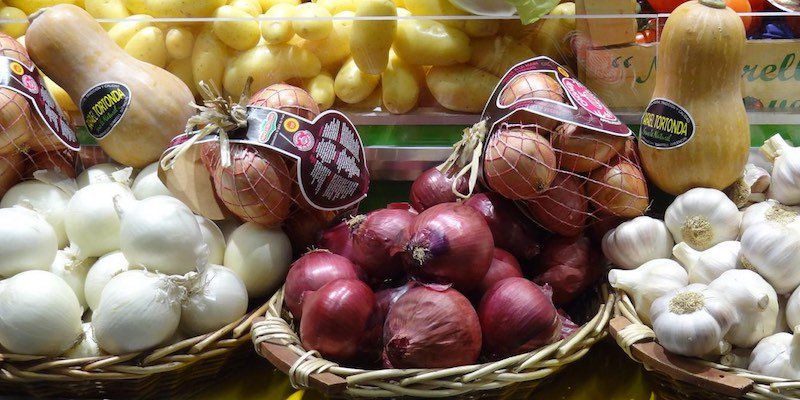 This historic covered food market — established in 1854 and one of only five covered markets remaining in Paris — is open Tuesday to Saturday from morning till night as well as Sunday mornings. This is the place to stock up on everything you need for your picnic along the canal — cheeses, hams, sausages, prepared fine foods, and a good selection of fresh fruits & vegetables.
31-33 Rue du Château d'Eau 75010
11. Le Jardin Villemin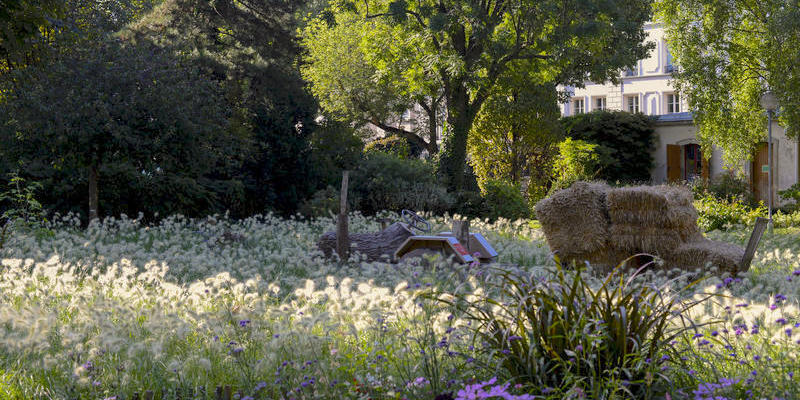 Le Jardin Villemin
Le Jardin Villemin is a small but lush park on the banks of Canal Saint Martin at the corner of Rue des Récollets and Quai de Valmy (which runs along the west bank of the canal). Head there on a Saturday to see young families enjoying a picnic and sunbathers soaking up the rays. You'll also find a playground, a pond, water fountain and bandstand.
14 rue des Récollets 75010

12. Le Point Ephémère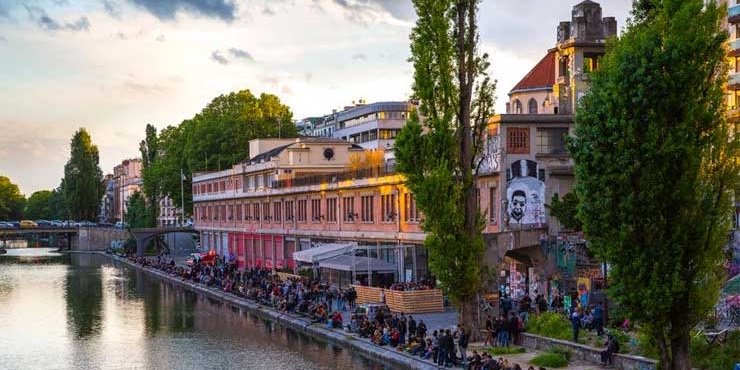 Le Point Ephémère on Canal Saint-Martin
Also along Quai de Valmy, but closer to the top of the canal, is Le Point Ephémère, a popular Canal St Martin venue for exhibitions, concerts, and events. It also has a lovely rooftop garden restaurant open during the summer months.
13. Alfred Sisley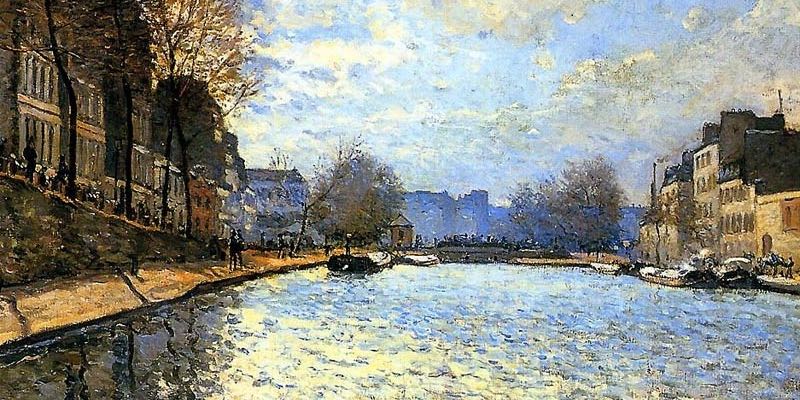 Canal Saint Martin by Alfred Sisley, 1870
Born to British parents in Paris, Alfred Sisley was sort of at the tail end of the Impressionists. Even though he spent most of his life in France, you can see in some of his work the influence of those British landscape painters of the 19th century. But Sisley was also influenced by, compared to, and overshadowed by Claude Monet.
Sisley was particularly attracted to water scenes — seasides, bridges, rivers, and by Canal Saint-Martin, and it's his 1870 painting of the canal that's shown here. But that wasn't the only time he painted the waterway. There's another 1872 Sisley of Canal Saint-Martin in Musée d'Orsay. Given that he produced over 900 canvases, it's likely that he did one or two others of the canal.
By the way, one of Sisley's paintings holds the dubious distinction of having been stolen three times, from the same museum, and recovered three times. Allée des peupliers de Moret, now in the Musée des Beaux-Arts in Nice was first stolen in 1978 when it was on loan to Marseilles (recovered in a sewer), again in 1998 (stolen by the museum's curator!), and again in 2007 (recovered once more in Marseilles). The lesson? Keep your valuable paintings away from Marseilles!
14. Inspector Maigret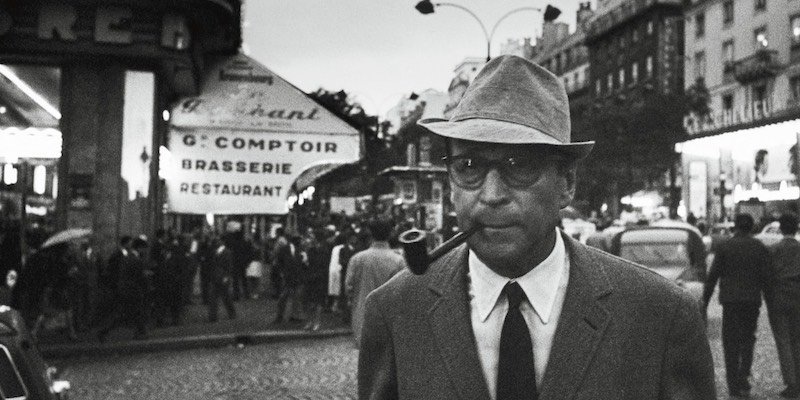 Author Georges Simenon in Paris
Long before the area was trending, Inspector Jules Maigret of the Police Judiciaire lived right on top of Canal Saint-Martin, or as near as one can get, on Boulevard Richard-Lenoir. Georges Simenon's fictional detective prowled the streets of a Paris that seems locked in the 1930s, even though the books were written right up until the 1970s.
Where exactly on Richard-Lenoir did Maigret live? Ahh, but that is the question that continues to intrigue readers.

Canal Saint-Martin Paris Resources

At Pont Crimée, heading into Le Bassin, photo by Mark Craft
Canal Saint-Martin is both a waterway and a district of Paris. The former is a 4.5 kilometre long canal that connects the waters of northeast Paris to the Seine via nine locks. Canal Saint-Martin begins where Canal de l'Ourcq pours into Bassin de la Villette up in the 19th Arrondissement, and the first lock is beneath Metro Line 2 at Stalingrad.
The canal is drained and cleaned every decade or so. Not surprisingly, tons of treasure and trash (mostly trash) are uncovered.
Canal Saint-Martin connects the river Seine to Canal du Ourcq in northeast Paris and, beyond that, to the river l'Ourcq, which meanders through eastern France, often paralleling but never quite joining the river Marne.
The upper entrance of the canal is close to the Place de la Bataille de Stalingrad, up in the corner where the 10th meets the 19th Arrondissement.
The Metro lines serving this quartier are Line 11 and Line 5, running along Boulevard Richard Lenoir.
Canal Saint-Martin can be accessed from Paris Metro stations Stalingrad, Republique, Jaures, Oberkampf, Richard-Lenoir, Bastille, and Quai de la Rapée
In that regrettable period of urban planning of the 1960s there was talk abroad — among François Mitterrand and his cadre — of filling in Canal Saint Martin to make way for a wide motorway. These guys were enthralled by that urban planning goon, Le Corbusier. (See what he wanted to do to Paris.) Luckily good sense (or small budgets) prevailed.