Musée Bourdelle – Visit The Home & Studio Of The Artist
Musée Bourdelle is another very good reason to venture off the Paris tourist route and head into uncharted territory of the 15th Arrondissement. The museum is located in the space where the famous sculptor and all-around artist Antoine Bourdelle worked and lived for 45 years, until his death in 1929. Visiting his studio, gardens and workshops takes you into the secret world of the 19th and early 20th century artist.
Considered a pioneer of 20th-century monumental sculpture, Antoine Bourdelle's works can be found today in many places in Paris including across from the Eiffel Tower at the Palais de Tokyo. His sculpture, La France, was completed in 1922 and now stands majestically above the Musée d'Art Moderne de la Ville de Paris. Musée Bourdelle is one of the City of Paris Museums and so the permanent collections are free to visit — just one more reason to love it.

From Studio to Museum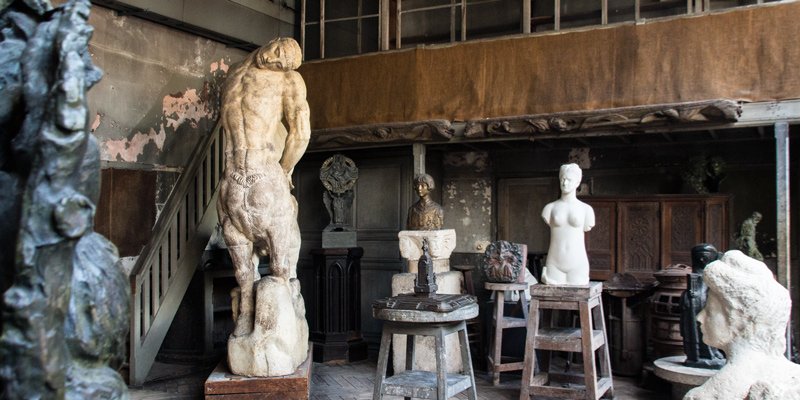 Bourdelle's studio today, photo by Mark Craft
The year was 1885 when Bourdelle, an up-and-coming artist, located an affordable studio in what was then the heart of the Bohemian district. The floor-to-ceiling windows and rambling garden were an extra bonus. Today, the museum is virtually unchanged from his time as a living artist.
The museum is a swirl of his plaster casts, bronzes, marbles, stone, antiques, drawings, and photographs. There are also paintings by Bourdelle; although we wasn't known as a painter, they do shed light on his early career. Although it is a small Paris museum, you will want to take several hours to maneuver through the various collections — sculptures, graphic arts and photography. Also plan to linger in the gardens on warm days.

What You'll Find at Musée Bourdelle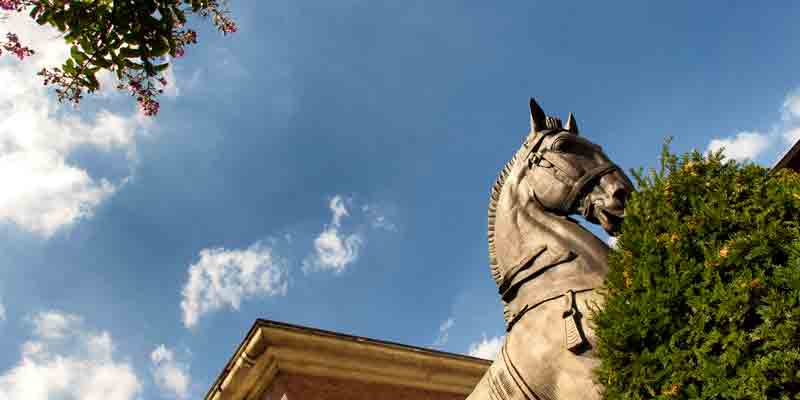 One of the monumental sculptures in the garden, photo by Mark Craft
Sculptures
There are over 2,000 plaster casts and and bronze statues, including thirteen marble sculptures and many in clay, stoneware and wood. The museum's collection was created in two phases; the first donation was made in 1949 by his wife and daughter to the City of Paris. The second donation was made by his daughter in 2002.
Graphic Arts
Bourdelle sketched throughout his life, from his school days to the end of his days. He said, "Sculpture is just drawing in every direction". There are a staggering 6,200 drawings in the collection. There are also pastels, charcoals, pencil and ink drawings, and watercolors that reflect his life of artistic creation.


In the courtyard, photo by Mark Craft

Photography
The vast photo collection holds 20,000 photos and documents starting from 1880. The majority were donated to the City of Paris by Bourdelle's daughter, Rhodia Dufet-Bourdelle, in 1995. The rare collection includes private and personal photos from his studio, with models, pupils, and family members.
Antoine Bourdelle's Art Collection
As an art lover, Antoine Bourdelle built his own collection throughout his life. The collection is diverse and includes drawings and paintings from known masters like Monticelli, Van Gogh, and Rodin, as well as medieval wood sculptures, small antiques, Japanese prints and modern engravings and photographs. Much of his collection is now displayed in the apartment, where Bourdelle liked to reflect.

Meet Antoine Bourdelle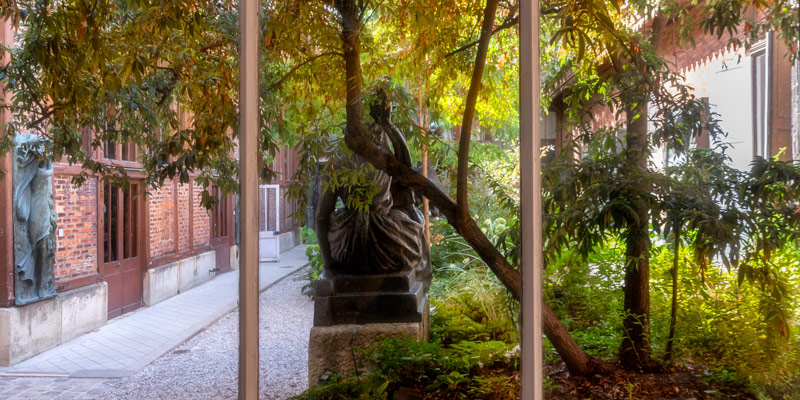 The courtyard garden, photo by Mark Craft
Born Emile-Antoine Bordelle (sic) in Montauban in 1861, an hour from Toulouse, he was the only son of a carpenter and cabinet maker. (Just in case you were wondering, that's not him in the photo above.) At 13 Antoine joined his father as an apprentice. In the evenings he took drawing classes where he learned modeling techniques based on antique plaster casts. In 1876 Bourdelle was awarded a scholarship to the Toulouse School of Fine Arts.
Bourdelle worked hard during the eight years of studies in Toulouse. He was finally accepted into the Paris School of Fine Arts. In 1885, he moved into the studio at 16 Impasse du Maine, now renamed 18 rue Antoine Bourdelle. That same year his plaster cast of The First Victory of Hannibal won a medal at the Salon of French Artists.
In 1893 Auguste Rodin (yes, that Rodin) hired him as an assistant. In 1900, Bourdelle decorated the theatre of the Grevin Museum theatre, (now a French historic site). In 1905, he was invited to exhibit his first private show at a Paris gallery on Rue Royale. Bourdelle's exhibition included sculptures, paintings and drawings.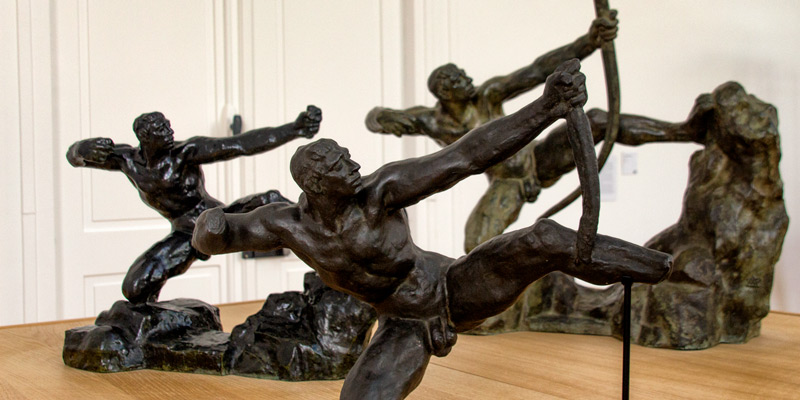 Casts of "Hercules the Archer", Bourdelle's most famous work, photo by Mark Craft

In 1908 Bourdelle exhibited for the first time at the Salon d'Automne. At the Salon of the National Society of Fine Arts (1910), Bourdelle's Hercules the Archer was acclaimed by the critics. His masterpiece was in high demand by museums and was reproduced everywhere. The Grevin Theatre then gave Bourdelle another commission, this time for the prestigious Théâtre des Champs-Elysées. He again proved himself as a gifted architect, sculptor and painter.
During the next decade (1919-1929) Bourdelle completed many commissions in France and around the globe, including La France at the Grand Palais and the Monument to General Alvear in Buenos Aires. Towards the end of his life, Bourdelle worked hard to ensure that his home & studio would be transformed into a museum. The Musée Bourdelle was inaugurated twenty years after his death, in 1949.
Musée Bourdelle Resources
18 Rue Antoine Bourdelle
15th Arrondissement
Metro – Falguère, Line 12