We'll Always Have Paris Books.
Eat. Drink. Travel. Read.
We review the books we love – about the city we love. When we're not in Paris we're dreaming about Paris. And our favourite way to dream about Paris is to read great books about the City of Stories.
So think of this as our book club, but a special kind of book club. One dedicated to the beauties, the culture, the food, the wine and the life of just one city — Paris.
Sometimes we'll trot out an old favourite, Julia Childs comes to mind. Or maybe Hemingway. Sometimes we'll share new books we've just discovered. They might be about a walk along the Seine, or about a lifetime spent in Paris.
Some books will help us get deep into the food culture of Paris (and we must confess that those are some of our favourites), others will contemplate the history of the city. And who doesn't love a great novel set in Paris?
But it's not just about us. We want to hear about your Paris book discoveries. So please, drop us a line.
Hungry for France
Adventures for the Cook & Food Lover
Alex Lobrano, Steven Rothfeld, Jane Sigal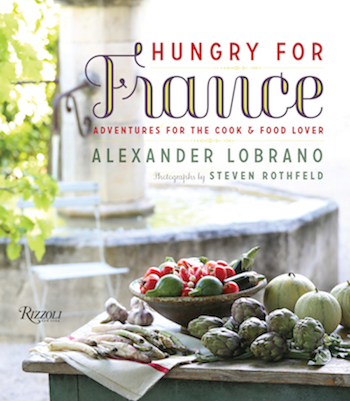 Anybody who has been interested in the food and restaurants of Paris is likely to already own Hungry for Paris, Alex Lobrano's book of restaurant reviews and food adventures.
Now Lobrano has expanded his vision and takes readers on a culinary journey to the food-rich regions of France — which is to say, almost all of the country.
But there's more than just Lobrano's writing to the book. What makes it very special, and one of our current faves, are the luscious photographs by Steven Rothfeld that accompany Lobrano's writing. And let's not forget about the equally-luscious recipes by Jane Sigal (who for some reason doesn't get a cover credit).
It's a large-format book ("coffe table") and the photo printing is superb. The price at Amazon is pretty good, especially Amazon.ca, so we'll include the links.
A Gourmet Tour of France
Legendary Restaurants from Paris to the Cote D'Azur
Gilles Pudlowski, Maurice Rougemont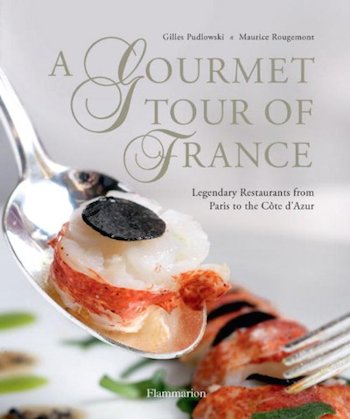 Gilles Pudlowski is a French food writer and critic who often manages to land himself in controversy with chefs and with other critics.
He's not well known here, so it's a bit surprising to find this large, full-colour book available in an English translation.
Pudlo (as he's known) takes us on a decadent journey to the elite players in French cuisine: 3-stars, luxurious, amazing. Guy Savoy, Pierre Gagnaire, La Tour Argent, the list goes on. He takes you inside the restaurants, you meet the chefs, you see the food he eats
Once again, the accompanying photos are what really make the book work: gorgeous in lovely full-colour.
We don't know what the original price of the book was, but we notice that this beautiful piece of printing is at Amazon at a surprising low price, what you'd expect to pay for a paperback. Once again, the Canadian price comes in lowest!
Paris at the End of the World
The City of Light During the Great War, 1914-1918
John Baxter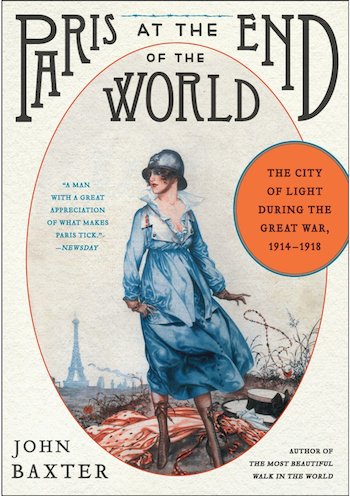 When a city is over 2000 years old there's going to be a lot of history, and a lot of stories.
John Baxter has been living in and writing about Paris for more than twenty years. He wrote a best-selling book about Paris that we love going back to, The Most Beautiful Walk in the World, and now he turns his attention to a little-known story of the City of Light: what it was like to be in Paris during World War I.
During those terrible years Parisians lived under a constant threat of invasion and destruction. Although in the end the war never reached Paris, it was so near that the sounds of battles reached the city. So near that a brigade of taxis could drive soldiers to the front lines.
Baxter shows us that, even during a time of stress and fear, "Paris blazed more brightly than ever." He tells the story of individuals, both famous and unknown, and the story of the city, its artists, its nightlife, its culture, and what it was like to be Parisian during the most terrible war Europe had seen. But though it was a dark time, Baxter's book is spellbinding, even uplifting, and puts you right inside the life of Paris during the 'teens.
Paris, paris
Journey Into the City of Light
David Downie, photographs by Alison Harris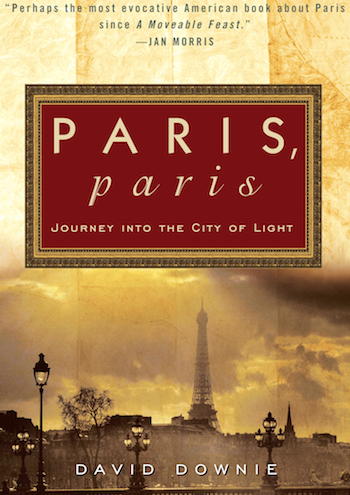 David Downie has been luckier that most of us, spending his days rambling around Paris and then writing about it. And he writes about it deliciously.
This is the book we go back to whenever we want to really feel like we're in Paris. We consider this book a Paris classic, although it was published only in 2011.
Downie's book is exactly like accompanying your best friend on wandering walks in Paris: but the friend who has a lot to say, all of it interesting; the friend who knows the best places to stop for a glass of Jurançon sec from southwestern France; the friend who can sit on a bench with you, admire the view, and muse about what Paris really means.
As one reviewer said, "I ate the book up like a plate of many-colored macarons, savoring every flavor." We feel the same way.
Highly recommended for you and all your francophile friends.
Don't Miss a Single Paris Travel Tip.
Sign up for Le Petit Journal!
The Newsletter of Paris Insiders Guide
Don't Miss a Single Paris Travel Tip.
Sign up for Le Petit Journal!
The Newsletter Of Paris Insiders Guide