Musée Jean-Jacques Henner – Art In A Glorious Mansion
Chances are you've never heard of the Symbolist painter Jean-Jacques Henner (1829-1905). But the Paris museum dedicated to him — with 2,200 works of art and objects — is worth a Metro ride to a bucolic neighborhood near Parc Monceau, in the 17th Arrondissement. The mansion dedicated to this 19th-century painter is of the one of the only private mansions of the Third Republic open to the public.
Musée Jean-Jacques Henner houses the largest collection of his works, from his early days in Alsace to his years in Rome to his rise to prominence in Paris. Famous for his sensuous nymphs, Henner's other paintings range from historical to religious to mythological subjects, and from Italian and Alsatian landscapes to portraits and scenes from everyday life.
The Museum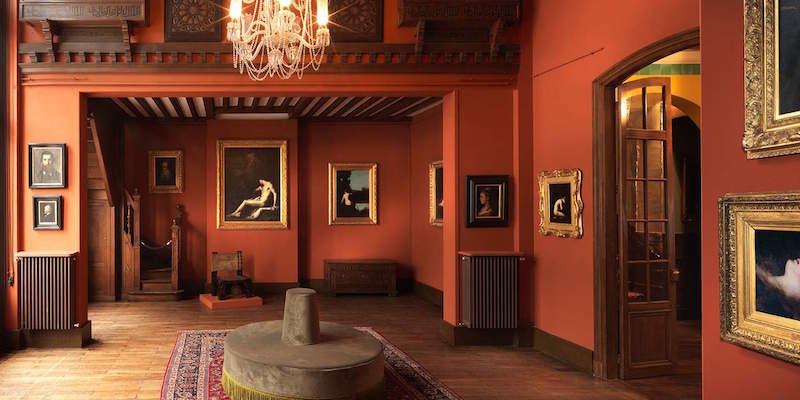 Let's travel to the urban oasis of the 17th Arrondissement to learn more about the artist and Musée Jean-Jacques Henner. First off, Henner never lived here or even worked at this location. According to his diaries, Jean-Jacques Henner was an occasional guest of the mansion's owner, Guilliame Dubufe (1853-1909). Henner was familiar with the house and the winter garden, but he would never have guessed that this residence would one day house his own treasures.
The collection highlights Henner's development as an artist, but it also shows the techniques he used by displaying his sketches, drawings, and tracings. Here, you can see the paintings that made him famous — Saint Sebastian and Solitude, on long-term loan from the Louvre and the Musée d'Orsay.
The Mansion
Musée Jean-Jacques Henner is located in a mansion that was purchased in 1878 by the artist Guillaume Dubufe. He lived here for many years and, as a successful artist, he lived a pretty good life with his wife and family. After Dubufe's death, the mansion was bought by Marie Henner, the widow of Jean-Jacques Henner's nephew, to create a museum devoted to the artwork of her husband's uncle. Upon her death, the estate was bequeathed to France.
An architect was commissioned to complete a large-scale renovation, which transformed the entrance area into a museum hall and opened up the winter garden. The museum premiered in 1924 and its first curator was a pinter named Many Benner, a former pupil of Henner. (Benner? Henner?) In 1935, an apartment and studio were added for the use of the curator. In accordance with the benefactor's wishes — the appointed curator must be a painter and would be provided with a living and working space. Until recently, these two rooms were closed to the public.
A more recent major renovation removed an awkward 1930s elevator, painted the walls in the original polychrome style, opened the dining room to visitors, and added a new glass roof in the winter garden.
The Artist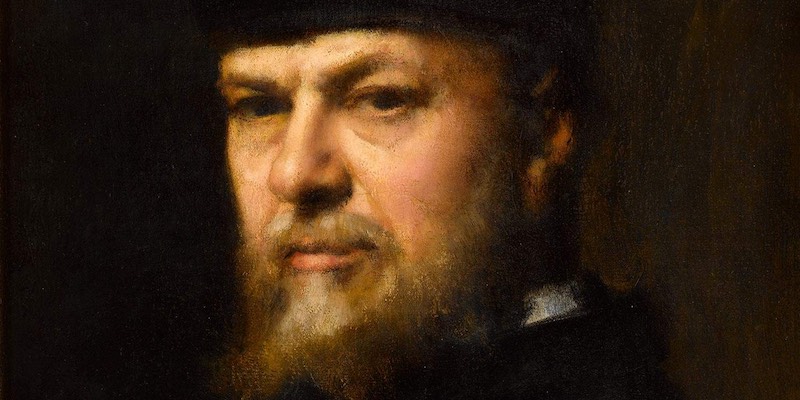 Self-portrait, Jean-Jacques Henner, 1877
From humble beginnings as a farmer's son, Henner eventually became a successful and famous painter. Born in 1829 in southern Alsace, Henner chose to remain a French citizen after it was annexed by Germany. But he kept strong ties with his homeland and his love of this that can be seen in his many Alsatian landscapes.
His talent was first recognized at school by his drawing teacher; Henner continued his studies in Strasbourg and won a place at the École des Beaux-Arts in Paris. Along with his studies, Henner loved to spend time in the Louvre and was influenced by Italian Renaissance painters like Titian, Raphael, and Correggio.
In 1858, after two unsuccessful attempts, Henner won the Grand Prix de Rome for his painting, Adam and Eve Discovering the Body of Abel. This was a pivotal time in his career — he lived and studied at the Villa Medici in Rome for five years, where he met other artists, sculptors and composers who helped launch his career.

Reclining Nude, Jean-Jacques Henner, 1869

After returning to Paris from Rome, Henner concentrated on Naturalism, as witnessed in his Reclining Nude known as Lady on a Black Divan. Influenced by Manet and Degas, Henner exhibited another work, La Toilette, in 1868. Sadly, he eventually destroyed the painting, due to the negative reviews it received. Henner abandoned the naturalistic style and became inspired by an idealized period of Antiquity, a style known as Symbolism. His new style of paintings evoked pastoral poetry of classical literature and mythology.
From the 1870s, Henner became an established artist and a popular portrait painter. In 1903, Henner was awarded the Order of the Legion of Honour. Many of his paintings were acquired by the Musée du Luxembourg. His Reader and Millet's Angelus now hang in the Musée d'Orsay.
Although Henner did not own a large personal collection, he did have paintings, sculptures and drawings by several other artists — Paul Dubois, Adolphe Monticelli, Félix Trutat, Antoine Vollon, and Jean & Many Benner. Also on display at his museum are his personal belongings like furniture, painting materials, letters, photographs and documents.
Musée Jean-Jacques Henner Resources
43 Avenue de Villiers
17th Arrondissement