Musée Gustave Moreau – From Family Home To Museum
Once the childhood home of Symbolist painter Gustave Moreau (1826-1898), the townhouse was transformed into a museum during the final years of his life. The small, charming Paris museum, set on three floors, overlooks a nice garden. The main floor apartment features a sea-green dining room, bedroom, boudoir, hallway, den, and office/library. This quaint museum offers a fascinating glimpse into Moreau's life and art.
The second and third floor studio spaces display Moreau's famous works — Jupiter and Semele, The Abduction of Europa, Prometheus, and The Unicorns. There are 1,200 oil paintings, pastels, watercolors, and drawings dotted throughout the museum. His work is wild and wacky, often colorful, full of cultural symbols. (Like his Venus Rising from the Sea, below.) Let's learn more about Gustave Moreau, the quintessential Symbolist painter, and his museum.
Moreau's Family Home Becomes a Museum
In 1895 Gustave Moreau hired Belle Époque architect Albert Lafon (who would become famous for the museum's spiral staircase) to transform his home into a museum. Two large studios were built on the second and third floors with two new rooms on the first floor. Moreau's den is a cabinet of curiosities, a place where rare books and precious objects, collected during his lifetime, are displayed.
A glass case with brass doors contains a rare collection of antiquities that belong to his father, Louis Moreau. There are Roman ceramics that date from the 5th and 6th centuries BCE. Along with these treasures are bronze replicas of sculptures used in his paintings. In some bookcases are rare architecture editions from the 16th and 17th century, also acquired by his father, who was an architect. Of note is a 1836 edition of John Flaxman's Artwork, a source of inspiration for Gustave Moreau.
Museums within a Museum –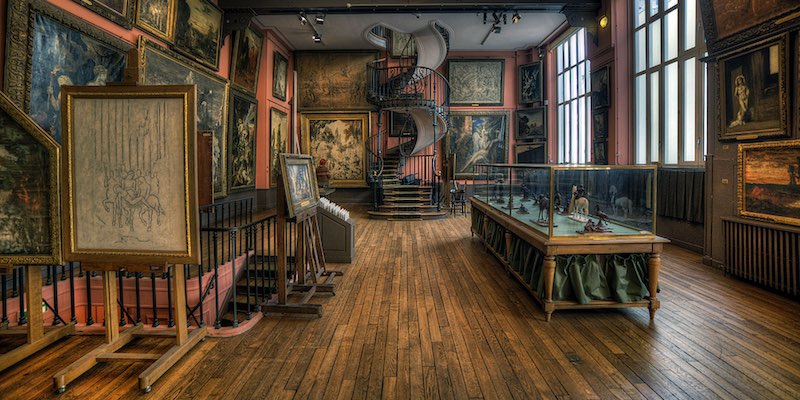 Cabinet de Réception
In this office/library, Gustave Moreau gathered his most beautiful studies of the ancient masters, copied at the Louvre and also during his trips to Italy. Moreau arranged them like a large three-dimensional album. Studies in oil and watercolor done in Naples show Moreau's interest in antiquity. The views of Rome and the surrounding area reveal his talents as a landscape painter and watercolorist.
There is only one picture not signed by Moreau in this room. It's a 17th-century still life by the Flemish painter Jan Fyt that Moreau exchanged with an art dealer for one of his Delilah paintings. The paintings in this room are displayed exactly as Moreau arranged them. This original order was restored in 2003 on the anniversary of the museum's centenary.
The Dining Room
The sea-green dining room with wood panels match the Louis XVI style chairs, purchased in 1852. The room is decorated with photographs of Gustave Moreau's works that he sold as well as engravings by other artists.
Note the rare ceramics on the credenza — a Moustier water fountain, a 16th-century plate from Faenza, and decorative plates and cups by Bernard Palissy (1510-1589). This collection, characteristic of the Restoration and the Second Empire, was also originally put together by his father.
The Bedroom
Previously the sitting room of Adele Pauline, Gustave's mother, the bedroom contains family memorabilia. Here's where Moreau stored his favourite pieces of furniture, placing his mother's writing desk alongside his own. Family portraits, paintings, drawings, and photographs are displayed on the walls. There is also a portrait of Gustave Moreau painted by Edgar Degas in 1860, after they returned from a trip to Italy.
Gustave Moreau, Life of the Artist
Born in Paris, Gustave was brought up in a comfortable upper-middle class family where art, travel, music and architecture were valued. His father was an architect for the City of Paris and his mother was an accomplished musician. His father had taught him about the classics and his mother lavished attention on the sensitive child. Gustave's love of art began on a trip to Italy when he was 15 years old. At 18 he entered École des Beaux-Arts and by 1852 his art was displayed in the Paris Salon. Moreau rose to fame in the 1864 Salon with his Oedipe et le Sphinx.
Moreau became a professor at the École where his most famous student was Henri Matisse. Moreau was also a prolific artist, producing 8,000 paintings, watercolors, and drawings. A year before his death, Moreau bequeathed his hôtel particulier and its contents to the Republic of France. Musée Gustave Moreau opened in 1903, five years after he died.
Gustave Moreau Museum Resources
14 Rue de la Rochefoucauld
9th Arrondissement
Metro — Trinité, Saint Georges