The Paris RER Rapid Transit System – Now Called Simply train
What's deeper & faster than the Metro, yet costs the same? The RER Paris, now called train, is a rapid-transit train system that runs beneath the Metro. It has fewer stops but the time between stations is only literally a few minutes. When we lived right at the Charles de Gaulle-Etoile Metro and RER station in the west part of Paris, we could get all the way across town to Vincennes (to visit the zoo) in just 15 minutes. Now that's fast.
The RER-train is part of the area-wide municipal public transportation system, RATP, that includes the Metro, the buses, the trams that run along the periphery of Paris, and even the Montmartre funicular train.

RER-train Paris Lines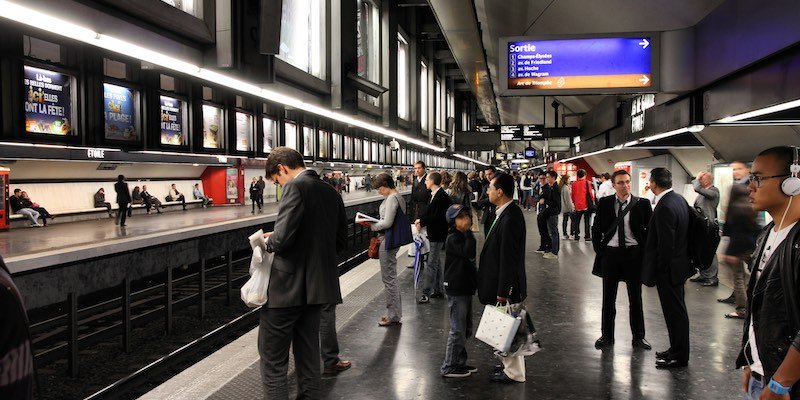 The RER system hubs in Paris, but also runs a long ways outside the city, serving suburbs like Versailles, Saint-Germain-en-Laye, Charles de Gaulle Airport and even Disneyland Paris. We use the RER to get from one place to another very quickly, say from the Eiffel Tower to Porte de Clichy in the north.
There are five RER lines, designated A through E, with many branch lines, such as A1, A2, A3. Within central Paris you usually don't have to worry about which branch line to take (for instance, A1 or A2 or A3). RER A (and most other RER lines) has only one line running through central Paris, and all the trains run on it. It's only when you are traveling outside of the city limits that you have to pay attention to the branch lines.
The RER Paris takes the same tickets and the same passes as the Metro — within central Paris. That's an important distinction, because if you want to go outside of central Paris, you will need a different ticket. (The same applies to Metro tickets.) For example, if you want to go to La Défense to the west of Paris, you can't just use a simple Metro/RER ticket. But that's not usually a worry. Everything you want to see as a visitor is in central Paris, in the transportation zones covered by basic Metro/RER tickets, included with the Paris Insiders Pass.

RER Paris – Stations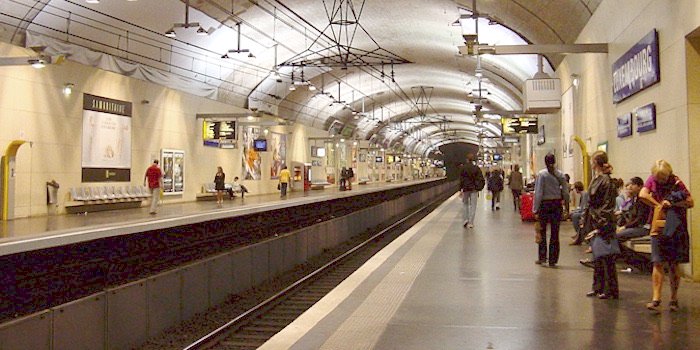 Most of the the RER stations are accessed through Metro stations. For instance, at the Charles de Gaulle-Etoile station you use your Metro/RER ticket to get into the system, but to get to the RER you go down two long escalator flights.
Some of the main RER stations in Paris are St-Michel, Charles de Gaulle-Etoile, Auber, Les Halles, and all of the train stations like Gare de Lyon and Gare Montparnasse.
More Useful Metro Information