Paris Transportation Updates 2018 — Flat-Rate Taxis & Le Bus Direct
You know how we're always saying that things keep getting better in Paris? Well, another example of that is the list of transportation improvements in Paris in 2018. For instance, it's now easier and cheaper than ever to get to and from the airport thanks to a new standard taxi fare system. Also, Air France has changed the names of the airport buses. Find out why "RER" has been dropped from the Paris transportation dictionary and learn how to get to Versailles using a Navigo pass. Allons-y !

New Rates for Paris Taxis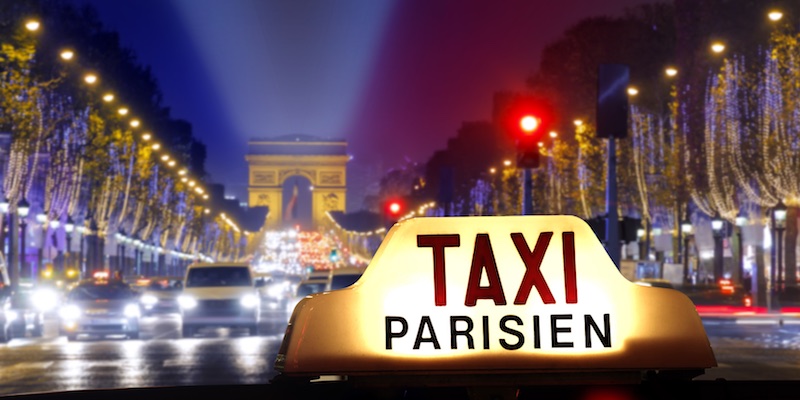 2018 saw the introduction of fixed taxi rates to and from the Paris airports. This is very good news, since traffic can be unpredictable and you'd hate to sit in a traffic-jammed taxi watching the meter tick! So, sit back and relax, knowing that you will only pay one fee to get from the airport to your Paris address
Charles de Gaulle airport to the Right Bank — €50
Charles de Gaulle Airport to the Left Bank — €55
Orly Airport to the Right Bank — €35
Orly Airport to the Left Bank — €30
There is now a fixed rate of €7 for booking a taxi in advance. Another important change is that luggage supplement fees have been discontinued. However, there is still a surcharge for a fifth occupant, applied to the fare.

Le Bus Direct from the Airports
Air France formerly operated this transfer bus service between central Paris and the airports. (Charles de Gaulle, or CDG, and Orly.) It's now a part of Paris Aéoport services, and the offerings are even better. Le Bus Direct covers four areas
Line 1 — Orly to Étoile/Champs-Elysées via Gare Montparnasse and Trocadéro
Line 2 — CDG to Eiffel Tower via Porte Maillot Palais des Congres and Étoile Champs-Elysées
Line 3 — CDG to Orly
Line 4 — CDG to Paris Gare Montparnasse via Gare de Lyon
There are six stops in Paris, all are located next to hotels and major destinations, like the Eiffel Tower, the Arc de Triomphe, the Champs-Elysées, Gare de Lyon and Gare Montparnasse. Whichever terminal you arrive at or depart from at Charles de Gaulle or Orly, the buses leave from the baggage reclaim areas.
Buses run seven days a week, every 20 to 30 minutes, from 5 AM to 11 PM. The ticket price includes baggage handling at all the bus stops. It's recommended to buy your ticket online and show your e-ticket from your smartphone. The tickets are not dated and are valid for one year.
Here's where to find Le Bus Direct bus stops in Paris. All are close to Metro Stations.
Tour Eiffel/Suffren @ 19 Avenue de Suffren
Trocadéro @ 10 Place du Trocadéro
Etoile/Champs-Elysées @ 2 Avenue Carnot
Porte Maillot/Palais des Congres @ 68 Boulevard Gouvion St Cyr
Gare de Lyon @ 20 Boulevard Diderot
Gare Montparnasse @ 14 Rue de Commandant Mouchotte

"RER" No More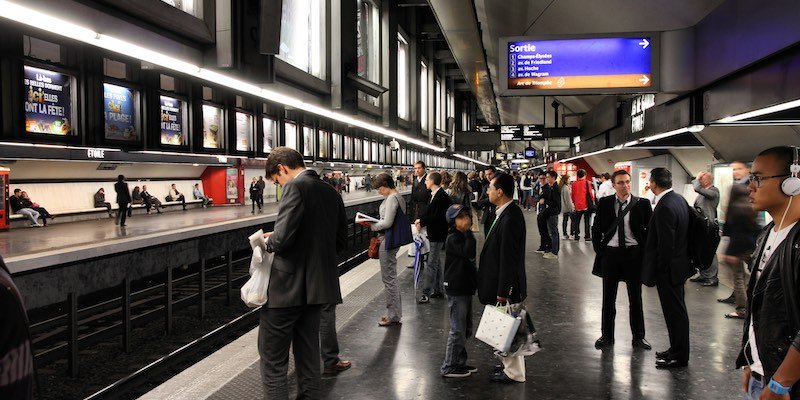 In with the new, out with the old — old name in this case. RER trains (Regional Express Network) are now referred to as simply train in the Paris transit system. The goal was to make intercity train travel less confusing for travelers, who did not know what "RER" meant.
The Paris rail network is replacing all of the previous terms — RER, suburban train, subway, tram express, tramway, bus — with four new categories — train, subway, tram, and bus. However, this changeover will take years and you will likely see RER on maps and signage for a long time to come. Paris transportation authorities are keeping the letters of the current RER trains. That is, line A,B,C, D, and E. So riders on RER B at Gare du Nord will now look for a sign for Train B.
Navigo Expands Its Territory
The new Passe Navigo weekly card covers all transit zones in the Paris region, which means you can travel anywhere within the city center, and go to the chateaux of Versailles, La Défense, Vaux-le-Vicomte, Fontainebleau, and Charles de Gaulle and Orly airports. Thus, the all-zones Navigo pass now covers a far greater area than standard Metro tickets. As it costs more than a Metro ticket it may be a good deal for visitors planning regional trips who are staying at least a full week.
The Navigo weekly pass runs from Friday to Thursday. A Navigo monthly pass, begins on the 20th of the month and ends on the 19th of the month. Meaning, you can't purchase a monthly or weekly pass hoping that it will start on whatever day you happen to arrive. Also, a Navigo pass cannot be shared. By comparison, two 10-packs of carnets — enough for most visitors staying a week — can be shared, don't expire, and are valid for Zone 1 of the Paris transportation system — which is the area the vast majority of visitors are interested in.