Trains From Paris That Take You To The Rest Of France
In short, they're wonderful. With the most extensive railway network in western Europe, Paris trains can get you to other parts of France, to London and to other European countries quickly and easily — and in comfort.
There are many categories of trains from Paris that run at many speeds and to many different places. For instance, there's Eurostar, Thalys, the TGV, Elipsos and Paris suburban trains like the RER and SNCF trains that take you to the outlying suburbs. In this article you'll learn all about Paris trains that connect to destinations outside of the city, find out how to book your ticket and hear some Paris Insider tips about train travel in France.
Train Stations in Paris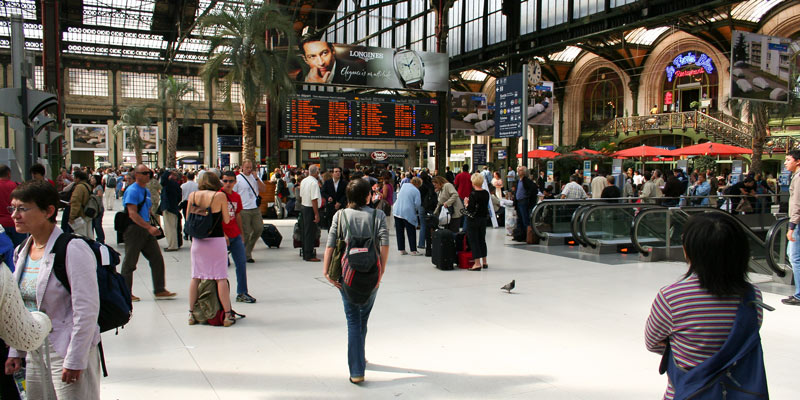 There are six major Paris train stations, where you can catch trains to other parts of France and the rest of Europe. Each of the Paris train stations has a connected Metro station as well as connections to the RER Paris rapid-transit system, and each station is used for specific destinations. For instance —
• Gare de l'Est services the parts of France east of Paris, to Champagne country and beyond.
• Gare de Lyon is the hub for destinations to the south of France – Lyon, Orange, Avignon and Marseilles.
• Gare d'Austerlitz will get you to Tours, Toulouse, Orleans and even as far as Barcelona and Madrid.
• Gare Montparnasse provides service to southwestern cities, including Bordeaux.
Glossary of Paris Trains
Eurostar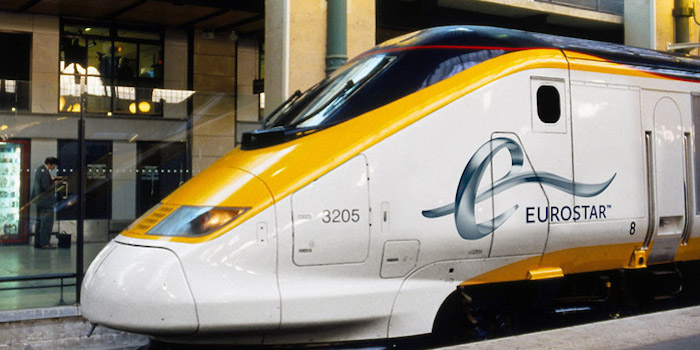 These fast, first-class trains can get you to London & Brussels from Paris in record time. There is also Eurostar service to Ashford, Lille, Calais, Avignon and even Disneyland Paris. The Eurostar station in Paris is Gare du Nord.
Thalys
These high-speed trains offer direct service to sixteen cities in northern Europe.
Imagine Paris to Brussels in less than ninety minutes. It's recommended you book your tickets in advance to get the best available discounts. The Thalys trains are found at Gare du Nord and can get you to and from — Brussels, Amsterdam, Cologne, Liege, and Dusseldorf.
TGV
We use the TGV all the time when we're in France, to get from almost any place in the country to any other place in record time. High-speed TGV trains offer premier service, connecting to more than 200 French cities. For the best deal, book your TGV tickets as early as you can. TGV train stations are Gare de l'Est, Gare de Lyon, and Charles de Gaulle Airport.
Renfe-SNCF Elipsos
Not only will you save money on a hotel taking the Elipsos, but you'll travel in comfort from Paris to Barcelona or Madrid.
You'll arrive in the center of those cities, with no need to transfer from airports. As usual, book your tickets as soon as possible to take advantage of the numerous savings. Elipsos Paris train station is Gare d'Austerlitz.
Paris Trains – Tips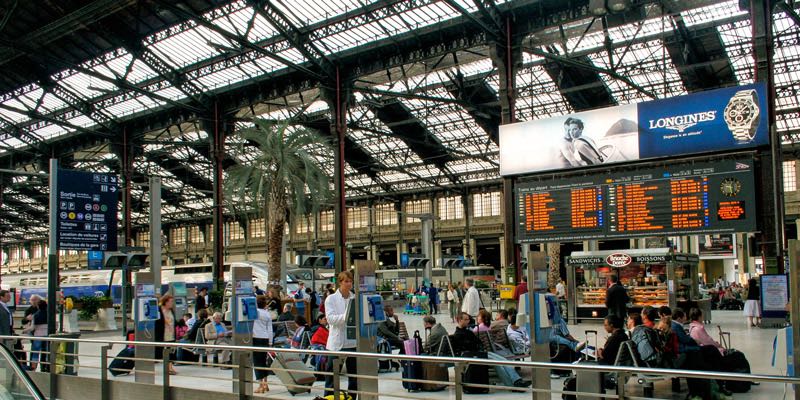 You must validate your train tickets (except print-at-home ones) just before you board your train. Place your ticket into the small yellow machines marked "Composez votre billet" found at the entrance of the platform. You could face a fine if you don't validate.
Always carry valid identification like your passport when traveling on French trains. You could be asked to present it to the conductor. Again, if you don't have any ID you may be fined.
Most trains have a café/bar offering sandwiches, wine, beer and snacks. However, our favorite thing to do is to bring our own sandwich with us along with a bottle of wine. It's one of the only countries that allows this. Vive la France!
You don't check your bags before you board. There are no baggage fees or weight limits, however, you have to be able to carry on your own luggage! You store your luggage on the racks at the end of each car. Carry-on-size luggage can be placed above your seat on the overhead storage.
You can leave some luggage in lockers in most train stations. Lockers are available for a small fee per 48 hours. Your bags will probably be x-rayed before you lock them up.
Bring your bicycle along for free on most suburban and regional trains. On Intercités de Nuits (overnight trains) and certain TGVs you will have to pay a small fee of around 10€. Fifi, your pet poodle, can accompany you on all trains. There may be a small fee.