Hector Guimard's Metro Entrances In Paris – An Insider's Guide
In 1900 Hector Guimard designed the first of many decorative Metro station entrances. Since then they have come to symbolize not only the Paris Metro but Paris itself. In another article we describe Guimard's top Metro station designs, but now let's delve deeper into the world of Hector Guimard for the complete Insider's Guide to all of his remaining, and inspirational, Metro stations.

Hector Guimard & the Paris Metro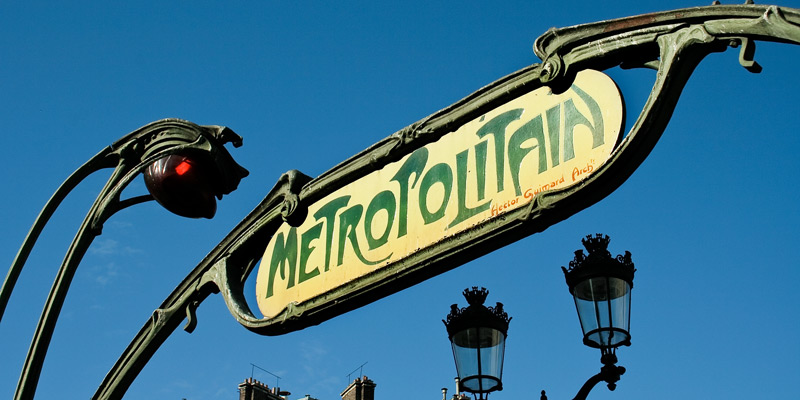 Paris wasn't the first city to have an underground system, that was London, but the 1900 Paris Exposition was a reason to show the world that Paris, too, could build an efficient mode of mass transportation. In 1898 the Compagnie du Métropolitain launched a competition for the design of Metro entrance gates. Guimard didn't actually enter the competition but he was awarded the commission nonetheless due to his avant-garde schemes using inexpensive cast-iron elements.
Each of Guimard's (1867-1942) cast iron entrances display the word Métropolitain along with the station's name. Unbelievably, many of his station entrances were subsequently destroyed, right up until the 1960s. Fortunately for us, at least half have been saved and can still be admired at sixty-seven Metro stations.
The style he employed, called Art Nouveau (as seen in the photo below of the former Metro station at Étoile), emerged around the end of the nineteenth century, during the period called the Belle Époque, the result of a quest for an aesthetic based on organic, fluid lines inspired by nature. At first Parisians were skeptical of Guimard's style, but once his Metro stations were installed, Art Nouveau was embraced as the look of the era.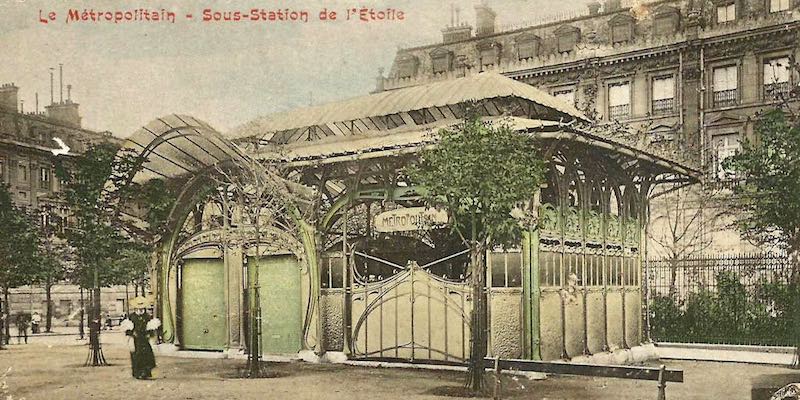 Metro Étoile, since destroyed

Guimard's genius didn't stop at Metro stations. He was a prolific designer and brought Art Nouveau sensibility to houses, furniture, and many objets like umbrella stands, vases, picture frames, door handles, trays, letter seals & openers, and jewelry.
Current art historians can't heap enough praise on Guimard's Art Nouveau Metro stations, but when he died in New York City at the age of 75 the French architect's body of work had fallen into obscurity. His contribution to Paris had been long forgotten by 1938 when he and his Jewish wife Adeleine left their native France to escape the toxic tide of antisemitism.
Today Guimard's Metro station entrances can be seen across Paris. Some of them have been relocated from their original locations, like the one at Porte-Dauphine in the 16th. (In fact, there's one at Square-Victoria station in Montreal, Quebec.) Here is a complete list of Hector's extant Metro station entrances in Paris. Can you find the arrondissement that has the most examples? Or the one arrondissement that doesn't have (or share) one of Guimard's gateways?

Hector Guimard's Metro Stations in Paris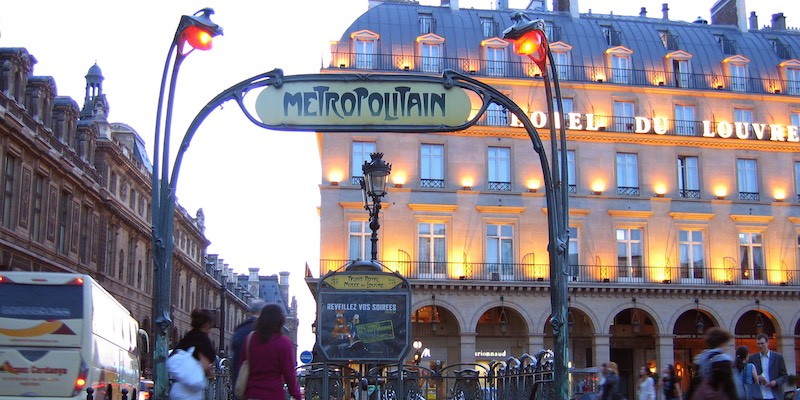 Metro Palais-Royal–Musée-du-Louvre
In the 1st Arrondissement
Guimard's Metro entrances can be found at these stations —
Chatelet
Etienne-Marcel
Palais-Royal–Musée-du-Louvre
Louvre-Rivoli
Metro Name Fun Fact
Station Etienne Marcel, on line 4, opened in April 1908, named for the 14th-century revolutionary and provost (leader) of small merchants and guildsmen under French king Jean II. There's a statue of Etienne Marcel at the Hotel de Ville. By the way, the current Chatelet entrance is a modern replica of Guimard's original.
In the 2nd Arrondissement
Guimard's Metro entrances can be found at stations —
Quatre-Septembre
Reaumur-Sebastopol
Sentier
Metro Name Fun Fact
Quatre-Septembre, on Metro line 3 is named for an important date in French history. In 1870, on September 4 (quatre-septembre), the end of the reign of Napoleon III was finalized and the Third Republic was proclaimed. This Metro station opened in October 1904, providing service between Avenue de Villiers and Pere Lachaise.
3rd Arrondissement
One Guimard entrance — Metro Temple
Metro Name Fun Fact
Also on line 3, Temple is named for a long-demolished Templar fortification that once stood in the Square du Temple in the Marais. The Templar's building gave its name to the Rue du Temple, which gave its name to the Metro station.

4th Arrondissement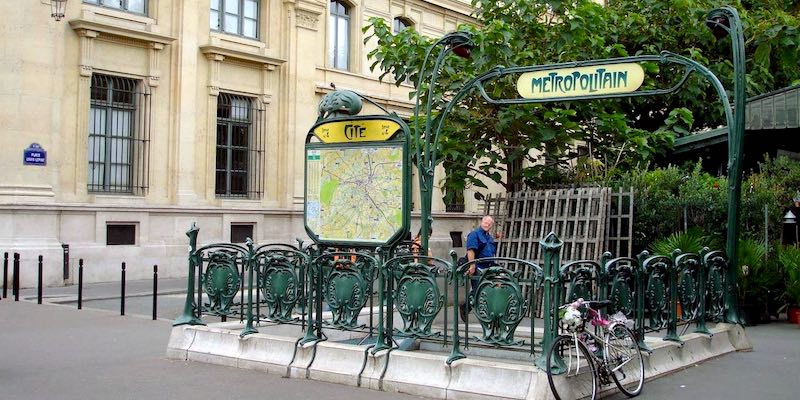 Metro Cité
Metro Name Fun Fact
Deep underneath Île de la Cité (one of the two islands of Paris) is Metro Cité. The only Metro station on the island opened in December 1910; although tunnels once linked the station to the nearby Prefecture of Police of Paris and the Palais de Justice, they were closed for security reasons so that now the only exit is on Rue de Lutèce, in front of the Prefecture of Police.
5th & 6th Arrondissements
Metro Name Fun Fact
Saint-Michel–Notre-Dame, on line 4, in the Latin Quarter, also connects to RER lines B and C (underground). While you're viewing Guimard's entrance (on the west side of Place Saint-Michel), be sure to check out the famous Fontaine Saint-Michel by Gabriel Davioud, just around the corner.
8th Arrondissement
Metro Name Fun Fact
Europe opened in October 1904 and is named after the Place de l'Europe, the square from which streets named for European capitals radiate. This was also the site of the first Paris railway station, Embarcadère de l'Ouest, which opened in 1837.

9th Arrondissement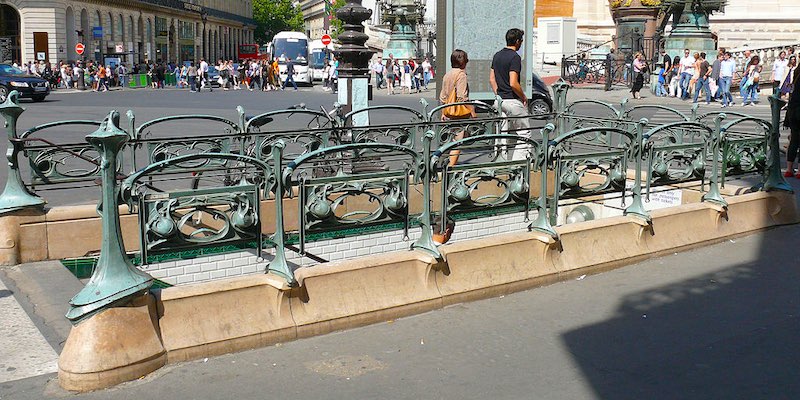 Metro Opera
Cadet
Opera (corner of Rue Auber and Rue Scribe, kitty-corner from the Nespresso store)
Metro Name Fun Fact
Cadet, on line 7 is named after a wealthy landowner, Monsieur Cadet de Chambine, who just happened to own the land where the street and Metro station is now located.
10th Arrondissement
Metro entrance at Gare du Nord
Chateau-d'Eau
Colonel-Fabien
Gare du Nord
Louis-Blanc
République
Metro Name Fun Fact
République serves lines 3, 5, 8, 9, and 11 and is named after the Place de la République, which commemorates the First, Second, and Third French Republics. The Metro station is found directly underneath the place.
11th Arrondissement
Breguet-Sabin
Couronnes
Menilmontant
Parmentier
Pere-Lachaise
Richard-Lenoir
Rue-Saint-Maur
Metro Name Fun Fact
Parmentier on line 3 opened in October 1904 and is named after Antoine-Augustin Parmentier. He's the man who convinced the world that potatoes weren't poisonous and could be used as a food source for humans. Frites, anyone? Station Pere-Lachaise serves, of course, Pere Lachaise cemetery, where Antoine-Augustin Parmentier is buried.
12th Arrondissement
Bastille
Daumesnil
Gare-de-Lyon
Nation
Picpus
Metro Name Fun Fact
Daumesnil, serving lines 6 and 8, honors General Pierre Yrieix Daumesnil (1776-1832), one of Napoleon's star soldiers.

13th Arrondissement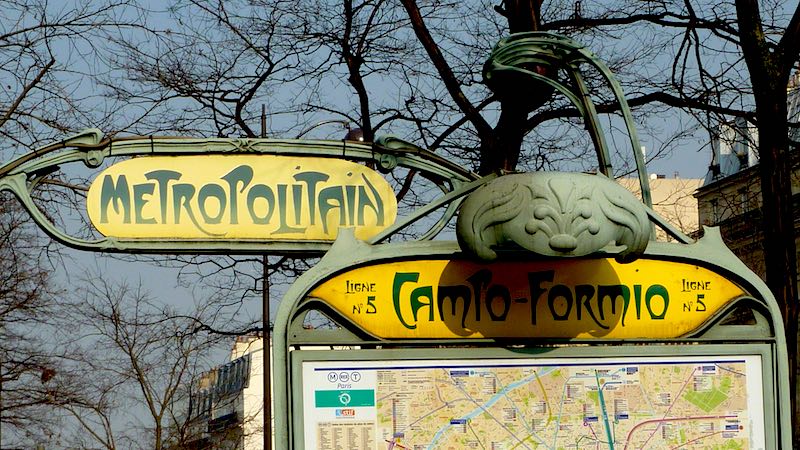 Metro Campo-Formio
Campo-Formio
Place-d'Italie
Saint-Marcel
Metro Name Fun Fact
Saint-Marcel on line 5, serving the University Hospital, is named for a 5th-century bishop of Paris
14th Arrondissement
Denfert-Rochereau
Mouton-Duvernet
Raspail
Metro Name Fun Fact
Raspail on lines 4 and 6 is named for the 19th-century scientist and politician François-Vincent Raspail (1794-1878). Born in Carpentras in Provence, he was one of the founders of the cell theory in biology. The longest boulevard in Paris, Boulevard Raspail, is also named in his honor.
15th Arrondissement
Metro Name Fun Fact
Opened in April 1906, the Pasteur station honors Louis Pasteur (1822-1895). The renowned French microbiologist and chemist discovered the principles of vaccination and pasteurization and created the first vaccines for rabies and anthrax.

16th Arrondissement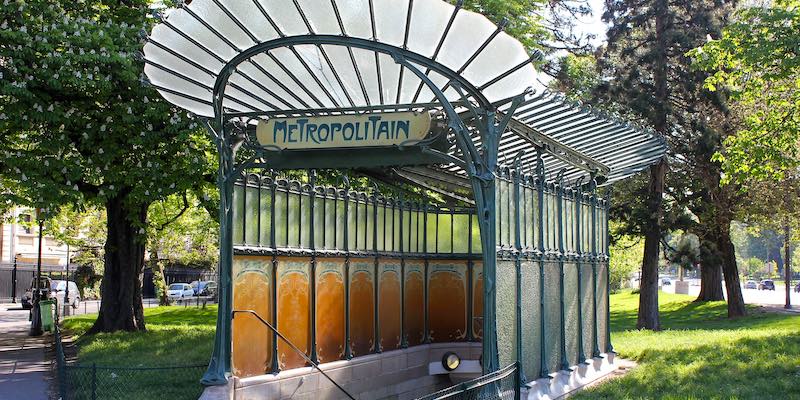 Metro Porte-Dauphine
Boissiere
Chardon-Lagache
Eglise-d'Auteuil
Kleber
Mirabeau
Porte-d'Auteuil
Porte-Dauphine
Victor-Hugo
Metro Name Fun Fact
Named for the famous author, the Victor Hugo station (line 2) got a temporary name change in July 2018, when the French national soccer team won the World Cup. The station, located in the 16th Arrondissement was for a short time called Victor Hugo Lloris for the team's captain and goalkeeper, Hugo Lloris.
17th Arrondissement
Monceau
Rome
Ternes
Villiers
Wagram
Metro Name Fun Fact
Monceau on Line 2 is near Parc Monceau on the border of the 8th and 17th Arrondissements. Both the station and the park get their name from the former village of Monceau, annexed by Paris in 1860 as part of the expansion of the city under Napoleon III.

18th Arrondissement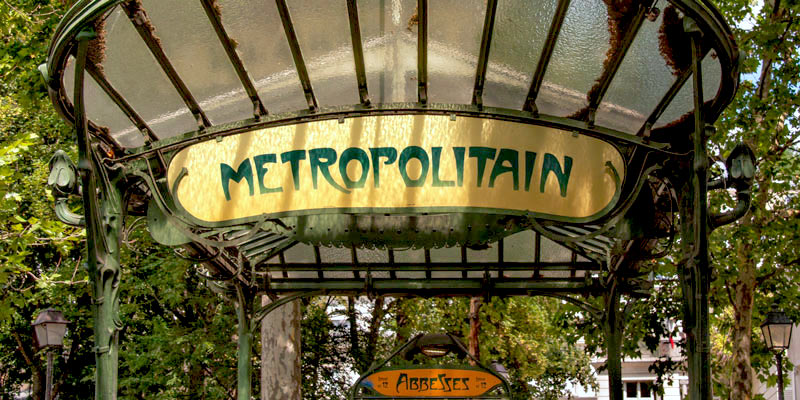 Metro Abbesses (Montmartre)
Abbesses
Anvers
Barbes-Rochechouart
Blanche
Pigalle
Place-de-Clichy
Metro Name Fun Fact
What happens when you marry French Republican revolutionary Armand Barbès (1809-1870) to the scholarly French nun Marguerite de Rochechouart, (1665-1727)? Metro station Barbes-Rochechouart is born. Situated on Paris Metro lines 2 and Line 4, it's where the 9th, 10th, and 18th Arrondissements converge.
19th Arrondissement
Bolivar
Botzaris
Crimée
Jaures
Pre-Saint-Gervais
Metro Name Fun Fact
Simon Bolivar (1783-1830) was a hero of South American independence. We're sure he would be saddened to know the history of the Metro station bearing his name on line 7B. During World War I the station was converted into an air raid shelter. As people rushed to the shelter during a bombing on March 11, 1918 panic ensued when the doors jammed. Seventy-six people died in the resulting rush of bodies.

20th Arrondissement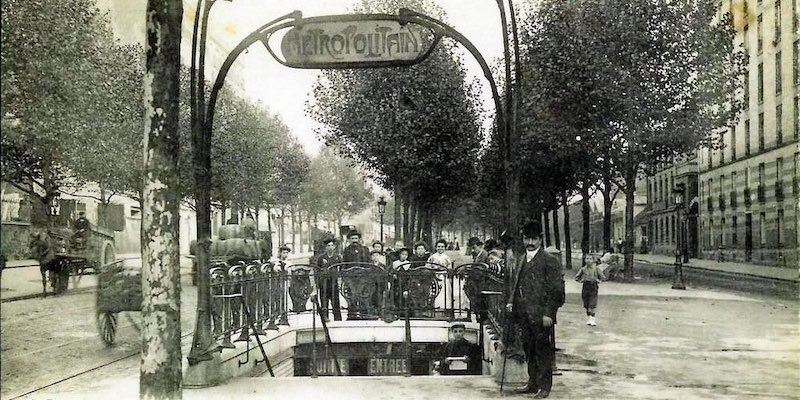 Metro Philippe-Auguste
Alexandre-Dumas
Avron
Gambetta
Philippe-Auguste
Metro Name Fun Fact
You say you want a revolution? Philippe-Auguste on line 2 is the only Paris Metro station named for French royalty, Philip II of France, 1165-1223, known as Philippe Auguste. (Learn about the city wall he built.)