Guide to Classic Paris Movies – Julie and Julia
Julie and Julia both captured our culinary imaginations in this classic 2009 Paris movie. If you love French food and Paris you've gotta love this film. Julie and Julia weaves a narrative about Julia Child drawn from two books —
One of the biggest Paris scenes in that movie took days to plan and shoot on the narrow, winding market street of Rue Mouffetard. For centuries there has been an outdoor market Rue Mouffetard in the Latin Quarter, one of the oldest streets in Paris. And, remember the scene where Julia takes her cooking students shopping? The location was the charming Paris islands Île St-Louis and Île de la Cité.
Putting Together a Film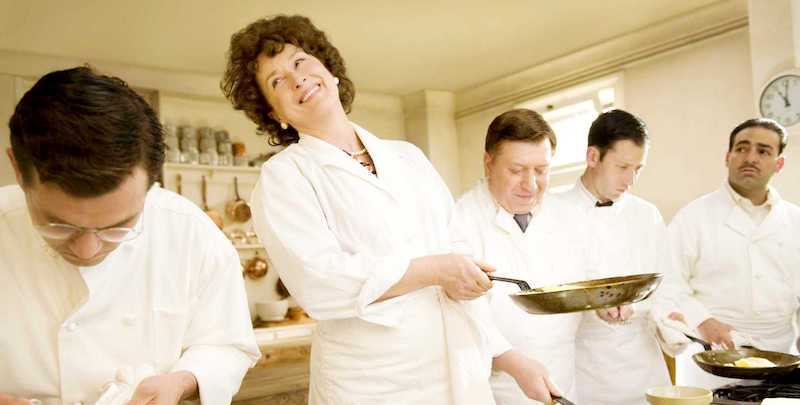 It was director Nora Ephron who had the brilliant idea to combine the two stories — Julia Child and her life in France, and Julie Powell cooking her recipes — casting Amy Adams as Julie Powell and Meryl Streep as Julia Child.
The other perfect casting is Stanley Tucci, who gives a razor-sharp portrayal of Julia's husband Paul Child. The movie really comes alive whenever Meryl Streep and Stanley Tucci are on the screen.
Meryl won best actress at the Golden Globe awards, and was nominated for best actress at the Academy Awards, but was beat out by (can you believe this?) Sandra Bullock in The Blind Side! And we still cannot understand how The Hurt Locker won Best Picture over a movie as good as Julie and Julia!
Want to retrace Julia's footsteps in Paris? Let's look at a list of Julia Child and her husband Paul's favorite places in Paris —
Julie and Julia – The Paris Locations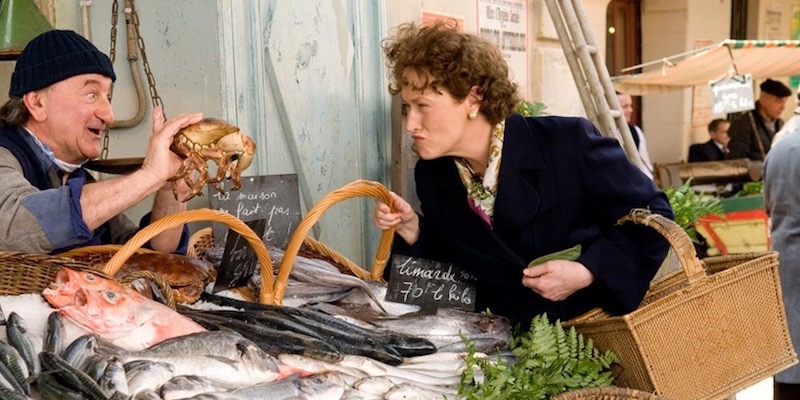 Rue Mouffetard, 5th Arrondissement
Île St-Louis, 4th Arrondissement
Île de la Cité, 4th Arrondissement
Restaurant Deux Magots, 6 Place St-Germain des Prés, 75006
Restaurant Le Grand Vefour, 17 Rue de Beaujolais, 75001
Shakespeare & Company Bookstore, 37 Rue de la Bûcherie, 75005
Restaurant Au Pied de Cochon, 6 Rue Coquillière, 75001
E. Dehillerin Kitchen Supplies, 18 Rue Coquillière, 75001