Guide To Gare de l'Est – Go To Berlin, Champagne, Or A Rooftop Bar
Although it's one of the big six train stations in Paris, Gare de l'Est is pretty sleepy compared to busier stations like Gare Montparnasse. Located in the 10th Arrondissement, Gare de L'est is a stone's throw from Gare du Nord, but l'Est's 37 million visitors a year pales in comparison to the 220 million pass through Gare du Nord.
Gare de l'Est, photo from Wikimedia Commons
Trains from Gare de l'Est depart for eastern France — you can reach Reims and Épernay in the Champagne region, places famous for bubbly. Nancy and Strasbourg are other French destinations. Travelers heading to European ports of call can reach Germany and Luxembourg, including cities like Frankfurt, Berlin, Hamburg, Munich, and even Moscow.
Gare de l'Est High-Speed Train Destination Highlights
Berlin
Warsaw
Strasbourg
Luxembourg
Munich
Reims
Sedan
Gare de l'Est – An Historic Building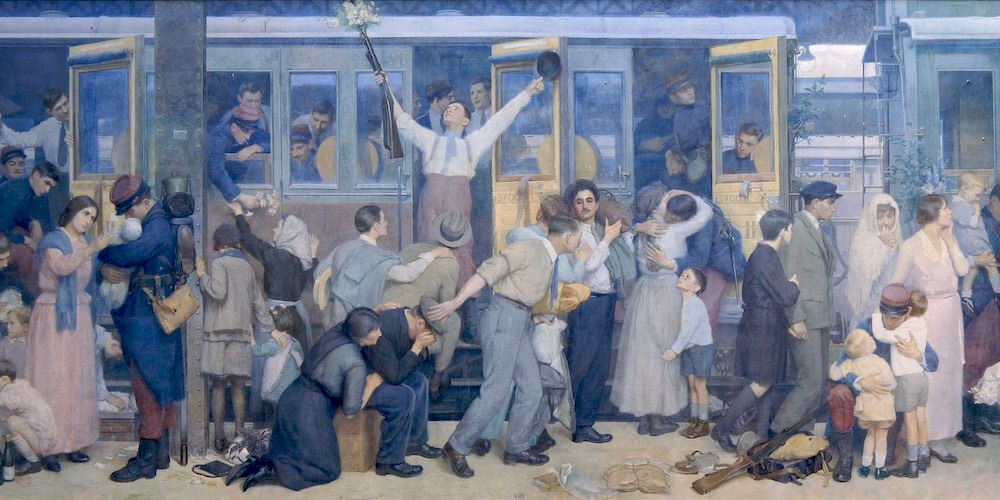 Le Départ des Poilus, Août 1914 (detail)
Back when he was riding high as emperor, and before his troubled times, Napoleon III himself inaugurated the station in 1850. In 1914, at the beginning of World War I, Gare de l'Est was the departure point for thousands of troops heading to the Western front. Le Départ des Poilus, Août 1914, a mural by the painter Albert Herter, can be seen in the stations Hall d'Alsace. At 12 metres (39 ft) from side to side, it's hard to miss!
There Are Rooftop Views
Le Perchoir de l'Est light show
If you come to visit and view the historic train station, make sure you head up to the rooftop for one of the better views of Paris. The terrace is redolent with greenery and it's a great place to sit under the Gustave Eiffel rose window. Even better, from June to October there's a pop-up bar — Le Perchoir de l'Est — with evening light shows!
The station also houses a World War II bunker from 1941, but that can only be visited during European Heritage Days.
Gare de l'Est Resources
Place du 11 Novembre 1918
10th Arrondissement
Served by Metro lines 4, 5, 7