Eight Enduring Paris Bistros In The 11th & 12th Arrondissements
The 11th and 12th Arrondissements of Paris host a thriving bistro and bar scene. Funky little bistros, late night cafes; if there's a guy playing an accordion, you'll find him here. Shaking off a bit of a tough reputation, both arrondissements are now hip, diverse areas. Part of the reason is surprising; it was back in the day that many bistros moved here, enticed by bargain rents.
Think of Opéra Bastille, the main Paris opera house, as the hub of the 11th Arrondissement activity, with spokes reaching out to République and Place de la Nation. In the once-gritty 12th Arrondissement, Gare de Lyon is the anchor of the now-gentrified quartier that also features the Promenade Plantée, an oasis of peaceful gardens strung out along a former railway line. Let's promenade to the enduring bistros we've selected in these two large Paris arrondissements.

1. Chez Paul
Oh, for a tender morsel of os à moelle (bone marrow), hearty jambon cru d'Auvergne, or foie gras de canard mi-cuit made in house. Chez Paul is the place to go when you're in the mood for old time Paris. Off the beaten track near Bastille, the old-school eatery is decked out with sturdy wooden dining chairs and tables, tattered posters on the walls, and a menu Inspector Maigret would approve of; he might even bring Madame Maigret here for a Saturday night dinner to celebrate solving another macabre murder.
When you're dining at Chez Paul be sure to sample les grands classiques — oeuf a la mayonnaise, steak with Béarnaise sauce, and a slab of runny Brie de Meaux, all of it with a carafe of Côte-du-Rhone.
2. À la Biche au Bois
Located near Gare de Lyon, this no-nonsense bistro has been attracting a loyal clientele for decades. The doyenne of French restaurant reviewers, Patricia Wells, loves this timeless restaurant and insists it's the place to go when you're in the mood for hearty, country-style cooking.
On the menu board is a signature venison, called biche in French, potato purée made with a hefty dose of butter, and a sumptuous cheese tray brimming with Brie and Camembert. Besides biche, the bistro is also famous for coq au vin. It's not always on the menu, but when it is, order what could be the French National Dish. The classic stew arrives in a well-worn Le Creuset casserole dish filled with tender pieces of chicken and potatoes in a rich, dark sauce.

3. Le Chardenoux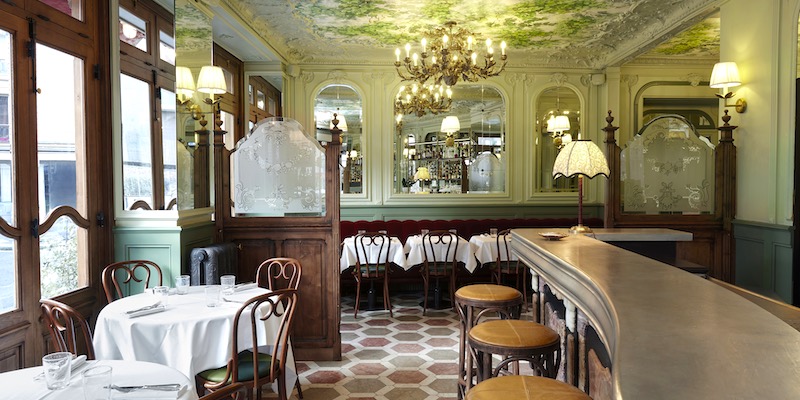 Le Chardenoux is one of those impossibly romantic bistros that has somehow managed to survive the passage of time intact. Sure, it's changed owners and menus over the ages, but the retro look and feel has been retained with red velvet banquettes, a long zinc bar with bentwood cane stools to sidle up to, etched glass and mirrors, and a high ceiling with curves and turn-of-the-century decorative touches. Although the restaurant has had a recent facelift under the direction of celebrity chef Cyril Lignac, his team have maintained the bistro decor that we crave.
4. Astier
Considered the père of the bistro scene in the 11th Arrondissement, Astier was opened in 1956 by Monsieur et Madame Astier. Fifty years later a fellow with a great name — Frédéric Hubig-Schall — bought it and entrusted chef Benjamin Bajolle, formerly of the Michelin-starred kitchen at the Meurice, to take over the rustic kitchen.
Today, Astier maintains tradition with red checkered tablecloths, a long zinc bar, wood panelling, and vintage photos and mementos from obscure French fraternities. The wine menu offers an incredible list of 350 bottles of the finest appellations from Burgundy, Bordeaux, and the Rhone. On the food side, expect the classics — roast leg of lamb with thyme, tete de veau, baba au rhum. and the classicist of them all, a Grand Marnier soufflé built for two.

5. Clown Bar
No joke, Clown Bar was once the staff dining room for the clowns who performed a few doors down at winter circus, Cirque d'Hiver, a historic building dedicated to the circus, built in 1852.
The interior of the bar is decorated with Belle Epoque tiles depicting — you guessed it — clowns. The building itself is an official monument historique, and has been around since 1902, but the clown motif didn't arrive until the 1920s. The decorative tiles were made at the Sarreguemines ceramic factory in Mosselle, eastern France and installed under the direction of architect Jean-Baptiste Mêmery.
Over the decades Clown Bar has seen several transformations. Currently it's a trendy restaurant serving small, shareable plates. But we're just as fascinated by the historic decor — the clown tiles, the curved zinc bar, the spectacular painted glass ceiling. If you can't get in for a meal, opt to have a glass of natural wine (all the rage in Paris) at the bar while musing, where are the clowns? There ought to be clowns.
6. Café Charbon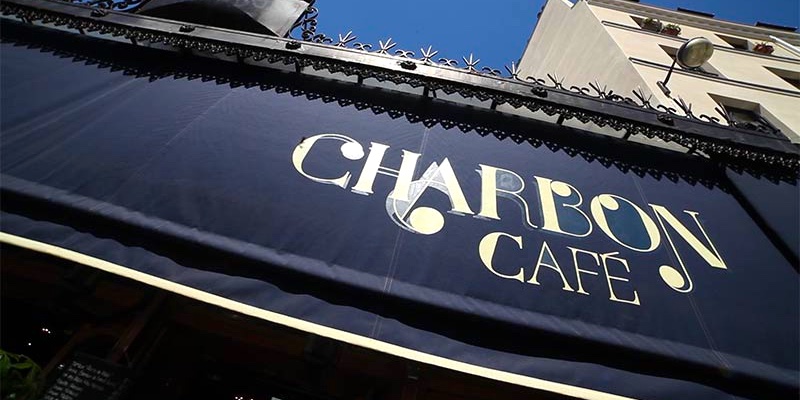 On busy Rue Oberkampf, Café Charbon has been attracting Parisians since the era of Napoleon III and it has all the brasserie touches to prove it — a long bar adorned with rich cherry wood, cozy banquettes, etched mirrors and murals, high ceilings, and wrought iron lamps.
But this is not the place to go for a romantic dinner for two. Think of it more of it as a Good-Time-Charlie place, where you go to listen to the weekend DJ crank out tunes to accompany your chilled Sancerre, charcuterie, tapas, burgers, and croques monsieurs. Of note, their terrace is particularly spacious and a desirable destination in the warmer months.

7. Bistro Melac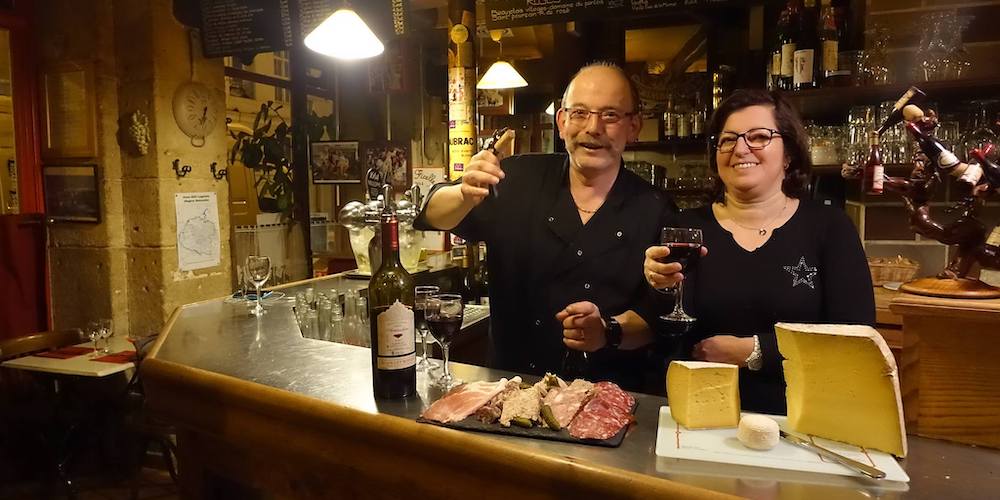 Once led by Jacques Melac, famous for his handlebar moustache, the popular wine bar and bistro is now just called Melac. It seems Jacques fell on hard times and had to sell his longstanding eatery and wine bar. The new owners are doing a good job keeping up the casual vibe in food, service, and an extensive wine selection.
This is the spot if you're around during the fête of Beaujolais Nouveau or hankering for a casual night of sipping wine and sampling simple French dishes. On the menu are oeufs en cocotte, foie gras maison with toast, rice pudding with salted caramel, and everyone's favorite, pain perdu with cinnamon.

8. Le Villaret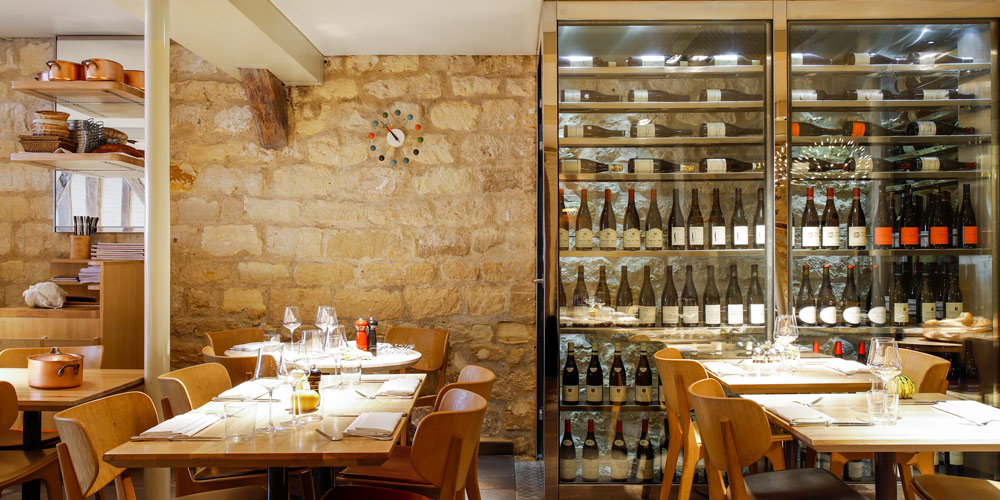 Nope, there's nothing special about Rue de Ternaux, but if you admire authentic French cuisine, may we suggest you make a trip to the 11th Arrondissement and bistro Le Villaret to sample exceptional dishes like sole meunière, roast chicken, salmon tartare, and leg of lamb. Although both the neighborhood and the decor of Le Villaret are unremarkable, there's magic in the menu. Worth a Paris detour.